1990s
End of an era at Ingliston
By the 1990s, Hugh McCaig and Graham Gauld had handed over the reins of Ingliston's circuit operations to race school owner and multiple Scottish Formula Ford Champion, Tom Brown, and he would run the circuit in its final years. Ingliston eventually closed in 1994 after the RAC Motorsport Association, the governing body at the time, deemed that the safety requirements needed to be upgraded and it became harder for Tom Brown and his backers to meet the costs. The combinations of this and a decline in entries made it less viable to run racing at the circuit.
During the early 90s, SMRC started running more race meetings at Knockhill with fewer at Ingliston. After Ingliston closed in 1994, the Club moved all their championships to Knockhill from 1995 but arranged some rounds south of the border at the likes of Croft and Oulton Park for a few of the better supported championships.
In the 90s we saw the Fiesta XR2 championship established and it immediately gained real popularity as an affordable one make series. Qualifying races sometimes had to be run as over 30 entries were not uncommon. Drivers such as Ian Forrest and Alan Keith won multiple XR2 titles in a very hard fought championship. Three times British Touring Car Champion Gordon Shedden started racing XR2s at Knockhill in 1999, before moving up the national racing ladder to become a works driver for Honda in the UK and internationally for Audi.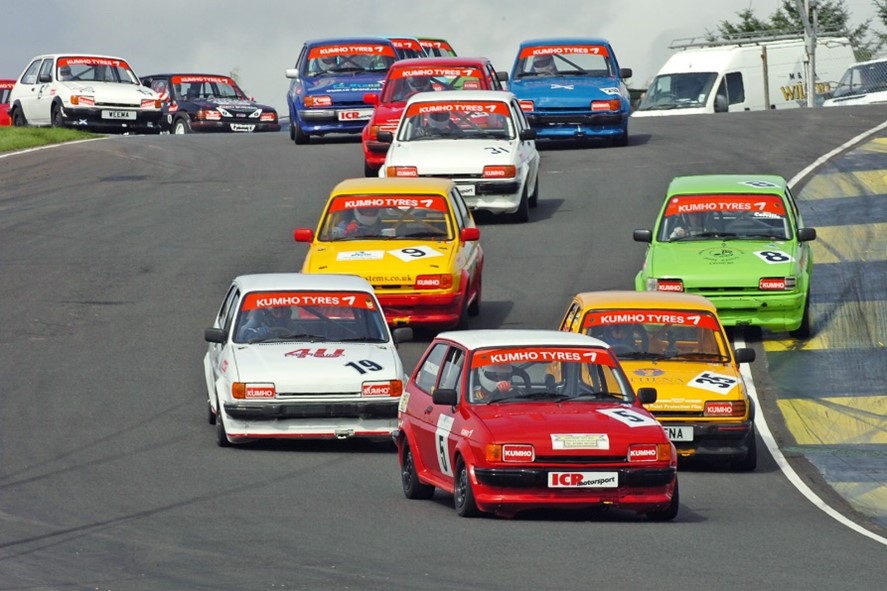 Special saloons and sportscars championships however continued to flourish during the 90s with several Sierra Cosworths racing, one of the more successful cars being driven by Kevin Adam whilst John Muir raced and won in a Cosworth-engined Toyota Starlet.
Formula Ford was still a hotly contested championship and drivers like Knockhill circuit owner Derek Butcher, as well as Stewart Roden, Cameron Binnie and Geordie Taylor, dominated on many occasions.
Gradually however one-make formulas became more and more popular as the Club strived like many others around the UK to make racing closer by tighter regulation and this has continued up to the present day.