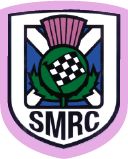 Become a member of the SMRC
Enjoy the range of benefits the SMRC has to offer drivers, marshals and other members
Find out more
2019 Race Calendar
Date

Event

Venue

Classes

7th April

Clockwise

Knockhill

All

5th May

Anti-Clockwise

Knockhill

All

25th May

Away Round

Kirkistown

Minis, Fiesta ST and R53 Cup

25th/26th May

Away Round

Anglesey

Legends

23rd June

Clockwise

Knockhill

All

21st July

Clockwise

Knockhill

All

3rd/4th August

SLS Support

Knockhill

Legends

17th/18th August

DDMC

Croft

Classics

1st September

Anti-Clockwise

Knockhill

All

6th October

Clockwise

Knockhill

All
Dates are subject to change
2019 Race Calendar
Date

Event

Venue

Classes

7th April

Clockwise

Knockhill

All

5th May

Anti-Clockwise

Knockhill

All

25th May

Away Round

Kirkistown

Minis, Fiesta ST and R53 Cup

25th/26th May

Away Round

Anglesey

Legends

23rd June

Clockwise

Knockhill

All

21st July

Clockwise

Knockhill

All

3rd/4th August

SLS Support

Knockhill

Legends

17th/18th August

DDMC

Croft

Classics

1st September

Anti-Clockwise

Knockhill

All

6th October

Clockwise

Knockhill

All
Dates are subject to change
The 2018 Annual General Meeting of the Scottish Motor Racing Club Ltd. will take place in Meeting Room 2 at the Dakota Hotel, South Queensferry, EH30 9QZ on Tuesday 27th March 2018 starting at 7.30 pm.
Please note that only current fully paid-up members of the Club will be admitted.
SMRC Awards Dinner
Information for the 2019 Awards Dinner is currently not available.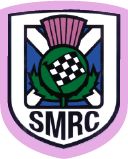 Become a member of the SMRC
Enjoy the range of benefits the SMRC has to offer drivers, marshals and other members
Find out more