1950s
The first race meeting
The first actual race meeting in Scotland took place in October 1950 at Winfield in the Borders. It was not run by the SMRC however; it was run by a group of 3 motor clubs (Berwick and District Motor Club, the Lothian Car Club and the Hawick & Border Car and M.C. Club) who formed the 'Winfield Joint Committee'. Only three race meetings were held there before they moved to Charterhall which was also in the Borders. Fittingly, it was Jock McBain whose MG won the opening race on the programme in 1950. As well as being one of the founders of the Winfield Joint Committee he would go on to found the Border Reivers team which would supply Jim Clark with international-class machinery to further his racing career.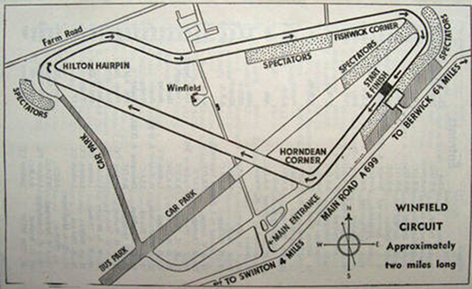 Meanwhile SMRC still worked hard to find their own site and approached Kirkcaldy Town Council about holding a race meeting on the pathways throughout Beveridge Park in the centre of the town. To their delight the Council came back and gave permission, and three meetings were held in 1952 & 1953. The SMRC races were purely for 500cc Formula 3 single seater cars as the track was deemed unsuitable for cars any bigger or more powerful as the roadway was just over 20 feet wide, which meant overtaking was near impossible!
One of the great stars at these meetings was Englishman, Charlie Headland who in his second race launched his Erskine Staride into the bushes! The Scottish star driver at the time was Ninian Sanderson (below) who raced at Beveridge Park in his early Cooper-JAP, 'The Yellow Peril', and went on to win Le Mans for Ecurie Ecosse in 1956. Another starter at Beveridge Park was a young timber merchant called Ken Tyrrell, who found fame with his Grand Prix cars, winning the World F1 Championships in 1971 and 1973 with the current  Patron of SMRC, Jackie Stewart. Ken also won a heat and was second to Ninian Sanderson in the final in 1953.
Racing ceased at Beveridge Park soon after as it was concluded the narrow track lined with trees was too dangerous for motor racing events.