Knockhill 10th October SMRC race reports
(Armed Forces & NHS appreciation meeting)
Scottish Mini Cooper Cup in Association with Project 21 Detailing, and supported by Yokohama + Scottish Mini Cooper S R53 Cup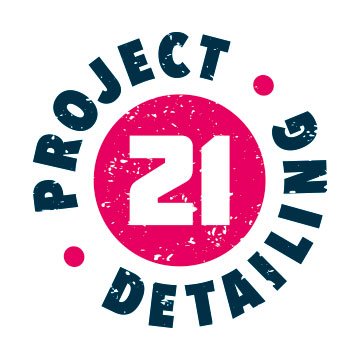 The first two races were longer for both Cooper Cup and Cooper S cars, while Cooper Cup cars alone did race 3, with its reversed grid. But the wet weather changed the normal order in race one.
Race 1 – 12 laps.
Andy Lamont led poleman Jamie Blake away, as the two Cooper S cars pulled clear of the less powerful Cooper cup cars.  The Cooper S cars ran nose to tail for 5 laps, then Blake took the lead and immediately opened out around a second gap, which he maintained to the flag. Behind these two the Cooper Cup cars fought it out all race. Michael Weddell led the class throughout in 3rd on the road, but it wasn't easy for the Championship leader. We also had a brief safety car period on lap 3 as 2 cars were off at McIntyres. Weddell had Chad Little tied to his bumper from lap 3. They finished just 4 tenths of a second apart. Ian Munro took 3rd in the Cup after being on Weddell's bootlid early on, then he dropped to 4th in the Cup, but got past Craig Blake so 4 cars ran in a train at the front of the Cup Class. Blake retook the place on lap 8, only to lose it back to Munro a lap later. Neil Hose had been with the top cars, though he dropped a place mid race behind Chris Cockburn, before regaining it two laps later. Hose then closed a second gap to catch Blake, before demoting him on the last lap at McIntyres to be 4th in the Cup. Behind Craig Blake came Daniel Paterson, 4 seconds back just holding off Chris Cockburn, who was top newcomer.
Race 2 – 12 laps
The Cooper S cars again dashed clear, their extra power telling down the straights. Andrew Lamont led again from Jamie Blake. They ran nose to tail until lap 8 when Blake went into the lead. He opened out around 3.5 seconds by the flag. The Cooper class saw Michael Weddell lead lap 1 in 3rd o/a with 3 cars right with him. He opened out a second gap on lap 2, after Ian Munro who had been on his tail went wide exiting McIntyres, ran on the dirt and dropped 4 places in a flash. Chad Little was now behind Weddell and he took 5 laps to close the gap to the class leader. Neil Hose was on his bumper all the way. These three ran nose to tail on lap 8 then Little went wide at the top of Duffus and took to the escape road, dropping 1.5 seconds behind Weddell and Hose. Then Little pitted with damage to a front wheel and tyre. His team changed the wheel and he was back out but now last. On lap 11 Neil Hose took the Cup class lead and held off Weddell to take his second win of the season. Ian Munro was 2 seconds back in 3rd having passed Craig Blake on lap 5 to head a 5 car train. He and Craig Blake broke free and slowly gapped Gordon Long.  Then Munro got away from Blake over the final 2 laps. Daniel Paterson was 6th in the Cup 1.7 seconds adrift and a few tenths ahead of Chris Cockburn who had been in that train earlier. Cockburn also took the newcomers class again. Neil Hose said, 'It hadn't gone my way in qualifying and I didn't get a podium in race 1. But I knew something might happen in front of me. I didn't think Michael (Weddell) would put up too much of a fight, he's got the championship to win. But that was a good race, showing the young guys I've still got it'
Race 3 – 9 Laps
The final Mini race only features the Cooper cars. A reversed grid with Chris Cockburn on pole. He led the field away with Daniel Paterson on his tail. Then Paterson went wide at McInytres and lost lots of places.  Craig Blake was now 2nd and he grabbed the lead on lap 3, as 4 cars ran nose to tail at the front. Weddell was 3rd but Ian Munro was on the move.  He'd been 5th on lap 1. Ian Munro was 3rd on lap 4, then he grabbed first place on lap 5 diving up the inside at Clark as Chris Cockburn sat behind Blake and both were passed. Michael Weddell was running 4th having been 3rd in the opening laps. But Blake was really on it and he retook the lead a lap later at Duffus. On lap 7 Blake headed a 7 car train with Neil Hose right behind, and Ian Munro was back in 7th having run wide exiting Clark. He had got on the gravel on lap 6, not a good surface for speed. But Craig Blake reeled off the laps under pressure right to the flag, to take his first win of the season. Neil Hose was only 8 hundredths back or the width of a fag packet. Third went to Ian Munro who made up 2 places on the final lap to beat Michael Weddell and Chad Little. Daniel Paterson recovered to finish 6th. Guest Ross McColm was a couple of seconds back in 7th with Chris Cockburn close behind.
The Commentators chose Neil Hose as the driver of the day. Michael Weddell heads the points and is 58 points clear of Chad Little, but there are three races and 75 points plus fastest lap bonus point still available on 30th October.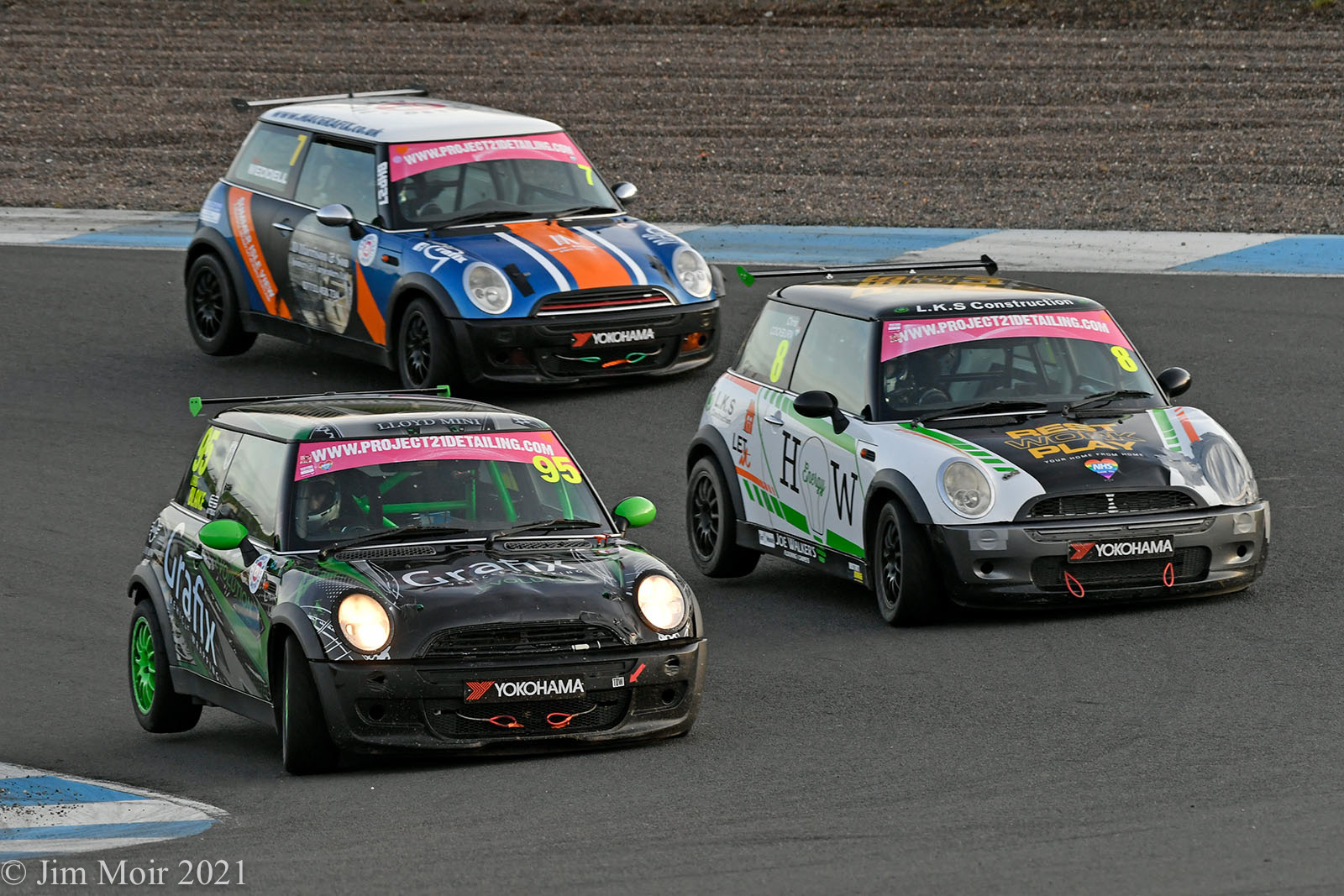 Scottish Citroen C1 Cup 
In Association with the Scottish Motor Trade Association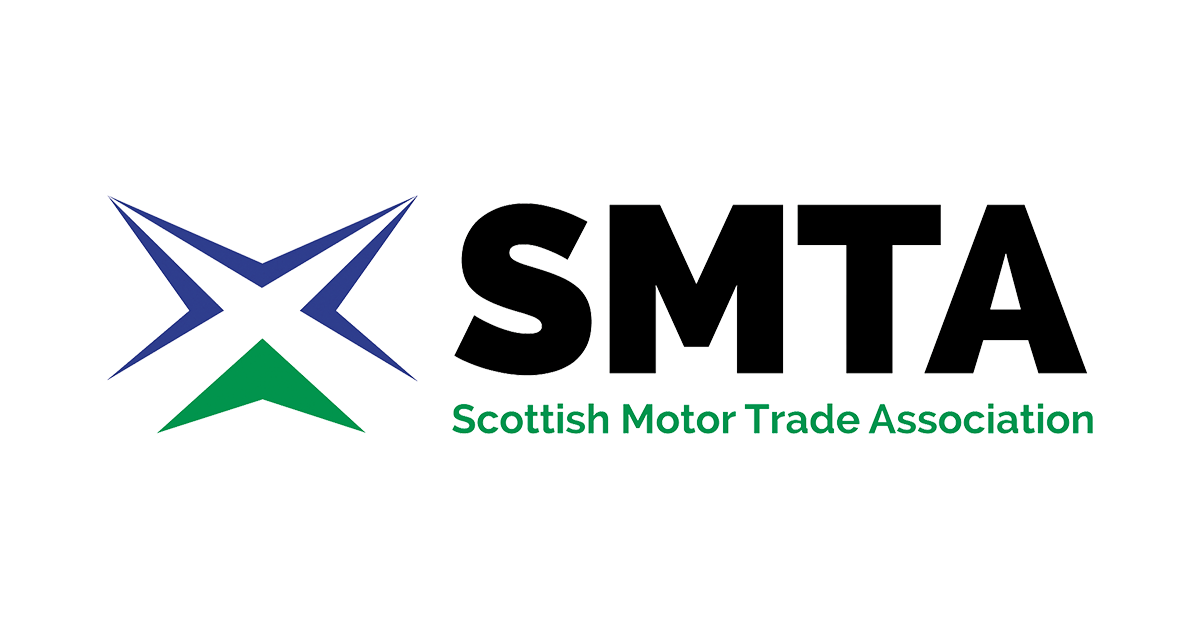 Race 1 – 10 laps
Polesitter Kyle Nisbet led all the way, to record a good victory in a close run championship. He pulled out a second lead by lap 2 over championship leader Dan Martin, who had reigning champion Ross Dunn on his tailgate. They were joined by rapid rookie Sam Corson on lap 2. But into lap 3 and Martin rolled a couple of times at McIntyres. He was soon helped onto his wheels and back off into the action, but now at the back, as the rest of the field had 3 laps behind the safety car.  He also came into the pits for a check by officials. Nisbet got a good restart after the safety car came in, and had a second gap to Corson within half a lap. Dunn had dropped back to mid field following Martin's roll. By lap 8 Nisbet was 2 seconds clear of Corson who had a couple of seconds on the third place battle, as Andrew Davidson held off Thomas Comber, who had started 9th.  With just over a lap left Comber took 3rd leaving Davidson to sit on his boot lid to the flag. In 5th around 3 seconds behind came Raymond Davies, he was having a lonely run, but nearly lost his place on the final lap, as Colin Main and Ross Dunn closed to within half a second of him, as they ran nose to tail over the last 3 laps. Ryan Smith was 8th dropping back late on, having been 6th mid race. It was Kyle Nisbet's 3rd win in 3 races, as he won both Cadwell Park races. He said, ' I made a good start and a good restart, to get a gap, and that was that. You've got to keep on pushing'.
Race 2 – 10 laps
The front three cars raced away ahead of the field, and were judged to have jumped the start. So they each got a 10 second time penalty once the race finished. On track Sam Corson led from Kyle Nisbet and Thomas Comber. Nisbet and Corson were side by side at the hairpin as lap 1 drew to a close, but Corson held onto the lead.  On lap 2 Nisbet went off at McInytres, and marshals pushed him out of the gravel, but now he was at the back. Corson led Comber and they were nose to tail until the end of the race, but they were classed 8th and 9th. The actual race winner was decided in a last lap sort out. Colin Main held 3rd on the road from lap 2 to the final few hundred yards, and this was actually the lead battle. Ryan Smith was glued to his rear bumper all the way. They were joined mid race by Andrew Davidson and Ross Dunn. Then Dunn got past Davidson on lap 7. By lap 8 there were 7 cars in this train, as the cars at the front of it scrapped, and allowed others to catch up. Namely Calum Conway, who had started 10th, with Raymond Davies and Rich Flett running right with him. Positions changed every lap as Ross Dunn got past Andrew Davidson on lap 9 to run a real 3rd, but Davidson retook the place on the final lap. Then late on it all changed in this group, who were fighting for the race win. Ryan Smith grabbed the win by 7 tenths from newcomers cup leader Calum Conway, with Colin Main dropping two places to finish 3rd.  Ross Dunn took 4th as Andrew Davidson and Raymond Davies rounded out the top 6. Rich Flett was 7th as just over 2.5 seconds covered the top 7. There was a New lap record for Ryan Smith 70.28 seconds.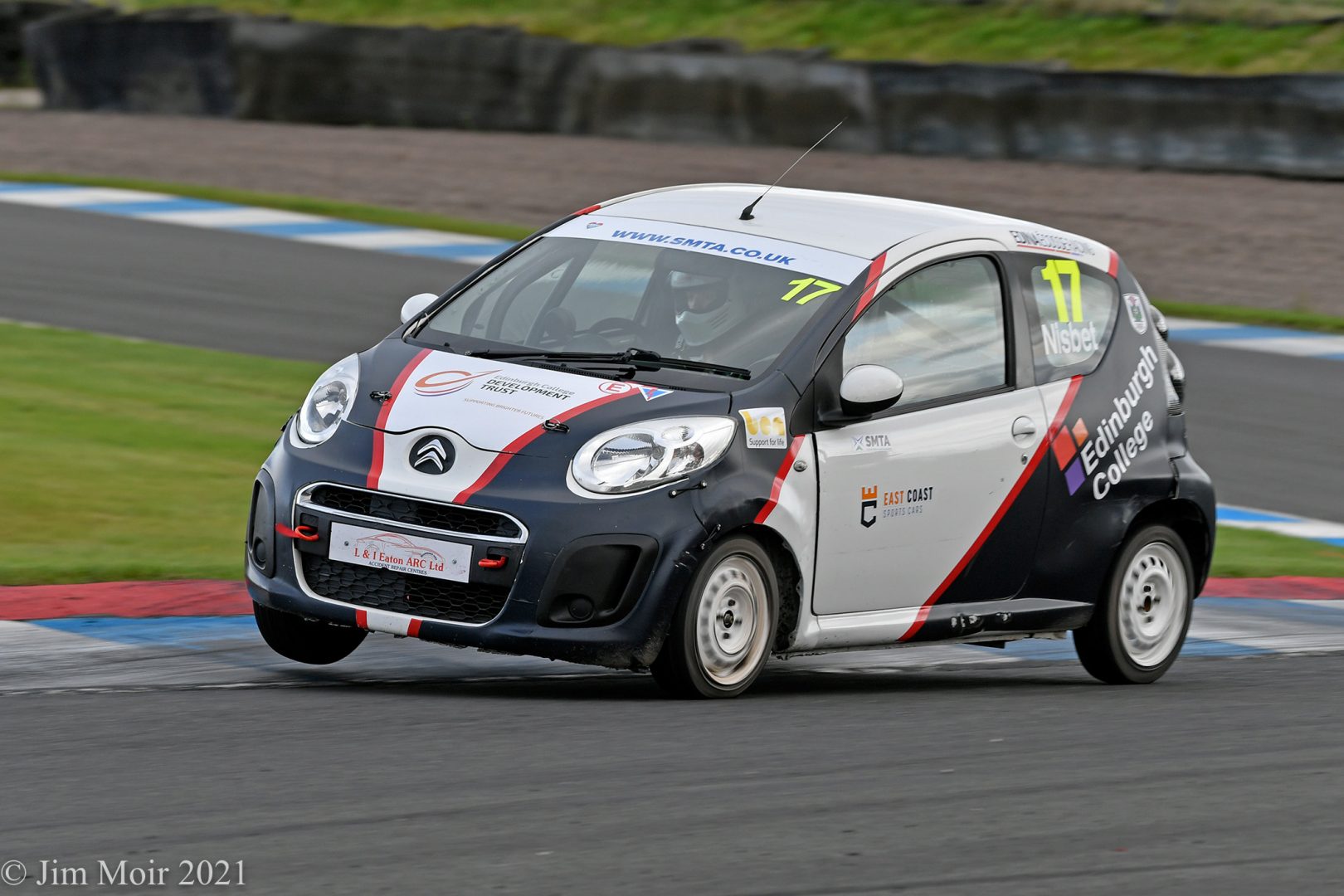 Scottish Formula Ford 1600 Championship 
In Association with Reis Motorsport Insurance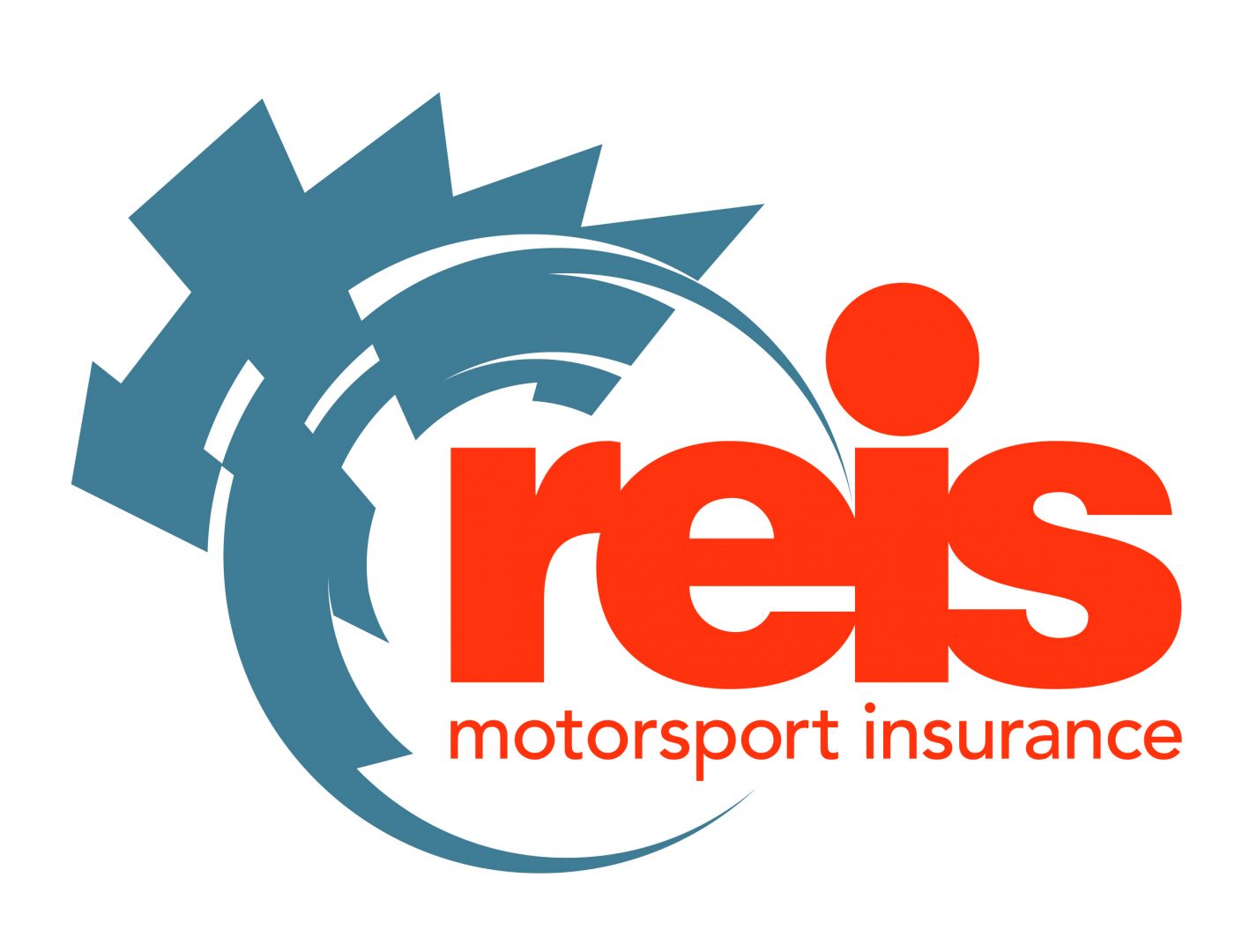 Race 1 – 12 laps
These were the last two races for Jordan Gronkowski, the reigning Champion. He was also about to retain his title, then retire from real world racing to start a career in Esports racing.
Jordan was on pole in his Van Diemen and was never headed as he took a lights to flag victory. By lap 4 he had around a 2 second gap and that was where he held it, to win by 2.5 seconds. There was a good scrap over 2nd as Matthew Chisholm held the place all the way, but withstood non-stop pressure. Neil Broome was on his gearbox until lap 5, but dropped back a couple of car lengths then closed up by lap 8. They ran together until the flag finishing just over a tenth of a second apart. Broome had made a lunge on lap 11 at the hairpin, but Chisholm held on as they exited the corner. Logan Hannah ran with these two until lap 6, then drifted back.
Race 2 – 12 laps
Jordan Gronkowski said post race they'd changed the car, and it showed. He led all the way in his final race and the Van Diemen JL012K. The car was singing, as he won by over 10 seconds following a fine drive. Matthew Chisholm was 2nd again, but had a harder battle. Logan Hannah snatched 2nd on lap 1 as Chisholm and Broome got delayed. Chisholm was right with her on lap 2 and took 2nd at Clark on lap 3. He pulled out 2 car lengths, but Logan stayed close. On lap 8 she was back in 2nd at Duffus. But Chisholm retook the place at Leslies, then Logan dived past him at Macintyre so the place had swapped twice in 200 yards. Logan Hannah held 2nd on lap 9, but lost it a lap later to Matthew Chisholm, who then pulled away in his Van Diemen. Logan then had Neil Broome on her tail as he'd dropped back 2 seconds early on, and spent much of the race closing the gap. He was right with Logan over the last 3 laps. There may have been few cars, but it was an absorbing race.
Jordan Gronkowski said,' this is the end of a journey for me and dad. It started in karts 22 years ago. The race was pretty straight forward, we made a few changes.  I hope we can be an inspiration to any kids out there. We started as a dad and lad, and ended as 2 times Scottish Formula Ford Champions. Thank you to everyone who helped and supported us. Please look at YouTube and look out for E Sports and JG racing.'
Jordan Gronkowski retains his FF Championship title, a good honest and talented racer, who will be missed.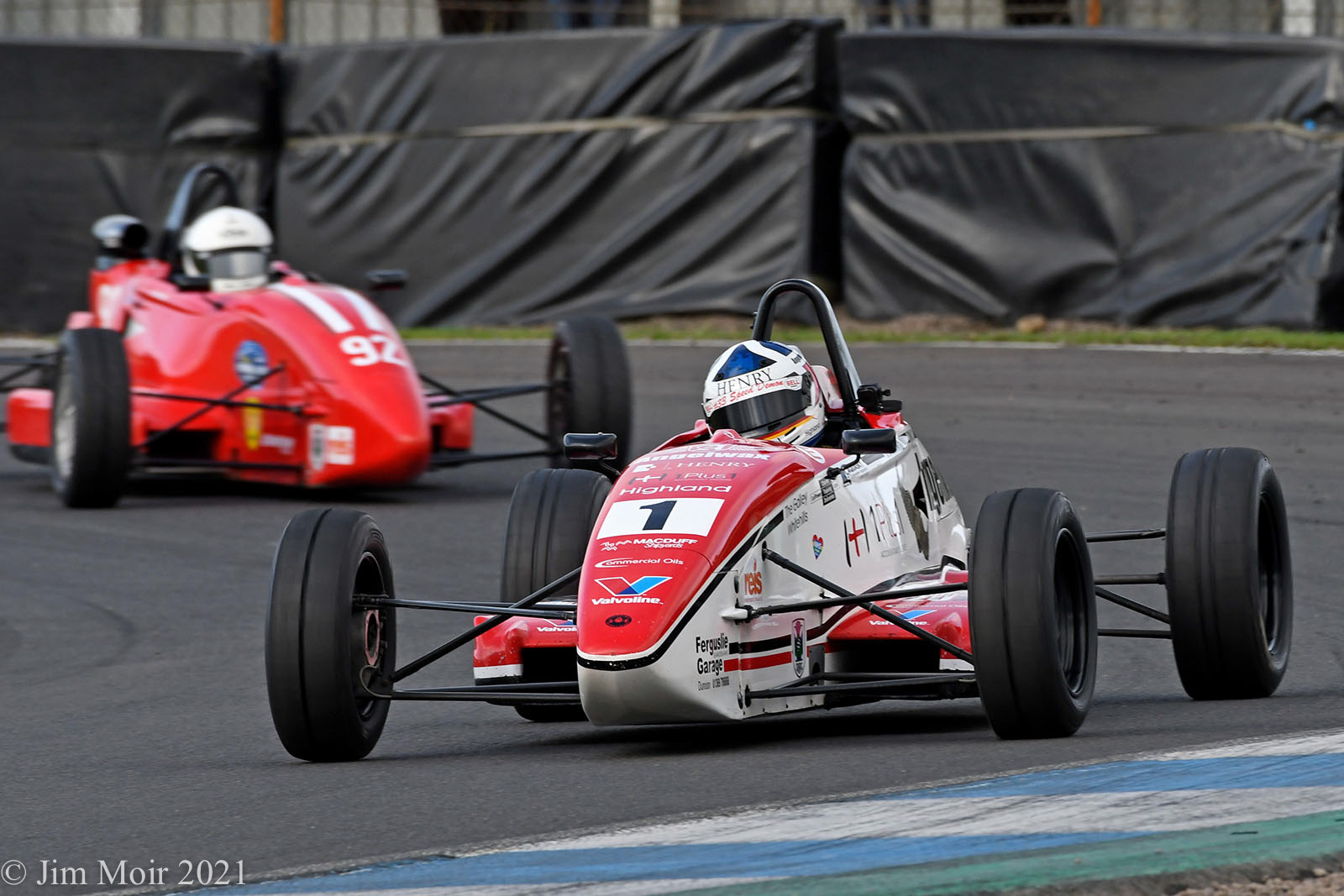 Scottish Classic Saloons and Sportscar Championship 
In Association with The Edinburgh Watch Company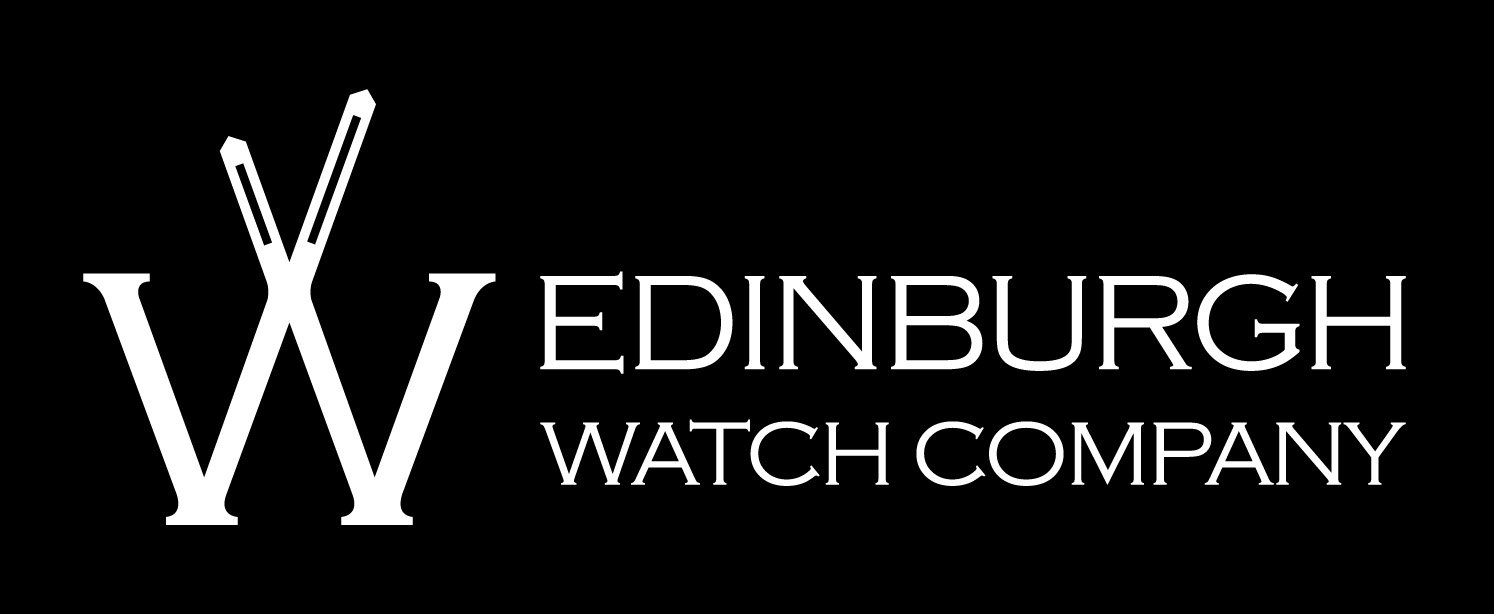 A fine grid with a really good mixture of cars, though a couple dropped out before racing started, as the rain tipped down.
Race 1 – 12 laps
There was 20 cars on the grid, but the race was red flagged on lap 1 with 5 cars out at Duffus  / Leslies. So a full restart was put in place, and the cars lined up minus some regulars. The clashes came after Mike Connors Lotus 7 spinning as he tried to pass Shonny Paterson's TR8 at Duffus for 4th on the outside. But behind this spin several cars came together, Bruce Mitchel's Lotus Europa was in the wars as he had front and back damage, and limped into the pits.  We also lost 5 cars including Jimmy Crow's Escort and Andrew Graham's TR8. After the red flag the restart John Kinmond led in his Rover SD1 3500. He had a 3 second gap by lap 3. He was chased by Tommy Gilmartin in his Morgan +8. Tommy held on then started to close the gap. By lap 6 they were just half a second apart. On lap 9 Tommy was right on John's tail. He took the lead at Duffus but then he was clipped into a quick spin at Leslie's and retired the car. John Kinmond reeled off the last 3 laps to win. There was another battle at the front initially over 3rd as Mike Connon had his Lotus 7  ahead of Shonny Paterson's TR8, with Philip Russell's BMW close behind. These 3 swapped places around, as Paterson took 3rd on lap 5, with Russell moving into 4th on lap 8 , then Connon regained 4th on the final lap then 3rd late on. Paterson came home 4th with Russell dropping back quickly on the last lap but still 5th. In 6th was Kenneth Brown in a road going TVR Griffith from the early 90s. He snatched the place on lap 9 from Charles Cope, who had his MK1 Golf flying along. Next up but over 15 seconds back was Craig Houston in a Lotus Excel. He was chased hard by Oly Mortimer, who had been ahead of the Lotus until lap 2. Oly won class A, helped by Alastair Baptie retiring his Fiat X1/9 early in the race. In the XR2 class it was a win for Nicola Campbell. John Kinmond said, ' I'm not smiling, I didn't feel very good, as Tommy (Gilmartin) went past me and I tried to hold onto him but at Duffus. I caught the back wing of his car. I was trying to take more risk. I hit the brakes hard, but by then he was heading towards the gravel'.
Race 2 – 12 laps Andy Walker Trophy Race
The second Classics race of the day, saw drivers battle it out for the Andy Walker Memorial Trophy; a special race held in memory of the former classics racer who sadly passed away earlier this year. The field was fittingly led on two green flag laps by his old Triumph race car, driven by friend Iain Sinclair. It was a lovely tribute.
When racing started Mike Connon got a fast start in the light Lotus 7. He led by half a second from John Kinmond at the end of lap 1. The top 2 stayed close, then Kinmond took the lead on lap 4. Shonny Paterson was also close, only a couple of car lengths back in his TR8 sportscar, and Philip Russell was less than a second back in his BMW. The top three ran nose to tail on lap 6.But all eyes were also on the progress of Tommy Gilmartin. He started 15th of the 20 car grid. By lap 2 he was already up to 6th. On lap 3 he was 5th but a couple of seconds behind Philip Russell's BMW. Tommy closed in, and on lap 6 took 4th.  A lap later he dived past Shonny Paterson at Clark. Tommy was 3rd. Another lap on and he was 2nd, just two car lengths behind leader John Kinmond. He made his move on lap 10 at Duffus, but Kinmond immediately responded and retook the lead at MacIntyres.  He than kept Gilmartin behind, though it was close at the flag as only half a second separated them. Mike Connon had dropped back a few car lengths on lap 9, but then he closed in, and was right with Tommy on the final lap, and only a tenth separated them at the flag. Russell's BMW was just over 2 seconds back in 4th nearly three seconds up on Paterson's TR8. The top 6 was rounded out by Kenneth Brown in the TVR, and he held off Andrew Graham's TR8 which had started 17th and pressed the TVR over the final 4 laps. Philip Russell set a new class F lap record 57.653 seconds.
In the championship Kinmond leads Mortimer by just 6 points. Oly Mortimer having finished 13th and 2nd in class A, as Alastair Baptie started 16th and took his Fiat to a class A win and 10th overall. The XR2 class went to Duncan O'Neil in 16th as 3 XR2s raced.
A small judging panel observed the race to award the Andy Walker Trophy to someone showing great fighting spirit. The panel selected Craig Houston for his gritty performance in his Lotus and Craig was presented with the Andy Walker Trophy by the Walker family.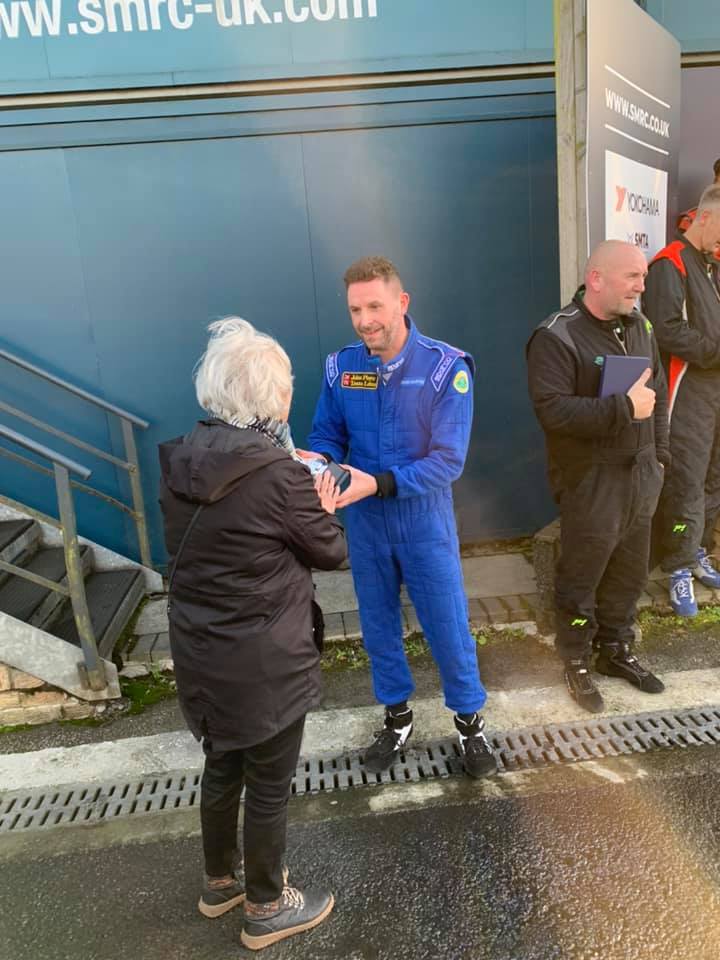 Scottish Fiesta ST Cup 
In Association with Intimation Space and supported by Yokohama Tyres

Another good grid of Fiestas, but rain affects a favourite and others go really well.
Race 1 – 12 laps
Steven Gray led from pole in a 14 car grid, but Mark Dickson got alongside him at MacIntyres on Lap 1, but Gray was back ahead by Butchers, as these two headed a 5 car train. By lap 2 Gray had broken away and had a 2 second lead. Dickson had 4 cars right behind him, with Stephen Ward and Lorn Murray the ones on his tail. Dickson got his head down and slowly got away from his pursuers, and by mid race he had a 2 second gap, but was 3 seconds behind leader Gray. Stephen Ward held third until the final lap, when Simon Smail nipped past. Smail had been 5th on lap 3 then demoted Murray on lap 4. Glen Hendry was 6th a few seconds clear of the battle for 7th place, as teenager Brody Orr held off veteran Peter Cruickshank. Gray won by over 5 seconds with Dickson a good 2nd in the challenge class car his highest finish of the season so far. Gray said, 'I'm over the moon, that was a good race, Mark was close at the beginning then I managed to eke out a gap'.  Gray had extended his championship lead with this his 4th win. Dave Colville hadn't entered and Smail and Dickson were now 2nd and 3rd in the championship after this race.
Race 2 –12 laps
Steven Gray led away and had half a second lead as lap 1 ended. He never looked back and as Simon Smail and Mark Dickson disputed 2nd he got clear. Smail had grabbed 2nd on lap 1 at MacIntyre and he held it all the way to the flag, despite Dickson running close behind. They had Stephen Ward for company, and he was rarely more than a car length back.  Smail's car looked as if it was smoking in some parts of the circuit, but it lasted to the flag.  Up front Gray disappeared to win by nearly 7 seconds. It was a dominant display. On lap 1 Brody Orr had stopped at the chicane leaving Peter Cruickshank on his own in 5th. He was a second off Ward for half the race, then drifted back a little. But he was well clear of Duncan Langton who had been 8th on lap 4, and moved up 2 places a lap later, as Jonathan O'Neil and Stewart Scott got delayed. Lorn Murray got involved with these two. They ran close until Murray door handled his way past on lap 11 to grab 7th. Steven Gray sealed his first Fiesta ST Cup championship, and noted it was great to see a crowd at the circuit with Armed forces and NHS appreciation day. Smail and Dickson both said they had brake issues post race. Smail said ' it was getting difficult to stop, there was brake fluid over my boots'. Dickson, ' I had no brakes either'.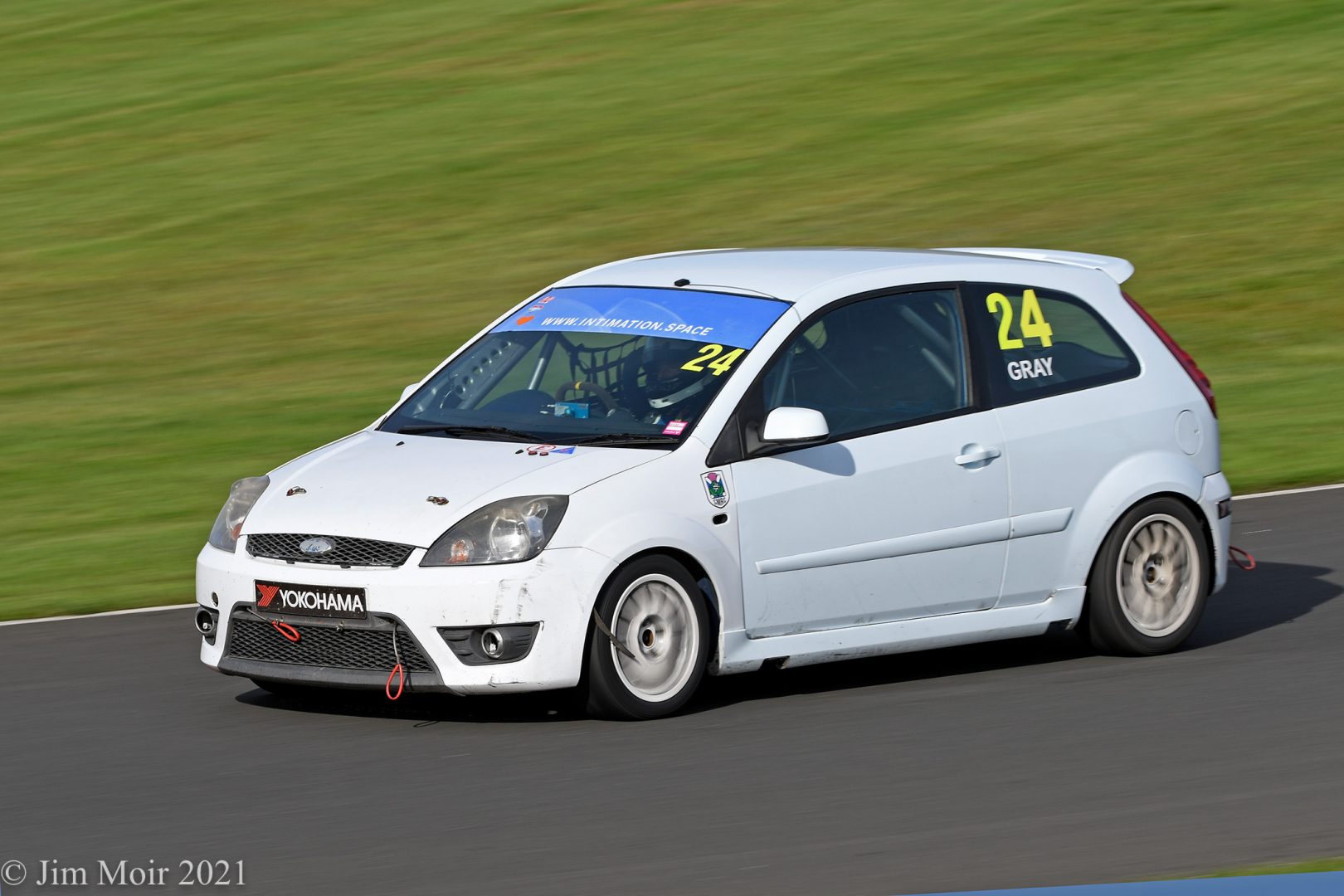 Kevin Pick
Director SMRC