Wheelspin June 2023
SMRC Annual Awards Dinner for 2022, Ingliston – held in February 2023
(Edinburgh Royal Highland showground – in the new Pavilion)
We returned to holding our awards ceremony, the first since 2019 due to national restrictions on events. We last visited Ingliston for an awards dinner in 2000. Then it was just 5 years since the last race meeting was held there.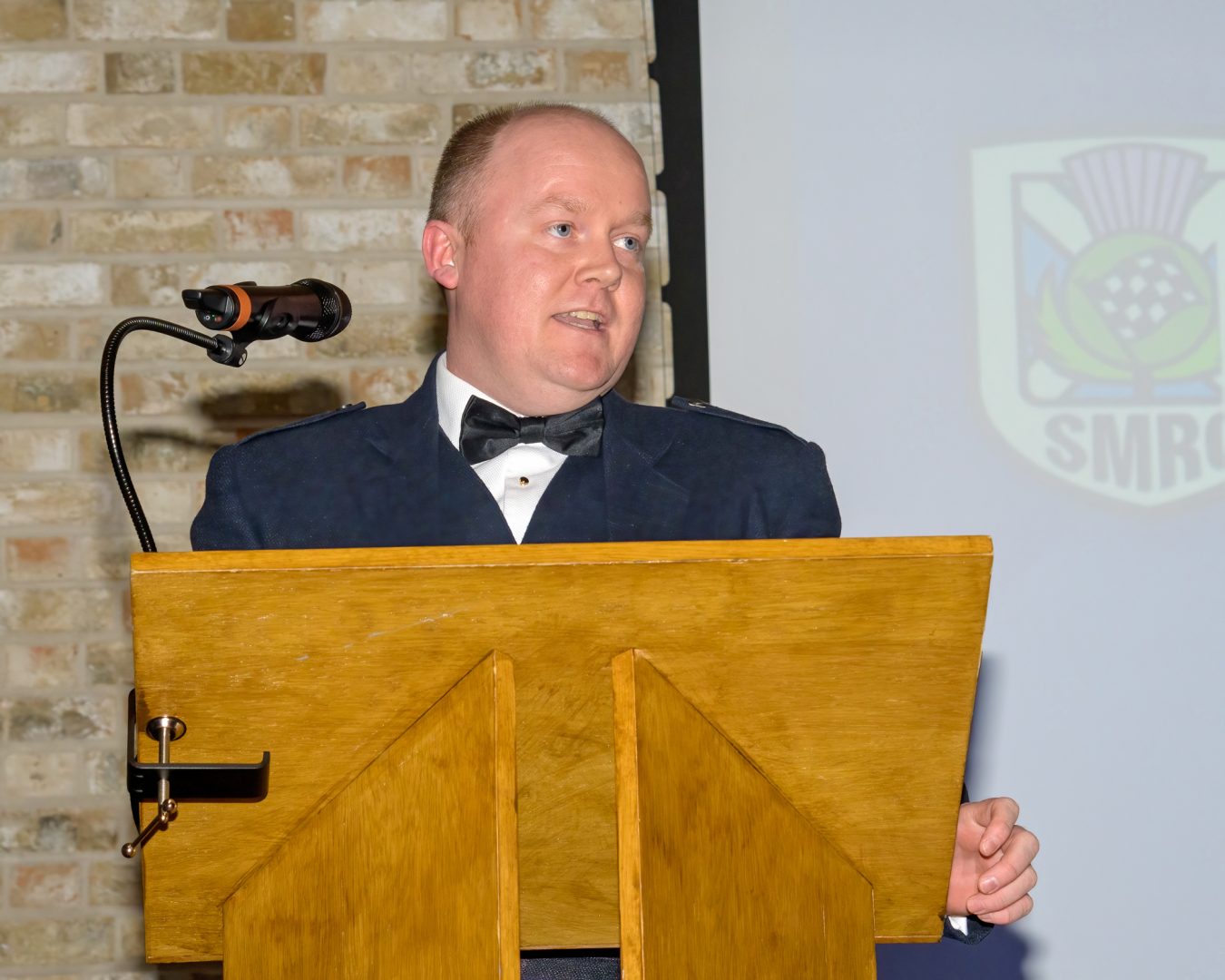 Richard Burrell the new SMRC Chairman introduced the evening saying, 'Good Evening Ladies and gentleman, thank you for the very warm welcome'.
He said that the SMRC has a long history with Ingliston, as racing used to be held here (1965 – 1995). The chairman then introduced the evenings compare Duncan Vincent.
Richard then said, 'The last 3 year have been very tough, but it is a great feeling that we are finally able to all get together and celebrate our 2022 champions.
This year sees us at a new venue and I am sure you would agree the pavilion is a special one. These events don't just happen, a tremendous amount of work is needed. I would like to thank Alan Barron and Nic Boyce for all the effort you have put in to deliver this evening. I know its not been easy, but I think you have pulled it off. Innes and her team from the Highland Centre, Caroline and her team from Saltire catering and our ex classic driver Andy Smith and his company Stage Hire, allowing us to showcase our champions.
Thank you to all our sponsors Reis Motorsport Insurance, Project 21 Detailing, Yokohama and the Scottish Motor Trade Association for their support in 2022. In particular, I'd like to thank Jonathan Gilbert, of the Edinburgh Watch Company for his continued and generous support of the Scottish Classic Sports and Saloon Championship, with a fantastic new Driver of the Day initiative planned for 2023. Sadly Jonathan cannot be with us tonight. I'd also like to welcome Toyo Tires as our new tyre sponsor of the Scottish Fiesta Championship in 2023 and on that note, I'd like to thank Ronnie and Daisy Thom, of Wheels Around, for their continued and vigorous support of Scottish motorsport.
Sadly this last year has seen us lose members of our motor racing family and I would like to take some time to remember them;
Edinburgh College team member, Grzegorz Dwojak – A truly gifted mechanic who was not just the collages mechanic, but all of the C1 paddock would have had some interaction with Grzegorz when your cars needed repair. He was the definition of team. He will be truly missed in our sport.
Donald Reid, from the Scottish Motorsport Marshals Club – rescue team. Donald has supported the SMRC race meetings for over a decade and is a great loss to our volunteering team.
George Cooper – ex classics driver for many years and remembered for driving his ex Stirling Moss Cooper MG.
2023 sees the SMRC venture into a new calendar, where we have committed to more away rounds, we hope this brings better variety, but also upping the challenge of the championship contest.
As your Chairman, I would like to give you reassurance that I will continue to move the club in the modern direction and ensure that you the members, are at the heart of all of our decisions.
I would like to say a big thanks to Jillian and her team at Knockhill, for all their support they have given us during the pandemic and the upcoming 2023 season.
I would like to say the biggest thank you to our volunteering team. As you know without them we would not be able to run our meetings. Henry Williams and Alan (Barron) have worked tirelessly in the drive to recruit marshals, and they have been very successful in doing so.
Thank you to our compare this evening Duncan Vincent, not shy of the mic but without you this evening would not be brought to life. I would also like to say thank you for all the work you have done for us commentating for our events, and I would like to ask the room to join me in congratulating you for winning the prestigious Motorsport Awards – Commentator of the Year.
Without further delay, I am sure you are all starving I just want to thank you all for supporting this evening and here's to a great night.'
Alan Barron who co-ordinated this awards event, then said grace.
SMRC Awards
New for this year, the top 3 of each championship for saloons and sportscars came upon stage together, to receive their awards.
Scottish Formula Ford Championship
SMRC Competition Director Steve Burns handed new champion Michael Gray the Jock McBain Trophy, which is usually on display in the Jim Clark motorsport museum in Duns. Steve asked Michael if we'd see him race in the nationals. He said he wasn't sure,
'but this completes the journey, winning a Scottish Championship. I've been trying since 2010 and came back in 2021 with Graham Brunton Racing'.
Scottish Fiesta ST Cup championship supported by Reis Motorsport Insurance, Yokohama Tyres & Wheels Around
New champion is Liam McGill, winning the Hamilton and Inches Trophy
2nd Stephen Gray 3rd Brody Orr
ST Challenge Cup Kieran Preedy.
The new champion Liam McGill was asked on stage what winning the championship meant to him.
'Its amazing and its been a great year. Good battles with Stephen (Gray) and we'll be back racing in the same class again this year. I raced down south as well last year, but racing in Scotland is really tight.'
SMTA Citroen C1 Cup supported by the Scottish Motor Trade Association
New champion Sam Corson winning the Mary Armstrong Trophy
2nd Ross Dunn, 3rd Finlay Brunton
Newcomers Cup Paul Winfield
Steve Burns handed out the trophies. Duncan Vincent said, 'what a championship, it came down to the last race'. New champion Sam Corson said, ' it was an unreal championship and another year of learning. ' He thanked his team Minimax for preparing his car and his family for their support. Duncan noted that Sam came to racing from SMRC Esports.  Sam said, ' its been incredible to go from simulator to race a real car. I hope more come from Esports to racing C1s'.
Scottish Mini Cooper Cup in association with Project 21 Detailing, supported by
Yokohama tyres & Wheels Around
Malcolm McNab director of SMRC and Mini drivers representative came on stage to present the awards.
Cooper S class Jamie Blake
Mini Cooper Newcomer Jack Irvine
Mini Copper Cup – champion Michael Weddell received the Lombard Trophy
2nd Chad Little  3rd Jack Irvine
Michael Weddell said,
' Minimax entered 3 Mini championships and won them all.  If it wasn't for them I'd not win'. Commenting on his light hearted nick name of Flymo, he noted its because of a rumour that I spend more time on the grass than on the track, but I'll let you decide.
Scottish Classic Sports and Saloons Championship in association with Edinburgh Watch Company
Club Chairman Richard Burrell presented the awards.
XR2 Championship Duncan O'Neill
Classics class A Ian Mitchell (2nd O/A) (Vauxhall Nova)
Class B and overall Champion Charlie Cope (VW Golf)
Class D Adam Kinmond (Rover SD1)
Class E John Kinmond (3rd O/A) (Rover SD1)
New champion Charlie Cope said,
' Its been the best way to drive a Golf, on 3 wheels. Its brilliant, great camaraderie and it's a great championship to race in. We're all out helping each other, they are a great bunch of guys.'
Special Awards
These awards, many of which are decades old and many have been won in the past by famous drivers or long standing club members, were presented by new chairman Richard Burrell.
Ollon Villars Quaich (Presented in memory of Mark Brennan)
Named after an international hillclimb in Switzerland and awarded for the best prepared classic car at SMRC events.
The winner was Nicky Dixon's Lotus Cortina MK1. Commentator Duncan Vincent said that the car was absolutely stunning. Nicky said that he was lucky as he spotted the car on the internet. It had been built by an aircraft engineer, but not raced. Nicky went on to say, ' I have an affection for Lotus Cortina, they are good cars to race. Jim Clark raced these and he was a good friend of my grandfather.' Nicky had started racing in SMRC XR2s and said that it was different to an XR2, and that Classics were a good championship with a great bunch of guys.
Duncan Fisher Award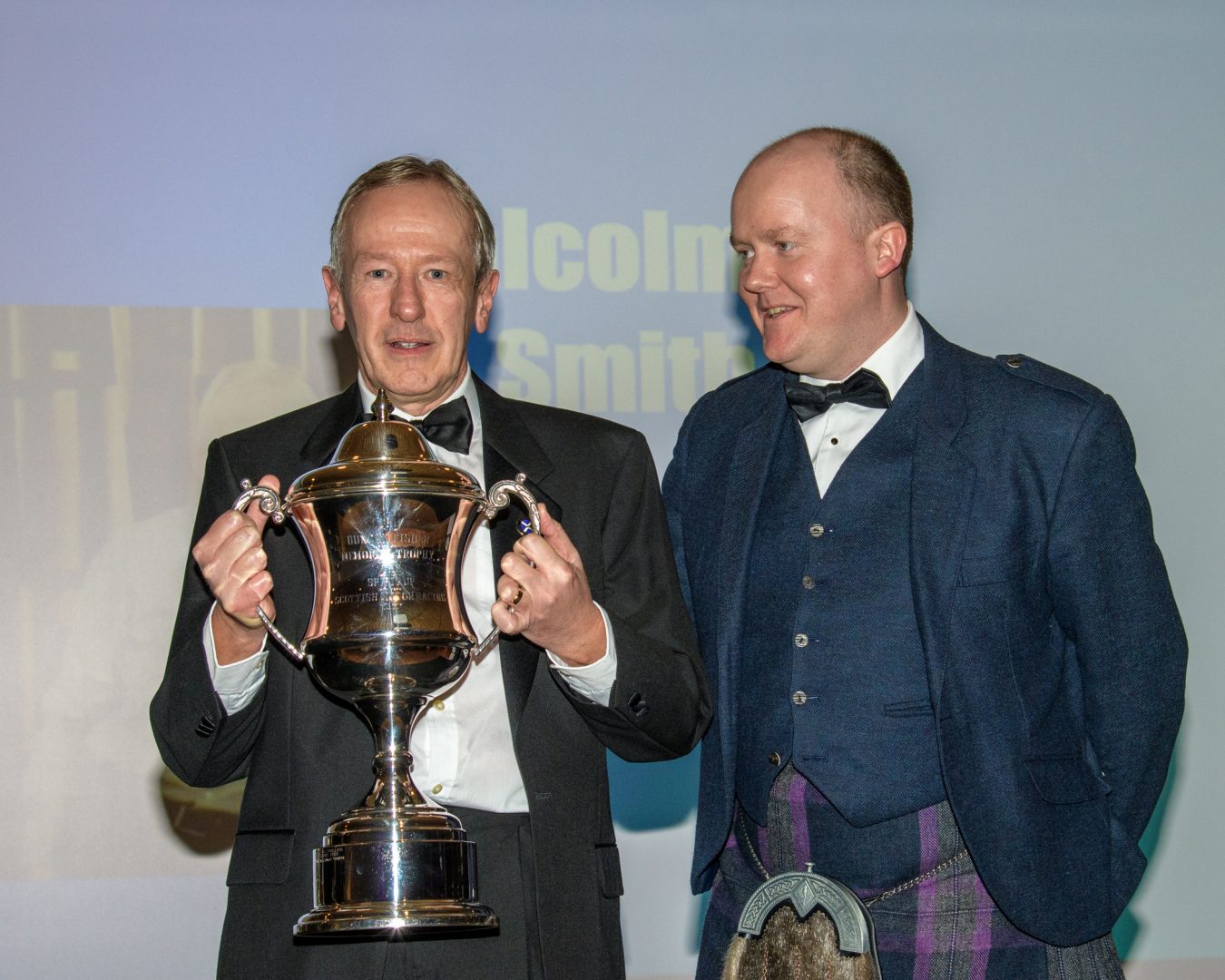 (This trophy is given in memory of Duncan who competed at Ingliston in the 70s and 80s and is awarded to an enthusiast, who is totally committed to his favourite sport of motor racing, and invariably does most of his work behind the scenes)
Winner Malcolm Smith, who Duncan Vincent asked, ' how does it feel?' Malcolm said ' astonishing  and surprising, I'm getting a trophy for enjoying myself. I remember the Fisher Imp racing, so this is special'.
Team of the Year (new award)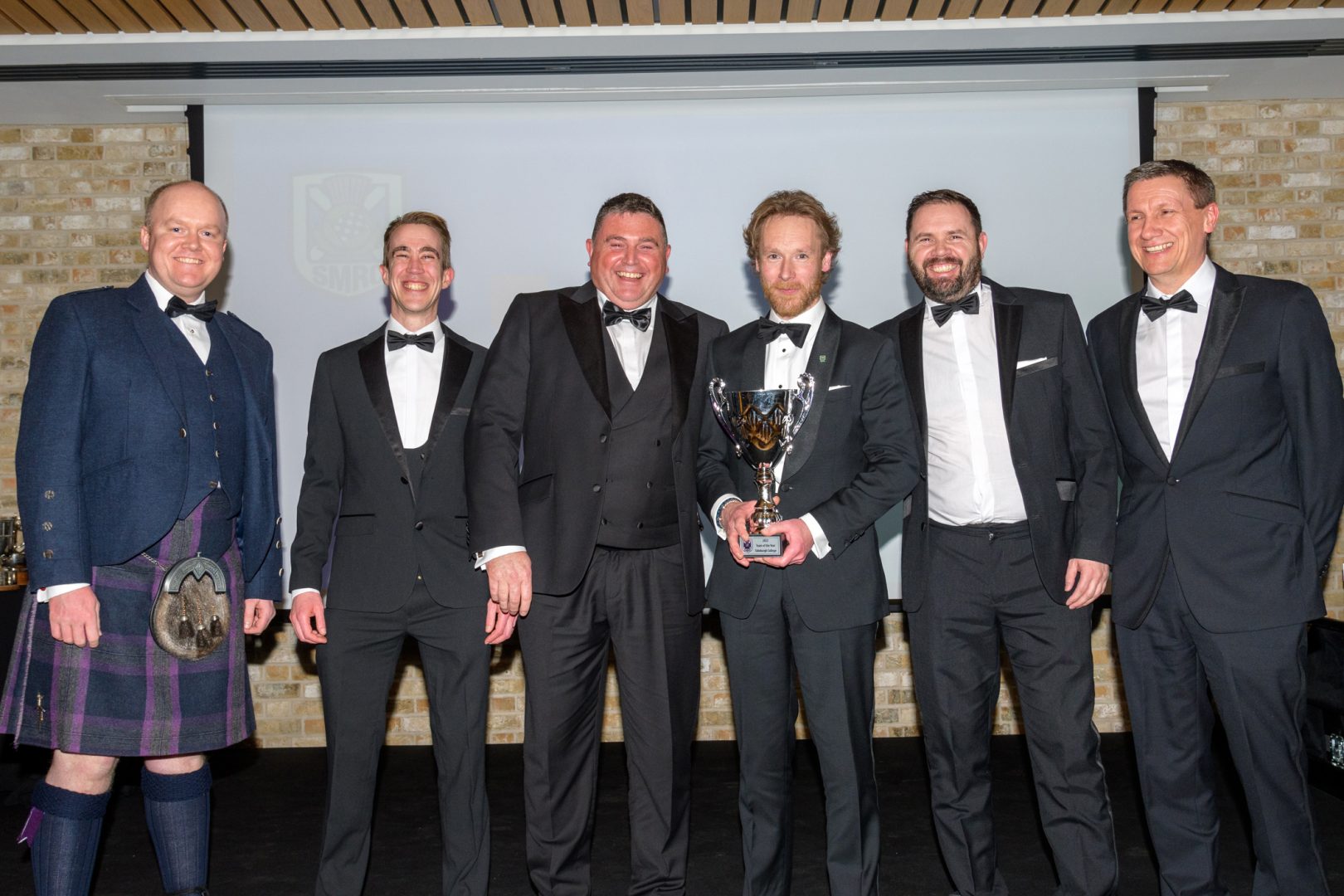 Winner Edinburgh College Citroen C1 team.
Duncan Vincent noted that its not all about the driver, someone has to prepare the car.  The College has been involved for years and has put students into motorsport. A team member received the award and noted that they had built the team up over several years. He said that it was about employment, ability, skills plus experience and getting opportunities from doing the work.
Independent of the Year (new award)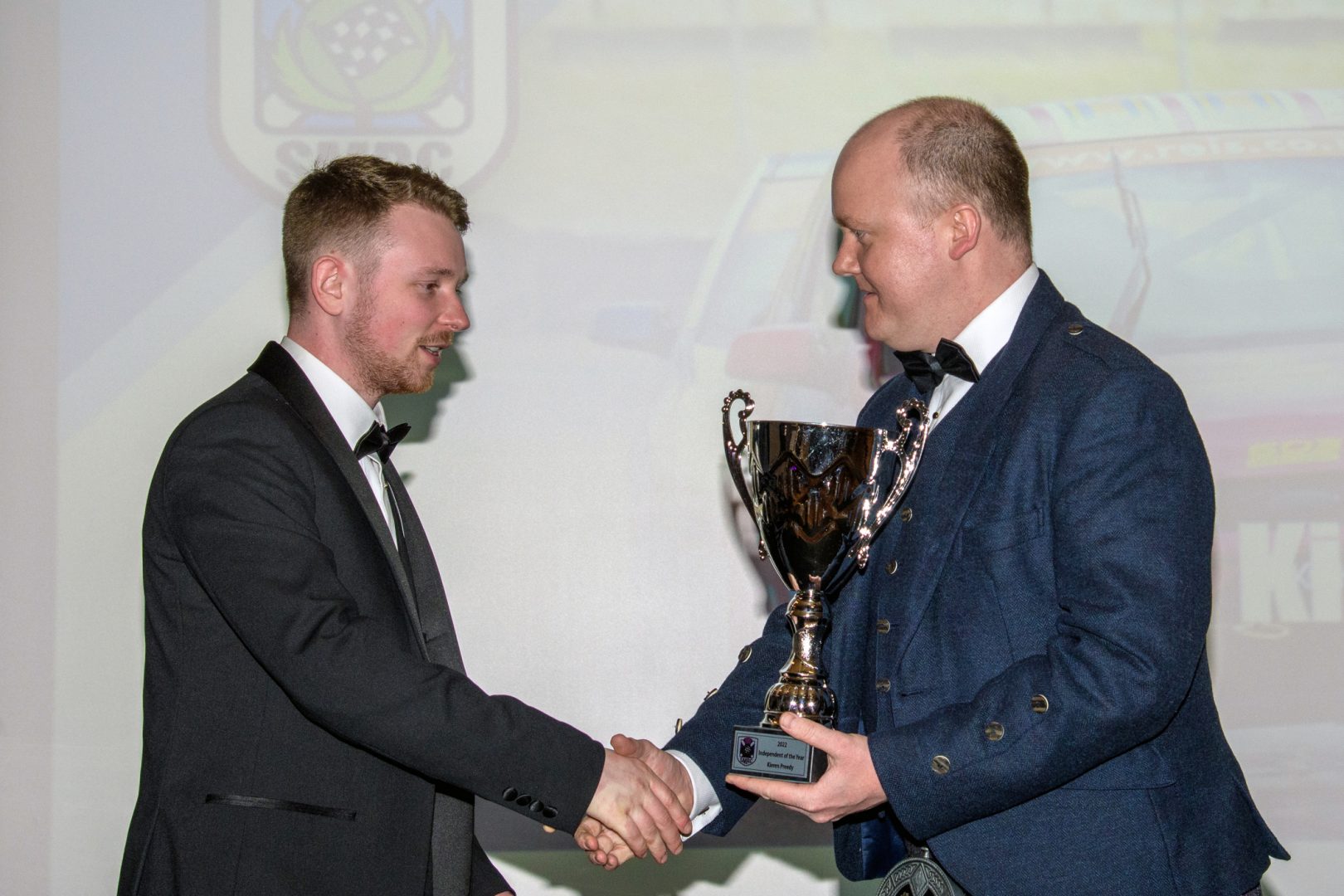 Winner Kieren Preedy (Fiesta ST). He said that it was mainly his dad that did all the work, but he'd  take it this year.
Sheila Whyte Trophy (Originally supported by the Whyte and Mackay trust, awarded to the most promising up and coming driver)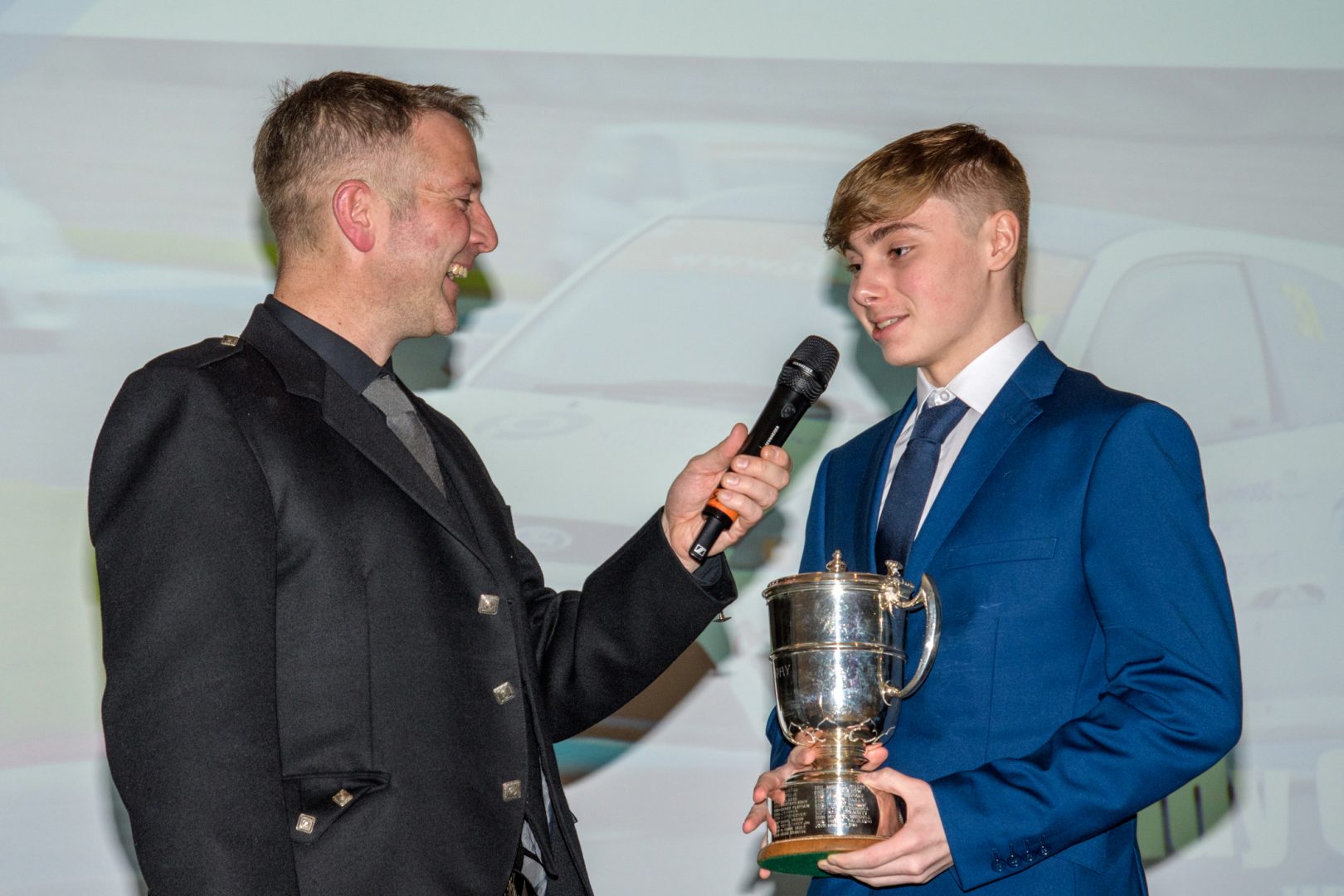 Winner Brody Orr (Fiesta ST).  Duncan said to Brody, You gave the commentary team some fabulous moments, last lap lunges etc, we thought he's the real deal. Brody said, ' thank you it means a lot and its a great honour. Thanks to everyone at my table'. He went on to say that he'd give it another go this year in Fiestas, racing with Steven (Gray) and Liam (McGill).
Edinburgh Students Charity Quaich (Top Lady Racer)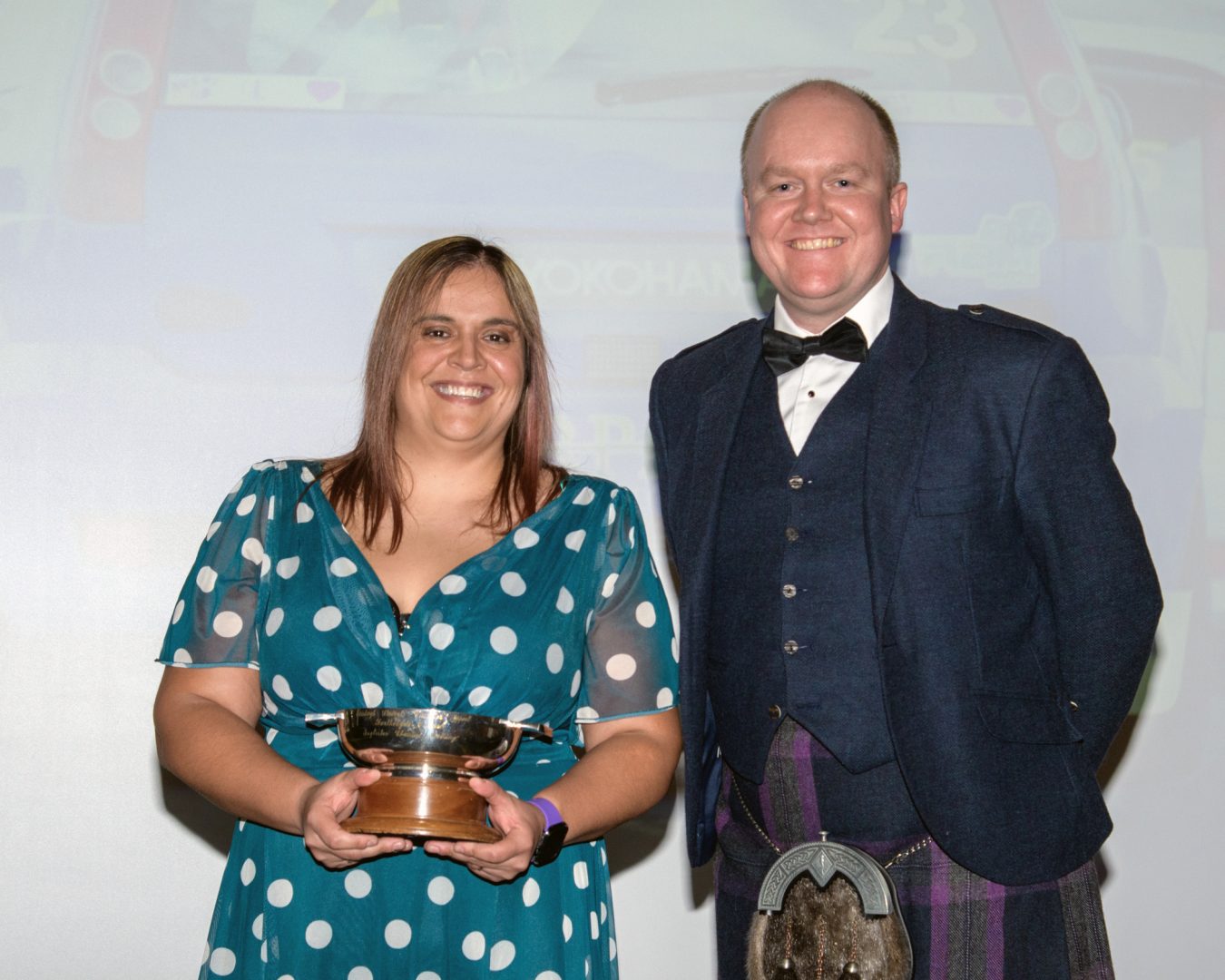 Winner Lucy Hales (Fiesta ST). Duncan asked if it was another year in STs in 2023. Lucy said, 'We're registered and ready to go, and maybe get a few places up. Thank you very much (for the award) and I didn't expect it at all'.
Claire and Nicholas – Marshal of the year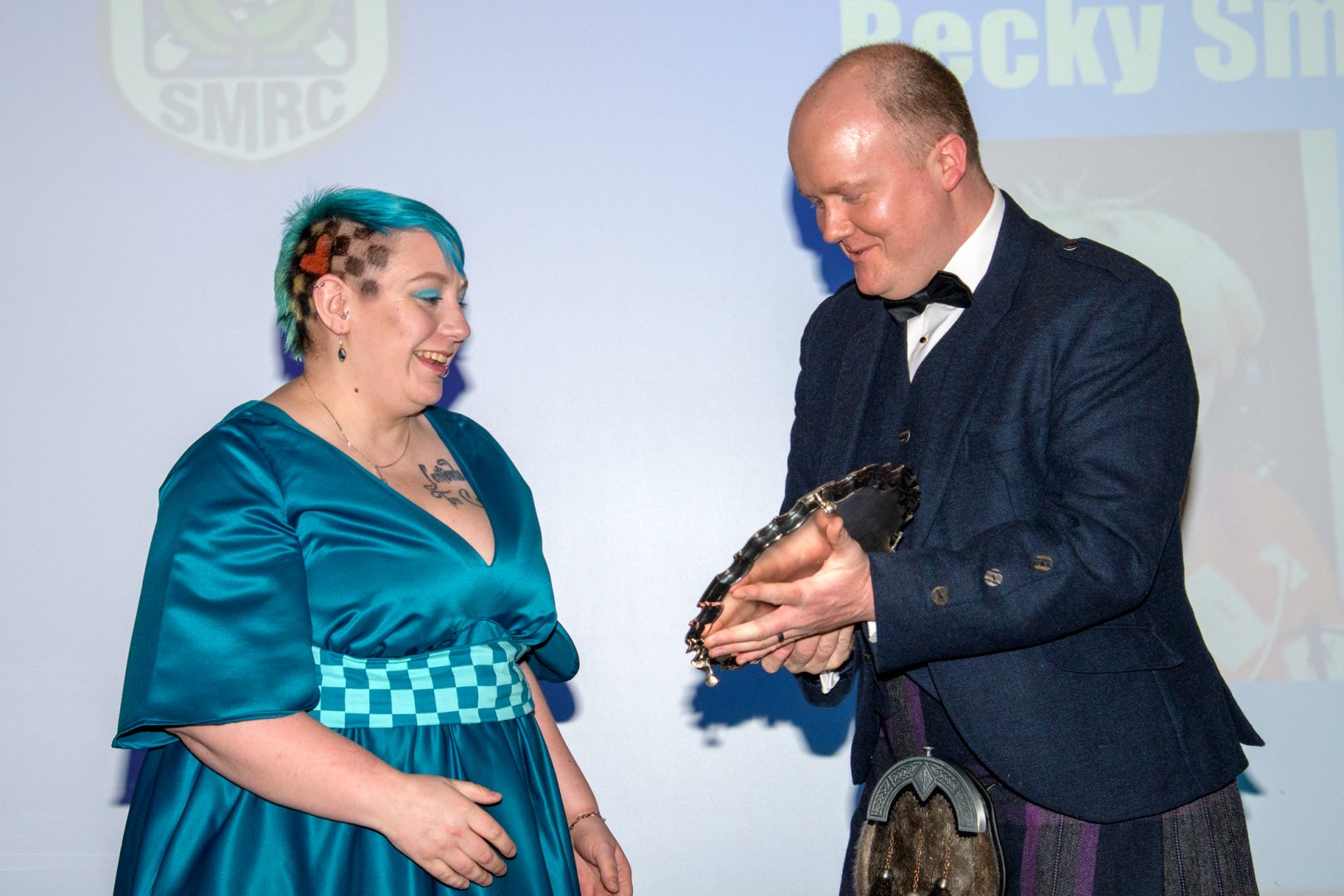 Winner Becky Smith (assembly area marshal). She said, ' Its a massive thing , I've been involved with the SMRC for 20 years and I've been a marshal for 16 years'. Becky also said the award was a big honour.
SMRC Special Award (This person has gone the extra mile for the club)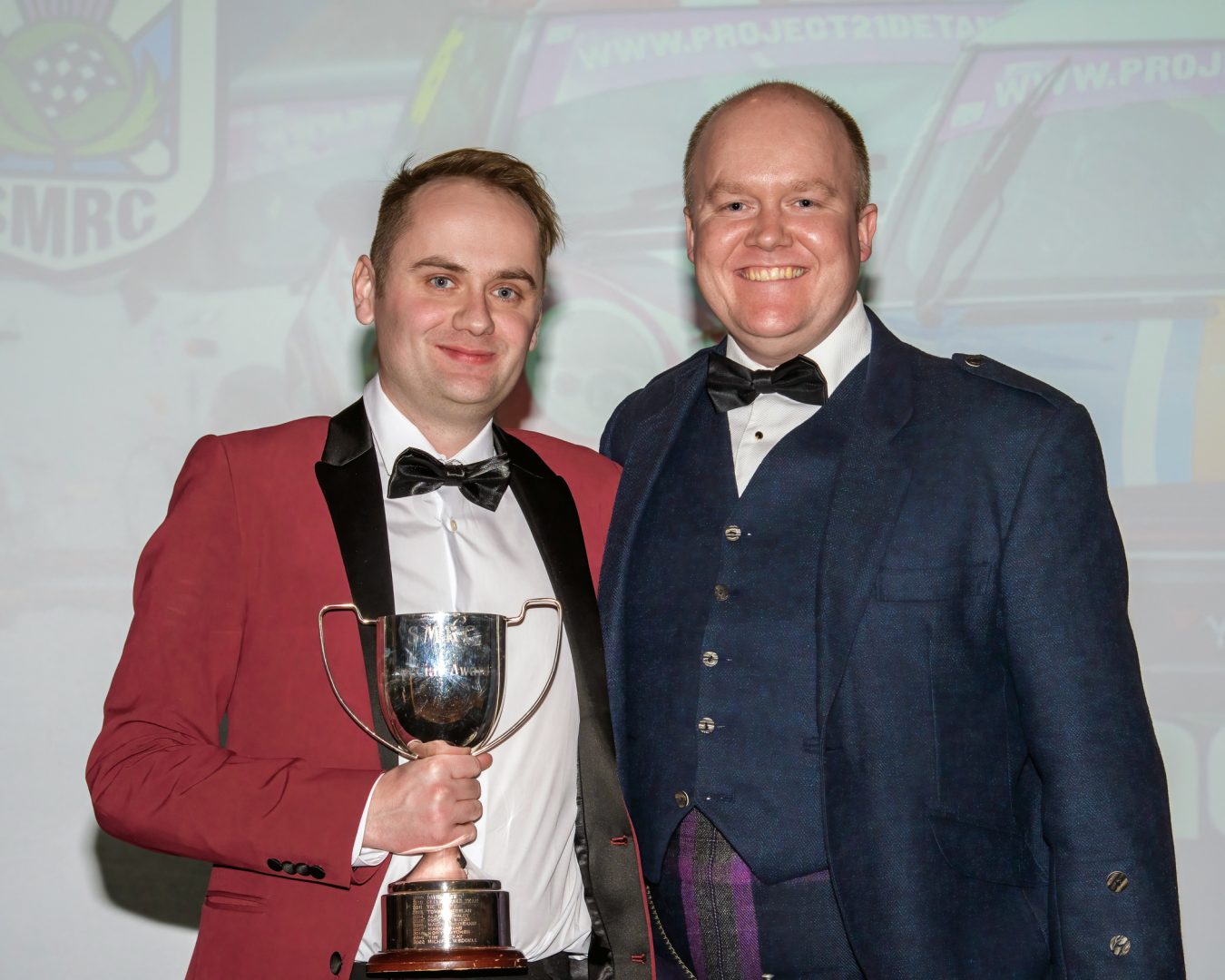 Winner for his IT input and running SMRC Esports mainly in his own time, Michael Weddell.
Duncan Vincent noted that Michael was good at behind the scenes and we've had fun with Esports, which has brought Sam Corson into car racing. Michael said, 'Esports is good fun and brings a new dynamic and its good racing.' He also thanked Alan Barron, saying it had been good working with him on tonight's dinner and awards ceremony
William Lyons Trophy (Top performance by a Scot in a Sports Car)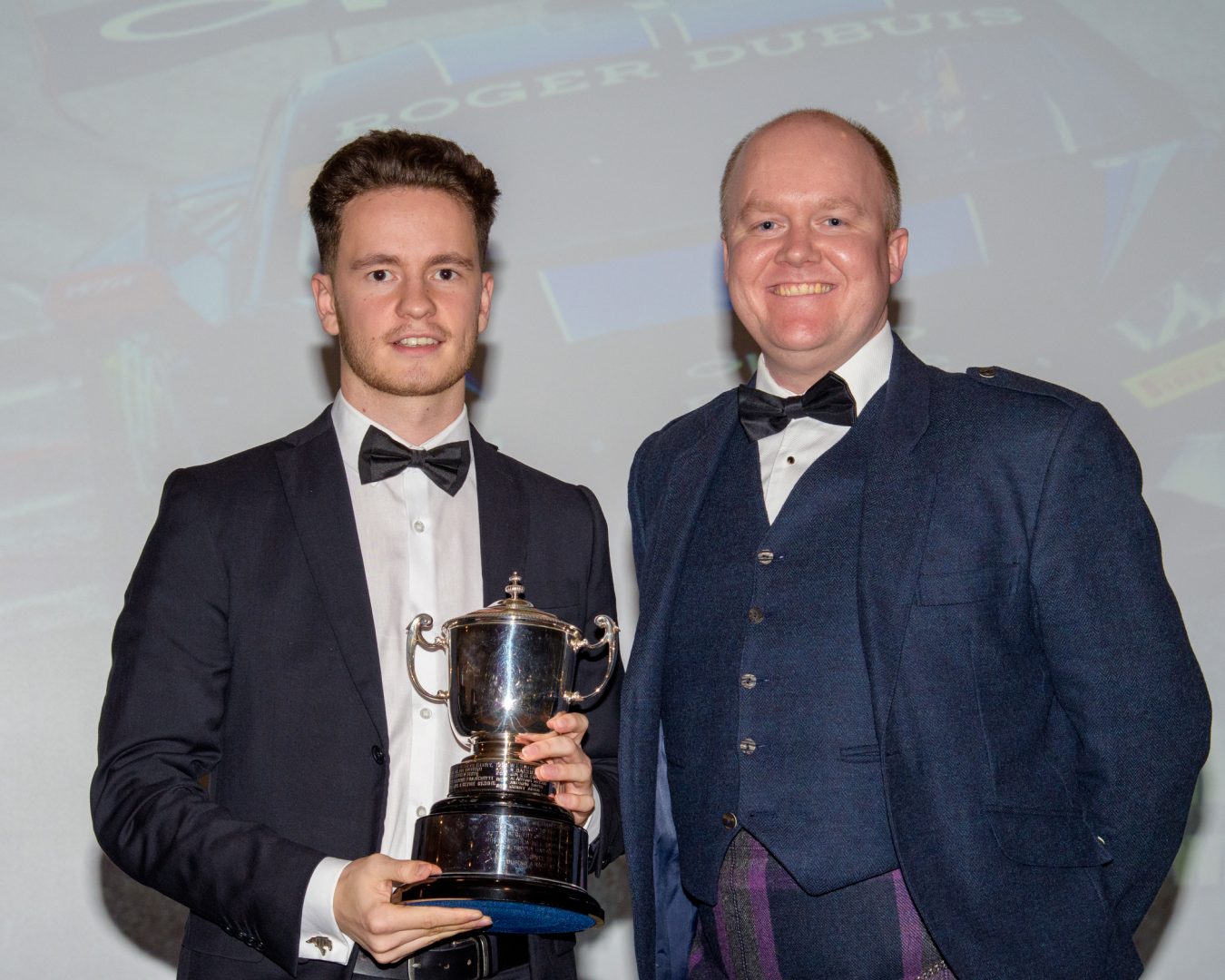 Winner Sandy Mitchell. A former Scottish Karting champion and winner of 2017 BRSCC Rising Star Award, he is now a factory Lamborghini sportscar driver. Duncan said, congratulations you've come a long way. Sandy replied, ' its a great honour and there's some great names on the trophy. I'm very proud of this'. He went on to say that he thought that Esports is a great way to get track time for any young driver and a good way to get experience. Sandy also said that he did SMRC Esports over lockdown. He then said, ' in 2023 I'm racing in British GT and in IMSA in the USA'. When Duncan asked how old Sandy was, he replied 22.
Rothmans Trophy (Top Scottish driver in a UK Championship)
Winner Rory Butcher (Touring Cars). The diners then watched a video from Rory, were he said well done to everyone in the room who was collecting a trophy. He thanked the SMRC marshals who put in time and effort  to let us drivers have fun. He then wished that everyone has a great evening.
Duncan Vincent noted he took Rory to his first kart race meeting when he was just a cadet. He raced Mini Coopers, Formula Ford, Porsches, and Ferraris before getting a chance in Touring Cars in a Focus, then with an MG6. Now he's in a leading team and is a race winner in a Toyota. Duncan then said, ' Rory's a credit to hard work'.
SMRC Driver of the Year (voted for by the Scottish Marshals) Presented by Gordon Melville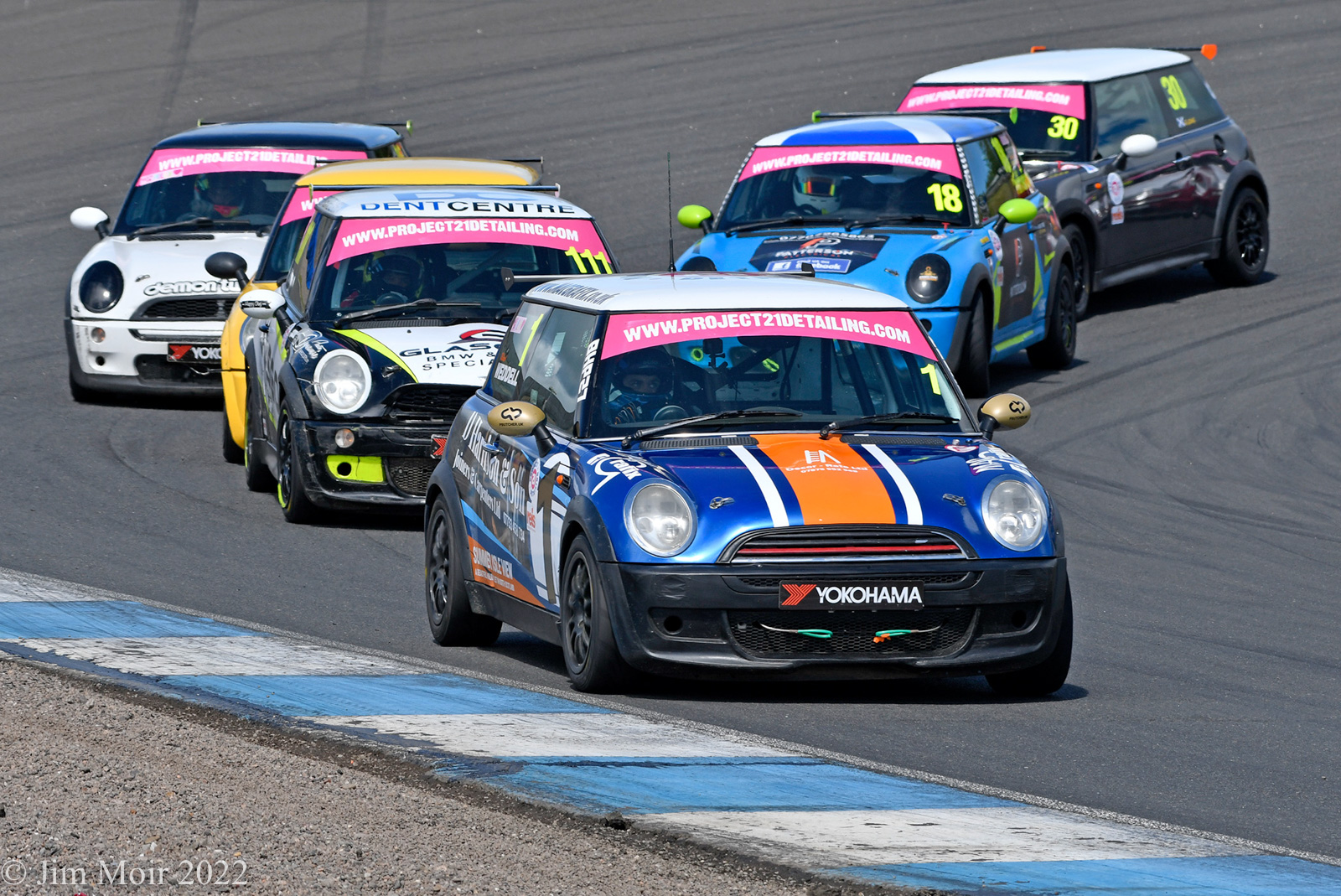 Winner Michael Weddell (Mini Cooper Cup championship). Michael thanked the marshals saying without them we couldn't go racing. He thanked the Minis saying sometimes it was 1 in front , 1 right behind and 1 either side. He said,  'Its quite tough  but that's Mini racing, we don't give the marshals too much to do'.
John Romanes Swift Trophy (for excellence by a Scot in racing) A special trophy donated by the late John Romanes, one of the clubs finest supporters. He was a driving force with then chairman Ian Scott-Watson of the creation of Ingliston race circuit at the Royal Highland showground near Edinburgh, in the mid 60s. He continued to be closely involved in the circuit's running for over a decade.
Winner Wallace Menzies – triple British hillclimb champion. The diners then saw a video with Vice Chairman Nic Boyes presenting the award. Wallace thanked the club for the trophy and was sorry that he couldn't be there. He then wished everyone a successful season.
Duncan Vincent then brought the awards part of evening to a close, thanking the staff for the service and he thanked SMRC for inviting him. He then asked all winners to come up on stage so longstanding photographer Jim Moir could capture the closing event, as he has done so for many years.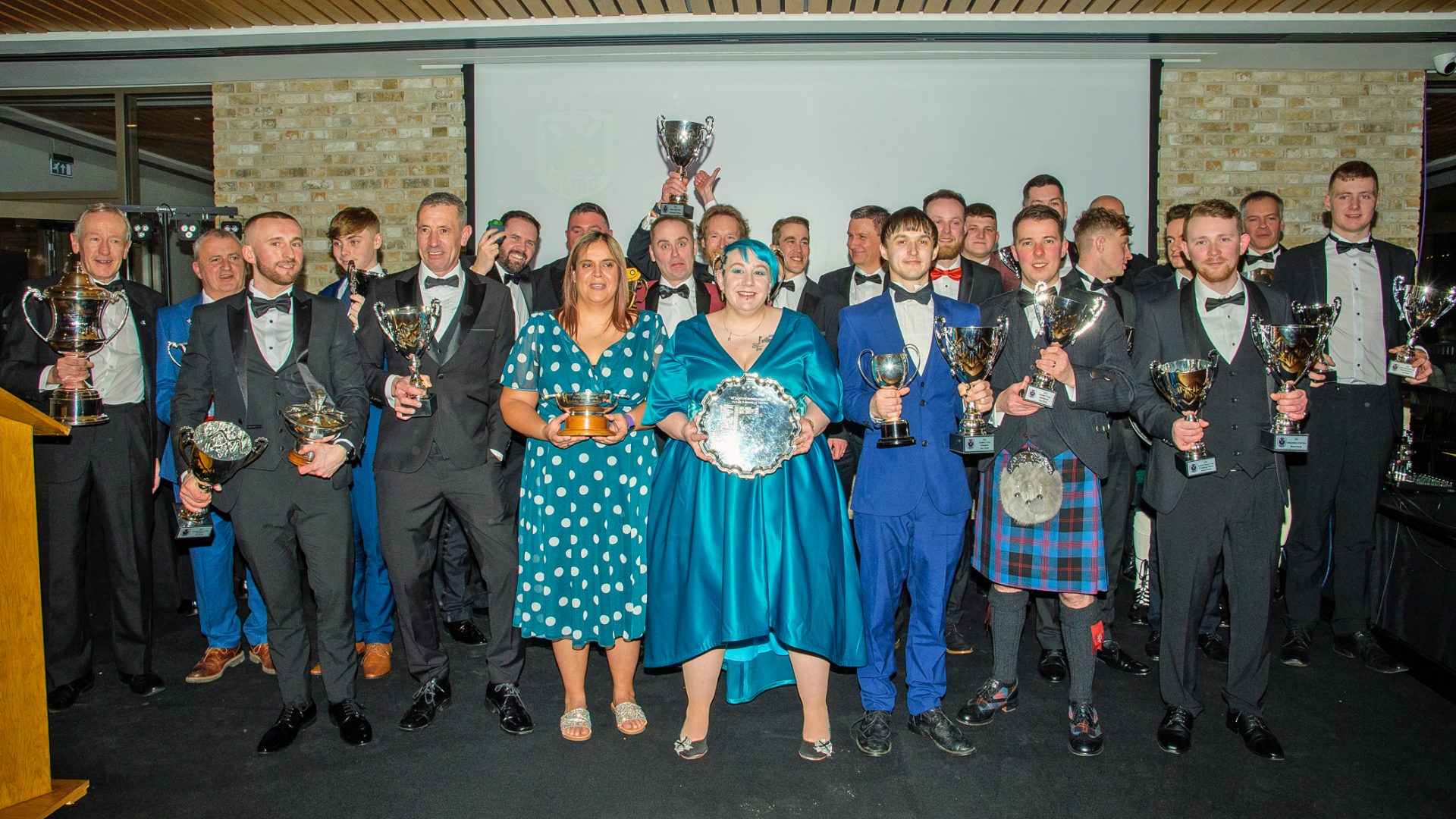 SMRC Calendar and Race Entries
Our 2023 calendar is confirmed as follows;
15th/16th April – Knockhill, Best of Scottish Motorsport Festival (featuring all classes)
20th/21st May – Croft (Minis only)
27th May – Kirkistown (Fiesta ST only)
3rd/4th June – Knockhill (C1 Cup Sat only, Classics Sun only)
24th/25th June – Kirkistown (Minis only)
8th/9th July – Knockhill (C1 Cup Sat only, Classics & Fiesta ST Sun only)
5th/6th August – Anglesey (all classes) plus visiting Irish championships
19th/20th August – Cadwell Park (C1 Cup only)
2nd/3rd September – Croft (Classics only)
9th/10th September – Knockhill (Fiesta ST Sat only, Minis Sun only)
8th October – Knockhill, Championship finals day featuring all championship classes
Online entry to all events is via the Members area of the website.  Due to the varied calendar and the way the events are organised we are not able to offer live streaming this year. However, this cost saving has enabled us to keep registration and race entry fees at close to 2022 levels, despite above inflation increases being passed on by many of our event service providers. This means we can continue to offer some of the lowest entry fees in the UK.
2023 Registration Open
SMRC Racing Members can register for their chosen championship by logging into the Members Area of the SMRC website  www.smrc.co.uk/members During the registration process members will be able to request their preferred competition number, for use during the 2023 season.  Permanent competition numbers are allocated on a first come first serve basis, subject to availability.  Registration costs £150 per Championship and you must be a current Racing Member of the SMRC to register.
2023 Regulations
Our 2023 Championship Sporting & Technical Regulations are available to download from the relevant championship page on the club  website www.smrc.co.uk/championships  Please familiarise yourself with the regulations; it is the drivers responsibility to know the rules and comply with them.  Changes to the 2022 regulations are highlighted in yellow and underlined.   Competitors, please also read through the Race Supplementary Regulations and Driving Standards Code of Conduct & Guidance, available on the website.
Scrutineering
Our Championships continue to be part of Motorsport UK's 'Future of Scrutineering' trial system, where you will self-declare various aspects of your vehicle and personal protection equipment online, ahead of each event.  Your race car and equipment will receive a more detailed inspection with our Scrutineering team at least every 4 events, with those selected for inspection being advised in the Final Instructions for each event.  There will also be random safety and eligibility checks carried out during every event, so please ensure that your car fully complies with all applicable regulations at all times. Additionally if your car did not race with us during 2022 or has undergone a winter rebuild, it will need to be inspected before your first event.
Championship Representatives
We are pleased to welcome Finlay Brunton and James Hitchen to the team, who will jointly represent the C1 Cup drivers following John Duncan standing down at the end of last year, having spent 4 successful years in the role. Both drivers are popular figures around the paddock and have enjoyed success on the track, with Finlay winning the inaugural 2019 C1 Cup Championship and James finishing runner up in the 2022 Newcomers Cup, taking overall race wins along the way. We wish Finlay and James well in their new role and look forward to working with them to continue the success of the C1 Cup. Finlay and James can be contacted at c1cup@smrc.co.uk.
We'd also like to thank John Duncan for all his efforts in the role since 2019; John has been an encouraging and friendly supporter to the C1 paddock and has been instrumental in the championships overall success to date.
John Kinmond (classics@smrc.co.uk)  and Malcolm McNab (minis@smrc.co.uk) continue to represent the Classic Sports & Saloon Championship & Mini Cooper Cup respectively.
New Fiesta ST drivers representative
We are delighted to welcome Becky Smith to the SMRC team, who will represent the Scottish Fiesta ST drivers, as the Championship Representative, from this season onwards. Becky will be supported by Paul Curtis, who has a wealth of technical knowledge and understanding of both the Fiesta ST race cars and of the Championship itself.
Becky is well known to all drivers and teams alike and her role within the SMRC marshals' team means she can be found on race days within the pre-race assembly area. Becky is well known for her ability to persuade drivers to be on time and park their vehicles in the correct place and will be a strong voice for everyone involved. Becky will be assisted on the technical front by Paul, who everyone from the Fiesta paddock will know well, his technical knowledge and understanding of the cars and regulations will be of great assistance.
Becky can be contacted at  fiestas@smrc.co.uk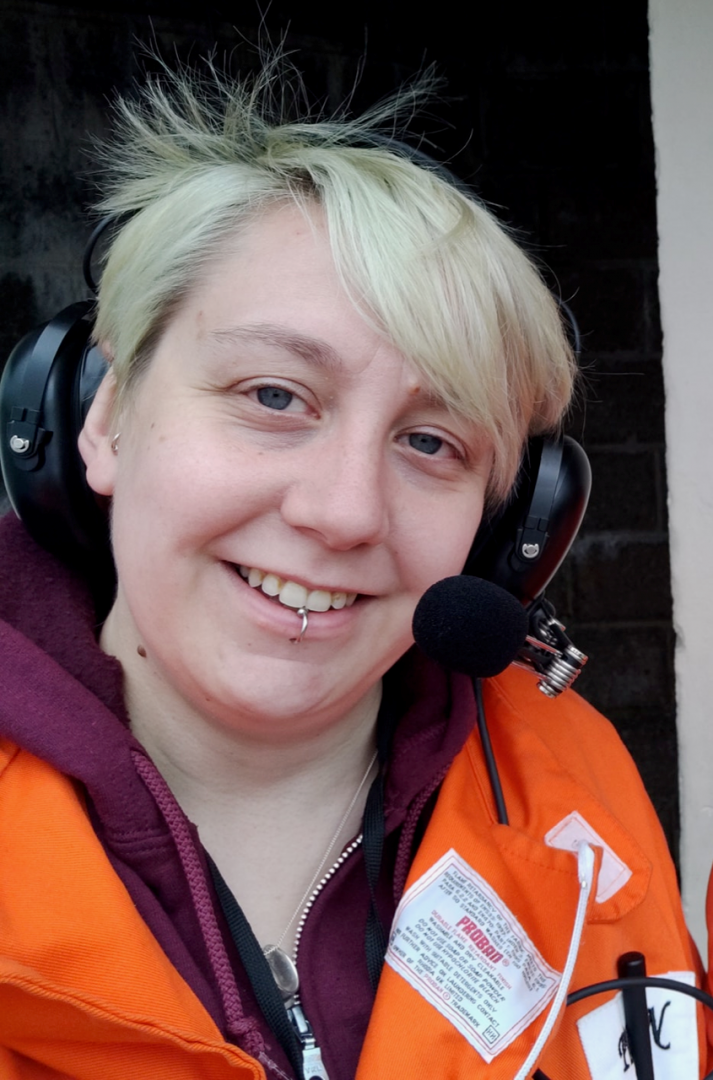 Annual General Meeting
SMRC AGM was held on Thursday 23rd March, at the Dakota Hotel, South Queensferry, EH30 9QZ commenced at 7.30pm, with tea/coffee served from 7pm.  Only current club members were admitted.
Chairman Richard Burrell opened the meeting. He thanked outgoing chairman Vic Covey Jnr, fellow directors, championship representatives, Club sponsors, volunteer marshals and Knockhill racing circuit for their support in delivering our events. He went on to say 2023 marks the 77th year of our club, and that the club faces a number of challenges over the coming years. He noted that while racing using internal combustion engine remains the Club's core business, it is important to explore new opportunities as they arise.
Competition Director Steve Burns reported that the club had run 6 full day meetings, 5 at Knockhill plus an away meeting at Cadwell Park. The club ran the hillclimb event at the Sir Jackie Stewart Classic, in Thirlestane Castle grounds on a 700m track. Following consultation with drivers there was a demand for a more varied calendar in 2023, hence the committee put together a more bespoke calendar for this season. SMRC racing will take place on 11 different weekends across 5 different venues, although each championship will only feature on 6 of these weekends. This approach should also reduce our overheads.
Committee members and office bearers were proposed, seconded and elected. Other club business was discussed by those present, and current club members can request a copy of the minutes.
TOYO Tires Partnership with STs in 2023

We are very pleased to announce an exciting new three-year partnership with Toyo Tires, who will become the new official tyre supplier to the Scottish Fiesta ST Championship, from 2023.
For the upcoming season, the Scottish Fiesta Championship will run the Toyo R888R tyres, which have become a popular performance tyre used in many UK racing championships. As part of the companies support package, they will provide prize tyres for the 'Toyo Tires driver of the day' at each event next year, which will be awarded to drivers who put in spirited performances at the race meetings, but not necessarily those at the front of the grid.
The Scottish Fiesta Championship always offers close and hard racing and this new partnership comes at a particularly exciting time for the championship, as it moves to a new '3 nation' format for the 2023 season, which will see drivers contest the championship over 6 events at Knockhill, Kirkistown and Anglesey.
Commenting on the new partnership, Toyo Tires UK Technical Director & European Motorsport Manager, Alan Meaker said:"Toyo Tires are very pleased and excited to be partnering and supporting the Scottish Fiesta Championship and look forward to some great racing."
Local agent – Wheels Around – will continue to provide their comprehensive tyre fitting service on race weekends to fit the Toyo R888R's for Fiesta competitors. To order and book your new tyres in for fitting at upcoming events, please contact Wheels Around (07711577148, or email fiona@wheelsaround.com) in advance.
New SMRC Chairman
We are very pleased to report, Richard Burrell has become SMRC Chairman, for the next two years. Richard, who was the clubs Vice Chairman and Chief Marshal, took over from Vic Covey Jnr, who stepped down from his Chairman role, as his two-year tenure came to an end before the Awards Ceremony and Dinner at Ingliston. With Richard's focus shifting to the overall leadership of the club, the future Chief Marshal position will be taken on by club committee member and long serving member of the senior marshal team, Henry Williams, from 2023 onwards.
Supporting Richard, in the Vice Chairman role, will be Nic Boyes, who re-joined the committee in 2021 after having previously served in the early 2000s. Nic has raced both bikes and cars, competing in SMRC Classics.
Commenting on the new appointment, Richard Burrell said:
"I'm hugely honoured to take on the SMRC Chairman role. I fully intend to build on the great work that Vic Covey Jnr has delivered during his tenure and to continue to move our wonderful club forwards. There are undoubtedly some challenging times ahead but I will work hard, alongside the committee, to deliver the best possible racing for our members." If you would like to speak with Richard about your thoughts or ideas for the future of the club, you can reach him on richard@smrc.co.uk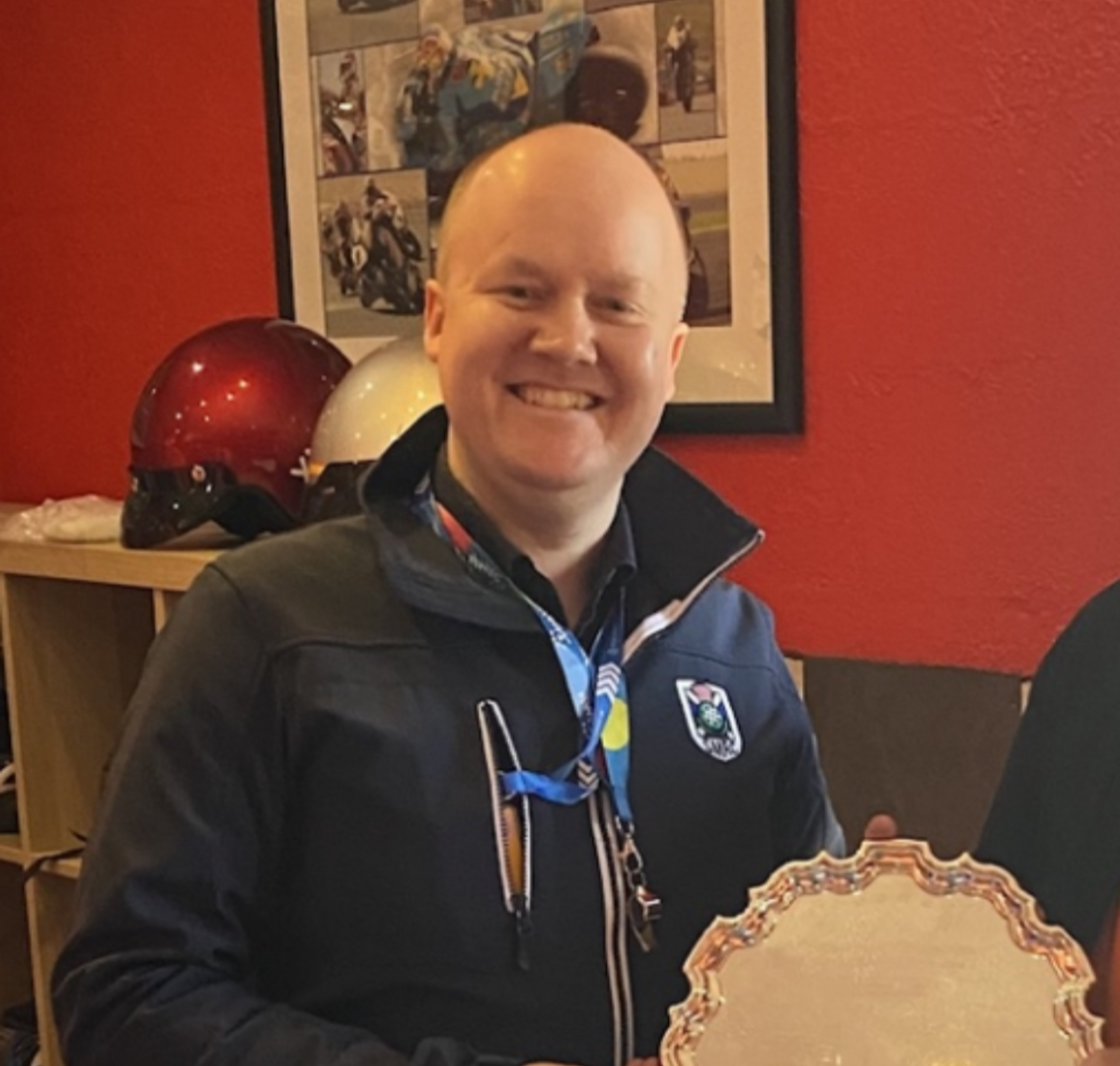 Club Committee changes for 2023
Stepping down from the Committee before the AGM, long standing director and previous club chairman Hugh McCaig. He kept the club racing at Ingliston in the Royal Highland showground near Edinburgh airport in the 80s, as Hugh took over the running of that circuit for over 10 years. But Ecurie Ecosse Patron Hugh, will continue as Club President.
John Duncan resigned earlier in the year. He is a former Mini Cooper Cup Champion and was Membership Director for the Club.
Also leaving after the AGM, is Mike How, the former club Chairman, he was a longstanding Clerk of the Course and then Chief Observer. Mike successfully organised the club annual awards ceremony and dinner for many years back in the 90s and 00s. He also looked after the clubs many historic trophies. He had been a director for over 30 years.
Bernard Buss is also retiring, a three times club chairman, the wise old owl of the committee for many years, Bernard joined the committee back way back in time, and has also been a director for well over 30 years.
Club Chairman from 2021 to 2023, Vic Covey jnr has stepped down from the committee. The former Scottish Mini Cooper Cup champion citing business and work commitments, that have increased. His enthusiasm and commitment to the club, was well noted during his time in office.
Glen Alcock has also stepped down. He is a motorsport blogger, social media and radio contributor. He is a club enthusiast who raced in some of our championships including C1s and Formula Ford. He had also been involved in club communications.
There will be 12 members on the committee in 2023, when changes to the articles of association were discussed at the EGM, and changes to the club structure were passed.
EGM
The club structure has been modified. There will now be 5 directors and an advisory Committee.
Directors are Richard Burrell, Nic Boyes, Steve Burns, Graham Brunton and Henry Williams.
Review of 2022 SMRC Racing Year

All championships raced at 6 meetings, and guests were allowed to race at 2 Knockhill events and any away rounds, but they did not score points. Their cars had to comply with our regulations. Only club members could register for championships and score points.
Scottish Citroen C1 Cup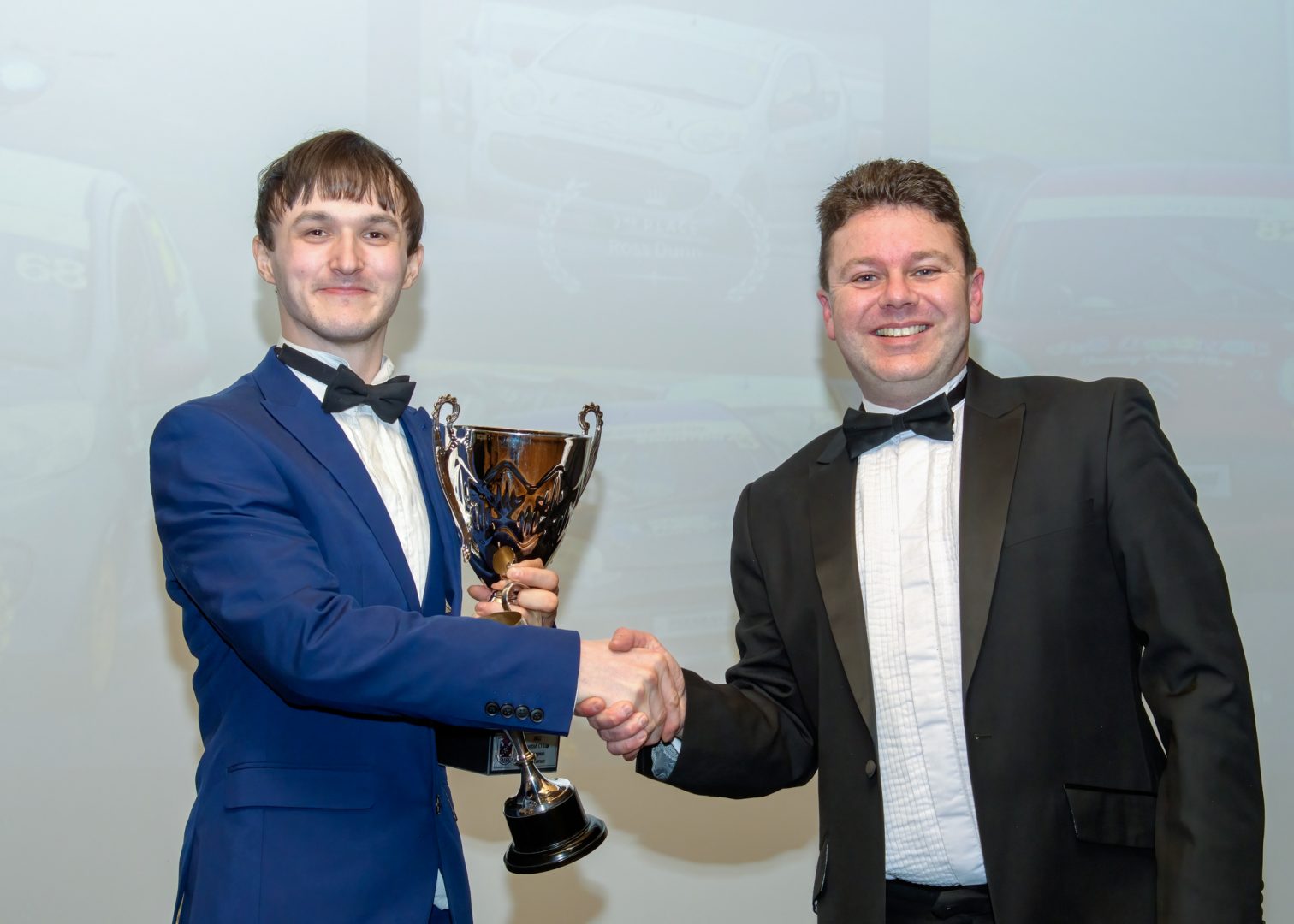 The lead of this championship was contested by 3 drivers. Defending champion Ross Dunn led by 6 points after rounds 1 & 2. Sam Corson then led after rounds 3 & 4 by just 4 points. Then after the endurance race at Knockhill, Finlay Brunton won the race and led the championship. The away rounds at Cadwell Park saw James Hitchen win both races, but Sam Corson regained his overall lead in the points. He then held that lead over the final 2 meetings and 4 races. Ross Dunn regained 2nd place from Finlay Brunton in the final race at the October Knockhill, which he won. There were 20 registered drivers scoring points, and racing was close.
Over the 11 rounds we had 7 different race winners, which really underlines just how competitive C1s are. On his way to the title Sam Corson took 3 wins, one 2nd and three 3rds as well as a 4th as his top scores. He finished every round, lowest score was for 8th in round 5. Ross Dunn was runner up taking two wins, one 2nd and two 4ths, he also scored in every round but a 10th in round 5 was his lowest finish. Finlay Brunton had one win, three 2nds and two 3rds in his scores, but he had a no score in round 6 at Cadwell Park. James Hitchen was 4th overall and had two wins plus one 2nd and one 4th but his lowest score, was at round 1 with a 12th though didn't score on round 10.  Paul Winfield took 5th with three 3rds and a 4th but scored in every round. In 6th was Calum Conway who had one win and one 2nd plus three 5ths as his highest scores, he also scored in every round. Andrew Davidson was 7th overall and won one round and had a 4th but didn't score in two races. 8th place Thomas Comber won a round and had two 4ths, but didn't score in three rounds. Kyle Nisbet was 9th, scored in just 6 rounds but had two 2nds, one 3rd and two 4ths. The top 10 was completed by Marc Nisbet who had two 3rds and he scored in all but one round.
Points: Sam Corson 184  2. Ross Dunn 155  3. Finlay Brunton 148  4. James Hitchen 133
C1 Newcomers Cup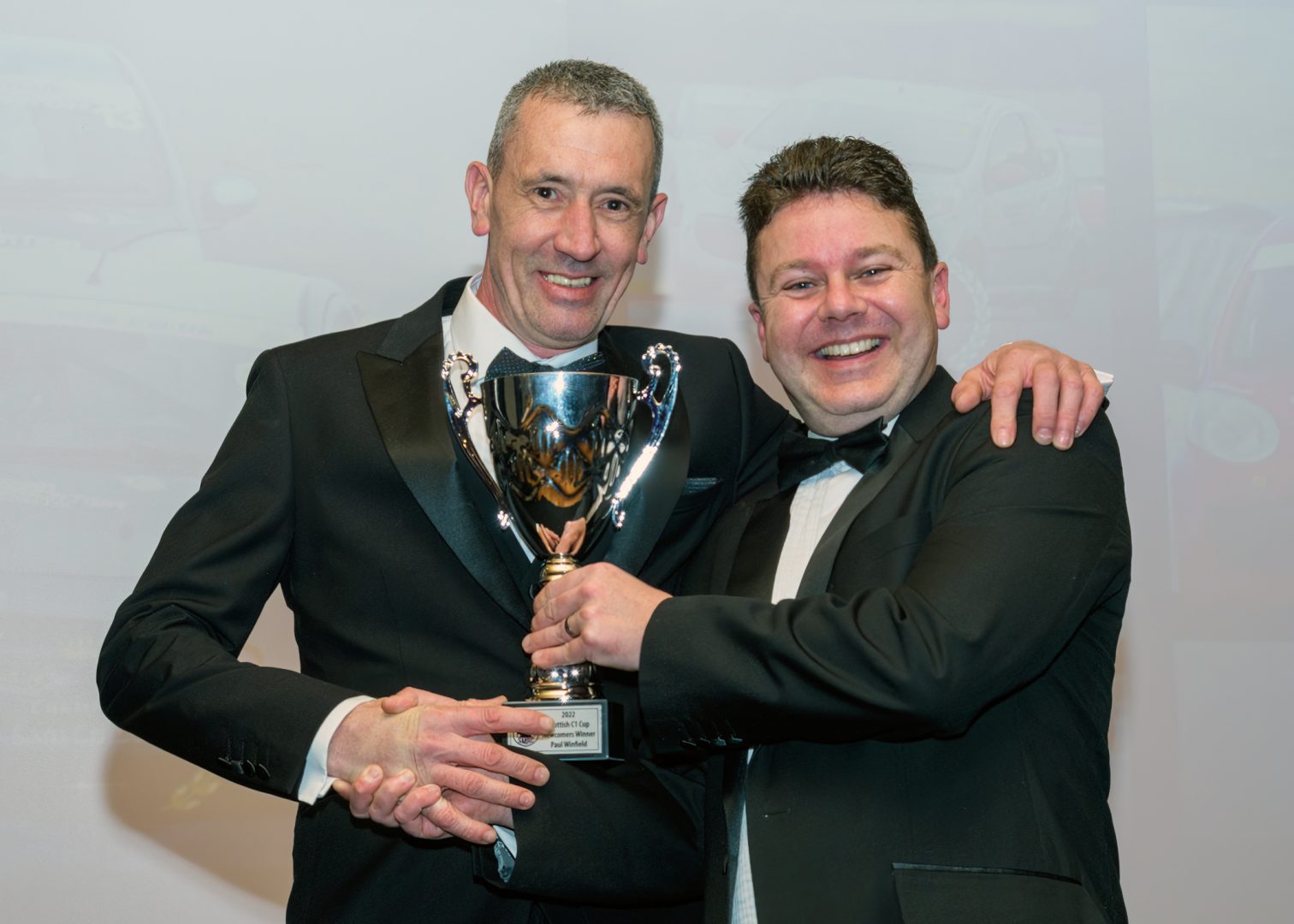 There were 8 newcomers registered and they contested a keenly fought Cup. Ayden Wilson led after two rounds, then Paul Winfield took over the lead and then James Hitchen took over at the top of the points chart and led from round 7 to round 10 when he didn't score, so Paul nipped in and took the Newcomers Cup.
Paul Winfield the newcomers winner had 3 class wins, five 2nds and thee 3rds in 11 rounds so always in the top 3. Runner up James Hitchen scored in 10 rounds with three class wins,  four 2nds and two 3rds, with 4th his lowest score. In 3rd overall Ayden Wilson  had two wins,  one 2nd one 3rd and two 4ths, but his lowest finish was 7th as he scored in every round. In 4th was Marc Nisbet , he had two wins, one 2nd and there 3rds but scored in 10 rounds.  Max Watt was 5th he did 6 rounds and took a class win, two 3rds and two 4ths.
Points
Paul Winfield 223 James Hitchen 201  3. Ayden Wilson 169  4. Marc Nisbet 165
Scottish Fiesta ST Cup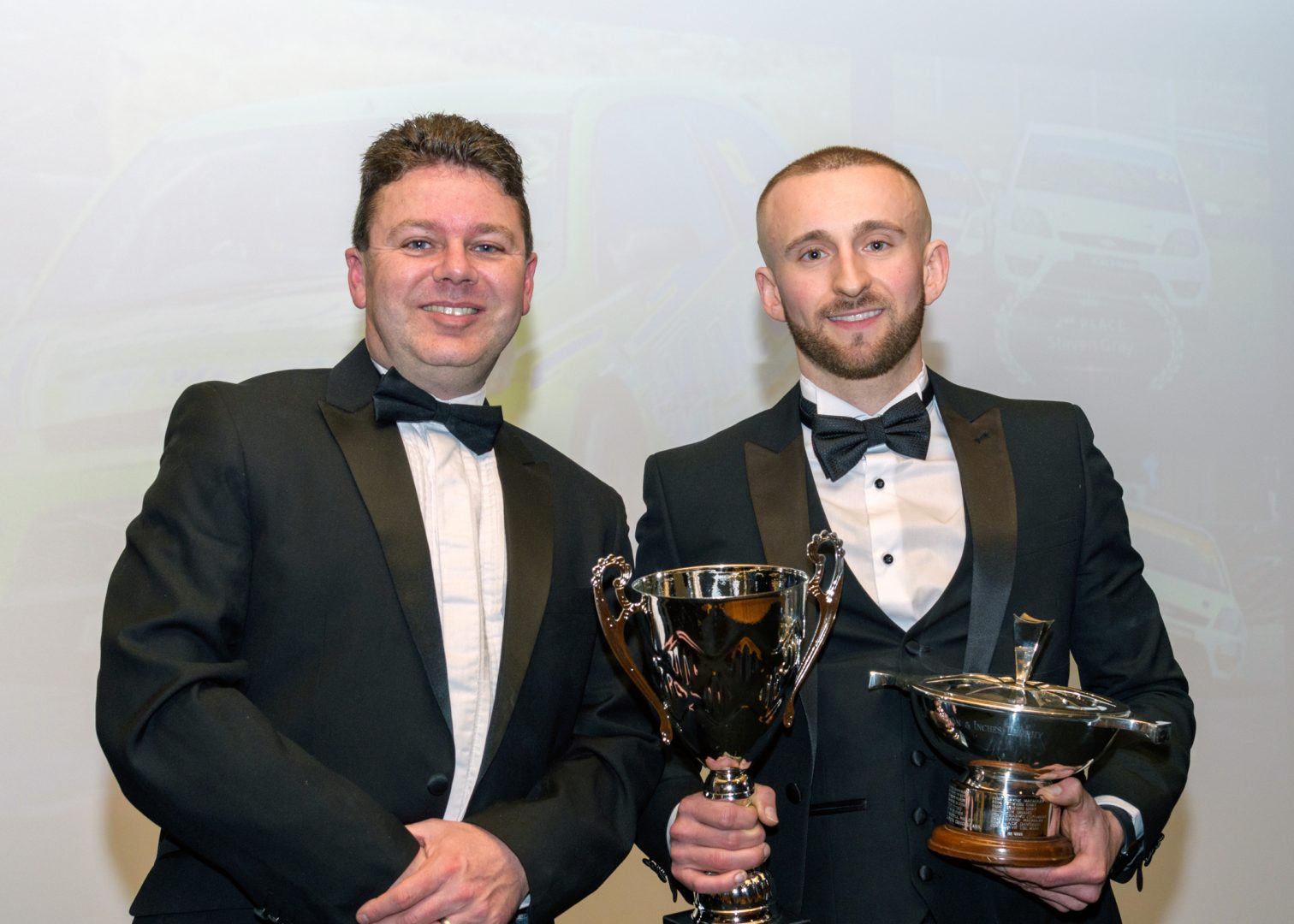 It was a season of good racing, with keenly contested races in a 12 round Championship. The 2.0 litre Fiestas had competitive grids all year. There were 2 classes, the ST and the STC which is built to a slightly lower spec. Steven Gray the defending champion started in great form, winning the first 4 races and was leading the championship by 36 points from Mark Dickson, after round 4. Liam McGill then started winning and slowly closing the gap. After round 8 he was dead level with Stephen Gray, who failed to score in round 8. The final 4 rounds saw McGill edge a few points clear to take his first ST title. Young Brody Orr took 3rd overall with Ian Blackley finishing 4th both scoring in every round. Top STC runner was 5th placed Kieren Preedy. Unusually there were only 2 race winners all year, the top two in the championship.
Liam McGill is the new Fiesta champion, he had 7 wins, two 2nds and two 4ths with a 5th his lowest score. Steven Gray was the runner up, and had 5 wins, six seconds and one no score. He lost out by just 10 points after finishing in the top 2 all season bar one race. Broddy Orr was 3rd overall, he had one 2nd, two 3rds, three 4ths as his top scores. Ian Blackley in 4th took three 3rds and two 4ths with a 10th his lowest score in the 12 rounds he finished. Kieren Preedy was 5th overall and had two 4ths and a 5th plus two 6ths in his 12 scores. Rounding out the top 6 were two drivers.  Mark Dickson had a short 6 race season, but scored well with four 3rds, a 4th and a 6th. While equal 6th veteran Peter Cruickshank did 10 rounds with a 5th, two 6ths and two 7ths his best results. Lorn Murray was 7th in an STC, he raced in 6 rounds and showed pace with a 3rd and two 5ths as his top scores.
There were 16 registered competitors who scored points.
Liam McGill 255 Steven Gray 245   3. Broddy Orr 161   4. Iain Blackley 140
Scottish Mini Cooper Cup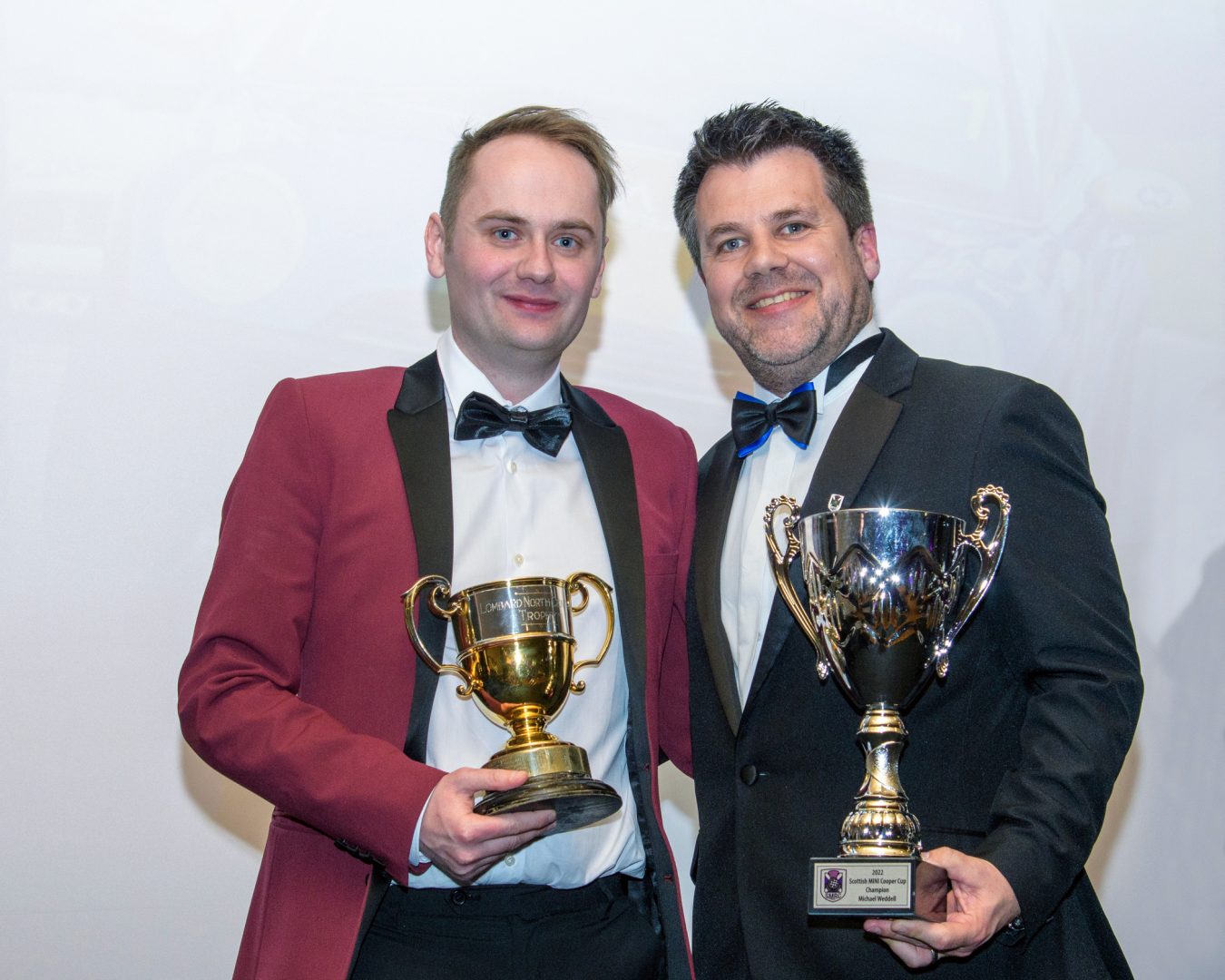 Mini Cooper races always have plenty of action in them, and 2022 was no exception. The cars did 3 races at each Knockhill meeting, the first two with the more powerful Cooper S cars, but their third race of the day was only for Cooper cars. This also featured a reversed grid for the top 5 to 8 finishers in the previous race. The number of cars in this format was decided after the second race at each event, and drawn at random. This varied between the top 5 and top 8 cars classified as finishing race two. Hence if 5 was drawn then the winner starts 5th and the 5th placed finisher starts from pole, and so on.
Defending champion Michael Weddell led all season, as he started with 2 wins and scored in all but one round. Chad Little was the runner up and kept him honest, and was rarely more than 20 points behind all year, and he scored in every round. Newcomer Jack Irvine was a real star finishing 3rd he had two no scores as well. Neil Hose took 4th and won races but scored in 16 of the 18 rounds. In 5th was Ian Munro, a strong points scorer all year but he missed scoring in the final 3 races and dropped back a place. Gordon Long rounded out the top 6 scoring in every round. There were 16 registered competitors scoring in the races though the top 12 featured on most races. The cars raced 5 times at Knockhill and once at Cadwell Park. There were 7 different race winners, underlining the talent spread throughout the field. No one did a clean sweep winning three races in a day. Michael Weddell came closest once, with two wins and a 2nd at Cadwell Park, then twice at Knockhill, with two wins and a third. Neil Hose, had two wins and a 4th at the final meeting. Fastest lap and pole were each rewarded with a point.
Michael Weddell retained his title and drove really well, he took 7 wins, four 2nds and four 3rds and one 4th in his scores. His lowest finish was 12th. Runner up Chad Little was quick, he had 3 wins, seven 2nds, four 3rds in his scores. In 3rd overall Newcomer Jack Irvine adapted really well taking 3 wins, two 2nds, three 3rds and one 4th in his scores. In 4th Neil Hose showed good pace and had three wins, four 3rds and three 4ths in his 16 scores. He finished strongly winning two of the last 3 races. In 5th was the consistent top 5 racer Ian Munro, with four 2nds, two 3rds, five 4ths in his 13 scores. Gordon Long took 6th with 18 scores, including four 4ths and seven 5ths. Daniel Patterson was 7th overall scoring in 15 rounds, one win in the final race of the season,  one 2nd, one 3rd and three 4ths. In 8th another race winner was Ryan Smith, one win mid season in his 16 scores.
Points
Michael Weddell 348 Chad Little 328   3. Jack Irvine 251   4. Neil Hose 236
Mini Cooper Newcomers Cup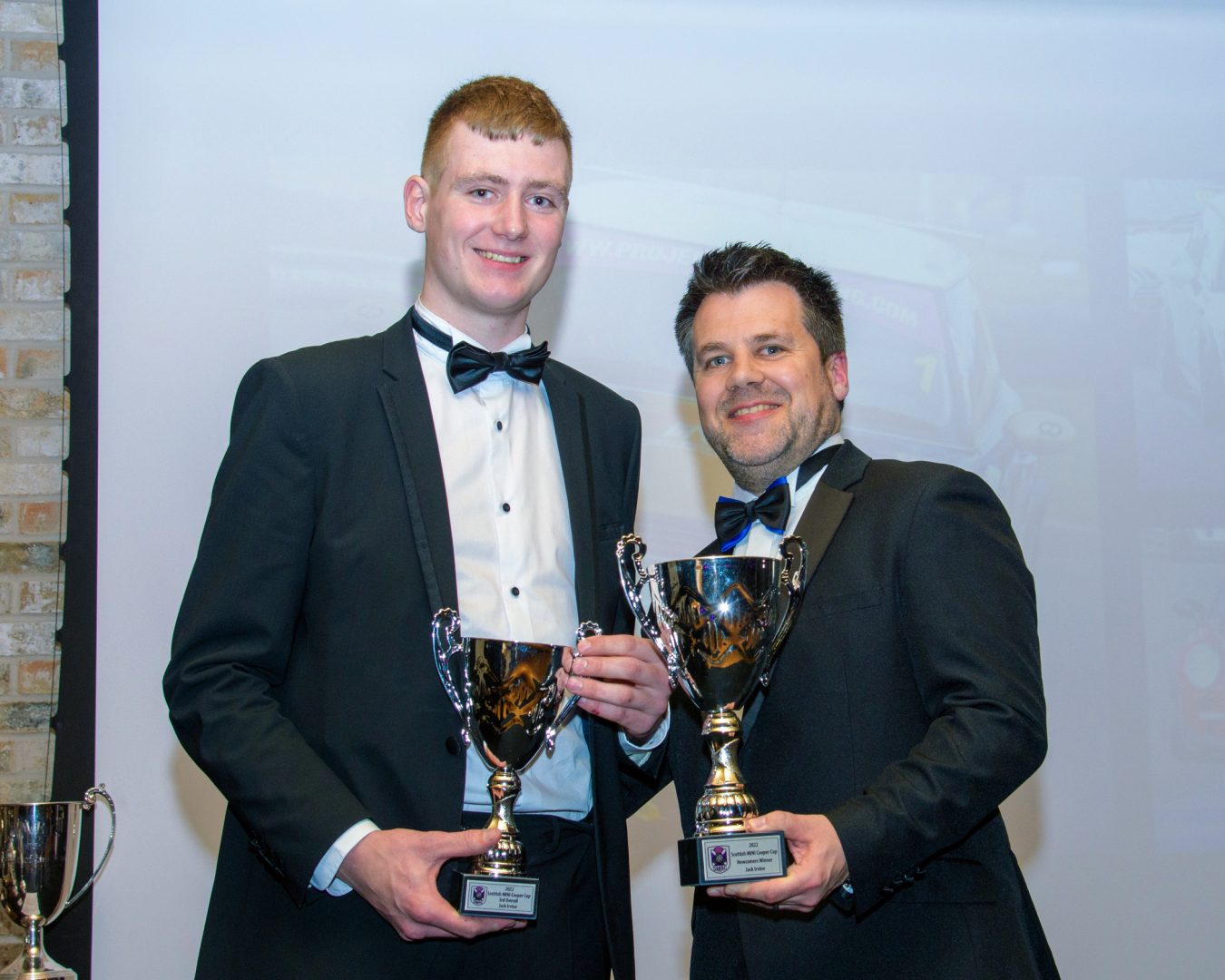 There were 5 drivers who qualified as novices and fought for this prestigious cup. Jack Irvine dominated the completion and won 16 times and didn't score in the other two rounds. Ewan Robertson was runner up taking two class wins, four 2nds and 8 3rds in his scores. In 3rd overall Finn Mache consistently scored, eleven 2nds and three 3rds, in his 14 scores. Jamie Brown was 4th racing 6 times and taking two 2nds and a 3rd and Ian Hoggins 5th who scored in 3 races, but taking two 3rds.
Points
1.Jack Irvine 400  2. Ewan Robertson 300   3. Finn Mache 268
Mini Cooper S R53 Cup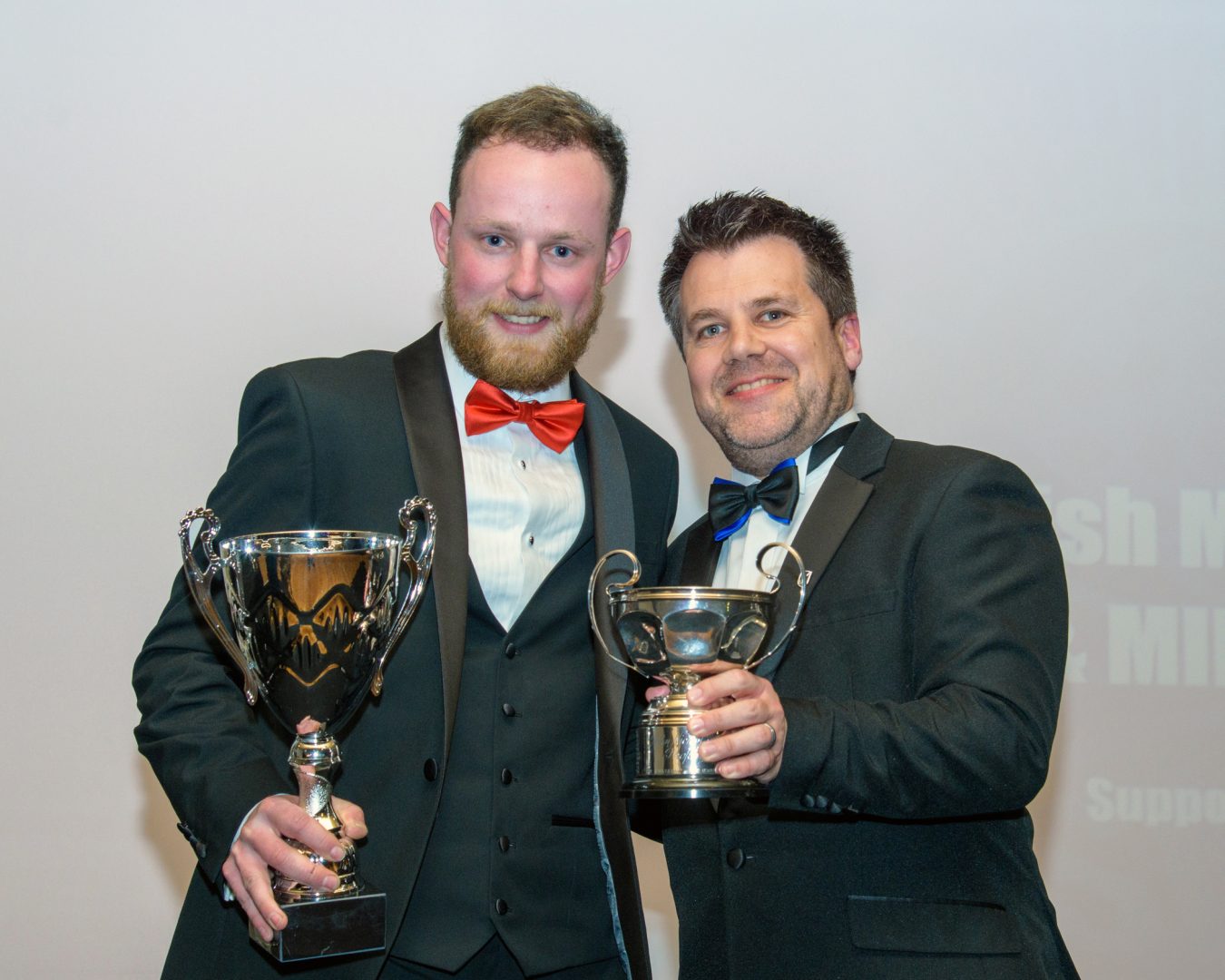 These Minis are the most powerful in Scottish one make racing. The cars also run on slick racing tyres. Four drivers registered and three contested most of the rounds. They had 12 rounds, and started ahead of the Cooper cars twice at each meeting, and eased away from that class in their races. There may not have been many cars in this class, but their races were usually close.
Jamie Blake took the title scoring in 11 rounds, he had 6 wins, three 2nds and two 3rds. Runner up was Andrew Lamont who scored in every round, taking seven 2nds, and five 3rds. While Jamie's brother Craig Blake was 3rd overall scoring in 7 rounds with four wins, two 2nds and one 3rd. Christopher Watt scored in 3 races and had two 3rds and a 4th.
Points: Jamie Blake 242   2. Andrew Lamont 220   3. Craig Blake 156
Scottish Classic Sports and Saloons Championship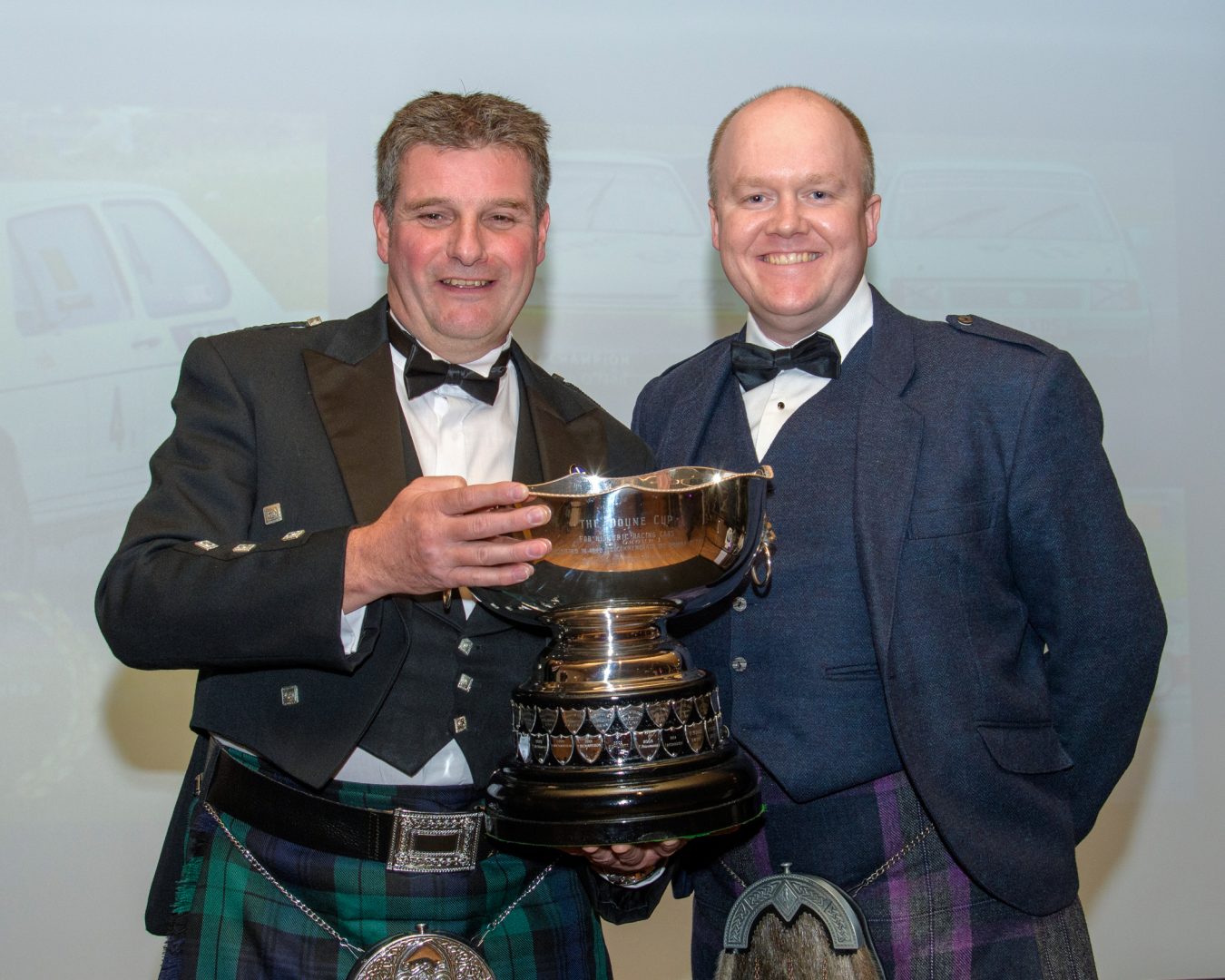 Cars that were manufactured before 31st December 1989 are eligible and must remain predominantly in period specification. This is a class based championship. Class A up to 1500cc engines. Class B 1501cc to 2500cc engines. Class C Period cars not complying fully with these technical regulations and race by invitation of the Organisers. Class D 2501cc to 3600cc engines. Class E Sports and Saloon Cars over 3601cc engines, and any period homologated race car. Class G Limited Production Cars, sports or saloons, specials, kit cars and recreation cars, 2 wheel drive only, maximum 2 valves per cylinder engines.
Competitors are racing against and scoring against drivers in their class. Their scores are then put into the overall points table to find the champion. John Kinmond was the defending Champion with his Rover SD1 V8 saloon car.  The large engine class E cars fought out for the race win on the road, but consistent class scoring saw the champion come from class B. There were 19 registered competitors. Class racers needed 3 drivers to score full points, if 2 or fewer started then points were reduced.
The overall winner and new Champion is Charlie Cope from class B, with his VW Golf. He had an impressive 11 class wins and one 3rd in the 12 rounds. He was also in the top 6 on the road. Charlie showed that a well prepared and very rapid fwd saloon is a Championship winner. Second overall from class A was Ian Mitchell. He drove his Vauxhall Nova to 7 class wins and two seconds, but only scored in 9 rounds. In 3rd overall was John Kinmond with the class E Rover SD1. John had 6 Class wins, two 2nds and one 3rd in the 9 rounds he scored in. Craig Houston was 4th overall and was in class B and scored in 10 rounds, with his Lotus Excel. He had ten class 2nds. In 5th was Adam Kinmond with his Rover SD1. He was in class D. This class was not well supported, so despite Adam winning it 12 times he scored less points. In 6th overall was Andrew Graham with a rapid Triumph TR8 sportscar. He was in class E and scored in 10 rounds, with six class 2nds, three 3rds plus one 4th.
Others of note who raced well included Alasdair Baptie driving an MGB GT V8 with gusto in a couple of events. Mario Ferrari won class A twice in rounds 1 & 2 with his Alfa Romeo, then we didn't see him. Eliot Paterson drove his Morgan +8 to 7 class D wins and was 8th overall. He finished behind Niki Dickson's Lotus Cortina in class B in the points. Niki got one 2nd, two 3rds and seven 4ths in 10 rounds scored in. Jimmy Crow is a regular racer who drives well. He scored points in class E in an MGB GT V8 in the first 4 races, then changed class to race his Escort. But you can't add scores from different classes. So although he had 6 finishes in class B in the second half of the season in the Escort with a 2nd and four 3rds plus a 4th, he was 11th overall with class B points and 14th overall with class E points. Hence 20 drivers scored points, as Jimmy Crow scored in two classes.
Scottish XR2 Championship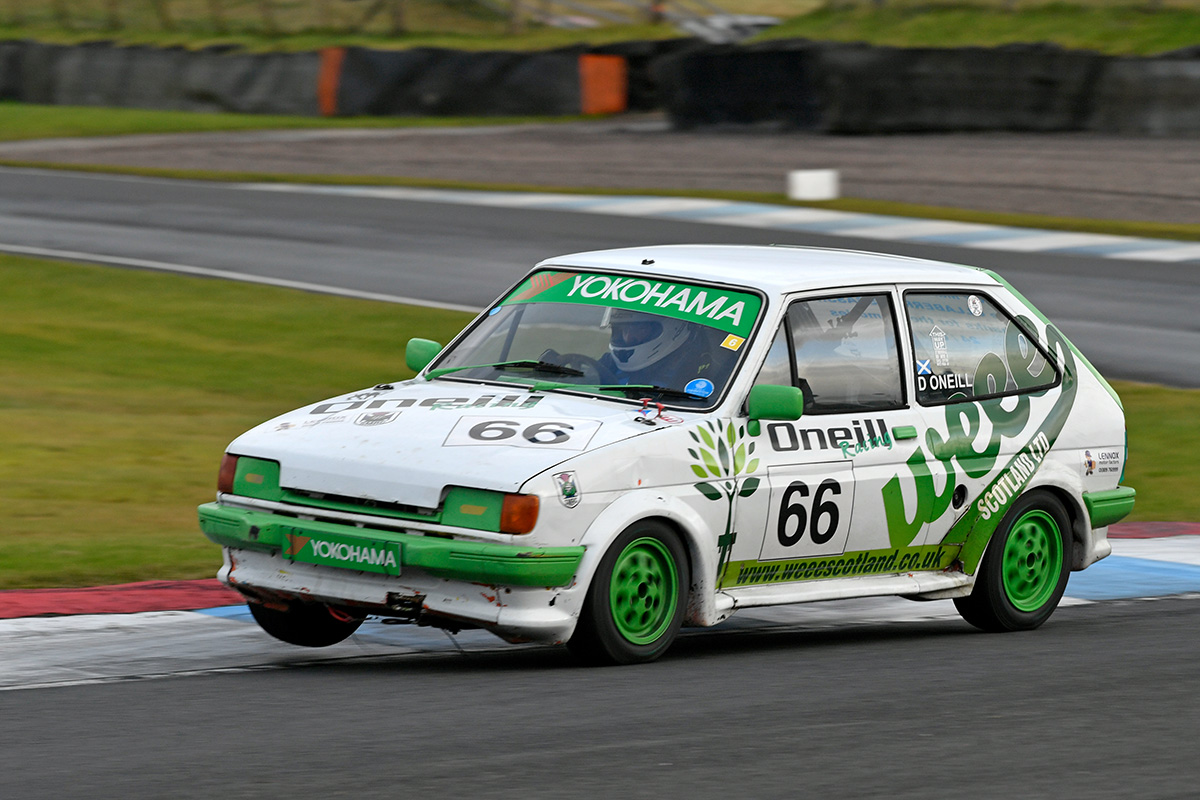 These venerable cars race with classics, but have separate regulations. Some years ago we had full grids of XR2s, and in the 90s had to run qualifying races as grids were full. This season just 2 cars were registered and Duncan O'Neill won the title again, taking 12 class wins out of 12 starts. David O'Reilly scored in 10 rounds and was 2nd in every one.
EcoRally Scotland – 11 June 2023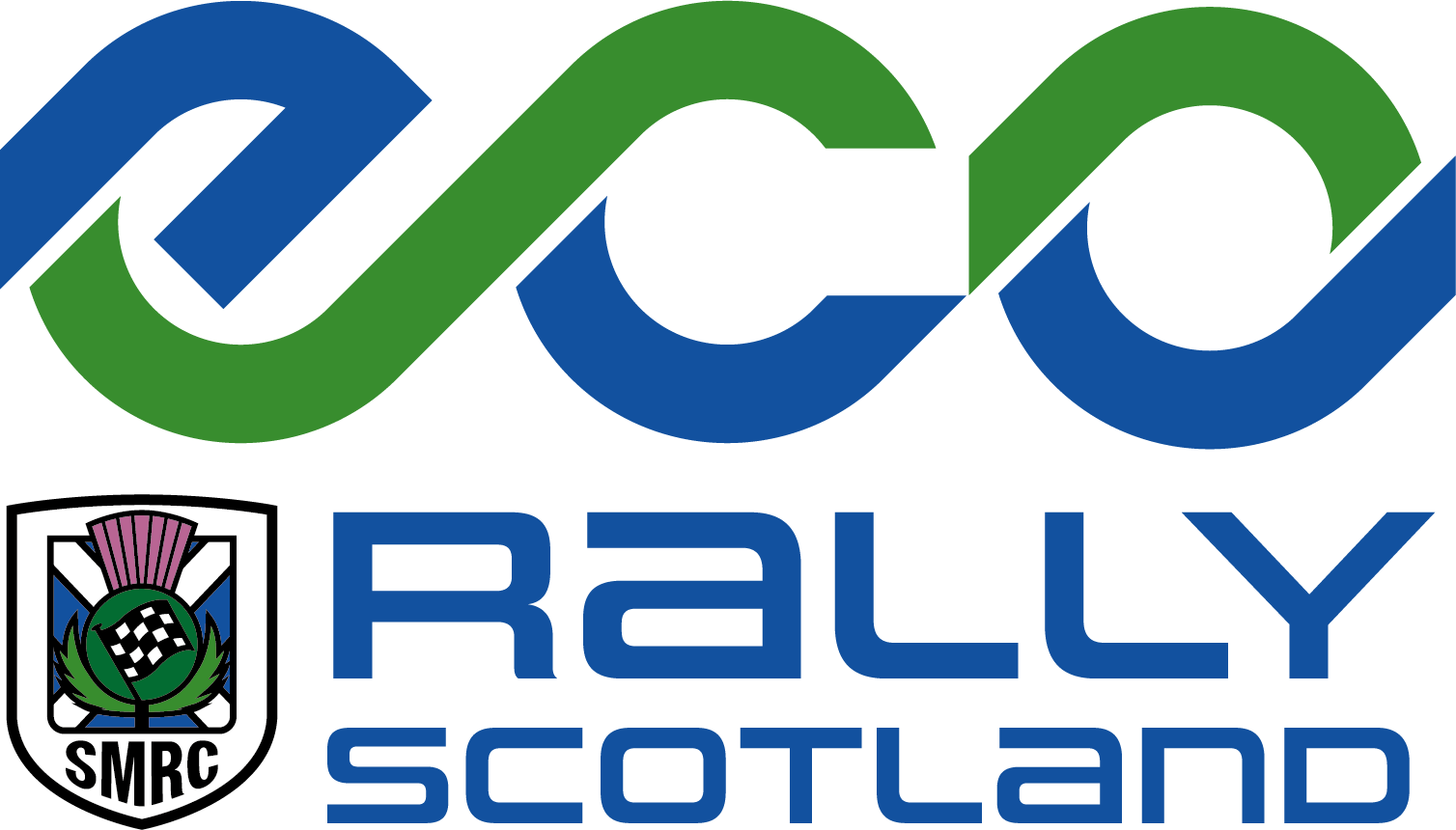 On Sunday 11th June, the Scottish Motor Racing Club (SMRC) organised and ran the inaugural ecoRally Scotland in the Scottish Borders.
The first event of its kind in the UK, EcoRally Scotland is exclusively for road going electric vehicles running in a 'regularity rally' format. The event started and finished at the beautiful 16th Century Thirlestane Castle, in Lauder, and consisted of a stunning road route of just over 100 miles, taking in the spectacular scenery and picturesque villages around the Scottish Borders, with a leisurely lunch break along the way.
EcoRally is a format devised by the sports global Governing Body, the FIA and is aimed at anyone with, or with access to, an Electric Vehicle and whilst it is a competition, no prior motorsport experience is required to take part.
As a navigational rally, details of the route were only provided at the start of the event, with an emphasis placed on successful navigation during the day, with each entrant being required to report to various checkpoints at a specified time.  The route consisted of a number of defined 'regularity sections' where drivers were scored in their ability to maintain an average speed. Think of it as orienteering in your electric car!
The 2023 entry list featured a diverse range of 6 different makes / models of car with none of the entrants having any previous motorsport competition experience.  Taking advantage of Motorsport UK's free to apply for 'RS Clubman' licence grade gave the participants the opportunity to take part in competitive motorsport using their everyday road cars in standard trim.
The event was won by Alasdair Burgess with Navigator Craig Parry who had travelled from Ayrshire in their Cupra Born, driving a faultless and consistent event to a winning margin of 33 seconds from the Kia E-Nero 4 of Page & Euan Munro following the 27 competitive miles of regularity stages.
Event organiser and Clerk of the Course, Steve Burns was delighted with how the event had run, commenting "This was a day of many firsts; the first rally event that the SMRC have ever organised in the 77 year history of the Club, the first time I've personally organised a road rally, the first event in the UK run to the FIA's ecoRally Cup regulations, and the first foray into competitive motorsport for all of the entrants."  Burns continued "The idea for ecoRally Scotland came from our Club President Hugh McCaig and Honorary Member, Allan McNish and for the last few months we have been working closely with the FIA's Electric & New Energy Championships Commission and Motorsport UK's Competitions & Clubs Manager, Simon Fowler to bring the ecoRally concept to the UK".
Describing the operation of the event Burns added "aswell as using volunteer marshals to man the time controls, we also utilised Sapphire Solutions RallyApp Live software to digitally track the competitors via GPS and ensure that timing was recorded to an accuracy of 1-second.  This technology allowed us to monitor the progress of the rally whilst only requiring a small number of volunteer officials and with minimal impact on the local area, a fitting use of modern technology for this modern event."
Looking ahead, the SMRC are keen to build on the foundations of this years event and organise an official candidate round of the 2024 FIA ecoRally Cup.  Further information and interested participants should contact the Club at info@smrc.co.uk.
References
Pre-event information: https://www.smrc.co.uk/ecorally-scotland/
Official Noticeboard: https://noticeboard.smrc.co.uk/ecorally-scotland-sunday-11th-june-2023/
FIA ecoRally Cup: https://www.fia.com/events/fia-ecorally-cup/season-2023/bridgestone-fia-ecorally-cup
Photo gallery: https://noticeboard.smrc.co.uk/2023-ecorally-scotland-gallery/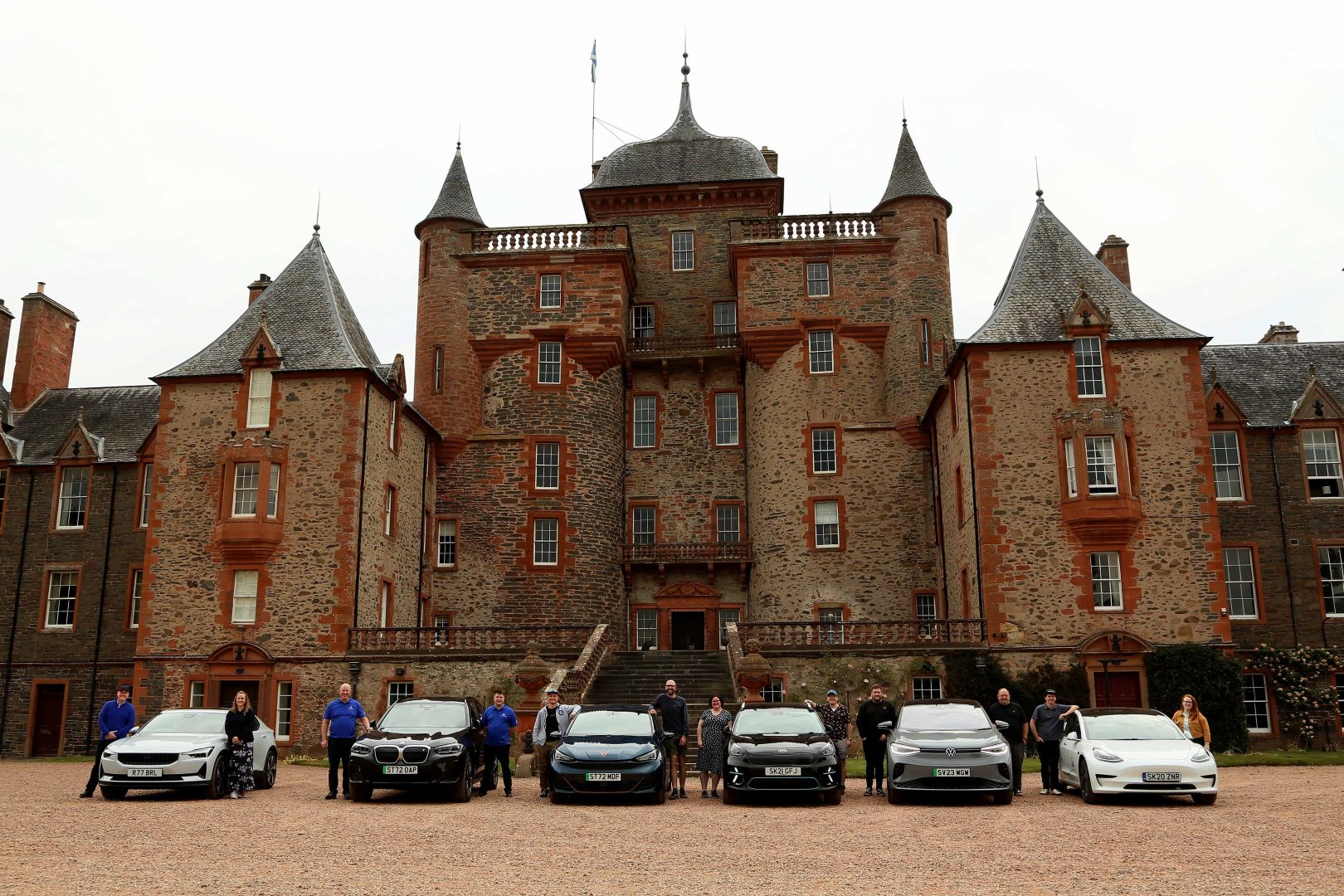 Rory Butcher's Brands Hatch BTCC Race Report  6-7 May
Brands Hatch brought a host of challenges, not least of all the monsoon rain during Saturday's qualifying. The conditions were really treacherous, with many cars falling victim to the rivers of water crossing the circuit, interrupting the session with red flags. I had a number of close shaves myself (which you may have seen live on ITV.com!) but I held on to secure 5th position on the grid for Sunday's first race, putting us right in the mix!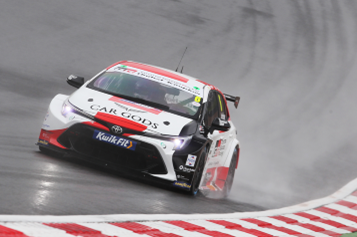 The weather did a complete 360 for race day with 20 degree temperatures and sunshine forecast. We picked up some solid points in the first two races with a 7th in Race 1 and then 6th in Race 2. I wasn't 100% happy with the car balance or my own performances, it was a shame to drop positions in Race 1, especially after holding our own for so long.  I had a strong (but respectful) battle with reigning champion Tom Ingram. He was right on my bumper for most of that race, but it wasn't until the final three laps that I dropped those positions. However, we were still up there bagging points, and made progress in Race 2.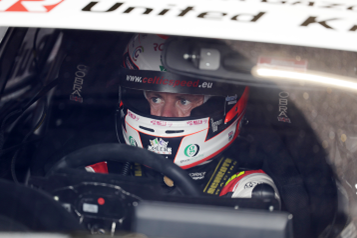 We worked hard to improve for Race 3 and it showed with a quick launch off the line and some fast opening laps. I fought inside the top 5 alongside teammates Ricky and George. It was fantastic to see all three Corollas up at the sharp end, it was clear that we'd made a big step forward as a team. However, my hopes of another strong points score would be crushed when my engine gave way on lap 14 of 24.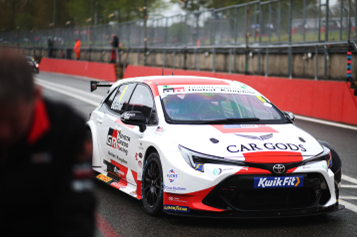 Not finishing the final race really hurt! While we are still finding our feet with the new engine package these points count more than ever. Not only that, but my 34 race point scoring streak has now come to an end, I guess we'll just have to start a new tally!
Editor Kevin Pick,  Photographs Jim Moir