SMRC Knockhill June 6th 2021 Race reports
The club ran its first meeting of the season, with strong grids and two visiting Championships (BRSCC Formula Ford and DDMC Northern Saloons and Sports cars) which boosted number further. The weather was great and made for a good days racing for drivers and spectators, alike.
Scottish Mini Cooper Cup in Association with Project 21 Detailing, and supported by Yokohama + Scottish Mini Cooper S R53 Cup
The first two races of the day saw the Scottish MINI Cooper and Cooper S cars share a grid, with the 3rd reverse grid race being a cooper only affair.
Race 1 – 12 laps (Cooper and Cooper S cars)
Two Cooper S cars with more power and slick racing tyres left the Cooper cars to scrap. Andrew Lamont beat poleman Jamie Blake into Duffus to lead. He stayed in front until lap 4 when Blake took over at the front. They swapped places a couple of times during the next four laps before on lap 9 Blake made his overtake stick, and despite Lamont on his bootlid he reeled off the last 3 laps to win. Blake said that it was a really good race. The Cooper cars were led all the way by Michael Weddell, who hadn't raced since 2019, when he was runner up in the Championship. He was pressed by a fast starting Ian Munro, another experienced Mini pilot, who passed two cars on the grid and then kept close to Weddell all race. They were usually just a couple of car lengths apart, but Munro didn't find a way past. Third in Coopers was Chad Little. He was runner up in 2020 and withstood non-stop pressure all race. He had Daniel Paterson in 4th on lap 1, then up from 8th on the grid, it was Craig Blake who ran 4th in class from lap 2 to the flag. Paterson lost 5th for a couple of laps late on to Neil Hose, but regained the place after Hose went sideways and span down the grass at Duffus Dip. Third to 6th in the Cooper class had run as a train all nose to tail for 6 laps mid race, and there was still 3 of them together at the end, but they'd been dropped by the front two Cooper cars of Weddell and Munro. Dylan O'Donnell made it into 6th in class having passed Gordon Long mid race. The Newcomer class went to Chris Cockburn who was 8th in class.
Race 2 – 12 laps (Cooper and Cooper S cars)
Once again the two Cooper S left the Cooper cars and had a close race. Andrew Lamont led, pressed by Jamie Blake. They were rarely more than a couple of car lengths apart until Blake took the lead on lap 10, and eased away to win by just less than a second. The Cooper race was good, Michael Weddell led from Ian Munro, both these drivers have won races and stayed very close together all race. Munro passed Weddell on lap 7 going up the hill, so was ahead by the time they got to Duffus Dip. Weddell was then glued to his bumper and repassed him on lap 10 at MacIntyres. He then held off a determined challenge to win with Munro 2nd. Third in the Cooper class was Chad Little. He passed Craig Blake early in the race, and despite having non-stop pressure, which saw them change places a couple of times mid race Little took 3rd. So Blake was a close 4th. A few seconds back Dylan O'Donnell ran 5th from the start. Despite leading a 4 car train early on and then having Neil Hose on his bootlid he looked in control. Then Hose got past on lap 9 so O'Donnell repassed him a lap later, only to lose the place back to Hose on lap 11, and they finished in that order running nose to tail.
Race 3 – 9 laps Cooper cars
The reversed grid draw saw the top 8 cars having their finishing place reversed for their grid start. Gordon Long sat on pole, but was beaten into Duffus by Daniel Paterson and Neil Hose. These two got clear of the pack by lap 4, and Hose closed a second gap to Paterson by lap 8. But Paterson drove well to take a deserved win with Hose on his bumper at the end.  On lap 4 third place was being disputed by 6 cars which all ran nose to tail, Mini racing at its best. Chad Little headed the train having got past Dylan O'Donnell on lap 4. He had Michael Weddell right behind, but then Weddell got shuffled down to 5th by Ian Munro at Duffus. By lap 7 third was a three car fight. Little leading Munro and Weddell and they were tied together. O'Donnell was only 5 car lengths back. On lap 8 too many cars tried to go through Butchers side by side, and Little went off at the chicane. Weddell was now 3rd with Munro 4th and Craig Blake a close 5th. This promoted O'Donnell to 6th with Gordon Long close in 7th. Behind them newcomer Chris Cockburn on his debut, moved up on the last lap to head a 3 car bunch with David Taylor close and just ahead of James McCracken. Daniel Paterson said, ' it was very nerve racking but I'm absolutely delighted . I saw Neil (Hose) coming but just kept cool.' Michael Weddell said,' I'm delighted, and glad to get through that last race unscathed. You forget how hectic race 3 in the Minis is. But two wins and a third, it's a good day.'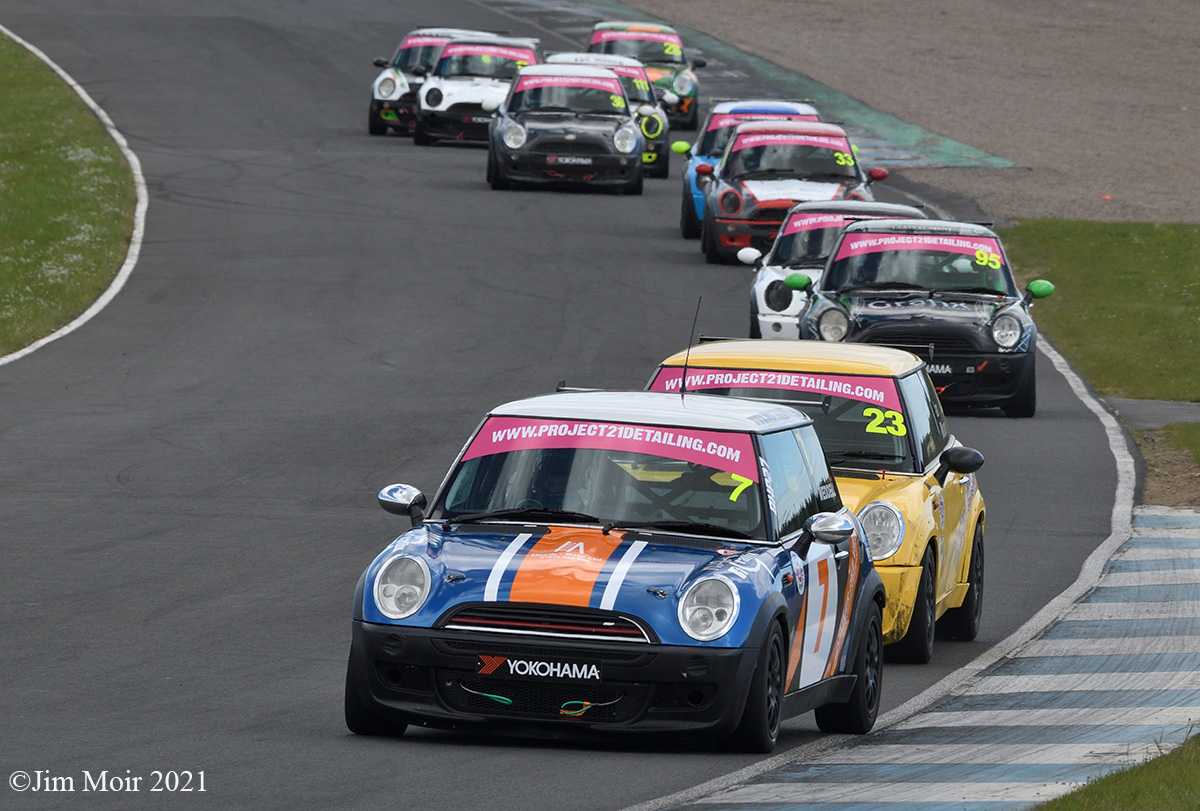 SMTA Scottish Citroen C1 Cup
19 cars started, and new for 2021 there is a Newcomers cup competition.
Race 1 – 10 laps
Defending champion Ross Dunn sat on pole, and led all the way once the race started. The experienced Paul Luti ran 2nd with Dan Martin on his tail.  Ross was half a second ahead as these three eased away from a 4 car pack headed by Sam Corson, who was in his first race, and is the SMRC Esports winner from 2019. Corson got away from Colin Main and closed on the top 3 from lap 4 on. Lap 6 Martin passed Luti at the hairpin for 2nd, and a lap later Corson went passed into 3rd. Luti seemed to lose a little pace. But he was still a few seconds clear of Main in 5th who had his hands full, as he headed  4 cars all running nose to tail. Ryan Smith was 6th with Michael Cruickshank and Calum Conway next up. Ross Dunn said,' that was hard, quick and quite intense. I was looking in my mirror and seeing Dan and Paul close. Its been a long break, but I can't complain'. The top three were covered by just 1.1 seconds, and Dan Martin set a new lap record of 1min 10.41 seconds
Race 2 – 10 laps
Into the first corner on lap 1 Dan Martin ran round the outside of Ross Dunn. He rocketed away and opened out a second gap by the end of lap 2, as the rest squabbled. Paul Luti took 2nd from Dunn  going up the hill on lap 3, to head the 7 car train fighting over 2nd. Ross Dunn demoted Paul Luti on lap 5 to run 2nd now over a second back on leader Martin. But he started to reduce this gap. By lap 8 he was right with Martin. These two were joined by the impressive Sam Corson who had been 6th on lap 1. He was 5th a lap later, then 4th on lap 5. Lap 6 he took 3rd from Luti. Sam Corson got right onto Ross Dunn's tail and nipped past on the final run to the flag, to finish 2nd in his second ever car race. Dan Martin won from the front and the top three were covered by a blanket or half a second. Paul Luti was close in 4th.  These 4 were over 5 seconds ahead of Michael Cruickshank who grabbed 5th on the last lap from Colin Main, and they had Calum Conway a couple of car lengths back in 7th.  Andrew Davidson took 8th a couple of seconds back, with Ryan Smith and Tom Denham right behind him. Sam Corson won the Newcomers class again, from Michael Cruickshank and Calum Conway the same result as in race 1.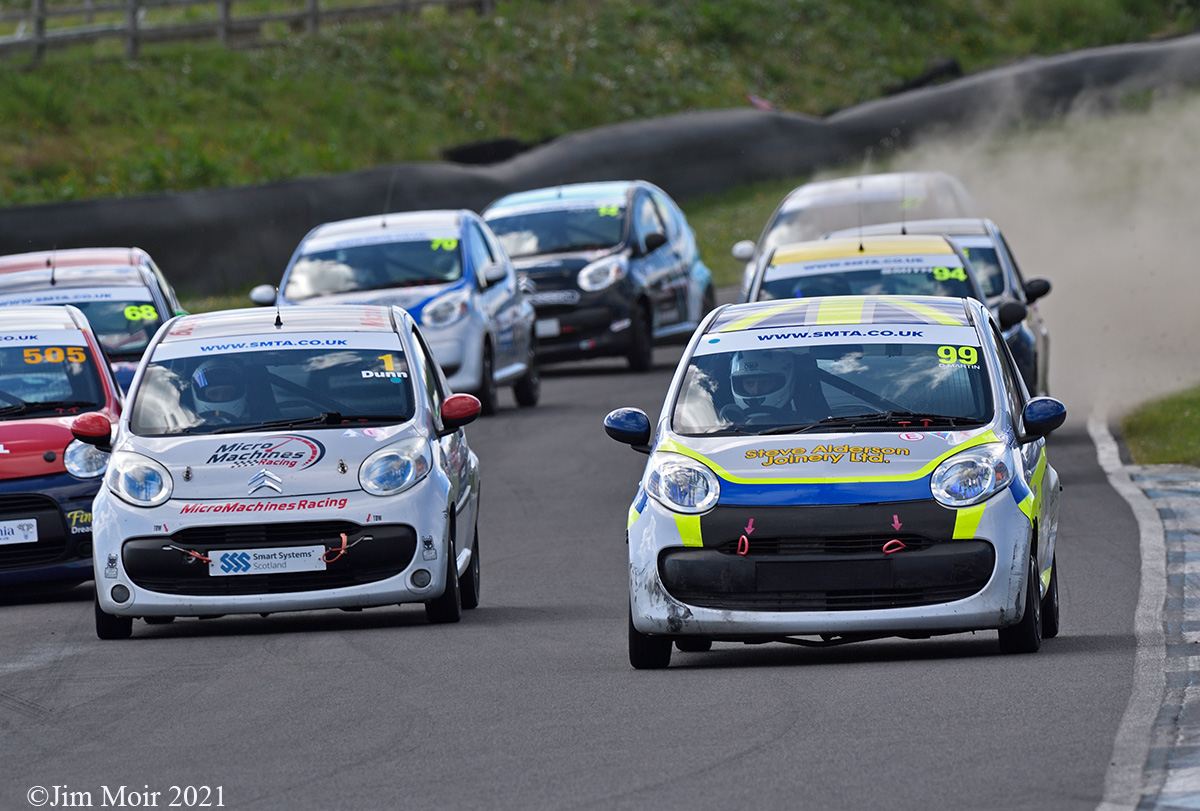 Scottish Classic Saloons and Sportscar Championship
in Association with The Edinburgh Watch Company
A big grid with a real good mixture of cars, several of them appearing at Knockhill for the first time.
Race 1 – 12 laps
John Kinmond had pole with the big Rover SD1 saloon, and Andrew Graham was with him on the front row with his Triumph TR8 sportscar. But from row two Tommy Gilmartin just blasted past to lead into Duffus. Four V8 Rover engine cars headed the race briefly as another V8 in an MGB GT driven by Alasdair Coates was 3rd on lap 1, but Graham's TR8 dropped back quickly and limped round  near the back. Gilmartin held off Kinmond for a couple of laps, the he eased away to lead by over 5 seconds by lap 9 and he extended his lead by the flag. Kinmond was well clear of Coates by mid race. But Coates who looked safe in 3rd was being caught by Champion Bruce Mitchell, in the yellow Lotus Europa. In turn an orange car was blasting through the pack, and by lap 8 he was 5th. It was Shonny Paterson in his TR8. He'd dropped from 4th on the grid to around 18th on lap 1, following a slither off, then got going and was up to 8th by lap 4. He caught Mitchell on lap 9 and was through to 4th a lap later, then demoted Coates on lap 11 to be 3rd. Shonny then put in a really good lap and a half  to open out over 4 seconds gap by the flag. Coates just held off Mitchell and they were joined by Alastair Baptie in his Fiat X1/9 sportscar right at the end. Baptie nipped past by the hairpin, but Mitchell just out dragged him to the line to keep 5th. Baptie had started 21st and had driven the wheels off his 1500cc car. He was 5th by lap 6, and only the recovering Paterson went past him on lap 8.  Into 7th came Philip Russell with a BMW E36 on his classics debut, and he was several seconds clear of Mario Ferrari's 1500cc Alfa Coupe.  On his Classics debut 9th came Oly Mortimer with a Datapost liveried MK1 Fiesta running in class A. Oly is a multiple former champion in saloons. He'd run 7th early on, but more powerful cars go past and he was 9th by lap 4, and battled Jimmy Crow's Escort, then after Jimmy slowed he caught and passed Craig Houston's Lotus Eclat on the last lap.  We lost the Lotus Cortina MK1 of Niki Dixon mid race when running 14th having got away from Adam Kinmond, who was debuting another Rover SD1, which looked very soft as it bounced at Clark each lap. While Duncan O'Neill took the XR2 class. Tommy Gilmartin said, ' The Morgan is very quick off the start . If I was going to do anything it had to be at the beginning. So I went for it. I had problems with the brakes late on, and I think I nearly ran out of petrol on the last lap. I didn't race last year, but I love Knockhill and as long as I can come here I will.'
Race 2 – 12 laps
John Kinmond was alone of the front row of the grid, as Tommy Gilmartin didn't start the race. John shot away from pole and never looked back, as he took a good lights to flag victory. He was over 5 seconds clear by lap 4. Shonny Paterson held 2nd all race, but although he held the gap at around 5 seconds he couldn't close it. In turn he eased away from Alasdair Coates in the MBG GT V8. But Coates was under pressure. Bruce Mitchell had his Europa on the MG's tail. He stayed within a couple of car lengths all race, and got past at the final corner to beat the MG to 3rd. Alastair Baptie should have been 5th on the grid, but he started from the pit lane so was last into Duffus. There were 17 cars racing and he cut through the field. His Fiat X1/9 was 9th by lap 4, and by lap 7 he was 6th and on the tail of Mario Ferrari's Alfa Coupe. He had demoted Phillip Russell's BMW E36 saloon that lap. Baptie moved into 5th overall on lap 8 but he was over 20 seconds behind the third placed battle. But he eased away as Russell also got past Mario Ferrari's Alfa. On lap 11 Oly Mortimer took the Mk1 Fiesta into 7th followed by Craig Houston's Lotus Eclat, as Mario Ferrari slowed and pitted his Alfa on lap 11. Oly Mortimer doesn't give up and he snatched 6th on the line from Russell's BMW. John Kinmond said, ' I got lucky as Tommy had retired after race 1, so I had it to myself. I had time to mess around with my lad (Adam in a Rover SD1) for a photo opportunity'. Shonny Paterson said, ' I put on a new set of tyres for race 1 and they weren't scrubbed in, so that's what happens (he went off). I didn't want to visit the beach again, so took it easy'.
Bruce Mitchell was awarded the inaugural 'Edinburgh Watch Company' driver of the day award, which was presented by company owner, Jonathan Gilbert.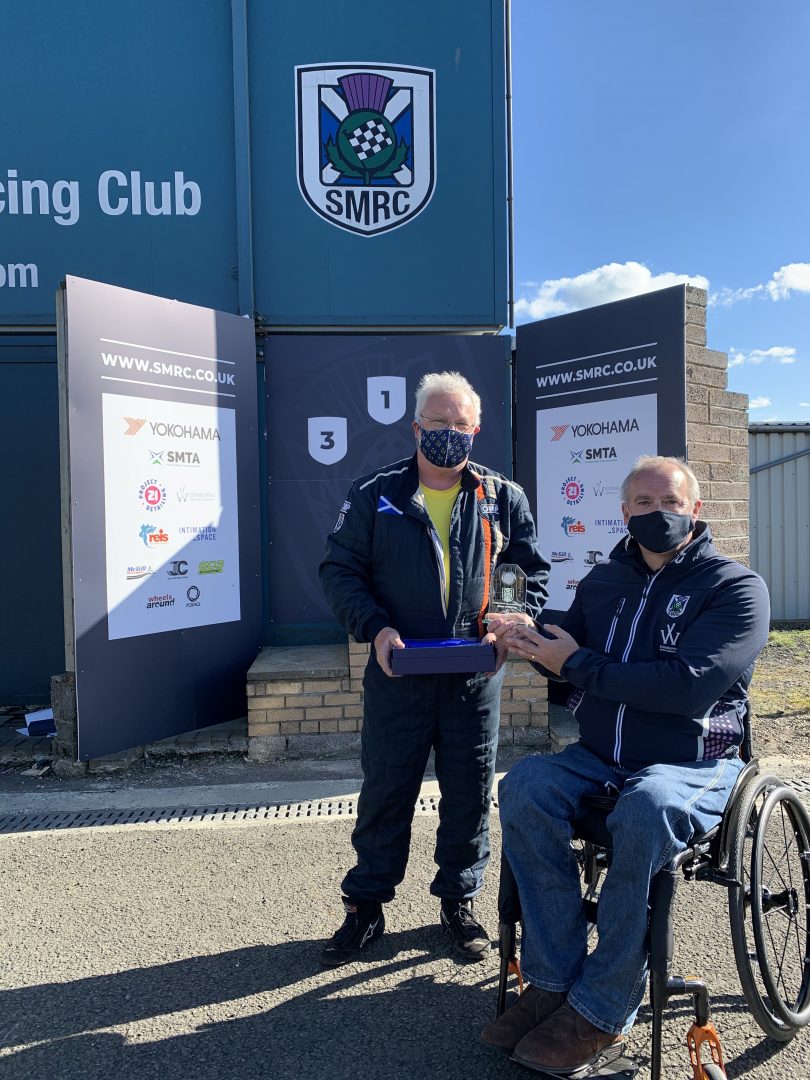 Scottish Fiesta ST Cup
in Association with Intimation Space and supported by Yokohama Tyres
The best grid of Fiestas for several years. New cars and drivers plus some familiar faces. 16 cars started race 1.
Race 1 – 12 laps
Steven Gray raced away from pole with defending Champion Dave Colville on his tail. A few cars back Lorn Murray spun down Duffus, and was on the inside so there was no accident.  The top 2 opened out a second gap by lap 2 as Duncan Langton ran 3rd with Mark Dickson right with him. The safety car came out on lap 4 and did 3 laps. there was a car off at the chicane and it was Russell Morgan. Racing resumed with Gary holding off Colville and they ran close, but quickly got clear of the pack. Langton held a steady third and got a couple of seconds clear of a 3 car battle for 4th. Simon Smail led this group from lap 6 when he passed Mark Dickson. These two had veteran Peter Cruickshank right with them. They moved clear of Scott Smith who had held on for a couple of laps, but he was pressed by Stephen Ward then Jonathan O'Neil late on, and lost 7th to O'Neil on the last lap. Up front Gray held on but it was very close as they were side by side at the flag, and Colville was 2nd.  Langton took 3rd with Smail 4th. The top Challenger car was Mark Dickson in 5th. Liam McGill had qualified 3rd but started from the pit lane. He got up to 10th but was minus his front bumper. The field is very competitive this year.
Race 2 – 12 laps side. Dave Colville wins after a good scarp with Steven Gray, the top 2 from last season resumed battle
Steven Gray led the cars away but Dave Colville was very racy and took the lead on lap 2. Dave knows how to defend and keeps cool under pressure. He had to do this for the rest of the race as Gray was all over him, but by lap 11 he had half a second gap. It looked enough, but then at the apex of the final corner (hairpin) he slowed briefly, and they went to the line side by side. Duncan Langton stayed in touch with the top 2 as he held 3rd. He was 3 seconds back at the flag, but over 3 seconds clear of 4th placed Liam McGill. It was McGill who had made a good start going from 10th to 7th on lap 1. McGill passed Peter Cruickshank on lap 2 then Mark Dickson on lap 5 and finally Simon Smail a lap later. He then got a couple of seconds clear as he consolidated 4th. Behind him Smail and Dickson were joined by Peter Cruickshank and they all ran close to the end. Into 8th a second back was Jonathan O'Neill. Further back on the road in 11th was debutant Broddy Orr, son of George Orr, who was a fine ST racer. Dave Colville said,' he (Steven Gray) gave me a hard time all the way through. On the last lap at the hairpin it popped out of 2nd gear. I'll have to have a look at it, as its been great all day.'  Driver of the day was Duncan Langton, while Mark Dixon won the Challenge class.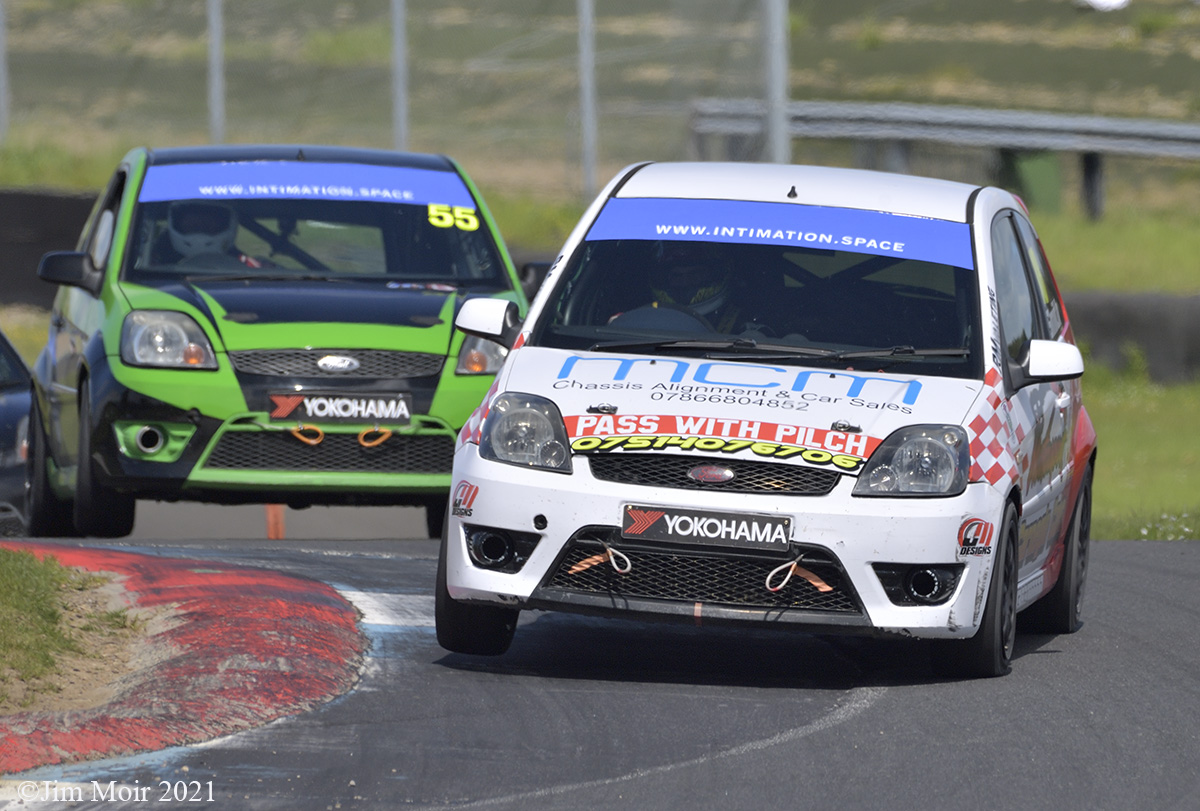 Formula Ford 1600 a Combined grid with Avon Tyres National Championship plus Scottish Formula Ford championship.
A fine grid with 21 cars lining up, including 7 Scottish cars. They put on a good show, and a new lap record was set in race 2.
Race 1, 20 minutes – 18 laps
Chris Middlehurst led the opening 12 laps in his Van Diemen, despite lots of pressure from Alex Walker in the Spectrum 011. They had Thomas Mills in another Spectrum with them early on, but a safety car appeared on lap 3, as a car was off at the chicane and stuck in the gravel. Racing resumed after a few laps and Middlehurst held off Walker. Jamie Sharp in a Medina Sport JL17 moved into 3rd after a couple of laps,  but he had lost two places by lap 10 as Max Esterson in a Ray GR18 headed the third placed  group, which had 6 cars in it. At the back of this group was 2019 Scottish Champion Jordan Gronkowski, doing well with his Van Diemen. The top two pulled out around 5 seconds by lap 12 as Esterson held 3rd comfortably a second ahead of Thomas Mills, who had taken 4th on lap 10. On lap 13 Walker took the lead. Esterson had closed on the top 2, but they soon pulled a couple of seconds clear, leaving them to fight it out. A red flag came out on lap 19, so results were declared at lap 18 with Walker winning even though Middlehurst had got past him on lap 19, but too late. Esterson was a good 3rd chased by Thomas Mills. Jamie Sharp was 5th a second or so back. Top Scot was Jordan Gronkowski in 7th. Michael Gray was 2nd Scottish runner in 11th having driven well in his Ray, and diced with Colin Queen from the nationals late on. Post race Thomas Mills got a 10 second penalty and was classed 8th, so Sharp was 4th from Dempsey 5th and Gronkowski 6th.
Race 2 David Leslie Trophy 20 mins – 26 laps
Chris Middlehurst led all the way and was under constant pressure. He had Alex walker and Maxwell Esterson right with him. These three were nose to tail for 7 laps then we had a safety car. Jordan Dempsey had spun at Duffus and finished up in the gravel. He had just taken 4th to head a 5 car group, running about a second behind the top 3. Racing resumed with now a 4 car group all nose to tail at the front. Middlehurst still held the lead and drove really well. By lap 13 there was just three at the front as Thomas Mills dropped back a second, and then the gap doubled after a couple of laps. He was a few seconds clear of a three car group headed by Carter Williams. Jordan Gronkowski was 9th a few seconds further back.  He was 9 seconds ahead of 10th placed Michael Gray who led a 4 car train. This time the cars did 26 laps, and Middlehurst got a break on the last lap as the leaders lapped a tail ender, Middlehurst nipped past at MacIntyres and got a 1.5 second gap, which he kept to the flag.
Middlehurst said,' That was a great race, I just kept ahead. I think it comes down to how the car is set up. The win is awesome.' He also said the David Leslie trophy was special and that his father knew David, who was, 'a great racing driver'. Colin Turner, the Scottish Formula Ford racer who lost his legs in an accident at last years Walter Hayes Trophy race, fittingly presented the trophy to a worthy winner.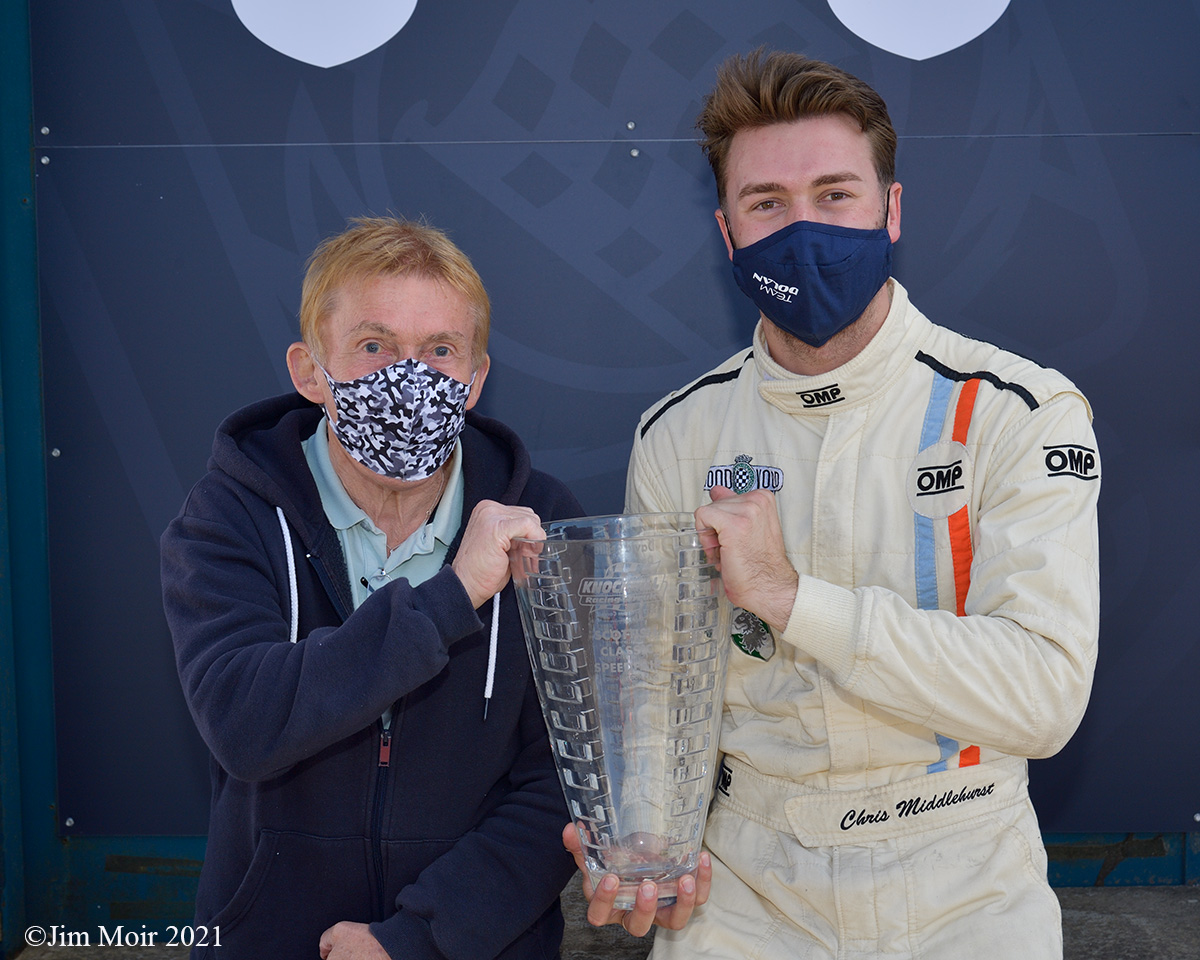 DDMC Northern Sports and Saloon Car Championship
A big grid of  modified cars with plenty of dices, and some very interesting cars
Race 1 – 18 laps
Paul Brydon dominated the race with his BMW bodied Nissan, a former Swedish Touring Car. But he was kept honest initially by David Brewis in his Lotus Exige. Brydon pulled out over 5 seconds gap by lap 5 as veteran Colin Simpson took over 2nd with his Marcos Mantis sportscar on that lap. Simpson dropped back from the flying leader who was 20 seconds clear by mid distance. Brewis closed the gap to Simpson, and on lap 11 it was a couple of seconds. He kept closing and by lap 17 he was right on Simpson's tail. But he ran out of laps as the chequered flag came out on lap 18. But as these two raced down to the last corner, the hairpin on the final lap, there was Brydon, half off the road. He'd stopped as his car had gearbox problems, then he got it going and won by 1.4 seconds. Andrew Morrison took 4th with his Seat Leon but 40 seconds behind the top 3. After starting 3rd Andrew dropped to 5th on lap 1, then he passed Mark Leybourne's Westfield on lap 2. Leybourne stayed close but dropped a place to Drew Myrescough in a Caterham on lap 4. Then he repassed him on lap 7 as the Caterham was getting smoky, and it promptly retired. Scott Hubel chased the Westfield in his rare Peugeot 205 T16. He finished right on its tail. These two got clear of Kevin Smiles Honda Civic which scrapped all race with an older Civic driven by Jonathan Swift. Scottish drivers took 3 of the top 4 places only 3rd wasn't taken by a local car. The race even had a couple of Sierra Cosworth's which finished 9th (Dan Kelly) and 22nd (Stephen Kell) these cars are over 30 years old now. Paul Brydon said, ' I wasn't expecting Andrew Morrison to let me through at the hairpin (last lap), I was going to follow him. The car went into 1st gear then didn't select a gear. I thought I was out, on the grass. Then it selected a gear and went'.
Race 2 – 18 laps
Pau Brydon in the BMW again led all the way, chased by Drew Brewis in his Exige sportscar. The gap was around 8-10 seconds as they lapped traffic from early on. Colin Simpson had pitted after the green flag lap and started from the pits. Simpson's Marcos started cutting through the field. He was up to 6th by lap 7, and 5th a lap later as he passed Mark Leybourne's Westfield. It took Colin a few laps to catch Drew Myrescough's Caterham and he took 4th on lap 10. Next was Andrew Morrison who had run 3rd from lap 5.  Simpson took 3rd going up the hill on lap 12, but Morrison repassed him at Duffus and held him off for another lap. Lap 13 Simpson retook 3rd but by now he was 40 seconds behind the leaders. On lap 15 Brewis running 2nd slowed and started to lose time. He went missing on lap 17 with just 2 laps to go, so Simpson came 2nd with Morrison 3rd just 3 seconds back, as Simpson slowed a little. On the slow down lap the Marcos stopped at the chicane, and was then towed home. Drew Myrescough was 4th just over a second back, then there was a big gap to Mark Leybourne 5th and Scott Hubel 6th.