SMRC Knockhill July 18th 2021 Race reports
Knockhill 18th July SMRC race meeting
The club ran 11 races and 5 qualifying sessions, from 12 noon to 6pm. The meeting ran to time, with officials and marshals doing a fine job.
The weather stayed dry, but cloudy. Once again 1,000 spectators were allowed in by the circuit, but continued covid restrictions meant the paddock was out of bounds, to all but drivers and their support teams.
Scottish Mini Cooper Cup in Association with Project 21 Detailing, and supported by Yokohama + Scottish Mini Cooper S R53 Cup
Race 1 – 12 laps.
The two powerful Cooper S cars raced away from the 11 Cooper Cup cars. Jamie Blake led all the way, but Andrew Lamont kept him honest until around half distance, and then Jamie pulled away and won after a controlled drive. Behind these two the Cooper Cup battled. Championship leader Michael Weddell led all the way, pressed by Craig Blake on lap one as far as the hairpin, when Chad Little grabbed 2nd in the Coopers. Michael Weddell raced away as the cars behind him scrapped. He got a couple of seconds clear.  Chad little held off Craig Blake then also eased clear, as Neil Hose took 3rd in Coopers from Blake on lap 4, having got past Ian Munro for 4th on lap 2 at Duffus. He then left Blake to fight off Dylan O'Donnell. But O'Donnell got past by lap 7. Blake had qualified 3rd and was slowly losing places suggesting a mechanical problem. Gordon Long went by and latched onto O'Donnell's bootlid for the next few laps. Up front in the Cooper class Weddell took a good win, from Little and Hose, each with a couple of seconds gap between them, and O'Donnell held onto 4th in class, then Long and Blake made up the top 6. Last meeting's front runner Ian Munro retired on lap 2  having dropped from 4th on lap 1 to last in a lap.
Race 2 – 12 laps
This time Andrew Lamont led from Jamie Blake, as the two Cooper S cars had a private battle at the front. Blake demoted Lamont at the hairpin on lap 3. Once in the lead he slowly got clear and won by over 4 seconds. Jamie said, 'That was a good race, Andy got me off the line and it took a few laps to see where I could get past'.  Michael Weddell led the Cooper Cup all the way. Chad Little headed a 7 car pack in 2nd but as they scrapped Weddell got clear and was 2 seconds clear and down the road by lap 3. Little held off Neil Hose and despite being only a couple of car lengths apart they started to gap the pack which was led by Craig Blake, who had put in a fast start making up 4 places at the start. Blake had Dylan O'Donnell all over him, and O'Donnell slipped past at the hairpin on lap 5 but one more lap round and Blake was back ahead of him. These two were tied together with O'Donnell getting past into 4th Cooper on lap 11 at Butchers only to lose the place back on the final lap as 5 cars then ran nose to tail disputing 4th. Michael Weddell won as he pleased, 2 seconds clear of Chad Little who had Neil Hose on his bumper at the flag. Next up was a train of 5 cars covered by 1.2 seconds. Craig Blake was closely followed by Dylan O'Donnell then Gordon Long, Chris Cockburn and Daniel Patterson. Race winner Michael Weddell said, ' That was good, Neil (Hose) got a cracking start, then he and Chad (Little) defended. I just kept on top of it and brought it home'
Race 3 (Scottish Mini Cooper Cup only) – 9 laps
Michael Weddell pulled the ball out of the hat after race 2 to determine how many cars were reversed on the grid and he picked out number 8. So he started 8th with Daniel Patterson on pole. A jump start by Patterson caused hesitancy on the grid, into the lead went Dylan O'Donnell from row 2 of the grid. He had Michael Weddell on his tail after a flying start, were he weaved in and out of the cars as the rest weren't up to speed. He sat on O'Donnell's bootlid until lap 4, when he dived past at Clark. In 3rd from the start was Daniel Patterson. But he was demoted on lap 5 by Craig Blake and Chad Little. At the front Weddell was under pressure, only a car length ahead of O'Donnell until lap 8 when O'Donnell and Hose who was in a close 3rd both went off at MacIntyres and through the gravel. Weddell disappeared down the track to win by nearly 4 seconds. Craig Blake took 2nd on the final lap from O'Donnell, as Little stayed very close behind them. Hose was up next and only a car length back, with Patterson right with him. The cars in 2nd to 6th at the flag were covered by 1.2 seconds. But post race Patterson got a penalty for his jump start and finished 7th. Gordon Long was promoted to 6th. That was 3 wins in a day for Michael Weddell who leads the Championship as well. Top newcomer in all races was Chris Cockburn. Ian Munro unfortunately had a dns in races 2 & 3.
The commentators selected Craig Blake as the MINI Driver of the Day, which is sponsored by Project 21 Detailing, Yokohama and Wheels Around.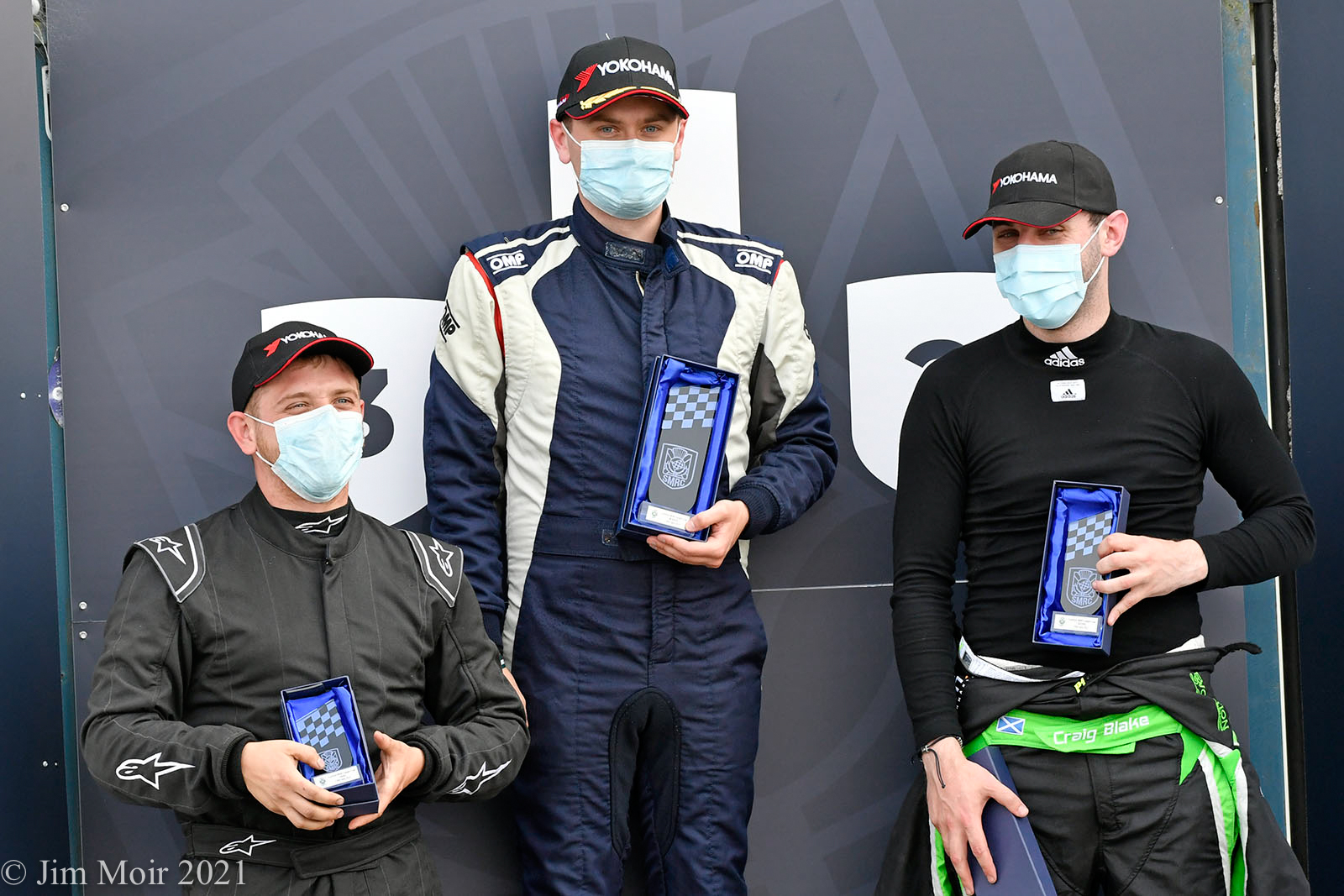 Scottish Formula Ford 1600 Championship
In Association with Reis Motorsport Insurance  
Race 1 – 12 laps
Pole sitter and defending champion Jordan Gronkowski was slow away in his Van Diemen JL012K, so Michael Gray blasted past him and led the race. Gray in a Ray GR10 was ahead until the hairpin on lap 2, when Gronkowski nipped past on the brakes. Once in the lead he pulled gently away, but not from Gray who had dived into the pits, as he had locked up at the hairpin. It was Neil Broome in 2nd with his Ray GR17. Gray returned to the track after a brief stop, but was 10 seconds behind 5th placed Glenn Alcock. He was on the same lap as the field, and put in some fast laps as he clawed his way back up the order. He was 5th on lap 6 passing Alcock at Clark, then 4th at Clark on lap 11 demoting newcomer Derek Palmer jnr in a Swift 92F. On lap 12 the final lap, he caught Lucy Grant who had held 3rd since the end of lap 2 and at his favourite corner Clark, so Gray took 3rd. He'd made up around 2 seconds on that lap. The front two were long gone but Gray had recovered well. Gronkowski won by over 6 seconds. He said ' I didn't quite control it, and just followed him (Michael Gray) then braked later at the hairpin and was ahead. I just tried not to be hard on the tyres, and bring it home. Thank you to the crowd, who have come to watch and cheer us on. It makes a big difference'.
Race 2 – 12 laps
Jordan Gronkowski got a decent start this time, and led all the way from start to finish. Michael Gray grabbed 2nd by Duffus on lap 1 and kept Gronkowski honest, running around 2 seconds back until lap 10, when Gronkowski opened out the gap to 4 seconds. Neil Broome ran 3rd throughout, he was a second back on lap 2, then slowly dropped back. But Broome was well clear of a race long scrap behind. Derek Palmer jnr was 4th until lap 7 as Lucy Grant kept a second behind, then closed in. These two ran side by side up the hill and Lucy took 4th in her Ray GR15. But Derek stayed close, and they were less than a second apart at the flag. Glenn Alcock completed the runners as he learns the Ray GR08.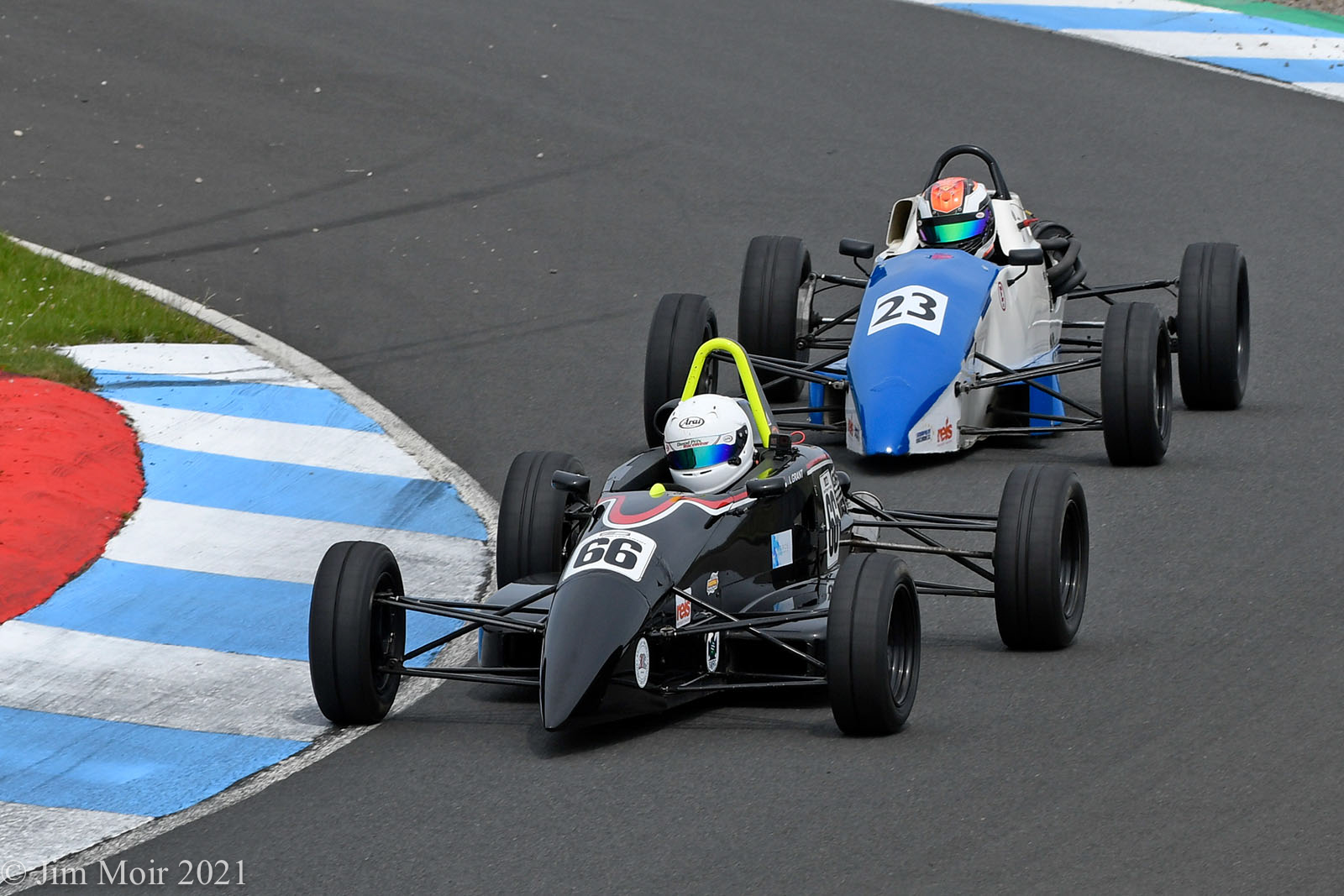 Scottish Classic Saloons and Sportscar Championship 
In Association with The Edinburgh Watch Company
Race 1 – 12 laps
A good grid with plenty of variety, as 18 cars set off around Knockhill. Poleman John Kinmond in his Rover SD1 led, from a fast starting Tommy Gilmartin in the Morgan +8.  Tommy had blasted past two Triumph TR8s at the start. He moved to within a car length of Kinmond on lap 2, then grabbed the lead, but commentators thought it might be a pass under yellow flags. The pace car was soon out as John's son Adam Kinmond had gone off at Leslie's and was in the gravel. He was soon dragged out and drove back to the pits.  Tommy resumed racing in the lead, but John Kinmond was past and leading on lap 6.  Tommy slowed with a suspect misfire which plagued him in qualifying, and pitted on lap 8 when he'd run 2nd. Then up came the TR8s running around 5 seconds back, Shonny Paterson heading Andrew Graham as they'd swapped places on lap 7, then almost immediately Graham dropped back, and also pitted after running 4th behind champion Bruce Mitchell's Lotus Europa.  Alastair Baptie took his fast Fiat X1/9 onto the tail of Graham's V8 TR8 on lap 8, then the place was his 2 laps later. He'd started 12th and had battled up the order.  But then Baptie slowed over the final 2 laps and would finish 9th. So Charlie Cope's Mk1 Golf GTI took 4th well clear of the lovely MK1 Fiesta thrown around by Oly Mortimer, who seemed to take Clark flat every lap!  He had been in a 4 car scrap mid race as Cope got past him, but he got slowly away from the Lotus Excel of Craig Houston. David Robb brought his energetically driven Mini into 7th and was the last unlapped car, and was clear of the BMW E36 of Philip Russell. The BMW had run 6th until lap 8, but pitted to have its rear off side door closed. The XR2 class went to Duncan O'Neill with 3 of these venerable cars starting. Many drivers have raced these Fiestas over the last 20 years, and it's great to see the cars are still turning out to play.
John Kinmond said, 'It was a good race, I was surprised, but I think Tommy's brakes were overheating and it (the Morgan) then had a misfire'.
Race 2 – 12 laps
John Kinmond made a good start and led from pole. He was chased by the TR8 of Shonny Paterson. Bruce Mitchell was slow away and dropped 2 places as Charlie Cope's Golf ran 3rd with a fast starting Oly Mortimer all over him. But starting 15th of 16 cars was Tommy Gilmartin in the Morgan. He was an amazing 5th by the end of lap 1, having got into 6th by McIntyres with the sheer grunt of the Morgan blasting him past the field. Tommy was in 2nd by lap 3 and around 3 seconds back on Kinmond's big Rover saloon. He slowly caught the Rover until they were nose to tail on lap 10. Tommy took the lead going up the hill on lap 11. John chased hard opposite locking the big Rover through Clark. John was on Tommy's tail down railway straight on the last lap. He then out braked the Morgan as they were side by side in the hairpin, and John Kinmond won the drag race to the line. They were 8 tenths of a second apart at the end. Tommy said, 'on the last lap it started playing up again, with the misfire, but it was a great race and I thoroughly enjoyed it'. John Kinmond said,     ' the brakes disappeared late on and I gave them a pump, and they came back in with vengeance. It was exciting. I need to have a lie down in a darkened room after that!'. Third went to Shonny Paterson, his TR8 pulling away from Bruce Mitchell's Lotus, though Bruce had been passed by the other TR8 of Andrew Graham, as he recovered from starting 14th. Then Bruce dropped around 3 seconds back before closing the gap and passing Graham's TR8 on lap 10. The TR8 was slowing a little but he kept it going for 5th finishing 4 seconds ahead of the Golf of Charlie Cope,  who had been 4th on lap 2 then the faster cars of Mitchell and Graham went past. But he drove well, dicing with Philipp Russell's BMW, which also got past then sounded a little flat and dropped back finishing 8th. Oly Mortimer drove it like he stole it, to finish 7th in the Fiesta. Ian Mitchell brought out a Vauxhall Nova was 11th while there were 3 Fiesta XR2s all close, and Nicola Campbell took the class win
The commentary team selected Oly Mortimer as the Edinburgh Watch Company Driver of the Day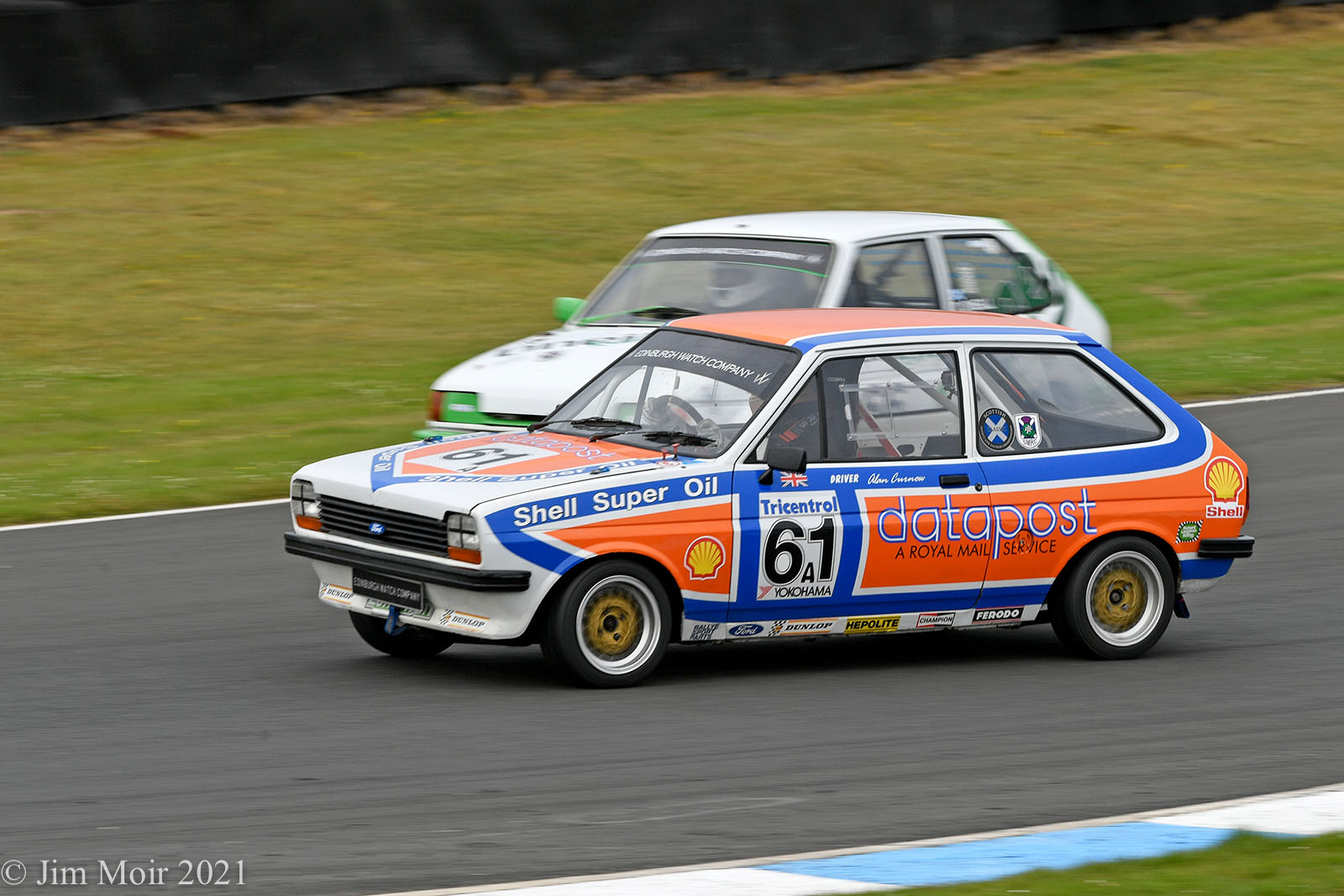 Scottish Fiesta ST Cup
In Association with Intimation Space and supported by Yokohama Tyres
Race 1 – 12 laps
Dave Colville was on pole and led the cars away. He had Steven Gray right with him. These two spent the race running one or two lengths apart, in a fast but fair scrap. Steven took the lead on lap 10 at Clark, but Dave regained it less than half a mile later, as they exited the hairpin. He held on despite the two front runners going side by side up the hill, on the last lap. Dave won a very close race. Simon Smail went from 7th to 3rd after a good a start. He was still 3rd at the end and quite close to the leaders, after running around 1-2 seconds behind them. Mark Dickson in the top Challenge spec car ran 4th throughout. Initially all over Smail, he stayed within a couple of car lengths all race. He pulled away from another 2 car scrap, as Stephen Ward held off veteran Peter Cruickshank, and these two were tied together. Lorn Murray took 7th in another Challenge spec car, after getting past Scott Smith on the last lap, and Smith then dropped two more places that lap, letting in newcomer Brody Orr and Jonathan O'Neill. Race winner Dave Colville said, 'I'm very happy, great race as ever, Steven's a good competitor, we could race all day with no contact, and there's only a few tenths between us. It was fabulous and I really enjoyed it'.
Race 2 – 12 laps
Dave Colville spent every lap out in front, but he was pressed all the time by Steven Gray. They were rarely more than a few car lengths apart and spent the last 3 laps nose to tail. Behind them 5 cars fought over 3rd. Simon Smail held 3rd but was chased by Mark Dickson who took 3rd on lap 4. He held off Smail who sat on his bootlid for 6 laps. Then Smail had to defend from Stephen Ward who was also close, and Dickson broke clear to finish a couple of seconds ahead. Smail in 4th held off Ward by less than a second, as Peter Cruickshank took 6th just over half a second back. Then 3 seconds later three cars crossed the line covered by 7 tenths of a second. Duncan Langton grabbed 7th on the last lap from Scott Smith, with Lorn Murray right with them having been ahead of Langton early in the race. Fiesta STs are close this season, with plenty of dices going on all race.
The Driver of the Day, sponsored by Yokohama and Wheels Around, went to Mark Dickson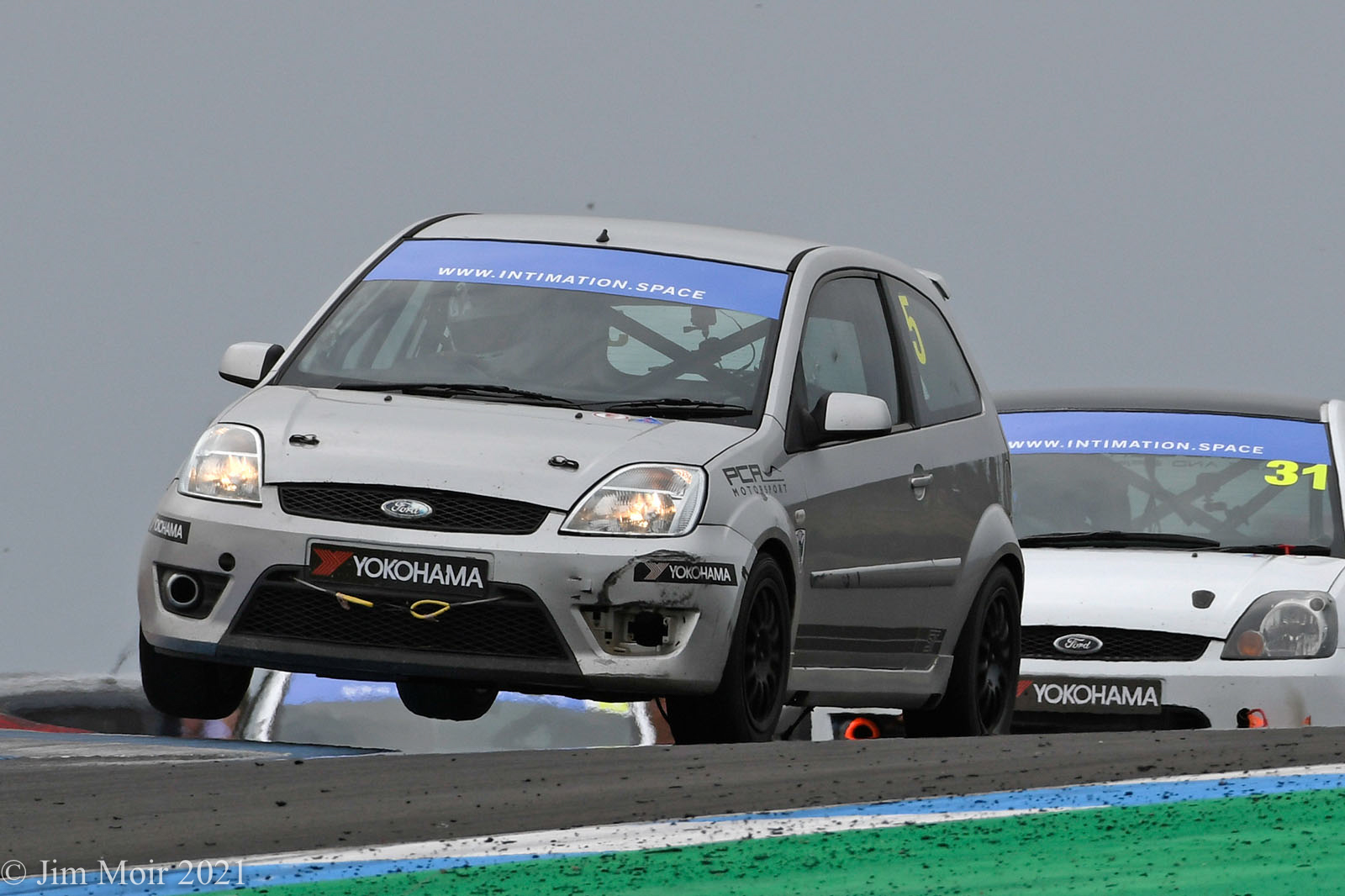 Scottish Citroen C1 Cup
In Association with the Scottish Motor Trade Association
Race 1 – 10 laps
Dan Martin led from pole and never looked back, as he got a second gap by lap 3, and maintained it all the way. He was helped by the scrap over 2nd as 3 cars ran nose to tail. Colin Main ran 2nd initially on Martin's tail, but then had Ross Dunn and Ryan Smith for company. It wasn't until lap 9 that Smith dropped back a little, but Main held on to 2nd after a good drive. Andrew Davidson took 5th just a few meters behind Smith at the flag, having closed up on the last lap. In 6th Sam Corson was in the action all race. He is only in his second race meeting and is learning fast. Starting 7th he was 8th on lap 1, then got up a place on lap 5. He took 6th on lap 6 from Calum Conway and eased away. Sam  finished just over a second back from Andrew Davidson. The experienced Paul Luti was definitely in action all race. The red and white car started 10th  dropped a place early on, then he fought back, he was 9th on lap 9, then dived past Thomas Comber at the hairpin for 8th, before grabbing another place on the final lap from Calum Conway to be 7th, as he headed a 7 car train at the flag, now that's close racing. Sam Corson won the newcomers class from Calum Conway.
Race 2 – 10 laps
Colin Main beat poleman Dan Martin into the lead, from the start. But Ross Dunn moved up to 2nd at the hairpin as lap 1 closed. He sat on Main's bootlid for next 8 laps finally getting past on lap 9 . He then held off a very close Colin Main, to take a good win. In 3rd from lap 3 was Ryan Smith with Andrew Davidson closing up from mid race after he passed Martin. At the final corner Davidson and Smith went side by side, with Davidson just piping Smith on the line, to take 3rd. Dan Martin slipped down the order, running 5th on lap 3 and drifting back from the top 4, but he was a couple of seconds ahead of 6th placed Paul Luti, who was in another battle, this time with Sam Corson and Luti just took 6th by a couple of tenths. Back in 8th Calum Conway headed 4 cars covered by just over a second at the end.  Corson was top newcomer, in a field with 7 newcomers registered for their class. Ross Dunn said, 'Its really close with Colin (Main). The car was good, I think we even touched mirrors. But it was another good weekend'. Colin Main said, 'It was excellent, we are both well matched and we (Ross Dunn and Colin Main) are cousins, and built the cars together.'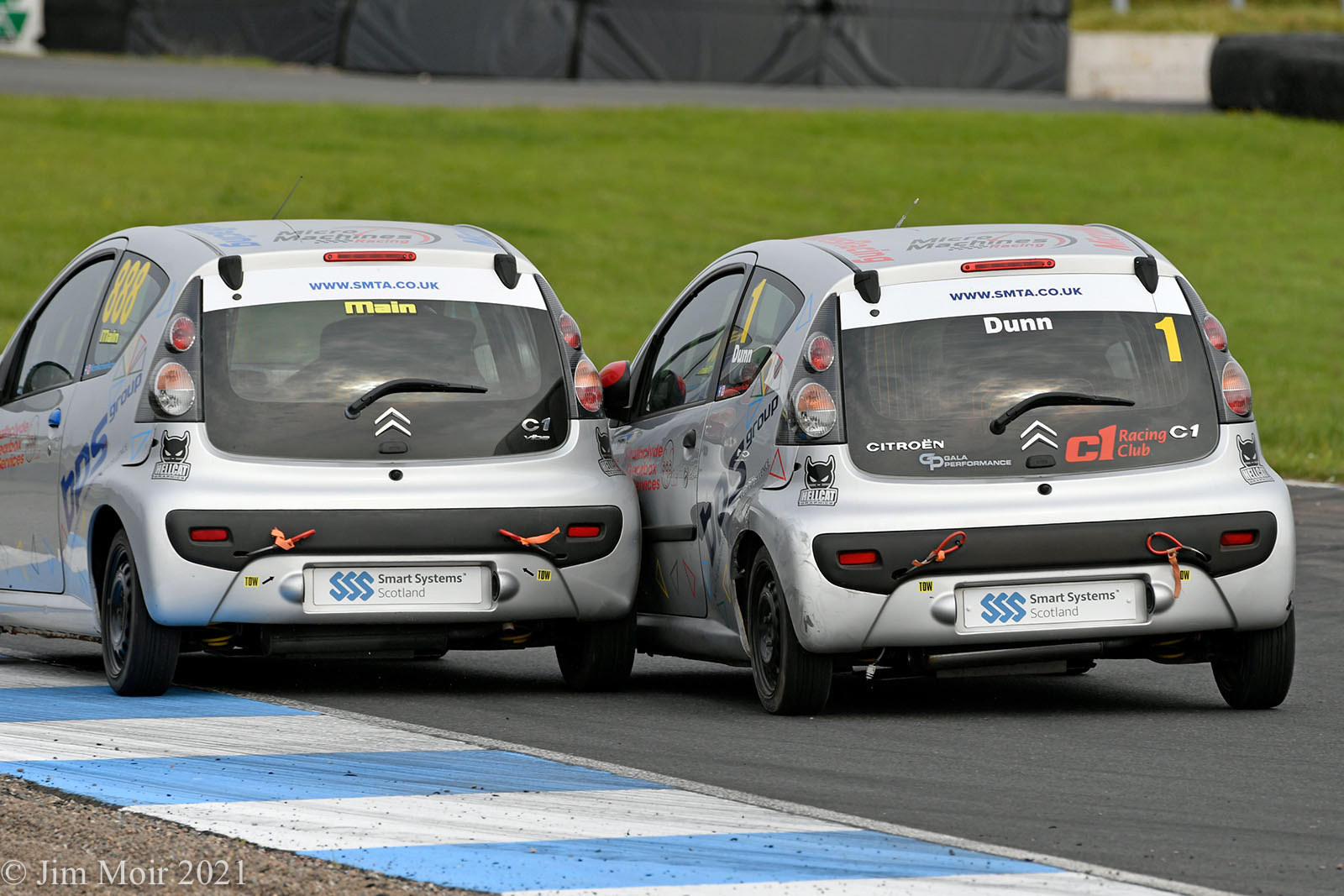 Kevin Pick
SMRC