Knockhill May 8th 2022 Race Reports
Scottish Mini Cooper Cup and Cooper S R53 Cup in association with Project 21 Detailing, supported by Yokohama tyres & Wheels Around.
Race 1, 12 laps
Former champion Oly Mortimer returned to head a 5 car Cooper S grid. He led all the way, but was fairly comfortable. Initially chased by Craig Blake, then his brother Jamie Blake took over on lap 3. Oly opened out around 4 seconds gap, which came down a little when they lapped traffic late on. Craig had retired early in the race, leaving Andrew Lamont to be a close 3rd.
In the Cooper Cup Champion Michael Weddell led the class all race. He even got past newcomer Christopher Watt's Cooper S on lap 1. Then dropped back, as the S powered past. Weddell was chased by Ian Munroe for a couple of laps. He headed a 7 car train, with newcomer Jack Irvine on his bootlid from lap 2. By lap 5 the chasing pack had shuffled, Munroe was 2nd from Ryan Smith and Chad Little.  Smith moved up to 2nd in class on lap 6, but was passed by Munroe a lap later. But back up in the train came Chad Little, and he took 2nd on lap 9, and stayed there until the flag. But Michael Weddell ran away to win by over 4 seconds. Ian Munroe was 3rd heading a tight bunch with Irvine and Smith close behind. Finn Mache took 6th a few laps from home having passed Gordon Long who then dropped right back.
Race 2, 12 laps
Oly Mortimer led the field away but he had a much tougher scrap for Cooper S honours in this race. He was trying hard, and had a huge tank slapper exiting the chicane on lap 1. Craig and Jamie Blake were only a second back. By mid race they were right with him. The two brothers also swapped places a couple of times, as these 3 S cars put on a good race leading scrap. On lap 9 Jamie went past going up the hill to lead, but Oly and Craig then swapped places for a couple of laps, before Oly got 2 seconds clear on lap 11, then Craig closed up over the final lap. Jamie was also close in 3rd. Race wnner Oly said he saw the last lap board, by then his tyres were going off quickly.
In the Cooper Cup Michael Weddell was 5th on lap 1, as a tight train of 6 cars ran nose to tail headed by Chad Little from Ian Munroe. Weddell dropped to 6th on lap 2 having locked up at the hairpin as lap 1 ended. But he fought back and was 3rd in class by lap 5, then 2nd a lap later. He took the class lead on lap 10 and held on for a fine win. Jack Irvine was a good 2nd just over half a second back. In 3rd came Chad Little just holding off Ian Munroe.  5th was Neil Hose who started at the back of the grid following retirement in race 1. He worked his way through the field, and had caught the leading group of 5 cars by mid race, it was a sterling effort. Finn Mache was 6th a couple of seconds back, after running wide at MacInytres on the last lap.
Race 3 Cooper Cup cars only – 9  + 2 SC laps
This race had a reversed grid for the top 6 Cooper Cup finishers in race 2. Neil Hose sat on pole, and was quickly a couple of seconds clear of a 6 car group. This was headed by Finn Mache then Chad little from lap 3, all running nose to tail over the opening laps. On lap 6 the safety car came out, as Ryan Smith had stopped at the hairpin. Neil had been 3 seconds clear with Chad little 2nd and Michael Weddell now up to 3rd. As racing resumed Hose led, but after running side by side with Jack Irvine up the hill, Michael Weddell grabbed 2nd at Duffus. Weddell was now on Hose's bootlid.  They had Jack Irvine a car length back. On lap 8 there was a sort out at Clark. Neil Hose went off as the other two were side by side. Hose retire on the spot. Irvine got clear in the lead and went on to win. Chad Little had been close behind and took 2nd leaving Michael Weddell to get home 3rd, with Ian Munroe all over him. But Ian lost a place to Gordon Long late in the race, and finished a couple of tenths back in 5th. A few seconds back Chris Cockburn took 6th heading a 3 car group, with Ewan Robertson who was top newcomer and Finn Mache, who was half a second down and 2ndin newcomers.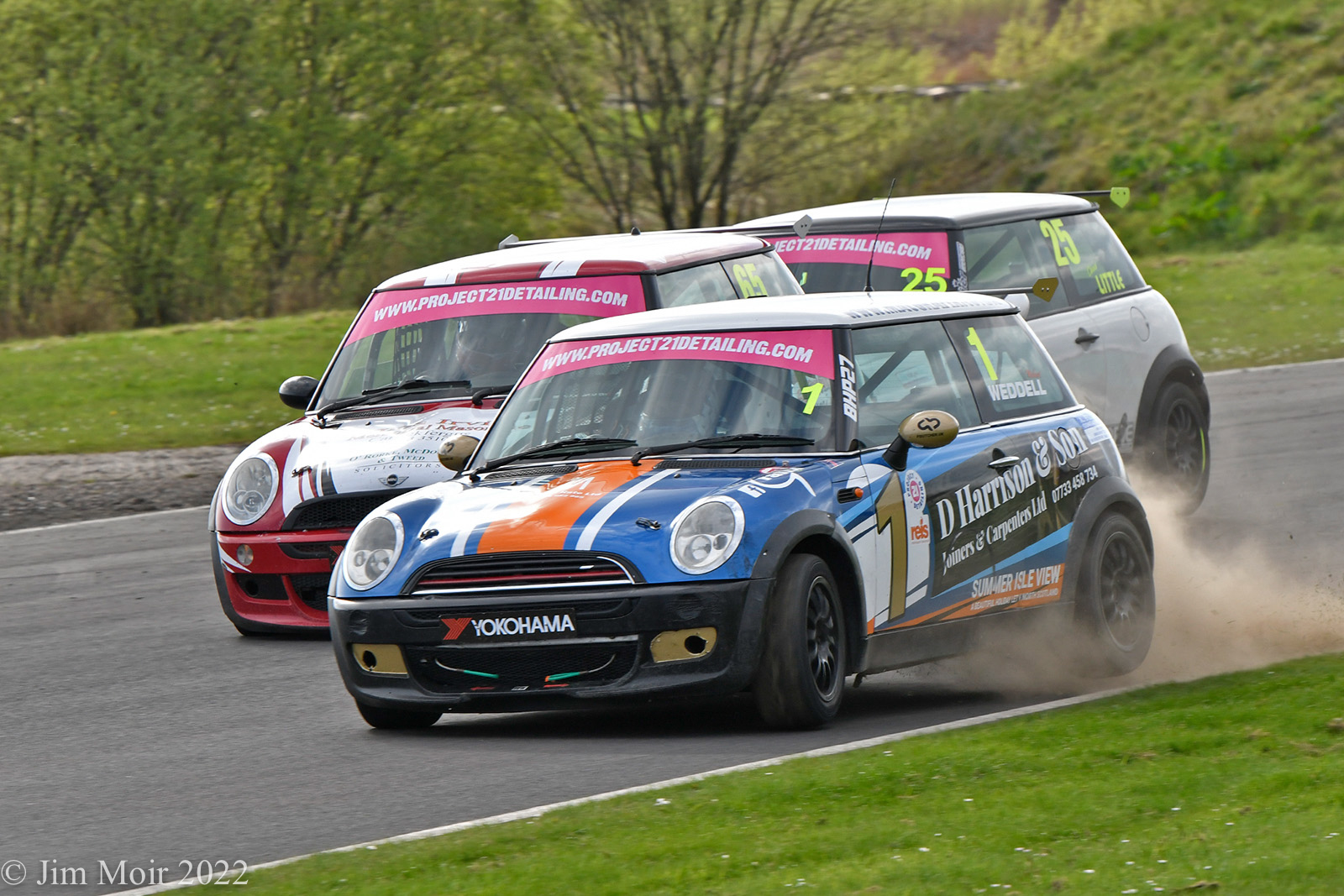 SMTA Citroen C1 Cup
Race 1 10 laps
Drama in the holding area as pole sitter Ross Dunn, and 3rd placed Andrew Davidson, had to leave the holding area and change a tyre, the regs being specific on minimum tread depth. They started from the pit lane. Thomas Comber led all race. He was under non-stop pressure from former champion Finlay Brunton. These two pulled clear of a 6 car train headed by Sam Corson. During the race Corson got clear of the train, which slowly spaced out. In 4th all the way was Kyle Nisbet. He was shadowed from lap 2 by Calum Conway who eased clear of top newcomer Paul Winfield. Into 7th on the last lap came the Ross Dunn. He'd made up 12 places. Another mover through the field was Andrew Davidson who finished 10th. Race winner Thomas Comber said that he was comfortable for the first half of the race, then started defending and was under pressure.
Race 2  – 10 laps  New for 2022 is a reversed grid in race 2,  following a ball draw like Mini Cooper Cup cars.
The top 5 were reversed on the grid. Calum Conway lost the lead at MacIntyres on lap 1 as Kyle Nesbit drove past him. Nesbit led until lap 8, heading a 4 then 5 car train, with Conway 2nd until lap 5 when Sam Corson went past at Duffus to run 2nd followed by Finlay Brunton, who nipped into 3rd. By lap 8 Corson was leading, after the lead two cars had run side by side through MacIntyres and Butchers. Sam Corson held on for the win just over a second ahead of Finlay Brunton. Close behind were Paul Winfield who was in 7th mid race, and 5th on lap 9 before grabbing 3rd late on. In 4th was Kyle Nesbit as after he dropped a place on the last lap. Half a second back was Calum Conway in 5th. Ross Dunn finished 6th having run 7th until mid race, he started to move up, and got into 3rd by lap 9 right on Brunton's bootlid, then lost places over the final lap dropping back to 6th. Sam Corson said that it wasn't easy inside the car, and he was just pushing lap after lap, but it was good fun. Paul Winfield said he thought he was 6th with a lap to go, but went into 3rd at the hairpin on the last lap.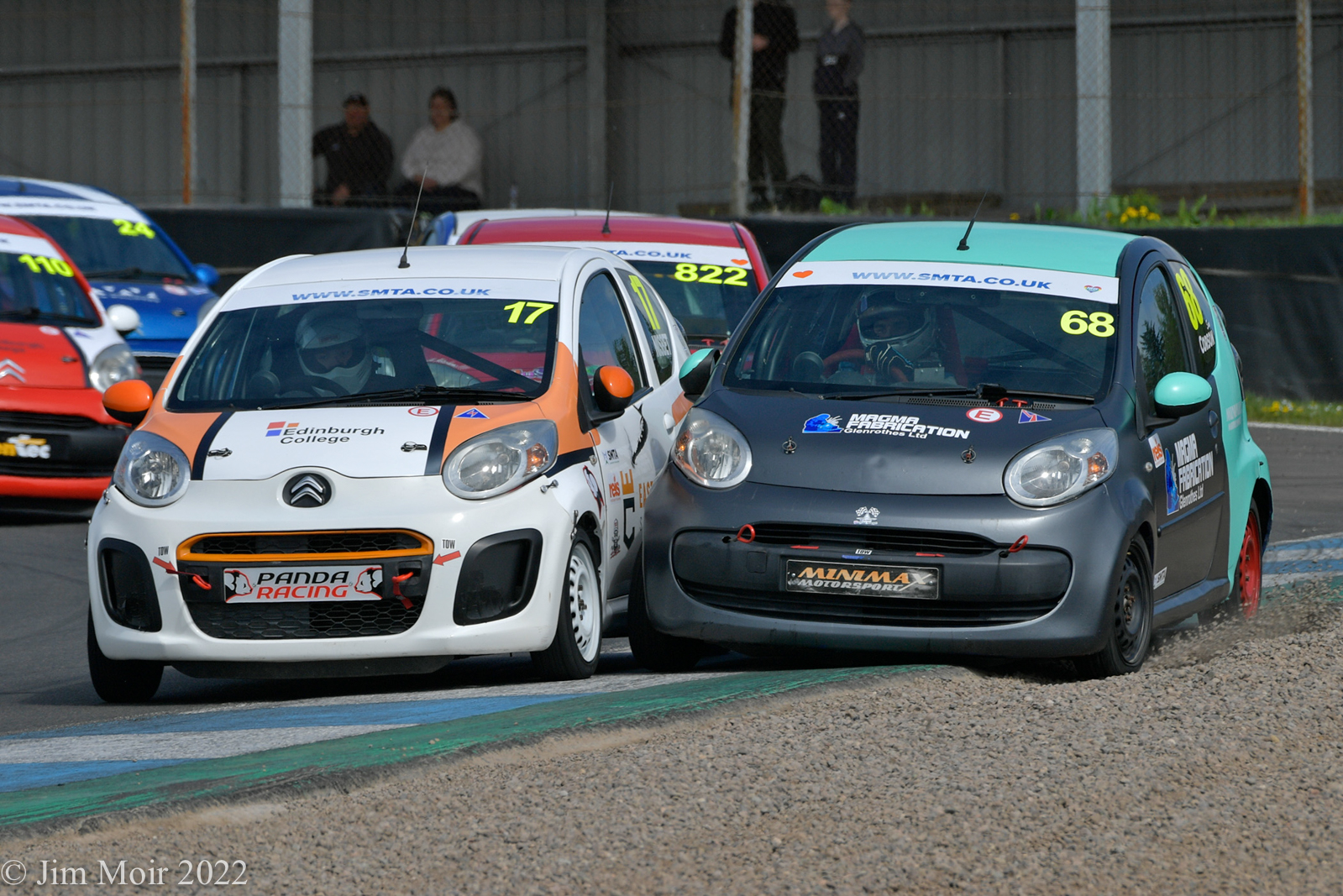 Scottish Fiesta ST Cup supported by Reis Motorsport Insurance, Yokohama tyres and Wheels Around
Race 1 12 laps
There was a race long battle at the front. Steven Gray led from pole and was never headed.  He had Dave Colville glued to his bumper for the entire race, after he'd passed Brody Orr on lap 1 to run 2nd.The front two opened out around 2 seconds gap by lap 4. While 3rd was fought over by 3 cars. Liam McGill, was just ahead of Broddy Orr and Mark Dickson. Orr moved to 3rd on lap 6, but Dickson passed him 2 laps later at Clark. Dickson got away from Orr by lap 10 and quickly closed on the leaders. He was on Colville's tail over the final lap, as only 6 tenths of a second covered the top 3 at the flag. Broddy Orr took 4th around 1.5 seconds ahead of Liam McGill. The next group were 5 seconds down the road with Russell Morgan in 6th, holding off top Challenger class car of Ben Creanor.
Race 2 – 12 laps
Steven Gray again led the field with Dave Colville close behind, followed by a fast starting Broddy Orr who had Mark Dickson for company. On lap 5 the 2 leaders were nose to tail, and lap 6 saw Colville take the lead at MacIntyres. He stayed there until lap 8, then Gray drove past him going up the hill, following a mistake at the hairpin. Orr and Dickson had closed right up so the top 4 ran nose to tail. But by lap 10 Gray had a second gap over Colville, who in turn had 2 seconds gap on Orr who was defending from Dickson. Lap 11 saw Dickson take 3rd, but Orr's car was sounding a little rough and  he dropped to 5th on the final lap, as Liam McGill went past.  Into 6th had come Peter Cruickshank, he'd started 9th got body damage on his n/s front wing on lap 1, but raced well. He was up to 7th on lap 4 passing Kieren Preedy at Clark. He caught Russell Morgan on lap 9, and out braked him 2 laps later at Duffus to grab 6th which was where he finished. At the front Gray took the victory from Colville, and extended his lead in the championship. There had been plenty of racing throughout the field in both races.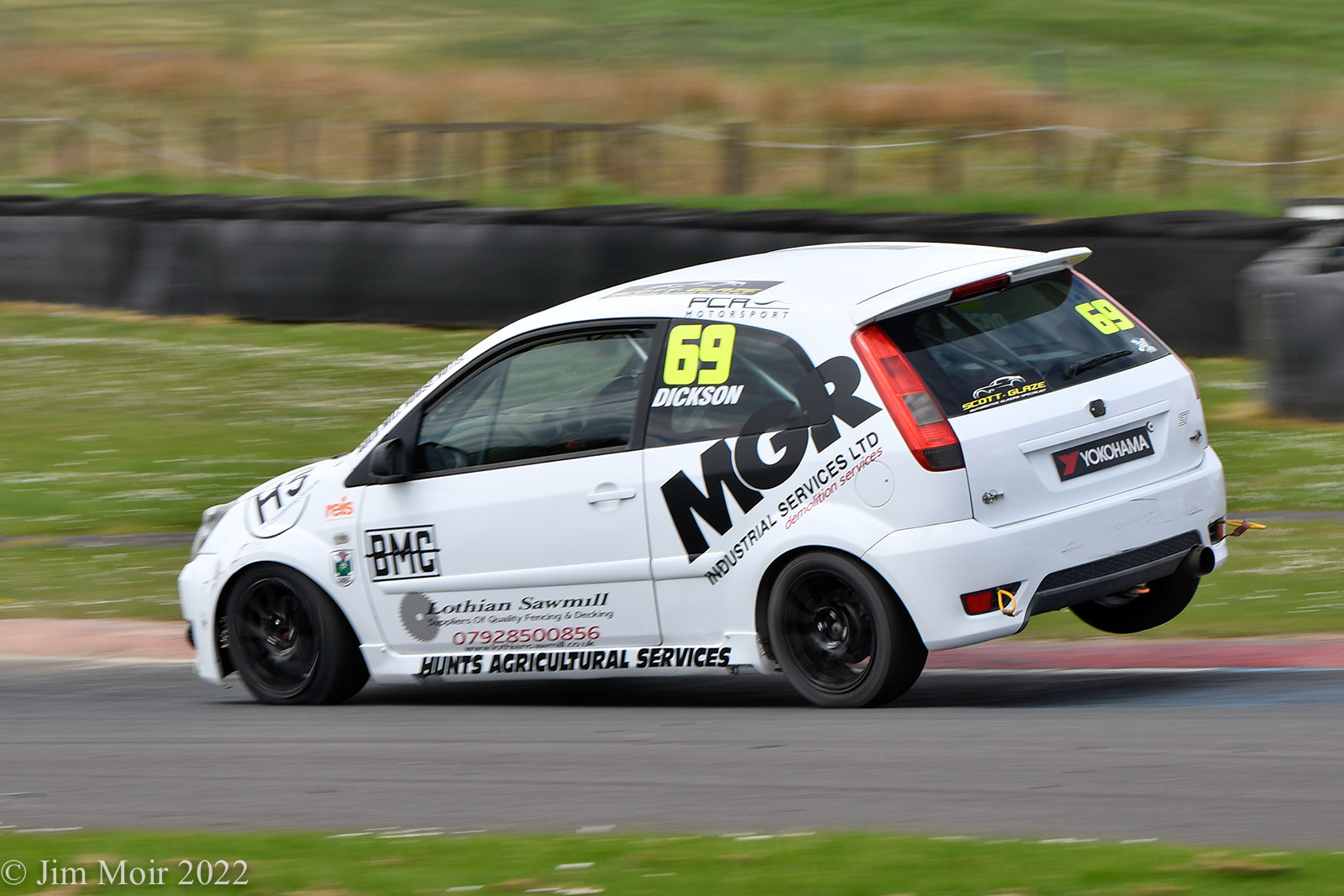 Scottish Classic Sports and Saloon Car Championship in association with Edinburgh Watch Company
Race 1  12 laps
John Kinmond was on pole in the big River SD1 saloon, and he led all the way from lights to the chequered flag. He was chased by Andrew Graham in the TR8, but was 1.5 seconds clear by lap 2. He doubled his lead by lap 5 and finished just over 3 seconds ahead at the end. The TR8 got away from the battle over 3rd a fast starting Jimmy Crow held it part of the first lap in his MGB GT V8 then a few cars went past him. Eliot Paterson quickly got 3rd in his Morgan and was there until lap 7 when Kenneth Brown took over in the TVR Griffith roadster. Brown was 6th on lap 1, passed Jimmy Crow on lap 2 for 5th then demoted Charlie Cope's VW Golf on lap 5 to be 4th. Brown in his TVR stayed 3rd and was less than half a second ahead of a recovering Alistair Baptie in a wide arched MGB GT V8. Baptie had started from the pit lane, and zipped through the 16 car field. He was 6th by mid race, but it took him until lap 10 to catch 4th placed Paterson. He was past a lap later and closed on the TVR, but ran out of laps. Paterson and Cope were 5th and 6th winning their classes, while Crow was 7th a couple of seconds ahead of Craig Houston in the Lotus Excel. Class A was won by Ian Mitchell in his Nova saloon in 11th while Duncan O'Neill took the XR2 class. Race winner John Kinmond said his car likes to be driven like that, which includes power slides out of slower corners.
Race 2 – reduced to 11 laps after race delayed due to fluid on the grid
The TVR of Kenneth Brown was a dns after it started leaking fluid on the grid. John Kinmond again led the race in the SD1, but this time it was much closer. He had Alistair Baptie on his tail with the MGB GT V8 from the start. Andrew Graham had his TR8 in 3rd but he dropped back 1.5 seconds then closed the gap mid race. By lap 9 he was right with the leaders, who were nearly nose to tail. By the flag Kinmond was just over a second ahead, as Baptie had tyre smoke occasionally coming from his rear tyres. Graham was just over half a second back in 3rd. These three were well clear of the field. In 4th was Eliot Paterson, having a lonely run from the start as he pulled well clear of Charlie Cope's VW Golf. Cope was chased by Jimmy Crow for a few laps, then Crow came under pressure from Craig Houston's Lotus, which got past the MG on lap 9. But Crow retook the place late on and finished 6th. Andrew Kinmond took 8th in another Rover SD1. Ian Mitchell won class a again and Duncan O'Neill took the XR2 class. John Kinmond said that it wasn't easy that time as Alistair was there, but it was good and hard work. Edinburgh watch Co. driver of the day was awarded to Jimmy Crow in the MGB GT V8.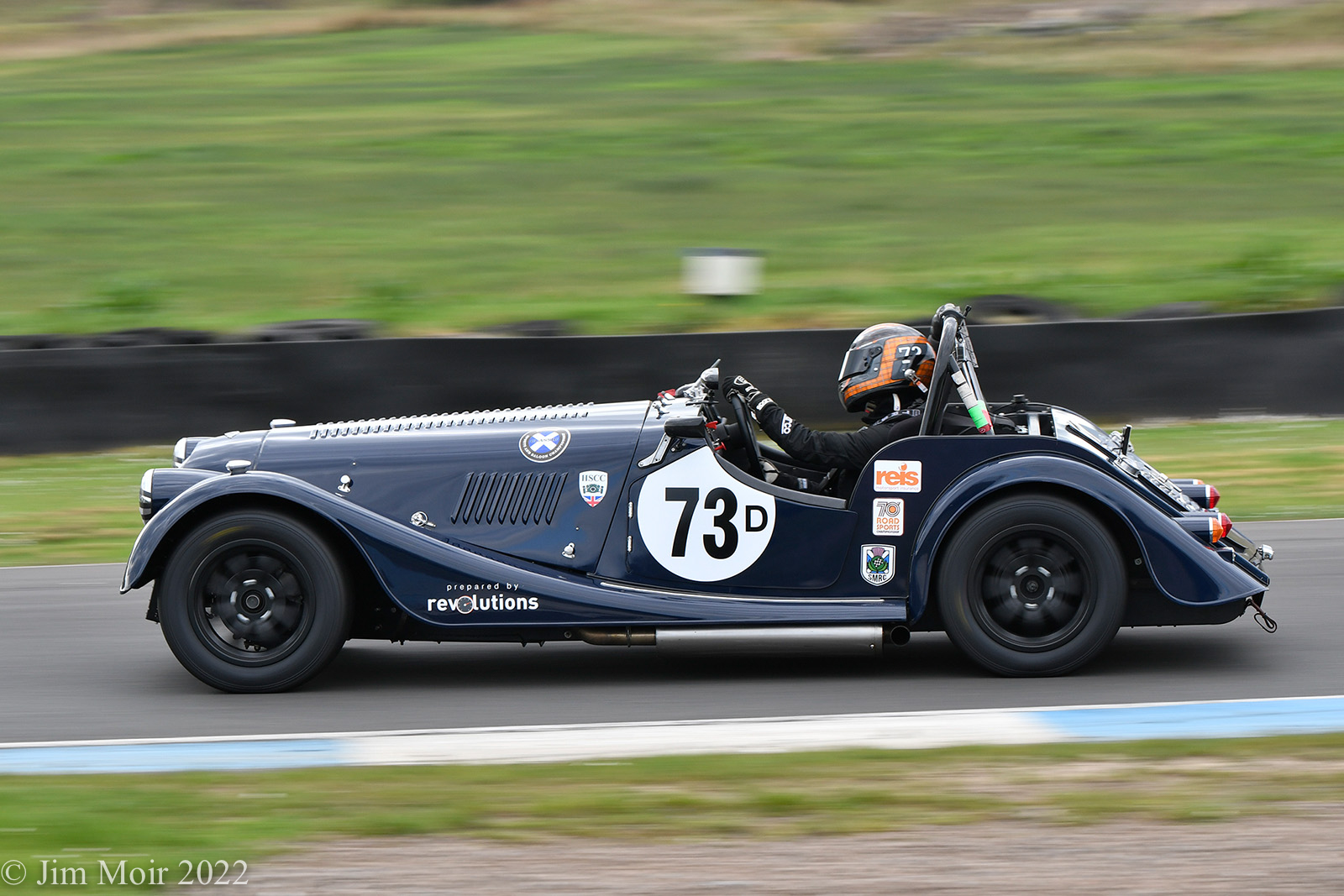 Modified Fast Fords
Race 1  15 mins + 1 lap
There were 20 cars, all modified Fords. It was a busy and quick race. Dave Cockell led all the way in an Escort Cosworth, and slowly got clear of an early scrap over 2nd. Jack Gadd's MK1 Space frame Escort held off then pulled clear by lap 6, of Piers Grange Escort MK2. These two got well clear of the battle over 4th. Scottish racer Graham Waite's Sierra Sapphire Cosworth held 4th until lap 8.  Waite held off Ashley Shelwell's Sierra XR4 for 5 laps then Malcolm Harding's Escort MK2 Zakspeed version took over before Waite's car started to smoke and he retired. Harding and Shelswell ran nose to tail for several laps then Shelswell took 4th on lap 13 were he stayed. Harding kept a few seconds clear of David Matthias in an Escort Cosworth. Paul Nevill took 7th in his MK2 Escort having moved up from 9th.
Race 2 race stopped at 12 laps
Dave Cockell again led all the way in the Escort Cosworth, but Jack Gadd in the space frame Escort Mk1 stayed in touch all race, usually 2 or 3 seconds back. There was over 20 seconds gap back to 3rd placed Malcolm Harding who had grabbed 3rd on lap 1 from Piers Grange. Then Grange retired a lap later. In 4th from lap 2 was David Mattias in an Escort Cosworth. He was around 5 seconds clear of Paul Nevill by lap 7 then his car started smoking, and he retired. Nevill took over 4th and stayed there until the end of the race. In 5th came David Gadd who was 8th for much of the race before moving up to 6th by lap 11, and 5th late on. In 6th was local racer Gary Wait in his Sierra. The race was red flagged on lap 13, as Paul Daly's Focus that had been 5th was off the road, and stuck in the hairpin gravel trap.
Super Tourers 15 mins +1 lap
Race 1 David Leslie Trophy remembering the fine Scottish racing driver David Leslie, who was a Touring Car star in the 90s and also raced sportscars internationally,  and had an earlier successful career in single seaters. He and his father also mentored drivers and ran them in junior single seater championships, helping future stars such as David Coulthard and Allan McNish.
The grid of 5 Super Touring Cars was augmented by 6 Fast Fords, which were modified Escort Mk1 & 2 cars, plus a Sierra and a Focus. The Touring cars are from the 90s, but there were a few withdrawls after mechanical problems following a recent race at Silverstone. Heading the Touring cars was veteran Scottish star John Cleland, who is a two times British Touring car champion.  Cleland was on pole and led the race until lap 5 in his Vauxhall Vectra. He was then passed by the highly modified space frame MK1 Escort of Jack Gadd. The Escort won on the road, but the David Leslie trophy was only for the Touring Cars and went to John Cleland, who was well clear of the rest of the field, and the next touring car was in 6th Tony Absolum's Cavalier. The modified Fords took 3rd Malcolm Harding with a Zakspeeed Escort MK2 which took the place on lap 3 and slowly pulled clear of 4th placed Ashley Shelwell's Sierra. But on the move was Paul Nevill's Escort after a slow start from 9th he was 8th on lap 5, then he began to move up. He was 6th by lap 6, and 5th on lap 13 having reduced a 10 second gap, then he took 4th on lap 15 demoting Conrad Murray's Focus which got home 5th.
Demonstration Race
With two of the 5 Super Tourers retiring to the pits post race 1, the three remaining cars did a demonstration run, staying close and swapping places regularly. These were John Cleland, Tony Absolom and Steffan Irmler in an Astra he'd brought over from Germany.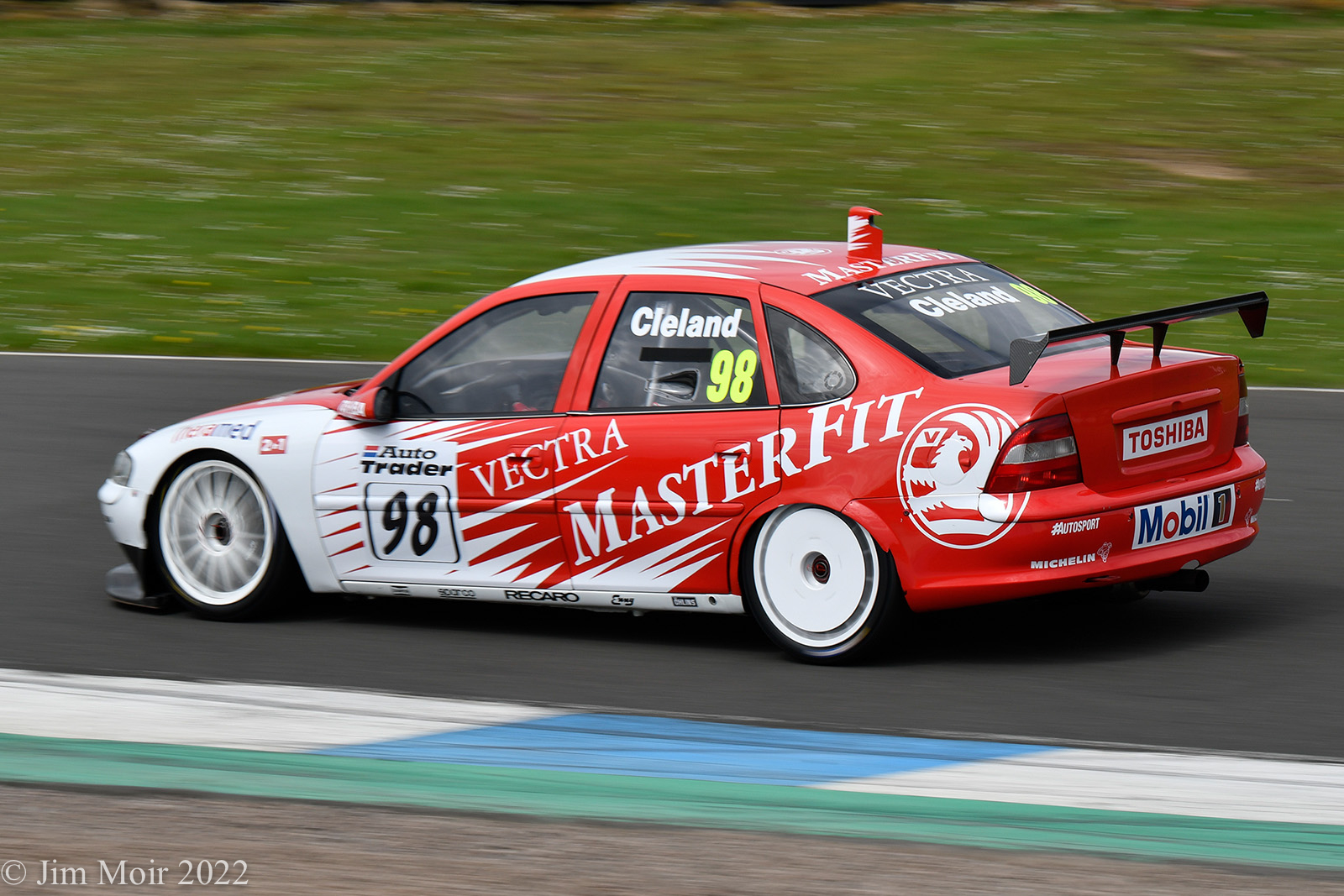 Kevin Pick
Director SMRC