Knockhill 12th June 2022 SMRC Reverse direction meeting
Knockhill 12th June 2022 SMRC Reverse direction meeting
There was plenty of action as the club ran 8 races, but one was a 90 minute endurance race.
The weather was mixed, sometimes dry, with a strong breeze, but there were some rain showers which made the track slippery for some competitors. Reverse direction is a new track and some drivers really adapted well to the challenge.
Scottish Classic Sports and Saloons Championship
Race 1 12 laps
The track was damp but dried out quickly. John Kinmond was on pole in his Rover SD1 saloon, he led all the way, and was well clear at the flag. Andrew Graham held 2nd in his TR8 for a lap then Alastair Baptie went past in the MGB GT V8. These two stayed close for a couple of laps then Baptie retired handing 2nd back to Graham. He was a few seconds ahead of Charlie Cope's Golf which was passed on lap 5 by the TVR of Kenneth Brown. It took 3 laps before Brown was half a dozen car lengths behind Graham. These two stayed like this to the end. Elliot Paterson brought his Morgan +8 into 4th after a slow start were he dropped to 7th, Paterson moved up from mid race. He was 5th by lap 5 demoting Philip Russell's BMW, which had to pit soon after with a loose bonnet. He caught and passed the rapid Golf of Cope on lap 8 for 4th and stayed there. Cope got 5th well clear of the Lotus Eclat of Craig Houston, which sped up after. John Kinmond noted that the rain didn't seem to come to anything, John said, its good fun I quite like reverse direction and it's good to drift round Duffus. Kenneth Brown the TVR driver was enthusiastic about his race. Saying, it was a bit of a challenge at the beginning, but managed to work my way up and had a great race with the TR8. I thought I had him at the chicane then outbraked myself. It's the first time I've done reverse and it's good.'
Race 2  13 laps including safety car on another damp track
John Kinmond again led from the start. He had his big Rover saloon over 5 seconds clear of Andrew Graham's TR8, when the safety car was sent out. The class A MG Midget of Longstaffe was in the gravel trap at Clark corner mid race. It also started raining for a few minutes. When racing resumed Kinmond shot away on a wet track, and won with ease. Graham held 2nd kept a few seconds clear of Charlie Cope's Golf. This car was raced well in the wet, and was only 2 seconds back at the flag. Kenneth Brown was 4th in the TVR Griffith after repassing Elliot Paterson's Morgan on lap 9. Adam Kinmond got home 6th after Craig Houston went off at the hairpin in his Eclat late on. Ian Mitchell took class A in 10th with the Nova, and his two rivals both retired before half distance. Duncan O'Neill took the XR2 class for the 2nd race running. Charlie Cope said that he was happy to finish 1st in class, the car was handling brilliantly in the wet and he was closing on the TR8 ahead.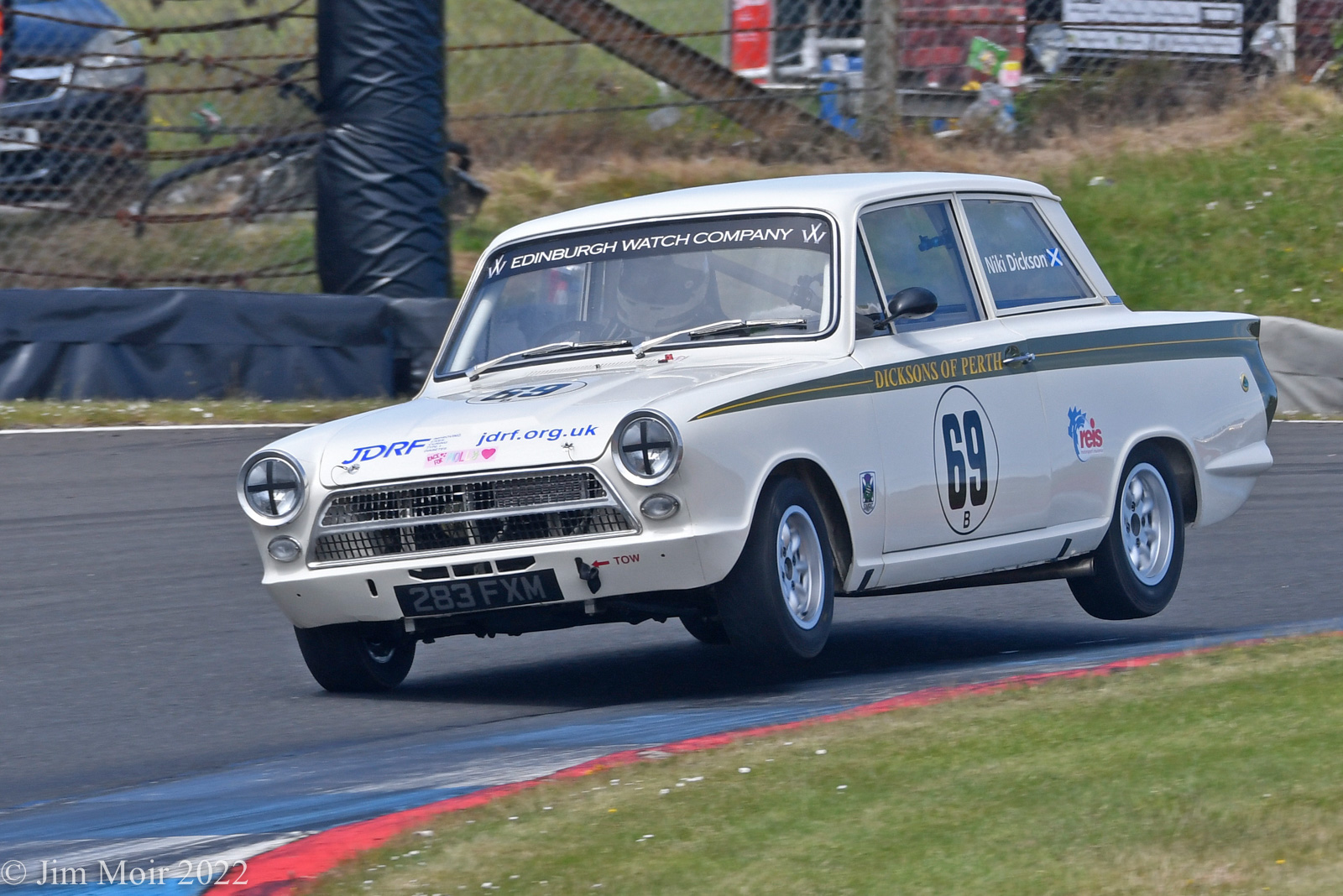 Scottish Fiesta ST Cup Race 1  12 laps
Fewer cars than normal entered, but the race was good on the dry track. Liam McGill was the star and led all the way from pole, to take his first win of the season. He was under pressure from defending champion Steven Gray from the start. The gap was small for the opening 5 laps, then grew to over a second before Gray closed right up, and they ran nose to tail over the last 2 laps. These two were well clear of the rest. A fast starting Mark Dickson had grabbed 3rd after starting 5th. He headed a 6 car train for a couple of laps. Then eased away, around a second clear of Iain Blackley who had Dave Colville close. Dave went wide exiting Clark on lap 4 and dropped to 6th. He was then on the bootlid of Broddy Orr until lap 10. Before they got to lap 10 these two caught Blackley and all 3 went past Dickson on lap 9. Colville passed Orr with a lap to go, and then demoted Blackley on the last lap to take 3rd. Broddy Orr also nipped through to take 4th on the last lap. He and Iain Blackley had run side by side into the first corner, the hairpin on lap 12. Though Blackley held on down Railway straight, he lost the place later in the lap. Mark Dickson was just a few tenths of a second back in 6th.
Race 2 12 laps
The track was damp, but the sun had come out after a shower. But on lap 3 it started raining again. Steven McGill led the field away. Steven Gray took over at the front on lap 2 going down Railway Straight, before they got to Clark. McGill fought back and was leading on lap 3 after diving up the inside at the Reverse track's first corner, the hairpin. Gray lost another place a few hundred meters later to Broddy Orr. Dave Colville who had started 3rd was last on lap 1 after a slow start. He had moved up a place on lap 2, and took 6th from Peter Cruickshank by lap 5. But he didn't get further up the order and a few laps later stopped near Clark, his race was over. The track was wet now and McGill had moved around 3 seconds clear of Gray who had retaken 2nd on lap 7 as Orr went off track at the chicane. In 3rd now was Iain Blackley. He'd been 4th and close to Broddy Orr for a couple of laps, then benefited from Orr's off track moment. But Orr went grass tracking again a lap later at Duffus, letting Mark Dickson through to 4th. Dickson started to close on Blackley who was still 3rd, and he was under a second back when the race was red flagged. This was on lap 11, so places went back a lap. Orr was classified 5th and Cruickshank 6th.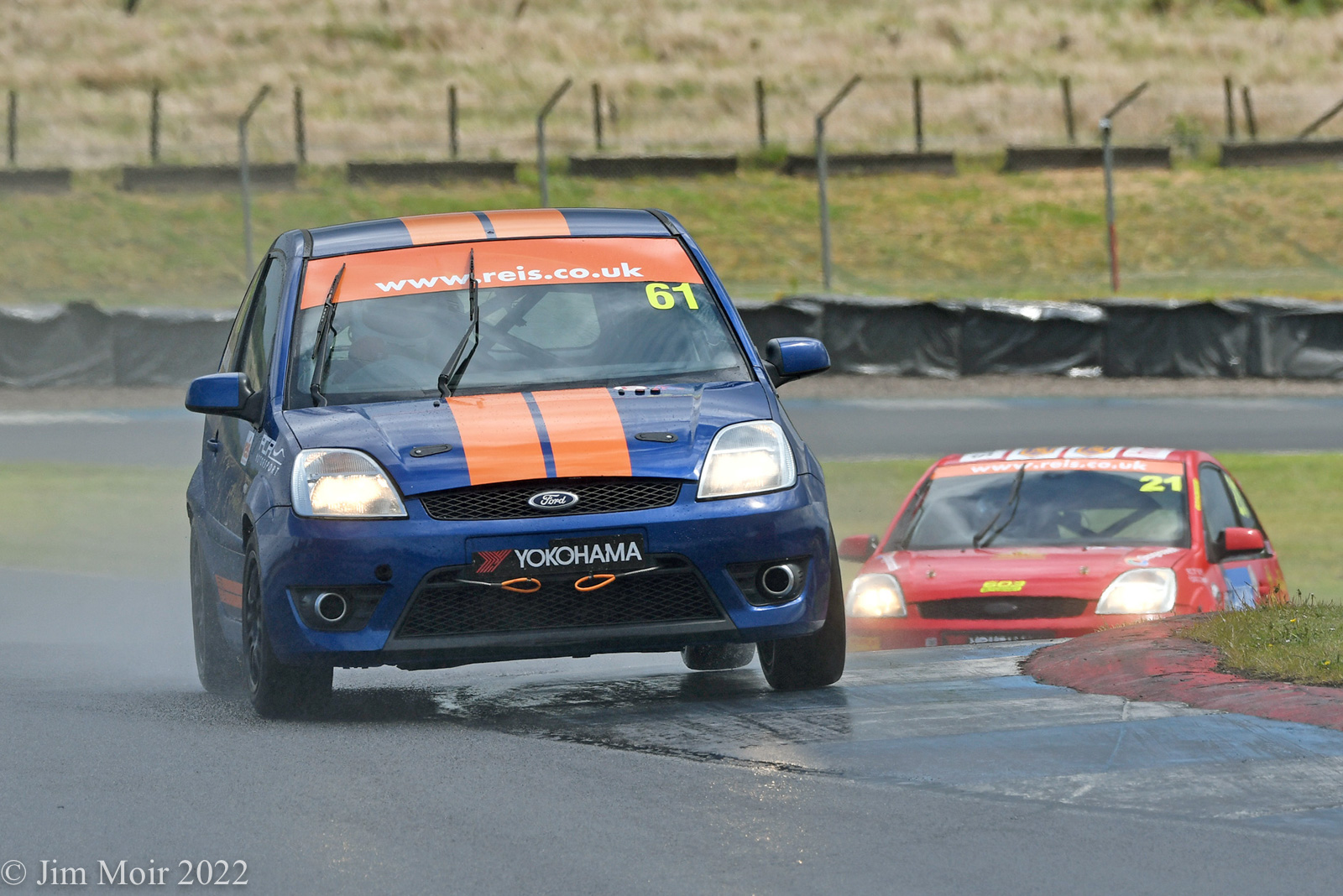 Scottish Mini Cooper Cup & R53 Cooper S Cup
Race 1 15 laps inc safety car laps
The four Cooper S cars ran away from the Cooper Cup Minis, so we had two good races in one.
In the S race Craig Blake led for 2 laps then brother Jamie took over and led all the way home. These two stayed close all race and only a couple of tenths separated them at the flag. They had Andrew Lamont for company usually a couple of seconds back. Neil Robertson had qualified 2nd but started slower than the other S cars and ran 4th. He closed up on Lamont on lap 5, but went off at the hairpin on lap 6 getting beached in the gravel. This brought out the safety car for a few laps, as marshals retrieved the Mini. In the Cooper Cup Chad Little headed the pack from pole, with Jack Irvine on his bumper. A lap later Champion Michael Weddell was leading the class, as 5 cars ran nose to tail at the front. Neil Hose had followed him through with Ian Munro now 3rd. Munro took 2nd on lap 4 and was on Weddell's bootlid. Michael Weddell got a second clear as Munroe held off Chad Little. Then the safety car bunched them all up. When racing resumed Weddell spent 5 laps leading a tight bunch to the flag, with Ian Munro glued to his bumper. Little sat close behind Munro and Daniel Paterson was next up and also close. Top newcomer Jack Irvine took 5th on the penultimate lap from Ryan Smith and closed on the leading group, so just over a second covered the top 5 cars on the road. Smith took 6th with Gordon Long less than half a second behind.
Race 2  11 racing laps
The three Cooper S cars shot off together chased by a pack of Cooper cars. Craig Blake had his brother Jamie tied to his bumper with Andrew Lamont right with them. On lap 3 the safety car came out as Ian Munro was in the gravel at the chicane. The Cooper cars had run close with a train of 6 at the front, this was led initially by Michael Weddell then Chad Little from lap 2. When racing resumed the three Cooper S cars ran away and scrapped. Craig Blake held off brother Jamie until lap 8 then they went sideways on a damp track at the chicane.  They had pulled a couple of seconds clear of Andrew Lamont, but Jamie Blake held on as Craig went off the road. This left Lamont in the lead. But the red flags came out. The race was over and as always results go back a lap, so Jamie Blake won from Andrew Lamont. In the Cooper Cup Chad Little led all the way, but was under pressure. Michael Weddell was 2nd for a lap then Jack Irvine nipped past and held 2nd to the flag, though Weddell got alongside him on Railway Straight on lap 6. But Weddell finished around half a second back in 3rd with Daniel Paterson right on his bumper. Then we had a 4 car train just over a second back, led by Neil Hose from a very close Gordon Long then Finn Mache and Ryan Smith, these 4 were covered by just half a second at the flag.
Race 3 Mini Cooper Cup only – 9 laps
This race had the reverse grid for the top 8 of the 13 Mini Cooper cars. Ryan Smith was on pole on a dry track. The whole pack was close on lap 1 as Smith held off Finn Mache on lap 1. By lap 2 Neil Hose was 2nd having started 4th he ran 3rd on lap 1. Neil Hose was leading by lap 3 and quickly opened out a second gap on Ryan Smith who headed a train of 4 cars. Michael Weddell had moved into 3rd by lap 5, having been 5th on lap 1.  A lap later he was 2nd. The three cars close behind him were Smith, Mache and Jack Irvine who had been 7th in the opening laps. These cars were joined by Daniel Paterson on lap 6, after he'd got past Gordon Long a lap earlier. Paterson was fired up and by lap 7 he was 3rd as we lost Finn Mache who slowed on the start / finish straight that lap. Lap 7 also saw Michael Weddell suddenly slow and drop out of 2nd then retired. Unusually a 3rd car slowed that lap, Neil Hose went from leading to 7th. So Ryan Smith took over at the front and reeled off the last few laps to win. He had Paterson right on his tail over the final lap. They were very close at the end of the race. Around a second back in 3rd came Jack Irvine, and he'd pulled clear of Gordon Long who had Chad Little a few tenths back in 5th. Neil Hose got home 6th well clear of Ian Munro whom passed Chris Cockburn with just over a lap to go. Strangely the top 3 kept racing after the flag, and slowed late on the lap as Ryan Smith' car had a brief fire near MacIntyres.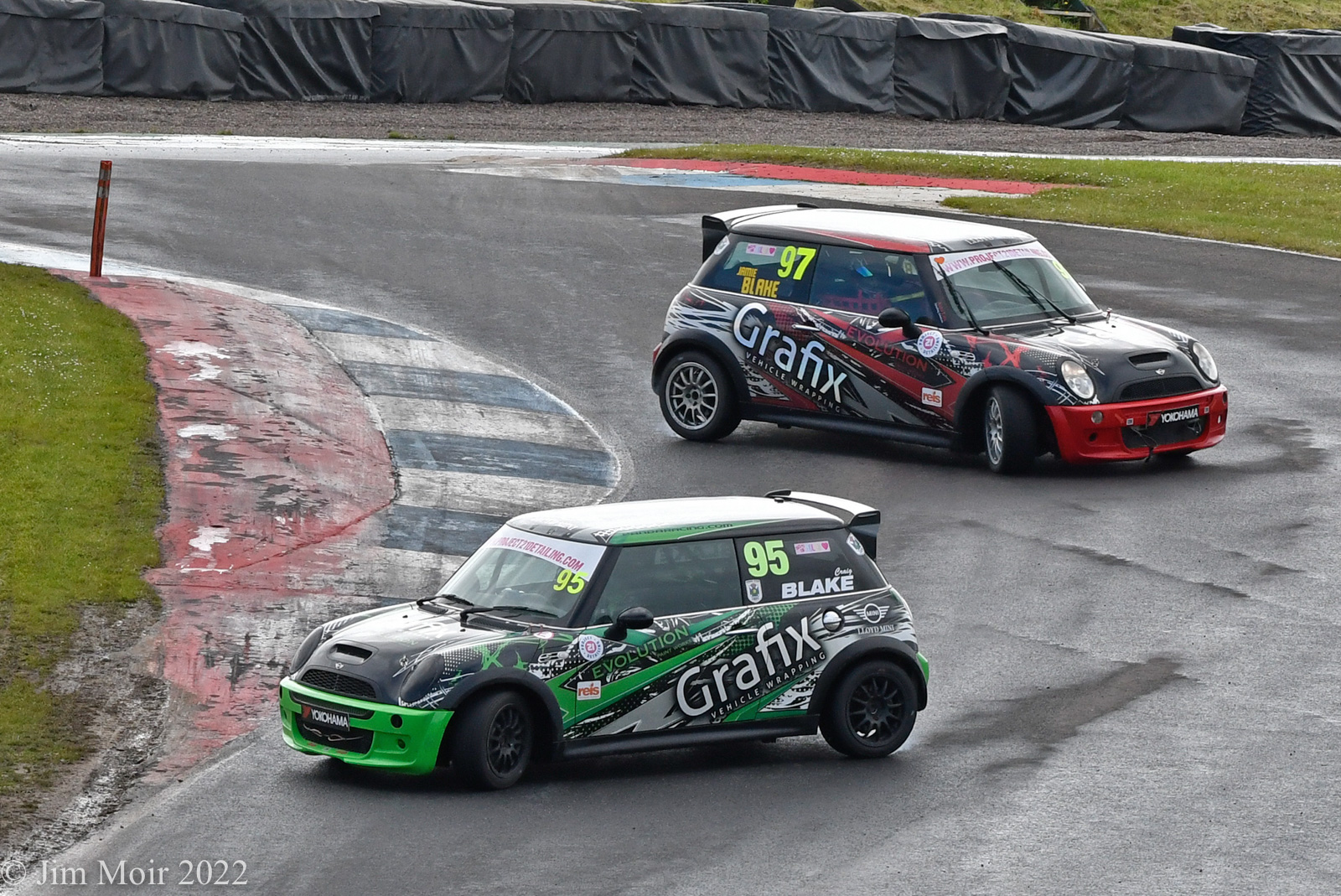 SMTA Citroen C1 Cup 90 minute Endurance race
These little cars do endurance races down south, and in they are quite reliable and can mange 90 minutes with ease. The cars could have 1 or 2 drivers, and each car had to make a mandatory pit stop which was for a minute plus around 12 seconds as worked out by officials.  We had 14 cars start and 14 cars finished the race. It was close as the top 4 were covered by 4 seconds, with 2nd and 3rd only 2 tenths of a second apart after 90 minutes. It was dry all race.
Pole sitter Kyle Nesbit driving solo led the race for 18 laps. He opened out a 3 second lead by lap 6 over solo driver Sam Corson who had Ryan Smith all over him. Smith would hand over to Finlay Brunton later. It took Smith until lap 12 to get 2nd as Corson dropped to 4th behind Marc Nisbet. Up front Kyle Nesbit's lead had halved by lap 12. On lap 18 he had Smith on his bumper. It was lap 19 when Ryan Smith took over the lead. He slowly eased away to lead by 3 seconds on lap 27 with Kyle Nesbit 2nd. He was around 5 seconds clear of Sam Corson who had retaken 3rd on lap 14, but hadn't shaken off Marc Nesbit, who was still close. These top 4 were well clear of Calum Conway who had got away from the scrap between Thomas Comber, who held off the Colin Main/Ross Dunn car until lap 20. The pit lane opened on lap 29 and cars had to all make a stop during the next 30 minutes. Ryan Smith led until lap 39 stretching his lead to 8-9 seconds. He pitted for Finlay Brunton to take over the car. Sam Corson led the race with Marc Nesbit on his bumper. These two swapped places on lap 41 then we had a safety car period from lap 44. A car was beached at the hairpin exit. The Smith /Brunton car had rejoined and was just behind the leaders though a lap down. But the front men had yet to pit.  The safety car let lapped car overtake, as more pit stops ensued. Racing restarted on Lap 50, with Marc Nesbit leading but by lap 52 Brunton had taken 2nd as Corson took over at the front, then Nesbit grabbed 2nd on lap 57. Sam Corson led until lap 57 when he lost the lead and had a coming together with Nisbet, resulting in a half spin at the hairpin. Brunton sailed past into the lead. The former champion opened out a few car lengths gap on Calum Conway, who had been running a close 4th and had passed both Nisbet and Corson on lap 57. Corson was fired up and retook 3rd on lap 66, then 2nd on lap 67 at Macintyre corner. He was 2 seconds down on Brunton, but closed to within a couple of car lengths at the flag. But Corson was hit by a 30 second penalty post race and classified 8th. So Calum Conway took 2nd behind the Smith / Brunton car. Marc Nesbit was 3rd only a few tenths of a second behind. Then Thomas Comber came in 4th around 12 seconds back. But he was 5 seconds up on the Dan Kell / James Hitchen car that had scrapped late on with Paul Winfield and made it past on lap 69 of the 71 run.
Finlay Brunton said we were trying to work out if we were leading, then after the safety car came in we were 3rd so got the elbows out. Calum Conway noted that he went off at Clark on the last lap  and was quite happy to finish. He said it was okay until halfway then it was roasting inside the car. Marc Nesbit commented that incidents happen and that's racing. He went on to say, that the fact that it's a one make series you've got to keep the momentum. It was easier than I thought. This is my first season and we're still there and learnt about the safety car. The endurance race provided plenty of racing action and everyone got home.