2019 Awards Dinner Review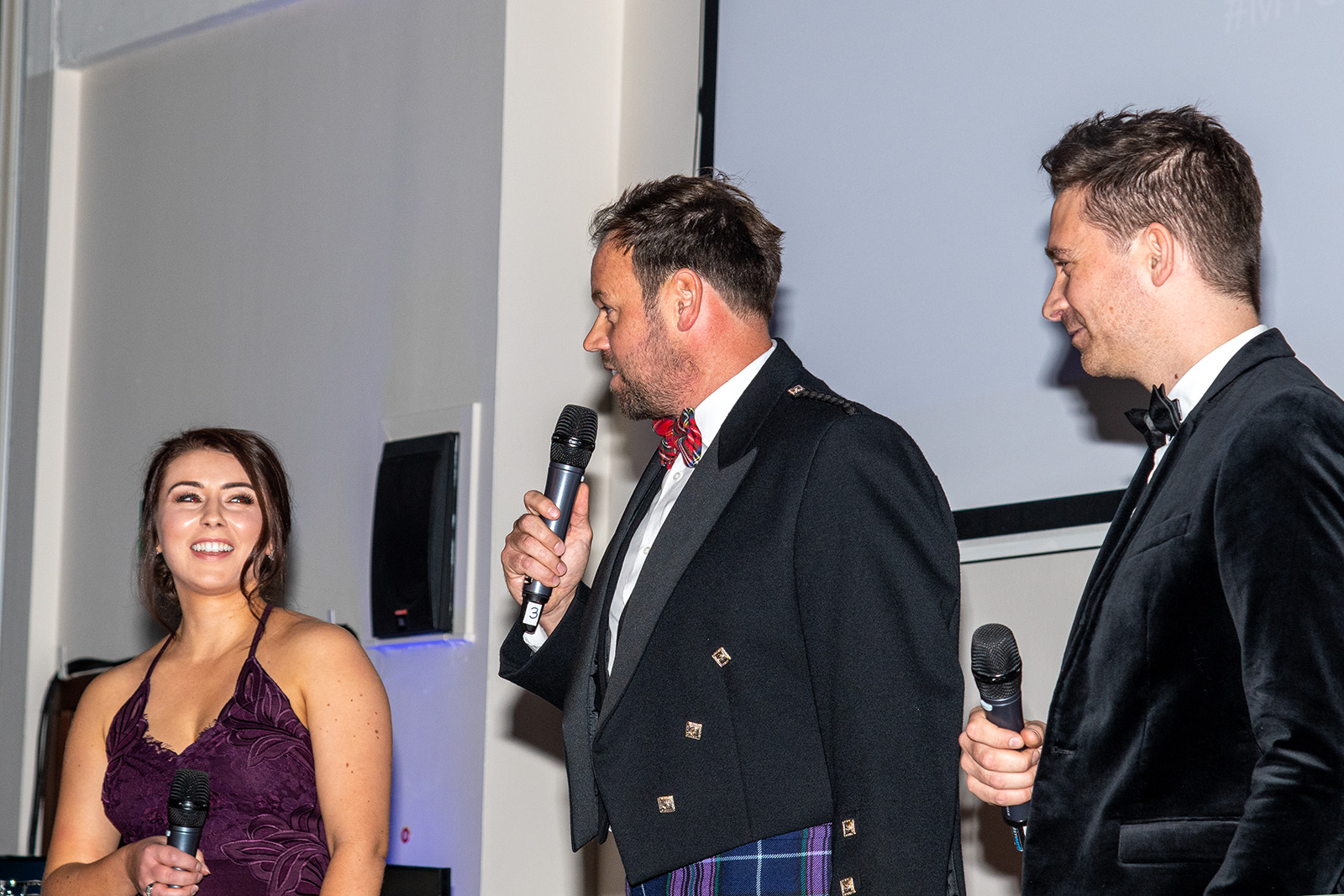 2019 AWARDS DINNER REVIEW
A fantastic turn out of 330 people came along to Glasgow's stylish Radisson Blu hotel to celebrate the 2019 season, on Saturday night.
The presenting team of Paul O'Neill, Fiona Wallace and Joe Tanner entertained the crowds from the offset with popular BTCC pundit – Paul O'Neill – embracing the local culture and walking onto the stage in a Kilt!
The evening was kicked off by a speech from our Chairman – Sandy Denham – who spoke enthusiastically of the club's progress in the last year and thanked all volunteers, members and commercial partners for their contribution.
All the club's champions and top finishers were awarded with their trophies on stage. Thanks to the support of Torq Racewear, the champions were also presented with their own bespoke Nomex top. The full list of Championship award winners can be found here.
A new feature of the 2019 Awards was the announcement of the new 2020 Rising Stars programme drivers. The drivers were announced and welcomed up onto the stage to receive their Rising Stars Team kit from Spa 24hour Winner and former SMRC Rising Star, Sandy Mitchell. The successful drivers were:
Finlay Brunton (SMTA C1 Cup)
Ryan Smith (SMTA C1 Cup)
Duncan Steele (Scottish Saloon & Sports Car Championship)
Michael Weddell (Celtic Speed Scottish MINI Cooper Cup)
Craig Blake (Celtic Speed Scottish MINI Cooper Cup)
Chloe Grant (Karts)
Another new feature for this years awards dinner was the much anticipated Esports Racing Championship Final between Kevin Ellis and Sam Corson. The event took place on stage in two identical simulators after the Championship awards, with commentary from Paul O'Neill and Joe Tanner.
Kevin was the clear favourite coming into the event having taken a clean sweep of the qualifying rounds. However, the 5-lap final round Silverstone National Circuit turned out to be anything but predictable, with underdog Sam Corson taking a nail bitingly close win, after Kevin lost time struggling to get his car off the line at the start. The full write up can be found here.
The closing stages of the night saw the club's special trophies awarded, recognising a range of special achievements and successes within the sport. The following individuals were awarded.
Of note, the Duncan Fisher Trophy (awarded to a person(s) working behind the scenes. Seen by few but appreciated by many) was awarded to Kenny Dock and Paul Phillips for their efforts supporting our marshalling community with mental health training. Robbie Dalgleish was awarded the Sheila Whyte Trophy (awarded to the most promising young Scottish driver) for his dominant performance in Scottish and National MINI's, whilst Rory Butcher was awarded the clubs most prestigious award – the John Romanes Swift Trophy – for his outstanding performance in British Touring Cars this season.