2020 Round 3 Review
A very windy day met competitors, for the Scottish Motor Racing Club final meeting of the year. Racing took place on a damp then drying track, after a wet qualifying session.
Scottish Classic Sports and Saloons Championship
Race 1 (12 laps) – A good grid of 20 cars had David Brown, in his V8 engined TVR Griffith invitation class car on pole. On a damp track he was untouchable, and motored off into the distance. Adam Bernard tried to stay with him in his white Porsche 911, which had John Kinmond's period Touring car livered Rover SD1 glued to his rear bumper. These two circulated close together never more than a couple of car lengths apart, but the TVR was 5 seconds clear by mid distance. Then on lap 9 Bernard half spun exiting the chicane and had half his car on the grass, so Kinmond took over in 2nd. Bernard restarted down in 6th were he finished. Up to 3rd came The Triumph TR8 of Andrew Graham. Bruce Mitchell followed him all race in his Lotus Europa winning class B, but over 8 seconds back at the flag. Into 5th came Alasdair Coates in what looked like Jimmy Crow's Mk1 Escort, driven well all race, but always a few seconds back on Mitchell. After Adam Bernard was another MK2 Escort, this time a wide arched version in period red and gold livery, driven by guest Barry Horne and he'd kept close to Coates for much of the race. Jimmy Crow was out in an MGB GT after qualifying 7th he was slow away, and 12th on lap 1. He eased his way up the order, though found the MG enjoyed sliding as he fishtailed out of the chicane on lap 8. He took 8th on lap 9 passing Class A winner Alastair Baptie's Fiat X1/9 sportscar which got home 9th. It had been a first SMRC win for Brown in the early 90s TVR, and he did it with ease. After a poor qualifying Shonny Paterson was 17th in his TR8, a mechanical problem no doubt. He blasted past half the field in 1 very rapid lap to be 9th at Clark corner on lap 1. But then he slowed going up the hill on lap 2, and retired to the pits at the end of the lap.
Race 2 (15 laps – 3 behind safety car) – David Brown again led the field of now 19 cars, as Mario Ferrari was a dns in his Alfa. Brown had a couple of seconds lead over Adam Bernard's fast starting Porsche which went from 6th on the grid to 2nd by the first corner. John Kinmond went off and back on the road at the bottom of Duffus Dip but kept 3rd with the big Rover. He closed on Bernard and took 2nd on lap 3, having run side by side with Bernard's Porsche down Duffus Dip and through Leslie's before nailing it at MacIntyres, the tight right hander which is corner no. 3. On Lap 4 there was a safety car on track and it was there for 3 laps. A car was off at the chicane and was towed out of the way. Racing resumed and a lap later Kinmond hit the front, powering past the TVR going up the hill past Brown. Within 3 laps he had a 4 second lead which grew to over 7 seconds by the end on a now virtually dry track. Brown was eventually a safe 2nd at the flag, though Adam Bernard had always been close in 3rd firstly behind Kinmond, then two or three car lengths back on Brown, before dropping a couple of seconds over the last two laps. In 4th was Andrew Graham's TR8. He sat a few seconds behind Bernard's Porsche until he was caught on lap 9 by a fired up Shonny Paterson. This was the orange TR8 that started 19th and last on the grid. Paterson had sorted out the problem and he was flying. He was 10th on lap 2, and after the safety car moved quickly up to 7th which was 6th on lap 6. He blasted past Mitchell's Europa on lap 8 for 5th and got onto Graham's bumper, so two TR8s ran nose to tail. By lap 10 Paterson was 4th and he opened out a 4 second gap on the other TR8 by the flag, two laps later. Bruce Mitchell took a untroubled 6th and maintained his 100% class B winning form. Alastair Baptie diced well early on, passing Coates Escort, then later was safe in 7th and followed Mitchell all be it over 20 seconds back, in the class A winning Fiat X1/9. Baptie kept another 100% win rate. This meant that Baptie and Mitchell were tied at the top of the championship table on 150 points. With both drivers scoring an identical number of class wins, the regulations favoured the driver who had scored the highest placed results on the road across the events meaning that – for the second year in a row – Bruce Mitchell is crowned the Champion. Duncan O'Neill once again took the XR2 championship class honours.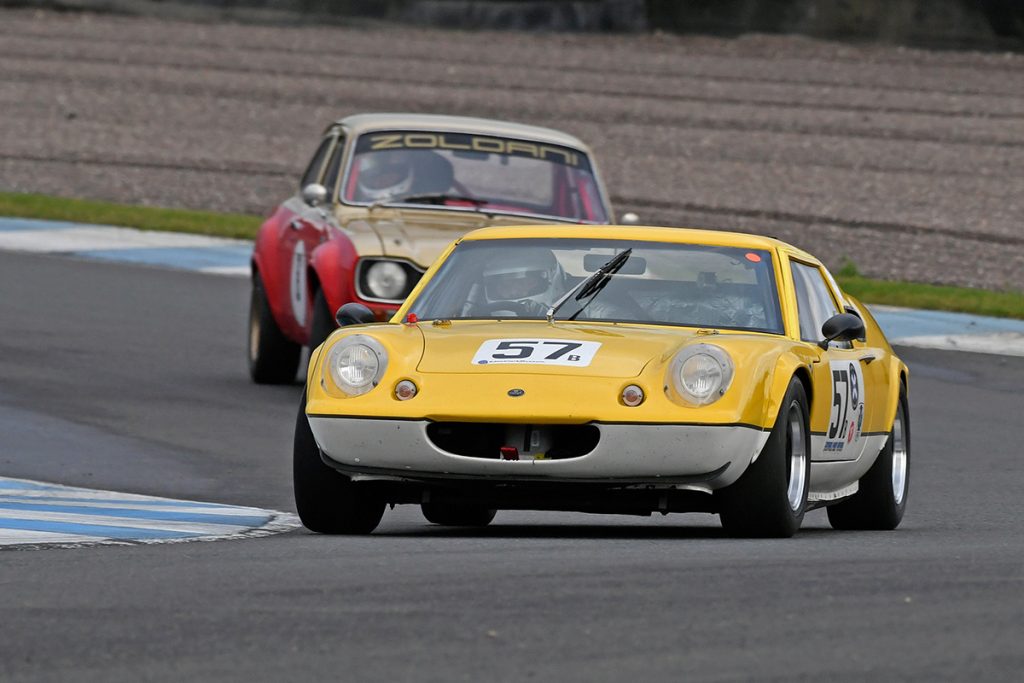 Celtic Speed Mini Cooper Cup in association with Yokohama Tyres
Race 1 (12 laps) – The Cooper S of Jamie Blake led all the way on a drying track, his extra power telling against the Cooper cars. He was well clear at the end. In the Cooper Cup defending champion Robbie Dalgleish didn't have it wall his own way. Newcomer Chad Little led the class and was 2nd overall early on. He had Dalgleish on his bootlid from the start until lap 6, when Dalgleish outbraked Little and dived up the inside. Dalgleish then got a few car lengths clear. These two were way ahead of the 4th place battle. Mark Geraghty held 4th all race and worked hard. He defended well as he led a 4 car train until mid race. Geraghty had Ross Wilkinson all over him, and right behind them was Neil Hose and Tom Porter. It wasn't until lap 7 that we lost one of this group, as Hose dropped back following a moment at Clark when he and Wilkinson ran side by side, resulting in Wilkinson doing same grass cutting after doorhandling. He resumed in 9th were he stayed. On lap 8 Porter went sideways exiting Clark and then dropped back a couple of seconds, but stayed 6th. Daniel Paterson closed up in 7th over the closing laps, to be just 3 tenths back at the flag. The win in the Cooper Cup and 2nd on the road, gave Dalgleish the Championship. Chad Little won the Mini Newcomers Cup.
Race 2 (12 laps) Jamie Blake again used his extra power effectively to lead all the way in his Cooper S. He also won the Cooper S Cup. With Robbie Dalgleish not starting, it was Chad little leading the Cooper cars in 2nd, but he was under non-stop pressure. Former Champion Mark Geraghty stayed glue to his bumper all race. There was rarely more than 2 car lengths gap, and often they ran nose to tail through Clark corner, though Little would have a small gap approaching Duffus each lap, which Geraghty would reduce by the chicane or Clark. It was a good scrap. Little took Cooper cup honours for the first time, the rookie driving very well. Behind Geraghty was an increasing gap. Neil Hose grabbed 4th overall on lap 2 having started 8th. Lap 1 had seen some sliding with 5th placed Tom Porter going sideways at the bottom of Duffus, then 6th placed Paterson went off and on the road at the hairpin then pitted. All this saw Hose in a safe 4th or 3rd in the Cup. He stayed there for his podium holding a 6 – 7 second gap on Gordon Long in 5th overall. Long was there from lap 5 after he passed Ross Wilkinson, who would lose a place to the recovering Tom Porter on lap 8, as dark clouds came over the circuit. Dalgleish has retained his Championship by 4 points from Chad Little. He won all 5 Cooper Cup class races he contested, with Little being on the Cup podium in all 6 races he did, plus winning the final Mini Cooper Cup class.  Mark Geraghty was 3rd overall in the Mini Cooper Cup.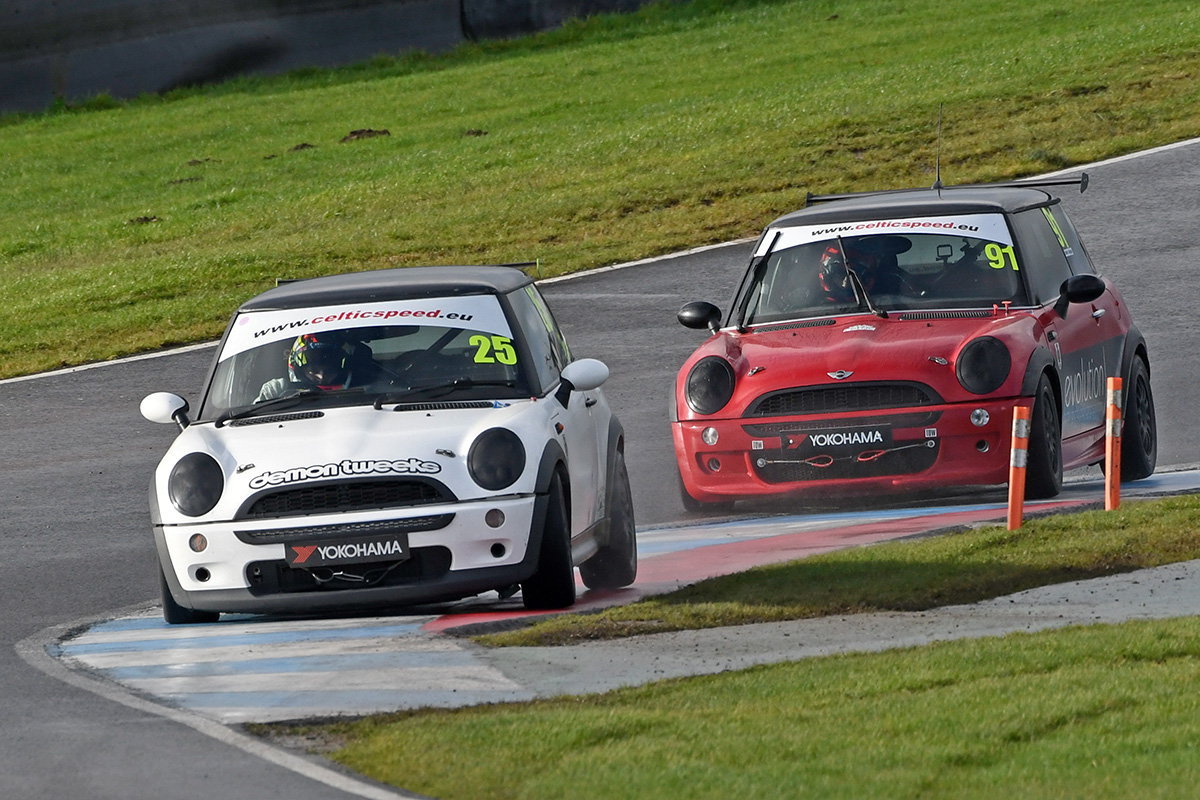 Scottish Fiesta ST Championship in association with Yokohama Tyres
Race 1 (12 laps) – there were two Challenge spec cars on the front row of the grid. These slightly lower spec cars proving very effective on a wet track. Guest Liam McGill led from pole and sailed away, he was untouchable and opened up a 3 second lead by lap 3. Lorn Murray in another challenge car ran 2nd heading a five car train. In 3rd was Andrew Elliot, with championship leader Dave Colville a close 4th just ahead of Peter Cruickshank and Scott Smith. They stayed in close order until mid distance when McGill was now 6 seconds clear. Simon Smail had joined the train behind Smith. Then unexpectedly on lap 9 the leader went of fall on his own at MacIntyres. The car went straight on, but stopped before the tyre wall. He managed to get it turned and back on track , but now 3rd. Lorn Murray led from Andrew Elliot by half a second with McGill less than a second back. In 4th was Dave Colville the first of the standard ST cars around a second back as he slowed when McGill rejoined. McGill took 2nd on lap 11 at MacIntyres going up the inside. He was immediately on Murray's bootlid. As the last lap started McGill outbraked Murray at the first corner Duffus. He was back leading and took the win by 6 tenths from Murray with Elliot 3rd as a second covered the top 3, which were challenge cars. Dave Colville was 4th a second back with a few car lengths behind was veteran Peter Cruickshank in 5th. He was doing a good job holding off Scott Smith and Simon Smail. In a close 8th was Steven Gray who had been 2nd by 10 points in the Championship but now it was 17 points. He needed to score well in the final race and beat Colville.
Race 2 (14 laps – 2 behind safety car) – Liam McGill led away and soon had a 3 second lead at the front. Most of the field chased nose to tail over the early laps. But Steven Gray was on a mission. From 8th he started well and ran 5th on lap 1. He dived past Lorn Murray for 3rd at Clark on lap 3, having disposed of Simon Smail earlier in the lap. He was a second behind Andrew Elliot on the now dry track. Gray caught him on lap 6 and went into 2nd at the hairpin. But leader McGill was 7 seconds clear. Then on lap 9 we had a safety car period bunching the field up. A car was off at the chicane, and was quickly removed from the gravel trap. Gray attacked leader McGill at the hairpin, on the first racing lap post safety car. He took the lead, but only held it up the hill and down Duffus, as Gray went off the road on the exit of MacIntyres letting McGill drive past him. McGill sprinted away to win by 1.6 seconds as Gray kept 2nd despite pressure from Colville for a lap. Then Dave Colville probably thought about the Championship, eased back and took a safe 3rd and his second ST Championship. Colville had run 6th in the early laps after a slow start. But he made up places, taking 5th on lap 4 from Lorn Murray at Duffus , then a lap later 4th from Simon Smail again at Duffus. He sat 4th until the safety car restart and soon took 3rd from Andrew Elliot. This left Elliot 4th where he stayed a few lengths back. In 5th over a second back Simon Smail led a 4 car group over the closing 3 laps. He kept Lorn Murray behind, as Murray took a close 6th just over half a second clear of Russell Morgan and Peter Cruickshank, who were tied together over the final lap. Andrew Elliott topped the Fiesta Challenge Class standings and took a fine 3rd overall in the championship.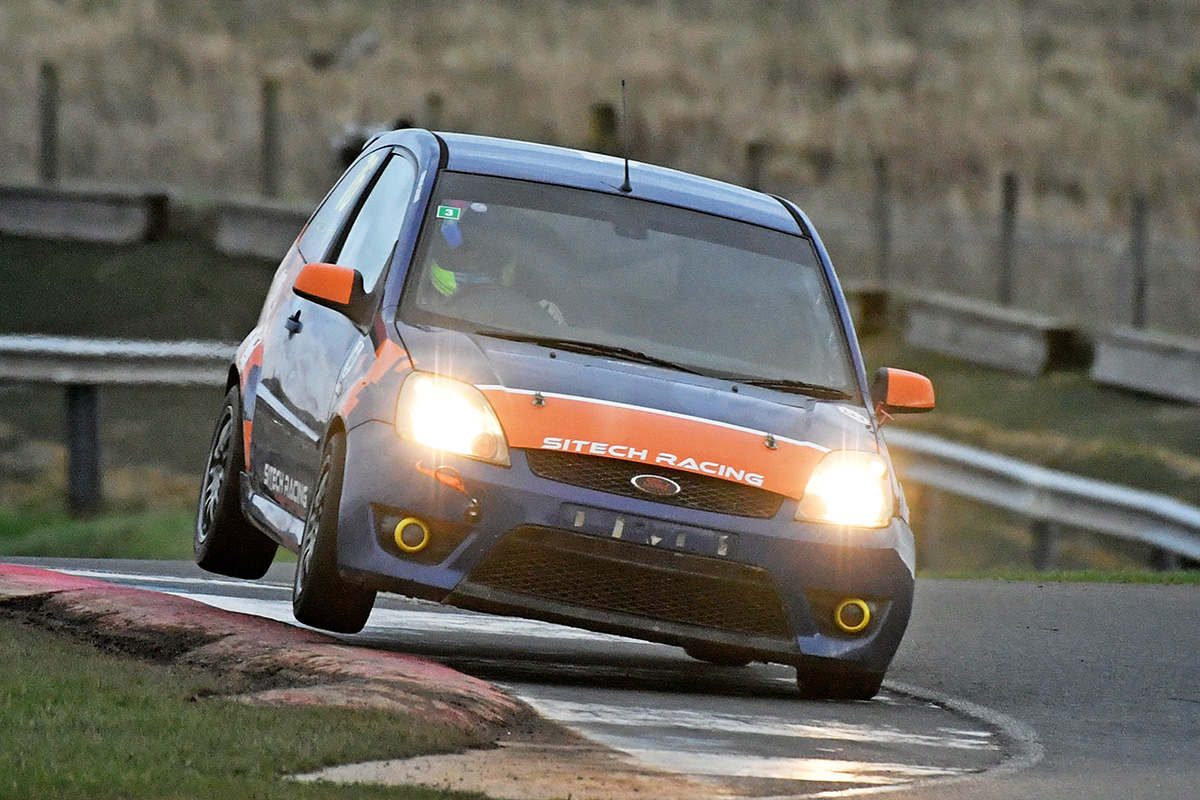 SMTA Citroen C1 Cup
Race 1 (12 laps – 2 behind safety car) A good 23 car grid with very close times in qualifying. Only 1 second covered the first 14 cars. Colin Main led away from pole, chased by front row man Kieren Preedy. At MacIntyres corner Ross Dunn went off and back on but dropped from 4th to 14th in the blink of an eye. Ryan Smith ran 3rd heading a long train of cars, with Finlay Brunton right behind now 4th. Lap 2 saw a car off at Macintyres, facing backwards. A safety car came out, as marshals quickly dragged the C1 out of the gravel trap. Racing resumed with Colin Main leading and he broke the tow, getting a second clear by lap 4 as Kieren Preedy held off Ryan Smith . A few car lengths back was Dan Martin who had passed Finlay Brunton. Up front Colin Main was now over 2 seconds clear by lap 7 as the rest scrapped. Main raced on for a good win. Preedy then lost 2nd as he went off the road at MacIntyres sliding on the grass and gravel, he returned to the track in 14th place.  This gave 2nd to Ryan Smith who held off Dan Martin for a couple of laps, then Martin lost 2 places in a lap. It was lap 9 , one to go, but Finlay Brunton took 3rd at Clark and then a few hundred metres later guest Paul Luti grabbed 4th at the hairpin. Luti was running a live feed from inside his car on facebook, it made good viewing. He had moved up from 10th on the grid, this experienced saloon racer showed good pace and race craft. Martin took 5th on Luti's boot with James McCracken 6th  nearly 3 seconds back, as he held off the recovering Ross Dunn who grabbed 7th on the last lap from  guest Nick Hawthorn. In 9th was Andrew Davidson as 10th came Steven Morrison, who had run in 7th on McCracken's bootlid only to go off at MacIntyres on the last lap and drop places. In the Championship Ross Dunn still led despite this result, he had a 13 point lead over James McCracken. Colin Main was now 3rd but 18 points back.
Race 2 (10 laps) It was still very windy as the last race of the day started, on a dry track. We had 23 cars led by Colin Main.  He had Finlay Brunton on his bootlid on lap 1, with Paul Luti a close 3rd as 2nd placed grid man Ryan Smith was slow away, and ended lap 1 in 10th. The top 3 broke clear and were over a second ahead of the pack, headed by James McCracken on lap 2. Brunton grabbed the lead at the hairpin on lap 3. Main fought back, but next lap he went wide at MacIntyres and fell from 2nd to 4th leaving Luti a close 2nd and McCracken in 3rd. On lap 5 McCracken took 2nd from Luti, but a lap later Luti repassed him on the hill, and sat on Brunton's bootlid for the next 2 laps. Then Brunton eased over a second clear in the final 2 laps for a good win. Guest driver Luti had a fine 2nd as these two were over 4 seconds clear of the rest. Ross Dunn got home a good 3rd after starting 7th. He was 6th on lap 6 chasing Colin Main, who had dropped a place to Dan Martin on lap 6. They were all close then on lap 7 fortune smiled on Dunn, as Main and Martin both went off at MacIntyres and munched gravel but returned to the track. This put Dunn 3rd on lap 7 as McCracken had also lost places and dropped to 6th that lap. Dunn kept 3rd to the flag despite pressure from Andrew Davidson, and a recovering McCracken, as these 3 ran nose to tail over the final lap. In 6th around half a second back was Nick Hawthorn. He kept a second ahead of 7th placed Ryan Smith, who had Steven Morrison on his tail at the final chequered flag of the season. In the points Ross Dunn is the new Champion, 19 points ahead of James McCracken. Final race winner of 2020 the 2019 C1 champion Finlay Brunton moved to 3rd in the championship, following his race win.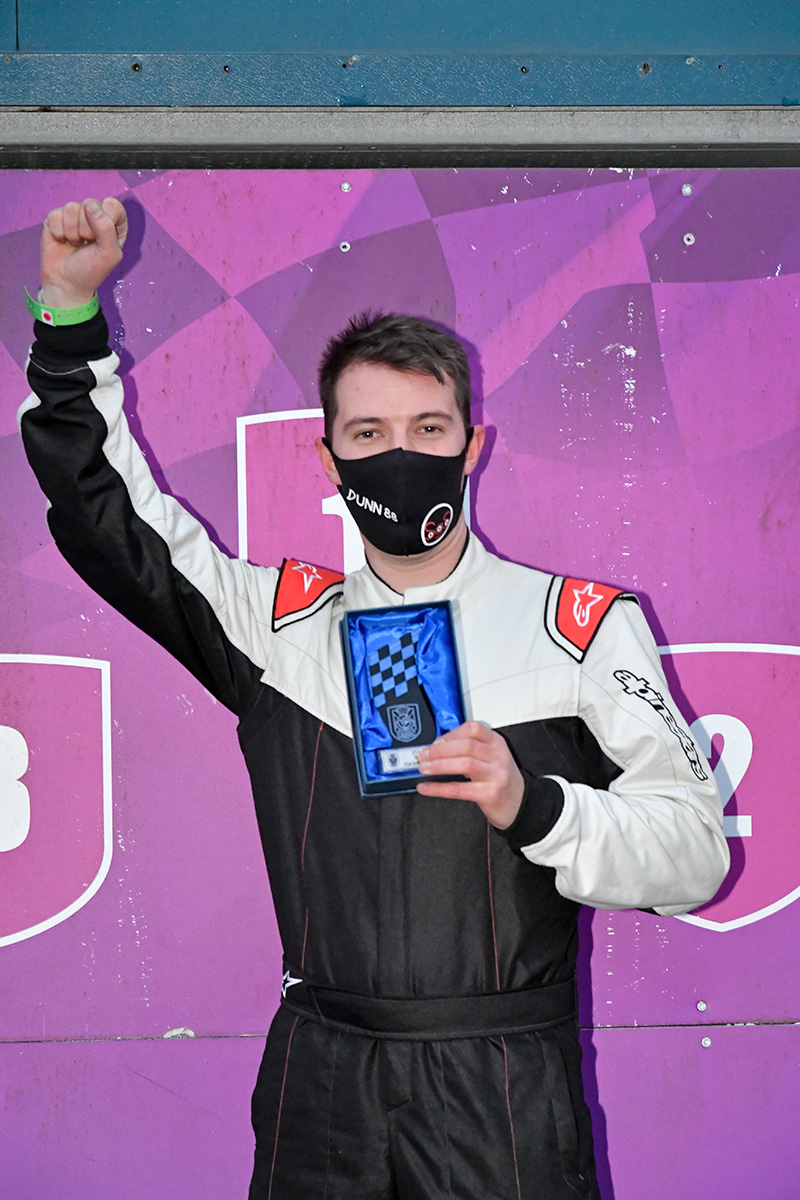 Kevin Pick