A look back at a fantastic year of racing for the SMRC...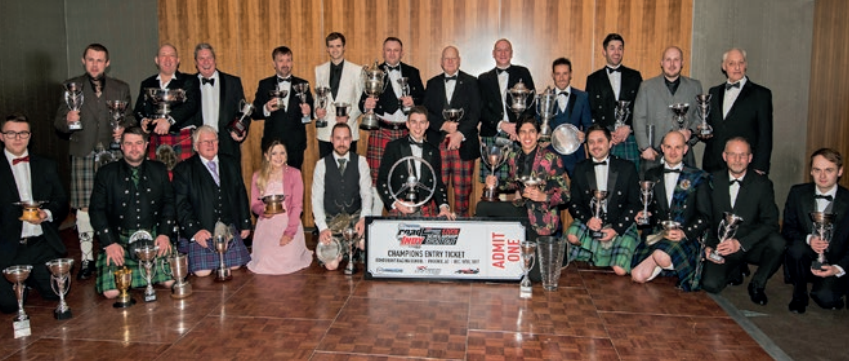 We had a good seasons racing in 2017. Around half of our Championships or Cup competitions, went down to the wire in October (Mini Cooper Cup, Mini Cooper Newcomers, Saloons & Sportscars, Legends Cars, BMW Championship, Fiesta XR2 Championship). Those already crowned champion by the last meeting were Alistair Baptie Classics, Ross Martin FF1600 and FF Newcomers Cup, David Hourie Classic FF Cup, Jake Hutchinson BMW Newcomers Cup, Wayne Macaulay Fiesta ST Cup (regained after winning it in 2015), Robert Kerr XR2 Newcomers Cup, Oliver Mortimer Mini Cooper S R53 Cup, Hannah Chapman Mini Cooper Ladies Cup (regained after winning in 2015), so 7 drivers had secured their titles before the final race meeting in October. While the BMRC Trophy was not scored as in previous seasons, for 2017 it had become an SMRC committee decision.
Just like 2014, 2015 and 2016 it was a year of change, but last season only 1 driver retained their title, and just as in 2016 it was the very impressive John Paterson in Legends Cars. All the other Championships and Cups had new champions, though two regained titles they held in 2015. In 2017 we continued with guest drivers at selected SMRC events and away rounds. This saw Guests again able to race at Knockhill rounds. They could still only be at 2 Knockhill meetings but now could choose any one SMRC Knockhill from May to September and also race at the October meeting. Away rounds were again also open to guests.
We had another increase in the number of guest drivers last year. This initiative helps drivers try new cars or new classes. In 2017 we had an excellent 46 drivers (up from 2016 when we had 41 well up from 19 in 2015). This was split unevenly, but helped by hire car availability. There were 7 in Mini Coopers (down from 11 in 2016). In other Championships we had 8 in Fiestas STs (well up from 3 in 2016), 0 in XR2s (down from 1 in 2016), the new Mini Cooper S Cup started with 4, while there were 8 in Saloons & Sportscars (up from 4 in 2016) , but only 2 in BMWs (down from 8 in 2016). A rise to 6 in FF 1600 (only 1 in 2016). We had 6 in Legends (7 in 2016), 5 in Classics (6 in 2016). Overall this is the highest number of guests yet. Their entry fees assist the club finances and guests all started were they qualified, unless they were rookies in Legends, then as per the regulations they must start at the back of the rolling grids. Guests do not score points and a few did really well, one won a race, and some others were in the top 3 on track.
The club was grateful for the continued support of Celtic Speed, Yokohama, Wheelsaround, and Superchips. We again welcomed The Mazda Road to Indy competition in FF1600, and had support from Morrisons of Stirling and Knockhill circuit. Motors TV carried races for all our championships from the 7 SMRC Knockhill meetings. Back after around 10 years absence was a reverse direction meeting at Knockhill, which gave everyone a new track to race on and saw drivers being well behaved and some new race winners. This reverse direction track will be used twice in 2018, while the number of race meetings is being cut to 6 from 7 after a few meetings saw entry numbers down to a level where the club was marginal on breaking even