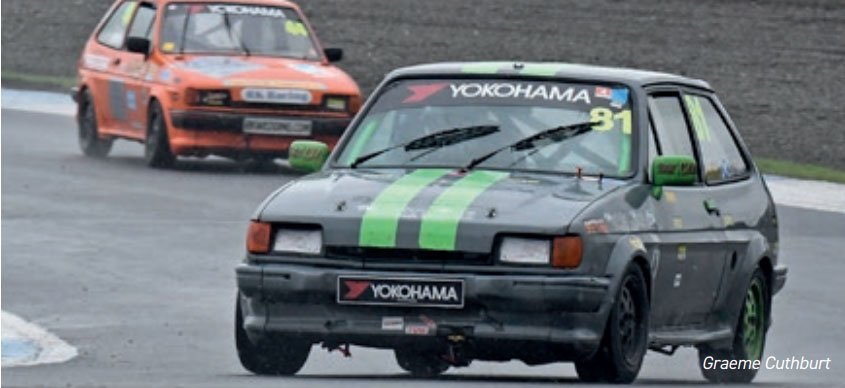 The Mk2 Fiesta XR2s may date from the 1980s but they still offer affordable racing. It was their 22nd year as an SMRC championship. In 2017 only the 15th XR2 Champion was crowned after a 16 round championship. We saw new drivers battling for the title, as the top 6 drivers from 2016 had all moved on. This included the 2016 Champion Jim Deans and 2016 runner up and champion in 2014 and 2015 Steven Gray, who had both sold their cars, which continued to be raced here.
Both drivers went to do a few late races in the ST Cup. While 3rd o/a in 2016 Barry Farquharson moved to STs for a complete season. So numbers dropped as 7 drivers took part, compared to 11 in both 2016 and 2015. Graeme Cuthbert led the title race all year, as his opponents fortunes changed during the year. Graeme had been 3rd in XR2 Newcomers last season and was 7th o/a in the Championship. He began 2017 well and won 3 of the first 6 rounds, as Robert Kerr and Duncan Fox chased him, with Kerr winning twice and Fox once.
It was Kerr who got closest, despite an early dq, and he outscored Cuthbert at Oulton Park (rounds 7 & 8) where the points leader had a dnf, but got bonus points. So after 8 of the 16 rounds Cuthbert led Kerr, scoring 171 to 158 points, then Kerr had 2 no scores, and didn't make the top 3 again. Fox was 3rd mid season but stopped racing after round 6 and re-appeared in round 13 to do the final 4 races taking a 2nd and 3rd in 4 races. But in round 7 Kristian Leith joined the championship at Oulton Park. He went on to take 10 wins in a row (rds 7-16), slowly closing the gap on Cuthbert, but he ran out of rounds. Leith finished 19 points behind Cuthbert, who also had two 2nds and six 3rds in his scores.
Others who raced were Martin Ramsay, who did the last 6 races and was very competitive as he took four 2nds, while Paul Curtis had a rare outing, but went well with two 2nds in the 2 rounds he raced in. Then rounds 13 and 14 saw the return of former XR2 front runner, and 2012 ST Champion, Dave Colville. He was right on the pace, scoring one 2nd though mechanical problems saw him drop down the field from 2nd in his first race, and dns for the final two races, after practise problems. In 2018 the cars are going to race with Classics, though they would only compete for their own XR2 Championship.
2017 points 1. Graeme Cuthbert (289) 2. Kristian Leith (270) 3. Robert Kerr (230)
Championship supported by Yokohama Tyres