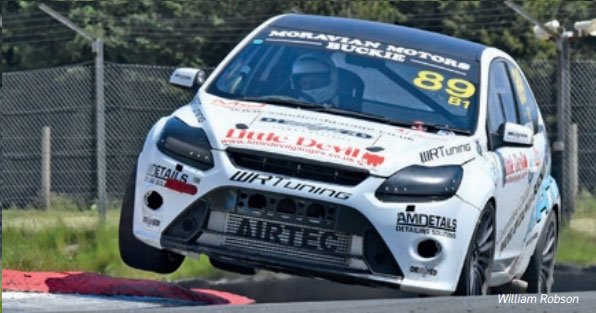 This championship is for modified cars, which are also the most powerful cars racing at SMRC meetings. It had 6 classes in 2017 and cars scored only in their class. There were full points awarded when 3 or more started, so the champion could come from any of these classes. The three A classes could run on full racing tyres the other 3 in B had to use road based tyres. They had 14 rounds, all at Knockhill, 17 drivers registered to score points, and we had 8 guests, which was 2 down on 2016. There were 4 race winners, down from 9 in 2016 but ahead of 2015 when only 3 drivers won.
We had a new champion in William Robson with his Ford Focus RS taking over from Paul Brydon and his BMW M3. We also had 2014 champion Andrew Morrison racing his Seat as well. The average entry was down, but the regulars supported the championship and the variety of cars was impressive again. The biggest grid being in October when 17 cars raced, one more than 2016's highest grid. This included the new class for Mini Cooper S cars, which raced for the Mini Cooper S R53 Cup and was won by Oliver Mortimer, but did not score points in S&S.
Race winners were Robert Drummond with 2 in the Escort Cosworth in April. Former Ingliston GT star, Rocket Ron Cumming with 7 in his Nemisis kit car. Finlay Crocker doubled his 2016 score, with two wins on the reverse direction track in his Honda Civic, and then Kenneth McKell took 3 wins in the September/ October meetings with the EVO.
The Championship went down to the wire in October, William Robson in Class B1 had a 28 point lead over Andrew Paterson B3 BMW as they started the day, and he duly wrapped up the title despite not finishing the final race of 2017.
On track Robson had 8 class wins, 4 class 2nds and one 3rd with full points in his class available 7 times. He was nearly always a top 5 runner on the road and had season long class competition from Thomas MacIntyre who was 5th overall.
Runner up in 2017 was Andrew Paterson. He took 15 class wins and had one dnf in his BMW, as he took class B3. But he was always scoring reduced points, as other cars didn't enter. Kenneth McKell and his class A1 EVO finished 3rd overall. He had 8 class wins, three 2nds, but also 3 non finishes. Andrew Morrison took 4th in his class A2 TCR Seat Leon, taking three class wins and seven 2nds, but he failed to score in 4 rounds. Thomas MacIntyre was 5th, his Subaru Impreza had 4 class B1 wins, two 2nds and two 3rds, but only scored in 8 rounds. Robert Drummond was 6th with the class A1 Escort Cosworth, scoring 4 class win and two 2nds in 6 of the 8 rounds he started. Ron Cumming was 7th despite 7 wins in the 8 rounds he contested, but they were all reduced scores as his class A3 wasn't supported very often. Finlay Crocker was 8th, 4 class wins in 4 starts with the class A2 Honda Civic. Gary Wait was 9th he also did a reduced programme with the A2 Sierra Cosworth netting two class wins, one 2nd and three 3rds. The top 10 was rounded out by Alan Doncaster B1 Impreza with one class win, three 2nds and a 3rd.
Outside the top 10 we had some quick cars which appeared occasionally. In 11th Colin Simpson's Marcos had three class A1 wins in 4 outings, Alistair Baptie brought out a very quick MGB GT V8, it was the oldest car in the championship, and the MG took a class win, and a 2nd in B1. David Headen appeared mid season and had two A3 class 2nds with his Caterham while on the road he was 4th and 2nd. Only one guest took a top 3 place, with Paul Brydon getting 2nd on the road three times in the BMW M3. But 8 guests racing was encouraging. There are always some exciting and unusual machines, and the opportunity for competitors to enter and race modified cars.
2017 Points: 1. William Robson (251) 2. Andrew Paterson (234) 3. Kenneth McKell (219) 4. Andrew Morrison (188)