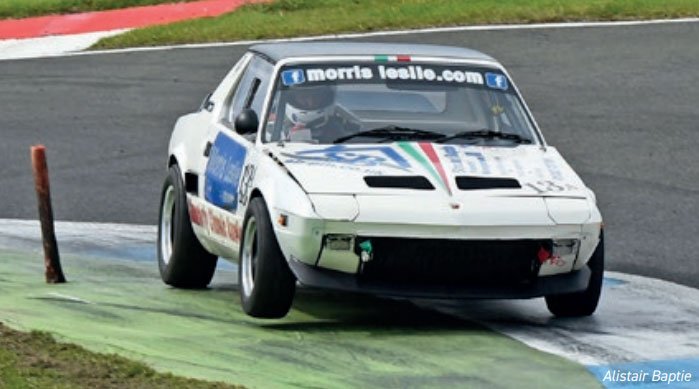 This championship is class-based with cars scoring in their own class, which means the champion can drive any car. Though, if the class has at least 3 entries for the winner get maximum points, or if not, drivers have a reduced score. There were 14 rounds and all at Knockhill.
In only his second season in racing, Alistair Baptie raced his class A Fiat X19 sportscar to claim the Championship. He dominated class A and had the Championship sown up by September. In total he scored 11 class wins from the first 12 rounds, then didn't race the Fiat in October – instead coming out to play in his class E, MGB GT V8 and took an overall race and class win, and a 2nd in that fast car. It is the first time a car and driver from the smallest engine class has won the title.
We had 28 cars race (only one down on 2016) of which 23 scored points, as 5 were non scoring guests (there were 6 in 2016). The average grid was just under 10 starters. This was down on 2016 which was just under 12. The high at Knockhill was 15 cars in May, the low – 7 in 3 rounds.
Outright race wins in 2017 were shared by 6 drivers, way up on the 2 drivers of 2016 and ahead of the 5 drivers in 2015. Tommy Gilmartin the 2014 champion took 8 (two more than he did in 2016 and 2015 in his Morgan +8). One driver had to 2 wins, former Champion Raymond Boyd in his 911, then four drivers had one win each. In April, Alex Montgomery (MGB GT V8) was a surprising but worthy winner as the two cars battling for the lead (Gilmartin and Simpson) collided. Bruce Mitchell won race 2 in April with the Lotus Europa. Tommy Gilmartin then won 7 races in a row before John Kinmond won race 2 in August on the reverse track with his big Rover SD1 saloon. Raymond Boyd then had his two wins in the rain, before Tommy took his 8th win in race 1 in October. The final winner was Alistair Baptie with his MGB GT V8. Harry Simpson didn't win a race in the Ginetta after 10 victories in 2016, though he was close in both June's races when half a second separated the front two.
Alistair Baptie led the championship all the way. Bruce Mitchell gave chase all year and he was runner up with 12 class B wins and one 2nd, but he had one dnf and he didn't always score full points due to less cars starting. Third overall Mario Ferrari also won the saloon car cup for the highest placed saloon in his Alfa Coupe. He missed 4 rounds but had 3 class wins, six 2nd and a 3rd. Raymond Boyd, the defending champion, raced his trusty 911 winning class D 10 times from 10 starts, but he missed 4 rounds. In fifth was Tommy Gilmartin with the Morgan +8. He had class E and 8 outright wins and one class 2nd but had 5 no scores. Rounding out the top 6 was Ian Blacklin.
In Class A (up to 1500cc) Alistair Baptie, with his mid-engine Fiat X1/9 sportscar, took 1st with 11 wins and 10 of those were full points. Mario Ferrari with the Alfasud Coupe had a 10-race season taking 3 wins and the Saloon Car Cup. William Conway was 3rd in his Mini Clubman with four 2nds and four 3rds. He was just 4 points ahead of Michael Longstaffe's MG Midget that had three 2nds and four thirds in his 9 finishes from 10 rounds started.
Class B was revised to be for cars with 2 valve per cylinder engines 1501-2500cc, and was won by Bruce Mitchell in his 1558cc Lotus Europa Sportscar. He had 12 class wins and a 2nd in 14 starts though not all were full points. Jimmy Crow in his rapid Escort MK1, who won the class in 2016, was runner up with one class win, three 2nds and a 3rd plus a dnf in 6 starts. In 3rd was Max Horne, racing 4 times in his Escort Mk1 taking two 2nds and two 3rds. 4th was Alex Montgomery took two class wins at the reverse direction August meeting in an 1800cc MGB roadster the only time that car appeared. While in 5th, Gorge Leitch had one 3rd place finish in 2 starts with his Fiesta, which had mechanical woes early in the season after qualifying. Class C lay dormant and unused in 2017, but is back in 2018 as an invitation class. Class D was for cars 2501 – 3600cc. Raymond Boyd won the class in his Porsche 911. He won 10 times in 10 starts. Ian Blacklin was runner up in his Capri also starting 10 races. He had two wins and eight 2nds. Former championship regular Grant Allan only raced twice and took his 911 to 3rd and a dnf. We didn't see former Champion Stan Bernard at all.
Class E was for cars with engines over 3601cc. It was won by Tommy Gilmartin in his Morgan +8 sportscar. He had 8 class wins, one 2nd and a dnf from 10 starts. Though we missed the TR squadron from previous seasons when sometimes four TR8s would be out racing. Second in class was John Kinmond, with the big Rover SD1 saloon decked out in period Touring Car colours. He took three wins, one 2nd and a dnf in just 6 starts. Alex Montgomery was 3rd in class with the MGB GT V8. He only started 3 races and had a win and two 3rd places. Alistair Coates was 4th having only two races resulting in two full points 2nds in his rare Shelby Cobra. In 5th Alistair Baptie with his MGBGT V8 taking a class win and a 2nd in October but on reduced points. Andrew Graham was 6th with two reduced points 2nds mid season in a TR8.
Class F finally had some competitors after 3 seasons. It was for future classics made from 1980 to 1985. The winner was Calum McRae who had five wins, and three 2nds in 8 starts with the TVR. Runner up Charlie Cope had three wins and a dnf in his rapid VW Golf, whilst veteran Olly Ross was 3rd and had two class wins in the Fiesta he raced twice.
Class G for kit cars and replicas over 1501cc Harry Simpson dominated it in his Ginetta winning the class 14 times, though was always in the top 3 cars on track. Runner up was Andy Walker with a Mallock. He had seven 2nds and a dns in the 8 rounds entered. Class H for kit cars and replicas under 1501cc was inserted to encourage smaller engine cars, but not one car was entered, so it has been dropped for 2017. Driver of the Day was awarded at the 7 Knockhill meetings, and was won in April by Alistair Baptie, in May by Alistair Coates with the AC Cobra, in June it went to Andrew Graham in his TR8. July's award was won by Bruce Mitchell, with his Lotus Europa, and in August, John Kinmond with the big Rover SD1 saloon. September was Raymond Boyd in his 911, taking two fine wins in the rain, and October was former champion Tommy Gilmartin in his Morgan +8 was the driver.
2018 will bring some changes. Firstly the MK2 1980s Fiesta XR2s from the Fiesta Championship have their own class. Secondly there is class C now resurrected and for FIA specification cars and also period rally cars with entry by invitation. Finally the age limits in all classes are increased, so more cars qualify.
2017 points: 1. Alistair Baptie (268) (A) 2. Bruce Mitchell (257) (B) 3. Mario Ferrari (197) (A) 4. Raymond Boyd (194)