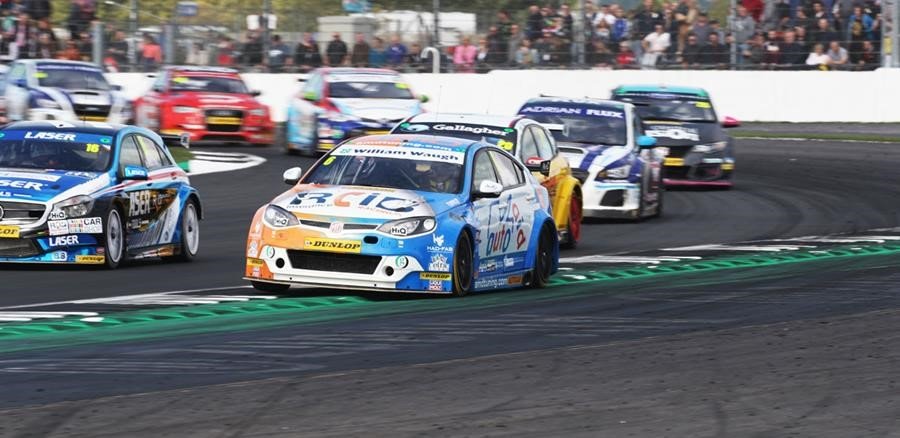 Silverstone hosted the penultimate round of the 2018 Dunlop MSA British Touring Car Championship and despite what turned out to be a disappointing event for me results-wise, I feel happy with the way my AmD with AutoAid/RCIB Insurance Racing squad competed on Sunday.
The Silverstone National Circuit is just 1.5 miles long, consists of 3 long straights and just 4 corners. It's perfectly set up for slip streaming and close, hard touring car racing - the top 25 cars were covered by just 0.5 seconds in qualifying! Unfortunately it was another tough Saturday as I could only score the 24th fastest lap time in qualifying. Despite this I felt we had a good race car, and was fired up for Sunday.
On raceday we got off to a great start making up 12 positions in the first race. It was a stressful one due to the how close the racing was. While coming through the field I was really mindful of making sure I stayed out of trouble, but the line of cars in front - who I was eager to pass - and the line of cars trying to attack me from behind, didn't make things easy. Brooklands was my favourite corner for overtaking. I made the car in front take a defensive line so I could outbrake them around the outside, positioning me on the racing line for the Luffield Corner where I would finish the manoeuvre. I eventually crossed the line in 12th, it was a cracking race!
We used our hard compound tyres in race 2 so it was now about damage limitation. The hard tyre has less overall grip so it's easy to lose a bunch of positions and not do much wrong. We held our own amongst the 23 cars on the prime tyre, and fought hard to hold on to 16th place, narrowly missing out on another points score.
We were still in the hunt for a good race 3 and back on the prime. I was feeling pretty racy in the early laps as I latched onto the back of Matt Neal and Daniel Cammish in the two Hondas. I passed Sennan Proctor and Andrew Jordan at Brooklands taking me up to P13 and Tom Oliphant was next in line. However as I exited Becketts corner onto the National Straight I could feel something wasn't right! I had sadly picked up a puncture and the tyre let go approaching the final sector. By the time I got back to the pits, changed the tyre and returned to the track I was now a full lap down, so we decided to return to the garage so that we didn't spoil anyone else's race. It was a story of what could have been as we really were making headway!
Rory Butcher