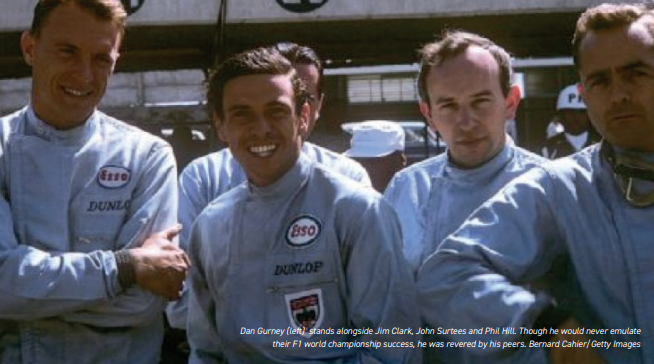 You will read many glowing tributes to Dan Gurney and there's no risk in predicting that all of them will be true and without emotional hyperbole....
No one had a bad word to say about an absolute legend of motor sport, who died on 15th Jan 2018 at the age of 86 and left behind fond memories that stretch across every major category of motor racing.
The man from California will be recalled primarily for a glorious couple of weeks in 1967, when he finished second in the Indianapolis 500, shared a GT40 MKIV with AJ Foyt to give Ford victory at Le Mans, and then won the Belgian Grand Prix (on the original Spa-Francorchamps track) in his dark blue Eagle-Weslake - arguably one of the most beautiful F1 cars ever made.
But there was even more to Gurney than that. Aside from 51 victories in a vast variety of competition cars, Gurney would probably have trebled that score had he not remained very much his own man, never afraid to follow his engineering hunch, try something new -- and then use an abundance of skill to race it. And whilst doing it, remain a humble and handsome figure, albeit driven by a quiet determination that could occasionally be his undoing.
Mario Andretti, speaking to the esteemed veteran writer Robin Miller, perfectly summed up Gurney's legacy. "If Dan had driven for Lotus or Ferrari, he'd have been a multi world champion," said Andretti. "But he did it his way, be it F1 or Indycars, and he paid dearly, but you have to admire him for that. In my book, he was a world champion. He just didn't have the trophy."
Many trophies went to the drivers of Gurney's Eagle cars, none more so than Bobby Unser who gave Eagle their first Indycar win in 1968 and then blitzed the Indianapolis lap record by a massive 17 mph in 1972, leading easily until the ignition failed. The following May, 19 of the 33 starters were in Eagles, Gordon Johncock giving Eagle another Indy 500 victory.
Gurney and Bruce McLaren were of a like mind when it came to building and driving their own race cars. When Bruce was killed while testing at Goodwood in June 1970, Dan stepped in a couple of weeks later and did a massive amount to bolster the shattered team when, despite never having driven the mighty McLaren M8D before, Gurney put the Can-Am car on pole and won at Mosport.
He made only 16 NASCAR Cup Series starts and he won five of them. He made only 28 IndyCar starts and he won seven of them. He never won the Indy 500 as a driver, finishing second twice, but Gurney built cars won the race three times. Gurney made 86 F1 starts as a driver, winning four races, three pole positions and earning 19 podium finishes.
Gurney would race anything with four wheels -- provided it was well prepared, of course. Despite having recently retired from driving, he could not resist the 1971 Cannonball Baker Sea-to-ShiningSea Memorial Trophy Dash, an unofficial, unsanctioned race from New York to California. Sharing a Ferrari Daytona with writer Brock Yates, Gurney took 35 hours, 54 minutes to complete the 2,863-mile drive. "At no time did we exceed 175 mph," said Dan, with the twinkle and wry smile, that had long since been his winning trademark.But when Jim Clark said Dan Gurney was the one driver he feared most, the double world champion's quiet words spoke more loudly than any collection of cups or crowns.
Daniel Sexton Gurney stood 6 ft 4 in in his flameproof socks. He will remain even taller than that when his contribution is measured as a racer and a fine, decent man.
Having known Dan Gurney for sometime I am saddened to hear he has passed away. My dad thought Dan was pretty special behind the wheel, a pioneer and just a top bloke. The sport has lost a great, thanks Dan for the memories. #RIPDanGurney
- David Brabham on Twitter