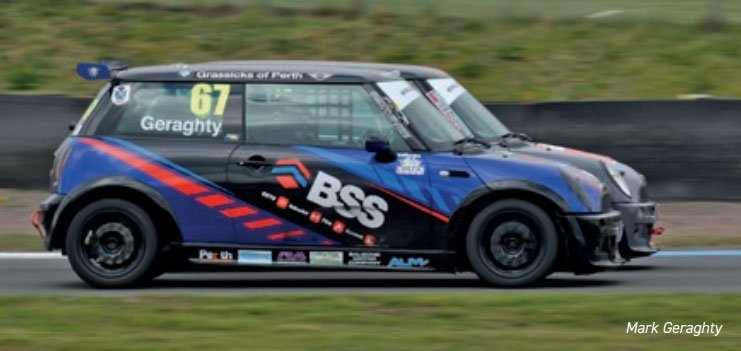 The format of the 7 Knockhill meetings was 3 races, with the third featuring a reversed grid for the top 5 to 8 finishers (the number was drawn from a hat) from race 2. There were 32 drivers who took part and 25 scored points, as the other 7 were racing as guests. The average entry was down to 21 from 27 cars in 2016 (it was 19 in 2015), but with a high of 24 cars mid season.
This hard fought Championship was again supported by Celtic Speed along with Yokohama Tyres, Wheelsaround and Superchips. It was another excellent year of Mini Cooper racing, and we were told they were the favourite club racing category on Motors TV.
There was a maximum of 75 points to be won at each Knockhill meeting. The Cup went down to the wire in 2017 just as it had done in 2016. By October with just 3 of the 23 rounds to be run, there were still mathematically 6 drivers in with a chance of the title, but in reality just 3 drivers were in the running. Morgan Murray had led the points table for months, but had slowly been caught by Mark Geraghty. Only 12 points separated them. While Robbie Dalgleish was a real candidate only 17 points off the lead. The outsiders were Hannah Chapman, Ian Munro and Dominic Wheatley.
In October's 3 races Munro, Geraghty and Murray each took a race win, but Geraghty had a 2nd and then did enough in the final race to win the title, by coming home 10th. So he pipped Murray by 6 points. Earlier in the final race day Murray had failed to finish the first race, and got to 8th from the back of the grid in race 2, so was playing catch up all day, though he won the last race of 2017 it was not enough. Ian Munro moved into 4th having taken a 3rd place in the last race, to finish just 1 point ahead of Hannah Chapman.
In 2017 we had 10 drivers who won races. Morgan Murray was the top race winner with 7 wins. New Champion Mark Geraghty took 4 wins, while Kyle Reid had 3 wins. Then two drivers with 2 wins each, Robbie Dalgleish and Hannah Chapman. Others to win a race were, Dylan O'Donnell, Michael Weddell, Michael Courts, Chris Reid and Ian Munro. Having ten race winners matched 2016.
On race statistics the new champion Mark Geraghty had 9 podium finishes and was a non finisher (dnf) twice. Morgan Murray had 11 podium finishes and 10 of those came in the first 13 rounds, then he had some low scores and 2 dnfs. He was 4th in 2016 so moved up 2 places in 2017. Robbie Dalgleish had 10 podiums and 4 dnfs. Surprisingly not one driver who did the full season had a 100% finishing record.
In 4th Ian Munro had 7 podiums and 4 dnfs, while in 5th Hannah Chapman had 4 podiums and only one dnf. The top 6 was completed by Dominic Wheatley who had 5 podiums and 2 dnfs. In 7th Michael Weddell had 6 podiums, which all came mid-season, and only one dnf. Dylan O'Donnel was 8th with 5 podiums, with 3 of these coming at the final meeting, two dnfs and one did not start (dns). In 9th John Duncan had 2 podiums and 2 dnfs, while the top 10 was rounded off by Kyle Reid. He started only 12 of the 23 rounds, took 7 podiums and had 2 dnfs.
Michael Courts took 11th and was a race winner but had no other podiums. Craig Blake was 12th, he had no podiums. Chris Reid in 13th won a race but didn't have any other podiums though he entered 12 races and had one dnf.
Guest drivers numbered 7 by the year end. Unlike in 2016 when guests won 4 times (all were former race winners) the top guest finish was a 9th.
2017 Points 1. Mark Geraghty (355) 2. Morgan Murray (349) 3. Robbie Dalgleish (337)
Championship in association with Yokohama Tyres, Wheels Around and Superchips