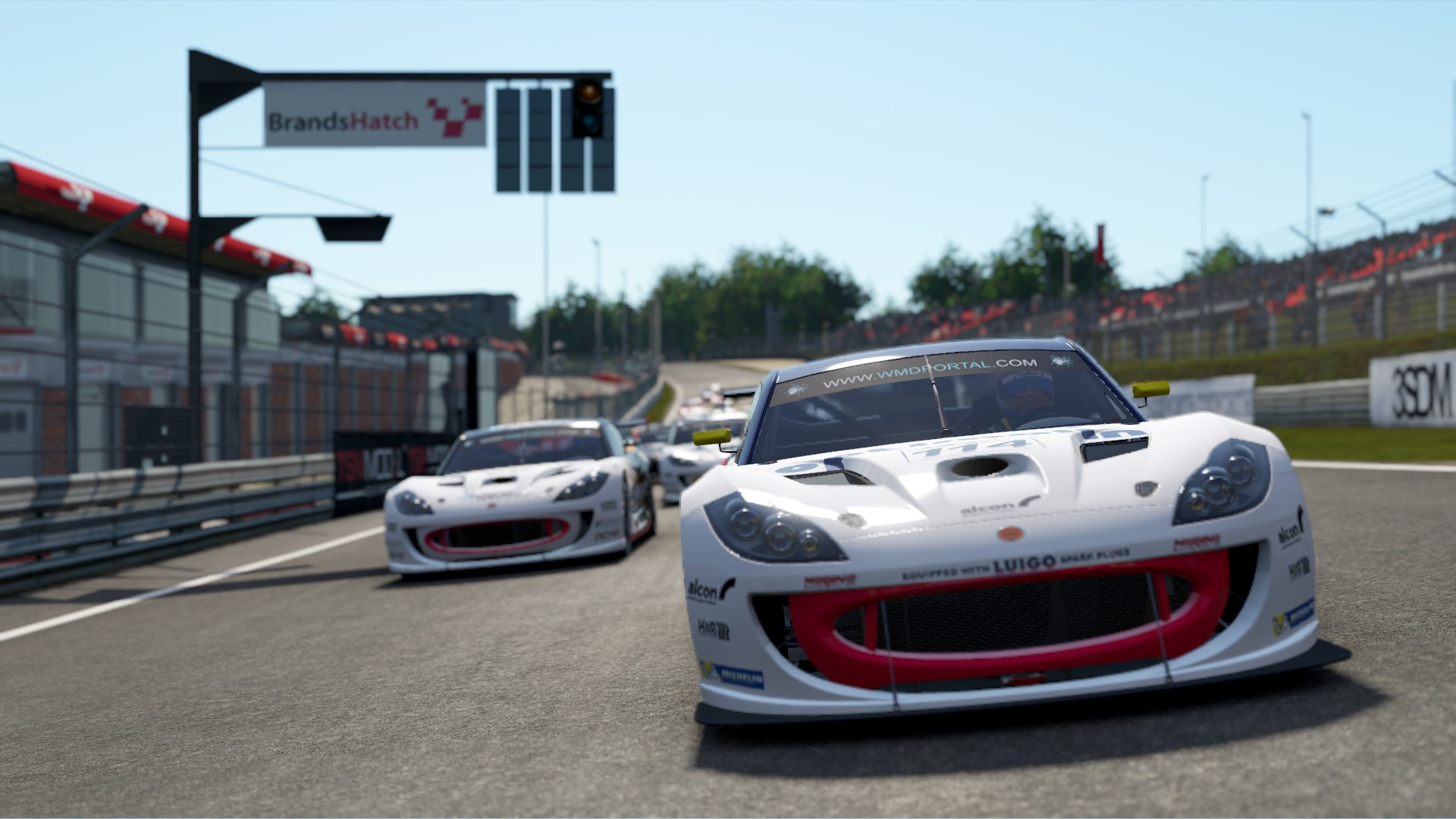 SMRC Esports Championship Round 3
For Round 3 of the SMRC eSports Spring Championship we moved on to the virtual Brands Hatch. It was the 1.19 mile Indy Circuit and the race was in the twilight of the spring evening. For this round the car was the Ginetta G55 GT4 with 350bhp and a top speed of 166mph. The cars are very fun to drive but can be quite a handful at times with so much power making the rear unstable. As always there were two standard setup options available, stable and loose. I found the loose setup made an already very loose car almost undriveable. As with the previous rounds there was a huge number of entrants meaning that qualifying rounds took place on PS4, Xbox and PC on the Tuesday, Wednesday and Thursday prior to the Rounds on Sunday which would consist of a 5 minute qualifying session before two 12 lap races.
We started the night with the PS4 Qualifying as always. It was a real world star who impressed with British Supersports motorcycle rider Rory Skinner taking 2nd place in the dying seconds of the session. Martin Buchan took the top spot with a pole position time of 47.462, Skinner was only 3 tenths behind on a 47.520 and Michael Weddell 3rd on a 47.556. Race 1 started with Buchan leading and Rory Skinner losing 2nd to Jayson McCleary. At the end of lap 1 McCleary closed right onto the back of Buchan and made slight contact with his rear causing him to get out of shape which saw Rory Skinner seizing the opportunity to almost taking the lead. Buchan dropped to 4th and the flashing of his headlights showed his fury at the contact and he quickly retook 3rd place passing Weddell into Druids. The fight at the front was close between the top 4 and at the start of lap 3 Rory Skinner made his move into Druids taking the lead from McCleary. Aidan Sloss, Michael Macpherson and Elliot Lewthwaite were having a great battle for 5th position too. The unleashed Skinner started pulling away from the field into lap 5 as Buchan and McCleary resumed their battle. At the start of lap 9 it was déjà vu as contact between McCleary and Buchan caused Martin to drop back as Michael Weddell overtook Buchan. As before Buchan quickly retook the place and on lap 10 it was ding dong into Paddock Hill Bend as Buchan and McCleary traded paint again, Buchan took the place as the battle then switched to McCleary vs Weddell which didn't last long as Michael Weddell forcefully secured the position. It was a masterclass from Skinner who took the win with Martin Buchan 2nd 6 seconds behind and Michael Weddell 3rd.
Qualifying for Race 2 saw was a similar affair with Buchan taking pole again on a 47.128, Skinner 2nd again on a 47.236 and Michael Weddell 3rd again on 47.360. Race 2 saw the top 3 streaking away in formation as contact out of Druids affected lots of cars towards the rear of the field with Aidan Sloss and James Stephen ending up right at the back. At the start of lap 2 Skinner took the lead from Buchan who had the fast charging Weddell on his rear bumper. By Lap 4 it was a relatively quiet race with Citroen C1 drivers Elliot Lewthwaite and Finlay Brunton running in 4th and 5th respectively. At the end of lap 6 Skinner made a mistake on the exit of Clark corner allowing Buchan to the get the run on him down the main straight. Skinner managed to keep the lead but Buchan was very obviously eager to get ahead and at the end of lap 7 that's exactly what he did as Michael Weddell in the tow from Skinner lost the back end of his car making contact with the pit wall but not losing much time. At the race end Buchan took the win with Skinner only half a second behind, it was Weddell in 3rd and Finlay Brunton taking 4th place by crashing spectacularly as he crossed the line, stylish as always.
The Top 3 in the PS4 Championship currently are – Michael Weddell on 109 points, in 2nd it's Martin Buchan on 82 points and Daryl Adams on 64 points in 3rd.
As per previous rounds we then moved on to the Xbox contenders with qualifying for Race 1 with the early pace set by Ayden Wilson with a phenomenally quick lap of 46.788 which was pole position. Jonathan Atkinson took 2nd place on a 47.198 with Danny Cassar 3rd on a 47.202. Race 1 saw an amazing start from Tam Hamill who took 2nd place from 4th off the line with a lightning getaway. On lap 2 Jonathan Atkinson took the lead from Ayden Wilson into Clark Corner as immediately after Cassar and Wilson had a huge accident. This incident promoted Grant Angus to 2nd and Charlie Hand to 3rd as Wilson and Cassar dropped to 6th and 8th respectively. Sam Moody took 3rd position from Hand on lap 3. On lap 6 the recovering Cassar was upto 6th place and Ayden Wilson was running in 7th . Jonathan Atkinson seemed comfortable at the front pulling a 2 second gap over Grant Angus. Lap 10 saw Jamie Lewthwaite who was running in 9th have contact with Crissy Miller causing him to spin with dropped Elliot to 13th. Danny Cassar's stunning pace saw him running in 4th hot on the heels of a podium as the last lap started. Atkinson took the win with a 5 seconds lead over Grant Angus, Sam Moody fended off Cassar and took 3rd. The battling duo of Cassar and Wilson finished 4th and 5th.
Qualifying for Race 2 saw Ayden Wilson on pole again with another quick lap of 46.523, Josh McNab 2nd on a 47.119 and  Jonathan Atkinson in 3rd on a 47.475. Race 2 saw Wilson leading with McNab pouncing at the end of lap 1 where slight contact saw McNab slow momentarily, giving the run on him to Atkinson but he kept the place. At the start of lap 2 there was action at the back as Jonny Edwards had contact with Grant Angus and Stuart Wyness seeing cars flying into Druids. The race was relatively status quo for the next few laps with Tam Hamill showing great pace as always as he moved up to 4th on lap 9. On lap 10 Atkinson was all over the back of McNab into Druids and there was great racing for the 2nd place spot. Ayden Wilson took the victory with McNab 2nd , Atkinson 3rd and Hamill 4th.
Such a dominant performance from Wilson means that he is close to taking the Championship for Xbox, the Top 3 in the Xbox Championship currently placed at  – Ayden Willson on 127 points, in 2nd it's Tam Hamill on 90 points and Jonathan Atkinson on 65 points in 3rd.
The PC competition is always fierce and qualifying for Race 1 saw incredible pace as always with John Munro taking pole on a 46.541, Scottish Formula Ford Champion Jordan Gronkowski in 2nd on 46.759 and Craig Lax in 3rd on 46.801. Race 1 saw Munro lead with Gronkowski losing 2nd place to Lax into Druids. Lax didn't stay in 2nd for long as a tangle with a spinning car at Paddock Hill saw him drop back through the field to 8th with Jordan in 2nd with David Simon in 3rd.  Lap 2 saw Peter Moore challenging for 3rd taking the position and getting nudged by Simon into Druids. The recovering Lax had contact with Ross McGregor and Richard Crozier on lap 3 into Druids resulting in a spectacular accident with cars flying through the air. The pace was hot at the front with Munro and Gronkowski doing lap times in the 46s. On lap 7 Munro lead Gronskowski by 2 seconds as they both continued to post very similar lap times. Peter Moore had David Simon closing in on him as he dropped back from the leading pair on lap 9. John Munro took the win with Jordan Gronkowski 2 seconds behind, Peter Moore took the final podium position, David Simon in 4th, Michael Johnston in 5th and Craig Lax in 6th.
Qualifying for Race 2 had Craig Lax on Pole with a 46.361, John Munro in 2nd on a 46.563 and Ross McGregor on a 46.821 in 3rd. Jordan Gronkowski just missed out on the top 3 qualifying in 4th on a 46.959. All 14 cars qualified within 1.5 seconds. Race 2 saw Craig Lax and Munro battling right from the start. Munro slowed at the end of lap 1 possibly due to a slowdown penalty which gave McGregor a run on him but he kept the position. On lap 3 Craig Lax lost the lead and dropped to 3rd place with Jordan Gronkowski hot on his heels. However Peter Moore was equally as close to Gronkowski by lap 5. Lap 6 saw Moore take to the inside into Druids taking 4th from Jordan. On lap 8 Munro lead McGregor by only half a second as they both lapped in the 46s. Jordan Gronkowski was off track at Druids sadly dropping him to 11th place after showing such pace. On the penultimate lap the lead at the front was only 4 tenths, they've always said it's easier to chase than it is to lead and McGregor applied the pressure into the final lap but it was John Munro who held his nerve and took the win, with McGregor in 2nd and Lax finished 3rd on track but a penalty dropped him to 4th giving the final podium place to Peter Moore
The Top 3 in the PC Championship currently are – John Munro on 119 points, in 2nd Craig Lax on 78 points and Ross McGregor on 73 points in 3rd.
The action now moves on to Silverstone at the Grand Prix Circuit in the mighty Porsche 911 GT3 R with the qualifying rounds running Tuesday to Thursday as always and the race action on Sunday the 26th of April from 6pm. The Spring eSports Championship final is bound to be thrilling especially with the enthusiastic commentary from David Christie of Camber Media.
Glenn Alcock