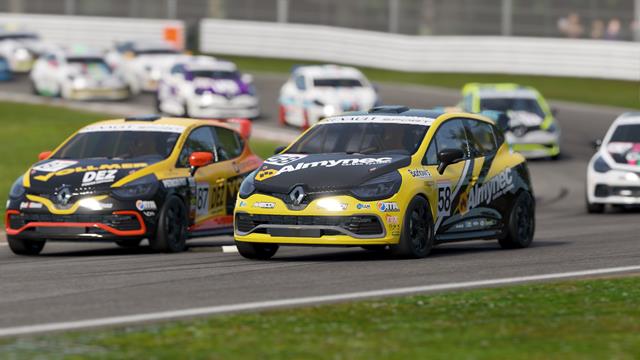 SMRC Esports Championship Round 2
After the conquering the virtual twists and turns of Knockhill the SMRC eSports Spring Championship moved to Oulton Park International for Round 2 on Easter Sunday. The 2.67 mile International Layout with its 17 turns provides a demanding and technical challenge. With a good laptime in the 1 minute 47 seconds region it is over a minute longer than what the first round saw at Knockhill. The longer track showing how important commitment was on every corner, a big mistake on one corner or being slightly off the pace everywhere really hammers the laptime. For this round the car was a 2014 Renault Clio Cup car, with 220bhp and a top speed of 151mph the car is very handy but extremely lively. As always there were two standard setup options available, stable and loose. Loose is generally faster but makes the car even more tail happy which these little pocket rockets are anyway. As with the first round there was a huge number of entrants meaning that qualifying rounds took place on PS4, Xbox and PC on the Tuesday, Wednesday and Thursday prior to the Rounds on Sunday which would consist of a 5 minute qualifying session before two 6 lap races.
We kicked things off with the PS4 where there first qualifying session saw a great battle at the top with SMRC drivers Martin Buchan, Joe Tanner, Michael Weddell and Elliot Lewthwaite battling for the top spots. It was pole position with a 1:48:901 for Martin Buchan, with Michael Weddell in 2nd with a 1:49:052 and Elliot Lewthwaite in 3rd place on a 1:49:068. As Race 1 started Michael Weddell piled the pressure on Martin Buchan as Citroen C1 drivers Elliot Lewthwaite and Finlay Brunton battled for 3rd place as a multi-car crash happened at the back of the grid. Lewthwaite ran  wide losing 3rd place to Finlay Brunton and Daryl Adams dropping him down to 5th. It was super close at the front with Weddell closing to half a second of Buchan on lap 3 when Martin got a slowdown penalty for track limits. There was a great battle for 4th position between Stuart Robertson and the recovering Elliot Lewthwaite as Daryl Adams dropped to 6th. Martin Buchan extended his lead to 1.8 seconds on lap 5. Stuart Robertson and Elliot Lewthwaite started closing up on Finlay Brunton in 3rd place and on the last lap Stuart overtook Brunton losing the back end but making it stick. Buchan took the chequered flag and victory with Weddell in 2nd 1.7 seconds behind and although Stuart Robertson crossed the line in 3rd place time penalties dropped him to 5th promoting Finlay Brunton to the last step on the podium and Lewthwaite getting 4th place.
Qualifying for Race 2 saw Martin Buchan take pole again with a blistering 1:48:067, followed by Joe Tanner on a 1:48:320 and Michael Weddell posting a 1:48:532. Race 2 started with drama as a slow start from Buchan saw Tanner take the lead and Weddell slotted into 2nd place. Elliot Lewthwaite and Martin Buchan battled it out for 3rd place as there was carnage at the back. Lap 2 saw a great battle between Tanner and Weddell for the lead as Daryl Adams took 3rd place. On lap 3 Race 1 winner Buchan spun dropping him to 6th. On lap 4 there was drama at the front as the top 3 battled for the lead which saw Adams go for the lead and the resulting contact dropped Tanner to 4th as Weddell took the lead with Adams hot on his heels in 2nd. On the last lap Tanner disconnected from the server as Weddell took the win with Daryl Adams in 2nd and Kevin Rutherford finishing 3rd. Race winner Weddell said "I'm happy to take another win with great fighting through the field in Race 2".
The Top 3 in the PS4 Championship currently are – Michael Weddell on 77 points, in 2nd it's Daryl Adams on 50 points and Sam McKenzie on 45 points in 3rd.
We then moved on to the Xbox contenders with qualifying for Race 1. It was a sensational 1:47:831 for William Black with Ayden Wilson on a 1:47:978 and Jonathan Atkinson taking 3rd place with a 1:48:747. Race 1 saw Black at the front with Ayden Wilson and Tam Hamill following, the top 3 covered by under a second on lap 2. At the back of the field there was lots of contact at the chicane. Jonathan Atkinson took Tam Hamill for 3rd place on lap 3. Into the final lap there was only 3 tenths between the leader Black and the chasing Ayden Wilson. The final lap was a nail biter with Wilson bearing down on Black as the final podium battle was equally as exciting as Atkinson chased Hamill to the flag. The result at the flag was victory for Black, Wilson in 2nd only 3 tenths behind and Atkinson crossed the line in 3rd but a time penalty gave the final position to Tam Hamill.
Qualifying for Race 2 saw William Black back on Pole with a 1:47:699, with Ayden Wilson on a 1:48:123 in 2nd and Jonathan Atkinson in 3rd with a 1:48:257. Race 2 was a close fought battle with 1 second covering the top 4 at the end of the first lap with the order Black, Wilson, Atkinson and lead followed by Wilson and Tam Hamill as Atkinson fell to 4th place. On lap 4 it was Atkinson who took 3rd place from Hamill but things got spicy on the last lap as Atkinson and Hamill had contact into turn 1 which saw Atkinson roll. Bessell took the victory a second ahead of Wilson as Hamill rounded out the podium. A great recovery drive saw Black finish 4th.
The Top 3 in the Xbox Championship currently are – Ayden Wilson on 90 points, in 2nd it's Tam Hamill on 68 points and William Black on 39 points in 3rd.
The final action for the evening saw the hardcore sim racers on the PC taking part and this was reflected in the pace with qualifying for race 1 seeing pole position go to Lorenzo Turri with a 1:47:577 followed by Craig Lax on a 1:47:968 and Jonny Knight on a 1:48:052. Race 1 saw Turri leading but a slowdown penalty gave John Munro the opportunity to take the lead, as Jonny Knight moved into 2nd and Craig Lax took 3rd with Turri dropping back to 4th. Craig Lax made a great move on Knight taking 2nd place at the end of the first lap as they battled 3 wide into Druids. The recovering Turri was hot on the the heels of the top 3. As Craig Lax and John Munro battled for the lead into Shell Oil corner Munro spun hitting Jonny Knight dropping them both down the field. The pace was hot at the front on lap 3 with Lax, Turri and Kidsley in the 1:47s. Lax led on the final lap by 1.5 seconds over Turri as they crossed the line in it was Lax, Turri and Kidsley with Munro finishing in 6th place.
Qualifying for Race 2 saw Munro eager to make amends and he achieved Pole Position with a sensational 1:47:304, Turri was 2nd with a 1:47:743 and Lax with a 1:47:800. Race 2 started in that order with 5 seconds covering the entire field at the end of lap 1. Munro lost the back end onto the main straight at the start of lap 2 as Turri momentarily took the lead. Munro managed to nudge back ahead and they were 3 wide down to Cascades as Lax took 2nd and almost powerslid into the lead but Munro held his ground. The battle continued at the front into lap 3 as Lax and Munro were side by side again. Ross McGregor and Lorenzo Turri were battling for 2nd and Turri left the track as Island Bend. Munro was expertly driving defensively but couldn't hold off the fast charging Turri who took the lead on lap 4. Munro started to feel the pressure from McGregor in the closing stages of the race but held on to 2nd place. Craig Lax took a penalty on lap 5 and when he crossed the line in 1st position this meant the win went to John Munro, dropping him to 2nd and McGergor taking 3rd. Lorenzon Turri finished in 8th position. It was great action and Lax was unlucky to not make it 2 wins from 2.
The Top 3 in the PC Championship currently are – Craig Laxon 78 points, in 2nd it's John Munro on 69 points and Lorenzo Turri on 61 points in 3rd.
The action now moves on to Brands Hatch at the Indy Circuit with the qualifying rounds running Tuesday to Thursday as always and the race action on Sunday the 19th of April from 6pm. If you're missing the real on track action then you must watch the eSports Championship. It is great entertainment with commentary from the excellent David Christie of Camber Media.
Glenn Alcock