Sir Stirling Craufurd Moss OBE
17/09/1929 – 12/04/2020
The famous quote that is always repeated about Stirling Moss is that he "was the greatest driver never to win the F1 World Championship". Between 1955 and 1961 he finished as runner-up 4 times and was 3rd on the 3 other occasions. Born in London, the son of dentist Alfred Moss who himself was an amateur racing driver that had competed in the 1924 Indianapolis 500 finishing in 16th place. His mother Aileen also had the passion for racing having taken part in hillclimbs and sister Pat was also a successful rally driver. Racing really was in the blood of this family. Sir Stirling's racing career spanned from 1948 to 1962 where he won 212 of the 529 races he entered. He always wanted to follow in the footsteps of his father and compete at Indianapolis but due to the number of races he took part in on a yearly basis (which was as many as 62) he could not give up the month of May required for the 500. Although he drove 84 different makes of car over his career he was fiercely patriotic and preferred to race for Britain at the wheel of a British Marque. His 16 Grand Prix Victories were only beaten by another English driver in 1991 as the Nigel Mansell era began.
His greatest personal achievement was winning the 1955 Mille-Miglia the famous 1000 mile Italian Road Race at the wheel of a Mercedes-Benz 300 SLR. His navigator was the famous Motorsport Magazine journalist Denis Jenkinson (Jenks) and they finished 32 minutes ahead of the legendary Juan Manuel Fangio also in a Mercedes.
In 1962 Moss suffered a bad crash at Goodwood where he was in a coma for 37 days after hitting his head and suffered paralysis over the left side of his body. He recovered well and tested a Lotus 19 with the intention of returning to competition, indeed his times were not far off his previous pace but he felt that he had lost too much to return permanently. He did however make guest appearances and in 1980 returned to competition in the British Saloon Car Championship (now the BTCC) with Audi. He only officially announced his retirement from racing in 2011 after scaring himself whilst qualifying for the Le Mans Legends race at the age of 81. This was a year after falling 3 floors down the lift shaft at his home breaking both ankles.
He was inducted into the International Motorsports Hall of Fame in 1990 and in 2000 received a knighthood for his services to motorsport. In 2007 he drove a reproduction Vanwall at Knockhill and was Guest of Honour at the Classic Speedfair. Of the Scots he said "The fans in Scotland are very enthusiastic and certainly love their motorsport. Scotland has produced some of the world's greatest racing drivers".
SMRC President Hugh McCaig said of him "Stirling Moss was probably the greatest all round racing driver until now. The fact that he never won the World Championship was more down to his supreme sportsmanship rather than a lack of ability. During his prime he was driving at the pinnacle of  the sport for Mercedes and Ferrari as British marques such as Vanwall, Cooper and Lotus were emerging. His loyalty to Great Britain probably cost him more than one world title. It is unlikely that motorsport will ever see the like of this great man ever again."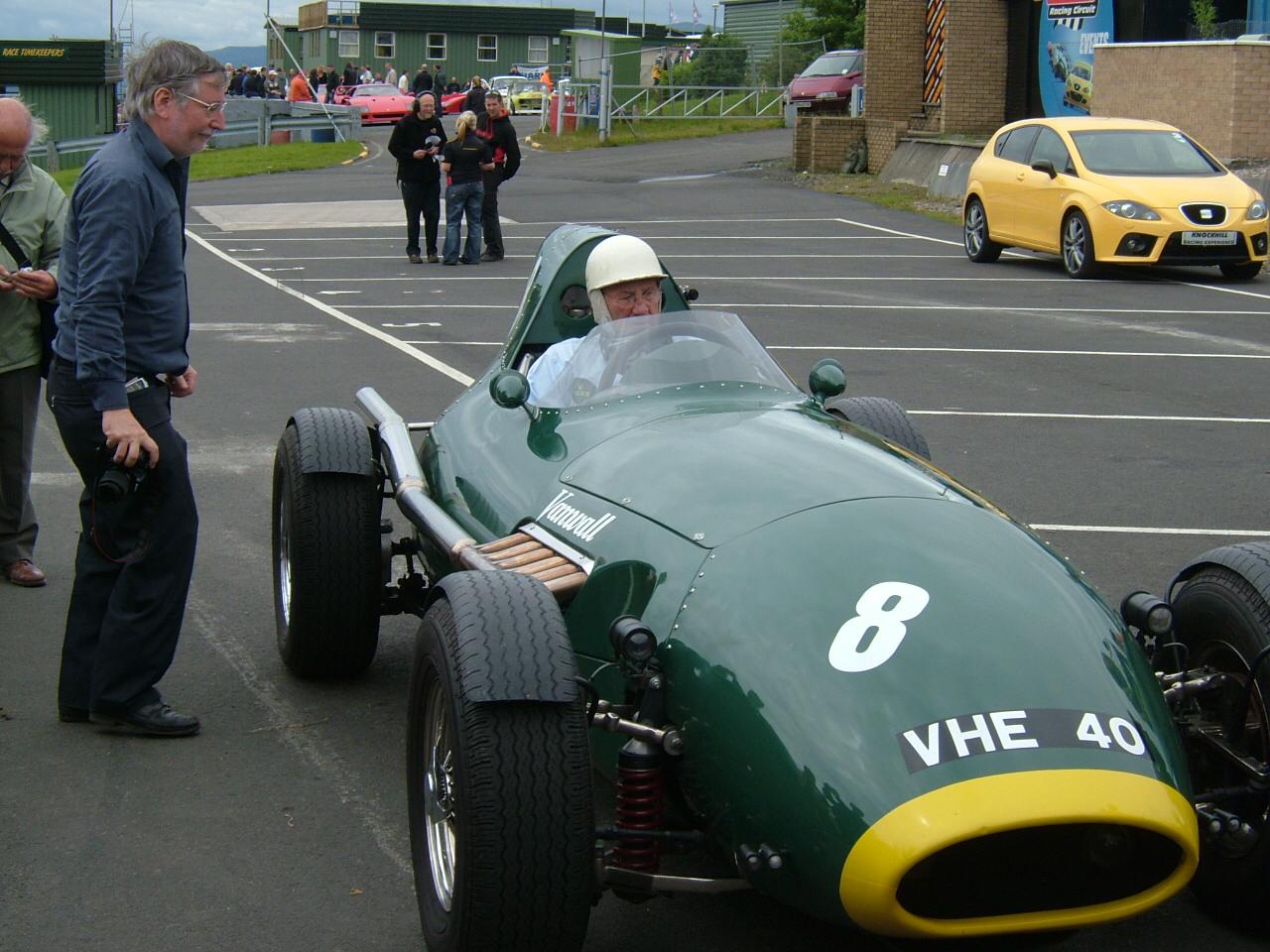 Glenn Alcock