KNOCKHILL APRIL 7TH SMRC RACE REPORT
A dreich day greeted competitors for the opening round of the Scottish Motor Racing Championships at Knockhil in Fife.  Over 100 drivers entered the meeting which boasted 16 races on a mainly damp track. The standard of racing was high with, 10 different race winners and only a few safety car periods to retrieve stranded cars.
Citroen C1 Cup in Association with the Scottish Motor Trade Association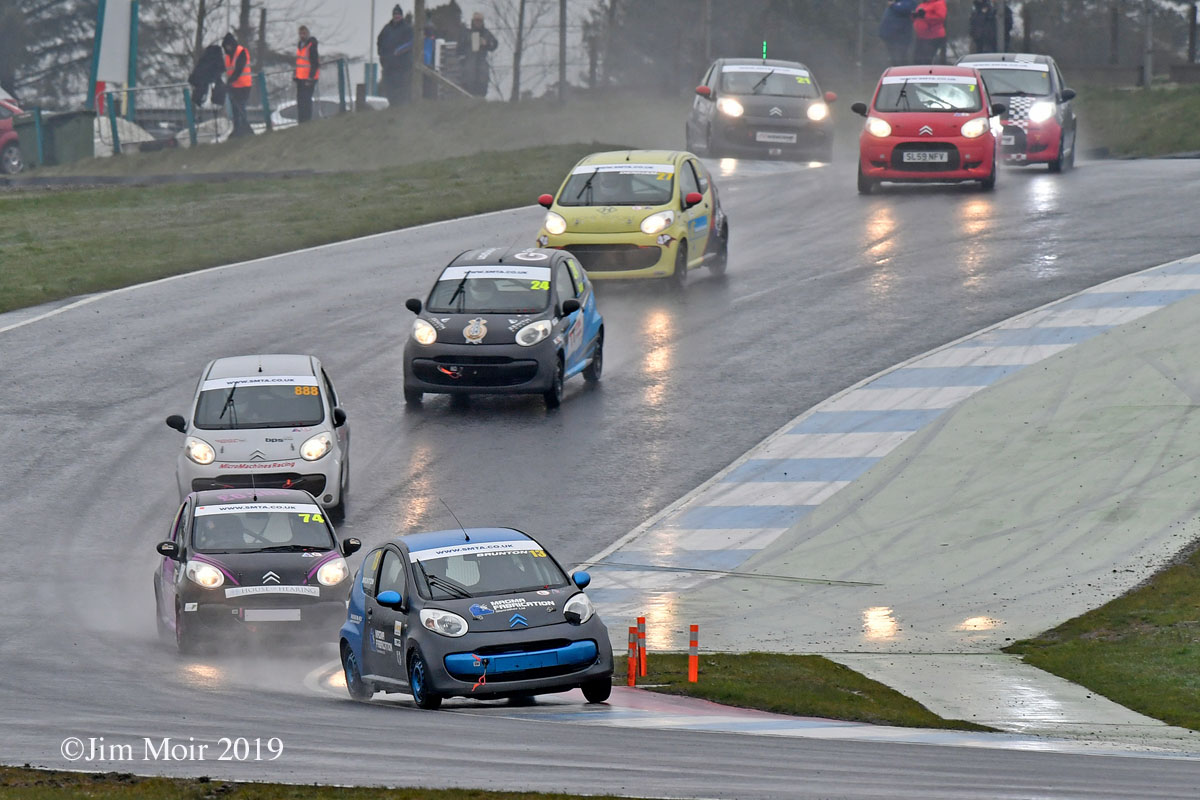 The Citroen C1 Cup started its racing life north of the border and its inaugural meeting, which could be deemed a success. There were 11 cars on the grid and 9 of these were driven by complete newcomers to car racing, which is exactly what the championship was intended to do. The entrants included two College car teams, with Edinburgh College fielding a car for Tom Denham and West College Scotland fielding a car for Glenn Alcock.  Newcomers Ryan Smith and Finlay Brunton monopolised the top two steps of the podium in both races, taking a win and 2nd place finish each. The 2 races were competitive with both races seeing groups of 3 to 4 cars scrapping away throughout the race. Third in race 1 was Steven Morrison, and in race 2 it was Ross Dunn.
Scottish Legends Cars Championship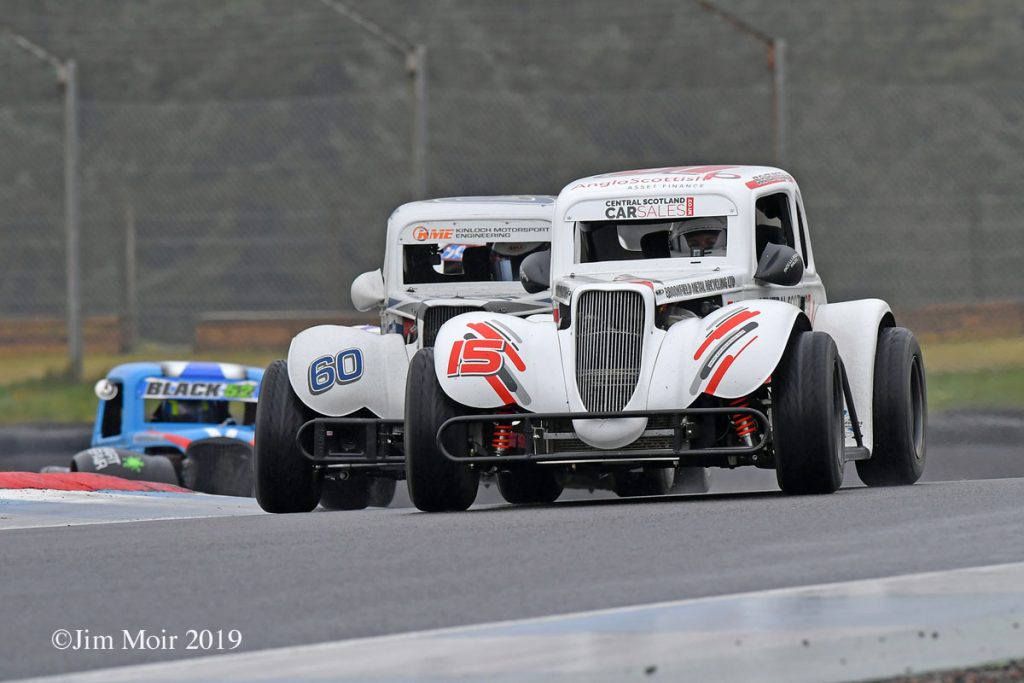 Heat 1 winner Stewart Black lead all the way and held off former multiple Legends Cars Champion John Paterson, who had a magical first lap going from 8th to 2nd. Defending Champion David Hunter took 3rd having started 9th. Heat 2 was won by Steven McGill who hit the front with 3 laps to go, and held off Dave Newall and Duncan Vincent, who commentates on races between driving the Legends Car. The final is were the top points scorers from the heats start at the back of the grid. This saw Steven McGill take his 2nd win of the day, having started 13th He got into the lead on lap 7, only to lose it to Dave Newall who would finish 2nd on the last lap. But McGill won the drag race to the line from the final corner to the flag. John Paterson took 3rd in a car he was having problems with on the damp track.
Celtic Speed Scottish MINI Cooper Cup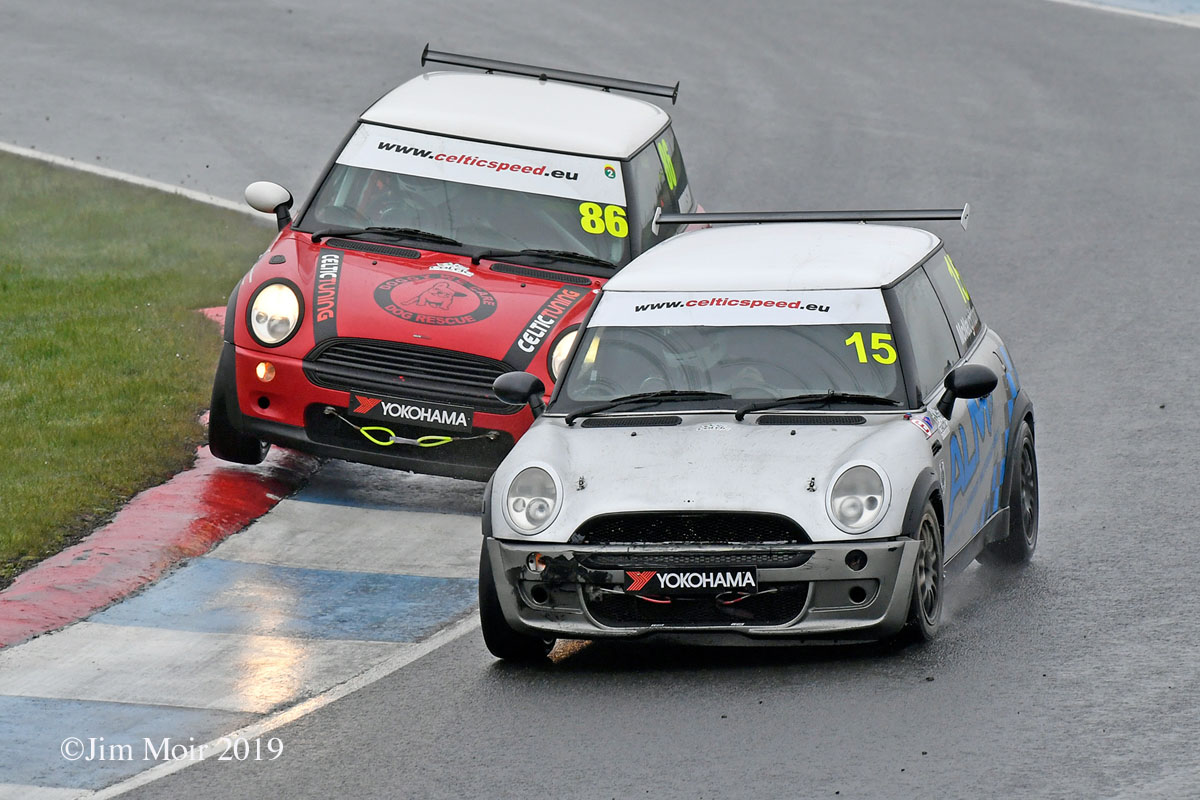 Three races were run and one driver – Robbie Dalgleish – took three wins, a rare feat in Mini Cooper racing. He won more races than anyone last season and was 3rd overall in 2018. Robbie was in dominant form all day, and won race 1 from pole. He led all the way despite last year's top newcomer Michael Weddell staying within a few car lengths all race. The 2017 champion was close as Mark Geraghty took 3rd. Race 2 was a repeat of race 1 up front. But this time Dalgleish got well clear of Weddell who held off a challenge from Mark Geraghty from mid distance to the flag. The final race of the day sees the front of the grid reversed following a random draw. The top 6 finishers started in reverse order. Douglas Simpson seized the lead from the start. But he was demoted by Ian Munro on lap 3, only for Ian to lose the lead at the end of that lap to a fired up Robbie Dalgleish. He had started 6th but had cut through the front runners. Robbie was kept under pressure by Munro all the way to the finish, as these two eased clear of a 3 car scrap headed by Michael Weddell.
Scottish Classic Sports and Saloon Championship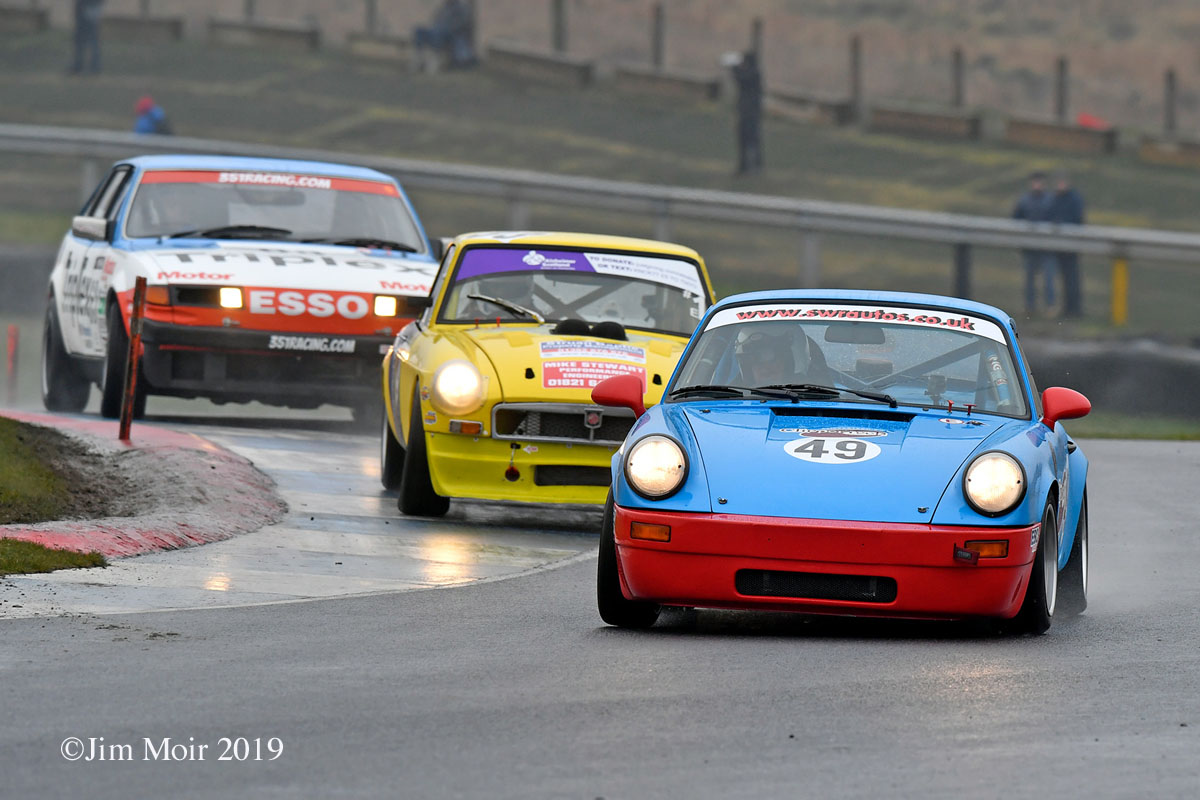 Alsatair Baptie – the defending champion – had left his Fiat X1/9 sportscar at home and entered his fast MGB GT V8. On a damp track he had two good tuscles with former Champion Raymond Boyd in the Porsche 911 Turbo. In race 1 Boyd led until the end of lap 3, when Baptie out braked him at the hairpin and then pulled quickly away to take an untroubled win. John Kinmond had run 3rd in the big Rover SD1 until lap 7, then it started to smoke so he retired. This promoted Bruce Mitchell to 3rd in is Lotus Europa, which eased clear of Alastair Coates big Ford Mustang. Race 2 Boyd made a demon start and was still leading on lap 11 of 12 when he spun off as he braked for Clark corner. The rear of the Porsche snapped sideways suggesting something may have broken, and Raymond went off and into the gravel trap. He had survived early pressure from Baptie and had built up a few seconds lead. But Baptie then took the win in the MGB GT V8. John Kinmond was 2nd despite starting at the back of the 13 car grid. He had made it to 3rd by lap 5 though well back on the two leaders in his Rover. The top 3 was completed by Alasdair Coates who kept the Mustang well clear of his pursuers, after Bruce Mitchell spun his Lotus Europa out of 4th on lap 7. Up into 4th came Keiron Baillie in a little Lotus 7. When asked post race about the difference between his Fiat X1/9 and the MGB GT V8 Alistair said, 'The Fiat has no power but handles really well, the MG is like a drunk Camel on roller skates!'
Scottish Fiesta ST Cup and Mini Cooper S Cup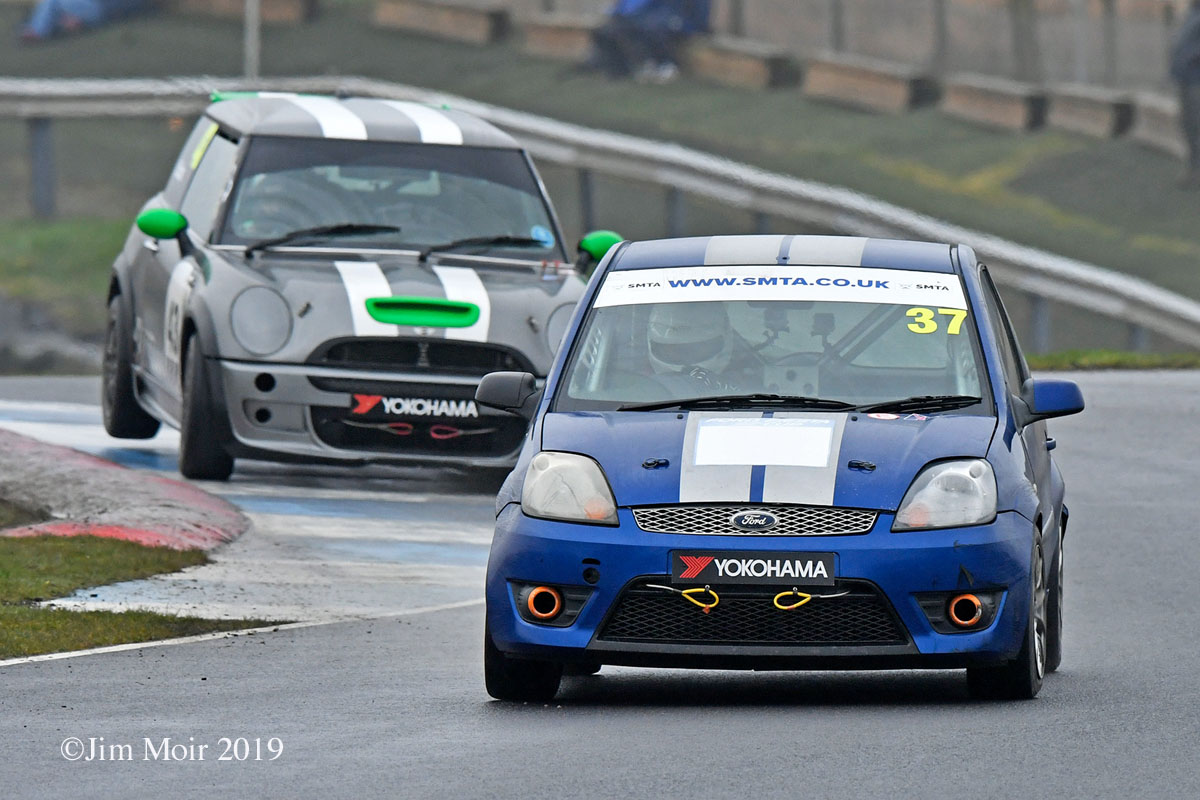 This race featured two different championship competitions joining together for the first time. The Cooper S cars are more powerful and use racing tyres, so started 10 seconds after the Fiestas. In Race 1 Oly Mortimer took the first of two wins. He is undefeated in over 2 years of Mini Cooper S racing. He was leading by lap 7 and raced well clear of last season's Mini Cooper S Cup runner up Paul Wilson. Top Fiesta ST was newcomer and Scottish ST debutant 17-year-old Jack Davidson. He put in an impressive driver and was never headed in the Fiesta section. Russell Morgan and veteran Peter Cruickshank were next up in Fiestas, and were tied together for most of the race. In race 2 Davidson again led the Fiestas all the way.  Mortimer passed him on lap 5 on his way to another Cooper S win, with Wilson coming second again by over 10 seconds. Late on third was taken by Stuart Buchan in a Cooper S demoting top Fiesta of Davidson to 4th overall. Russell Morgan again was 2nd Fiesta with Ryan Stirling rounding out the podium in 3rd. The amalgamation of these two championships seemed to work well. As Stuart Buchan said, 'it was great fun mixing it with the Fiesta STs it's a good choice from the SMRC'.
Scottish Formula Ford 1600 Championship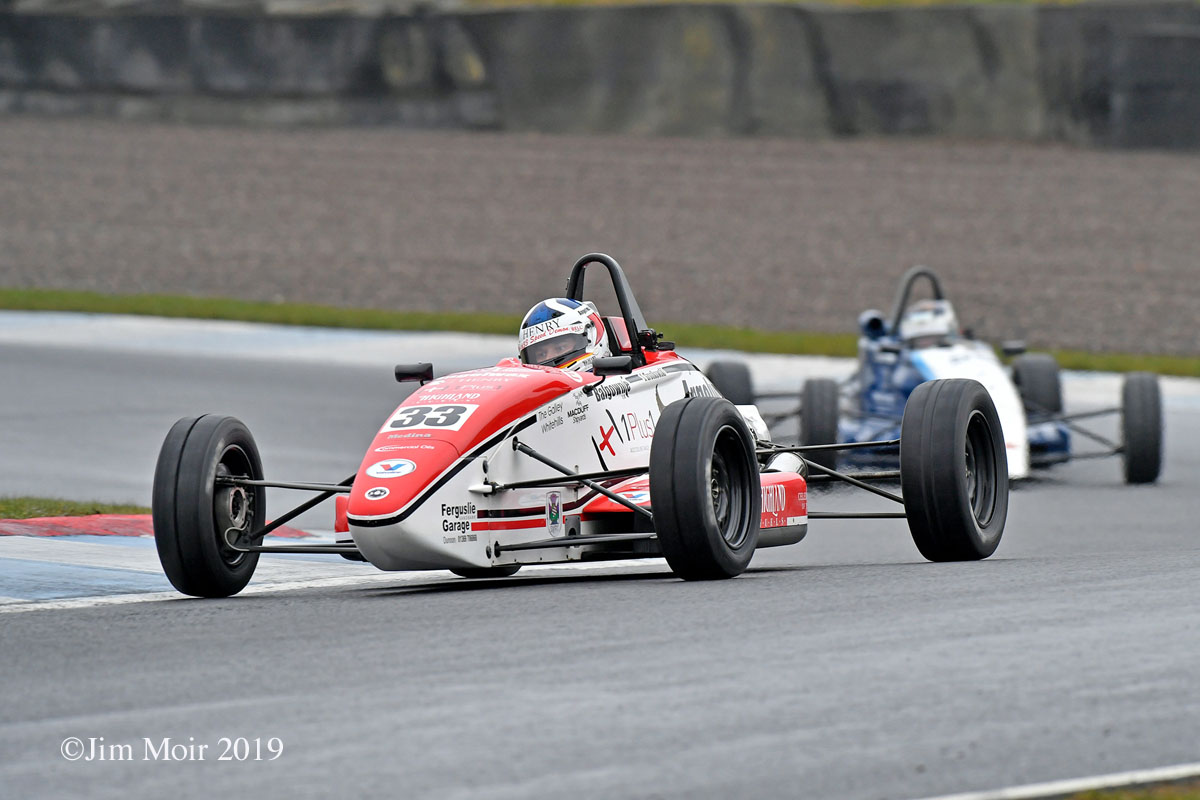 The main Scottish single seater Championship ran two races on a damp track. Both were dominated by the experienced Jordan Gronkowski in his Van Diemen. Jordan had finished 3rd in last years championship. He was under early pressure in both races from young borders racer Jamie Thorburn, who raced Ray cars in the UK national Championship last year. But Jordan pulled away each time for his first double win. Into 3rd in both races came Kenneth Cowie in a Mygale.  These races saw a debut in car racing for talented teenager Cameron Thomson. The former top karter, took 5th and 7th place finishes.
Scottish Saloon and Sportscar Championship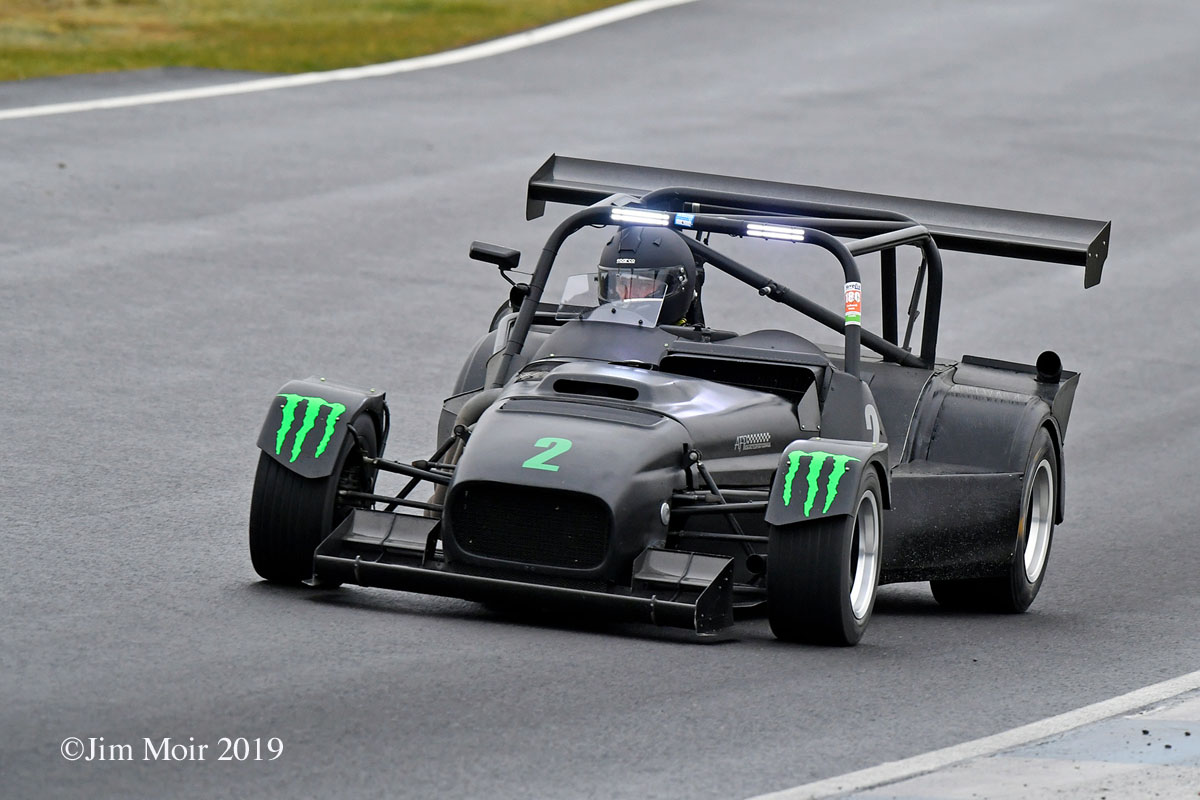 The two races for modified cars saw a spirited battle at the front in race 1 as Andy Forrest in a Westfield kit car held off a strong Challenge from Andrew Gallagher in an EVO, before the 4wd car expired mid race. Forrest then won by miles. Former Champion Paul Brydon brought his newly acquired BMW M3 into 2nd and would repeat that finish in race2, as Forrest won again but with no Gallagher to press him. Keith Cowie was 3rd in race 1 in a Seat Leon. In race 2 Lowell Forsyth ran 3rd in a Lotus Exige having been 4th in race 1, but he went off at Clark corner and stopped in the gravel trap on lap 8 handing 3rd to defending champion William Robson, with his Focus RS.
Kevin Pick