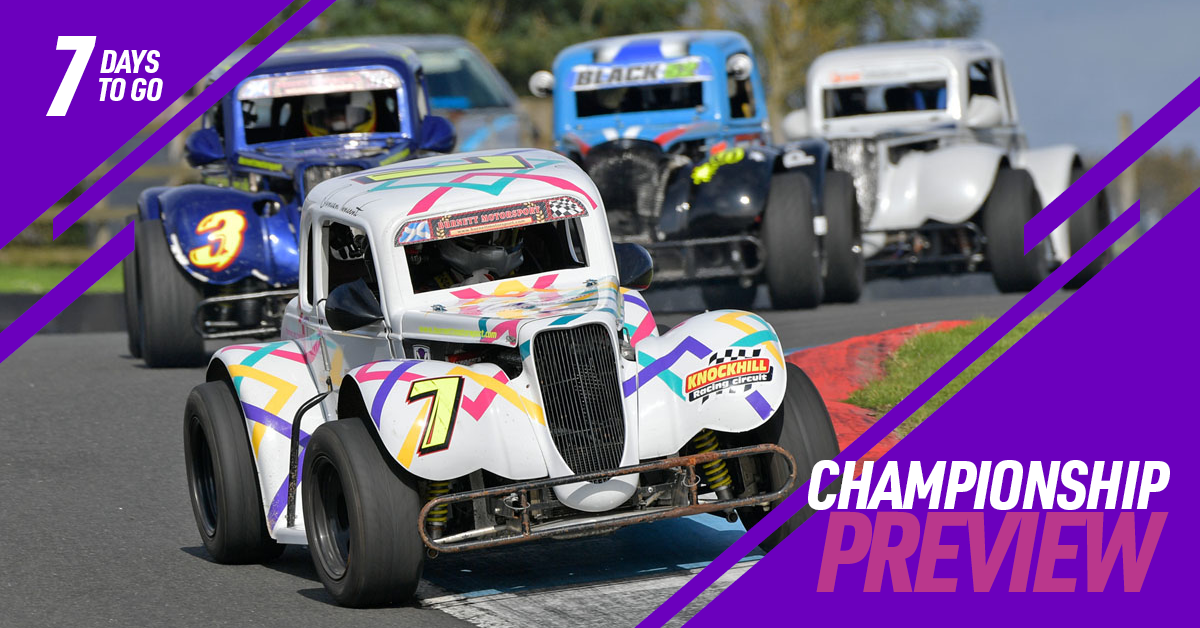 6th October Race Meeting Preview
The excitement is building as we approach the final round of the 2019 Scottish Motor Racing Club season. It hardly seems like yesterday that the season kicked off on April the 7th at Knockhill. Even though it's the last round there's still a lot of action to look forward to.
The Scottish FF1600 Championship has been won in dominant style by Jordan Gronkowski and he'll be looking to end the season on a high but last round race winner Neil Broome and Graham Brunton Racing podium regular Logan Hannah will be piling on the pressure in the final two races.
The newest Championship, the SMTA Scottish C1 Cup has been a roaring success with the number of cars on the grid being in the high teens for most of the rounds. It's proved to be a very competitive championship where new drivers can hone their skills and learn the importance of keeping the momentum up in these little racing cars. Championship rivals and team mates Finlay Brunton and Ryan Smith are great friends but there can be only 1 champion, it'll be interesting to see who takes the crown in this last race. Skye resident Kieren Preedy has been extremely quick too and will be hoping to spoil their party by taking another victory and possibly even the championship.
The Celtic Speed Mini Cooper Cup is always action packed and there's sure to be plenty more to come on October the 6th as Robbie Dalgleish and Michael Weddell fight it out to be champion. This Championship has allowed many top drivers to cut their teeth before moving on such as Aiden Moffat and Rory Butcher who are both current BTCC stars and the Mini's use a similar race format to the Touring Cars.
It's close at the top of the Farmer Autocare Fiesta ST Championship with 4 drivers separated by only 15 points. This great championship has been running for over 20yrs originally with XR2s which now race in the Classics Sports and Saloons. Peter Cruikshank, Russell Morgan, Stewart Scott, Jack Davidson and Simon Smail can all take the title. As we all know in motorsport anything can happen and it'll go down to the wire. Lorn Murray in 5th overall has already tied up the new Challenge Class championship. The R53 Mini Cooper S Cup has been dominated by Oly Mortimer but Stuart Buchan and Paul Wilson will be keen to end his season with a victory.
For the Scottish Legends Championship there's a great opportunity to get on the grid walk at lunchtime and see these incredible racing cars up close and personal. Based on American Ford, Dodge and Chevy Sedans from the 1930s at 5/8 scale they are exciting to watch with their rwd bump drafting and sliding, style. It's close at the top with 4 drivers in contention, David Newall, John Paterson, Steven McGill and David Hunter. As a side note, the new SMRC Esports Championship will give one lucky person a fully funded weekend in the Championship in 2020 with the final at the SMRC Awards on November 23rd where the Esports Champion's virtual dream will become a reality.
The Classic Sports & Saloons is always great to watch with the vast array of impressive cars on display and Bruce Mitchell is up against Mario Ferrari for the title with only 16 points separating them. 2018 champion, Alastair Baptie, is also in contention in 3rd. As mentioned earlier the XR2s also compete in this Championship and Duncan O'Neill is in a class of his own. He had plenty of competition in 2018 courtesy of Martin Ramsay who sadly passed away last month. There will be a special Martin Ramsay Trophy Race for XR2s in his memory which will be a fitting tribute to the Shetland racer.
The Sports and Saloons are equally as exciting with so many different cars on track and it's tight at the top too with Duncan Steel, Keith Cowie and 2018 Champion Will Robson all in contention. Unfortunately – due to work commitments – Duncan Steele is not going to be out to fight for the title in his maiden year. However, sports and saloons always offers a great spectacle with some extremely powerful and impressive cars on track. Will Robson's flame spitting Ford Focus will be getting pushed to the limit as he defends his crown.
Elsewhere, we are looking forward to welcoming multi mark single seater racing back to Knockhill, with the return of Formula Libre. Entries include, regular Saloon and Sports driver – Ron Cumming – will be racing an impressive F3000 car.
October at Knockhill always brings a chance of rain which could make the action even more exciting. Rain or Shine it's going to be a great end to the season so make sure you come along and get your final dose of SMRC action before the winter break. Tickets are available at www.knockhill.com or you can pay at the gate on the day.
We look forward to seeing you there. The SMRC Awards is on November 23rd at the Raddison Blu Hotel on Argyle Street in Glasgow and tickets can be purchased at www.smrc.co.uk.
Written by
Glenn Alcock