Scottish Motor Racing Club, Final Race Meeting
On a day when the track was wet, and rain came down for most races the organising club SMRC had to shorten the afternoon races, to get them all run  before it got dark. Prior to the meeting only 2 main championships had been won so 7 were to be decided. Already crowned were Jordan Gronkowski in Formula Ford single seaters, Oliver Mortimer in Mini Cooper S Cup. Lorn Murray also won the inaugural Fiesta ST Challenge Cup.
Scottish Legends Cars Championship, three races comprising two heats and a final, were run. Heat 1 the grid is drawn at random. Former Champion John Paterson led for a few laps then Steve McGill took over and went on to win from Championship leader Dave Newall and outgoing champion David Hunter. All because at the final corner Paterson spun when trying to pass McGill for the lead and was hit by his team mate Duncan Vincent who was 3rd at the time. Paterson got home 5th, Vincent took 6th. Heat 2 David Hunter led all the way winning with ease. He was chased by Duncan Vincent and these two eased clear of a 6 car pack through which John Paterson raced to grab 3rd. Newall took 4th keeping his lead in the championship. The Final sees the higher scoring cars start further back on the grid. Duncan Vincent started 3rd and was leading by the first corner. He stayed there until lap 6 when John Paterson passed him. He started 6th and was 3rd by lap 2. He demoted Steven McGill and chased after Vincent. Once Paterson hit the front Vincent stayed with him and these two had over a second gap back to David Hunter at the chequered flag. Hunter had raced through from 7th. McGill took 4th with Dave Newall close behind in 5th and doing enough to win his second Scottish Legends Cars Championship.
Celtic Speed Scottish Mini Cooper Cup had 3 very competitive races. Robbie Dalgleish led the Championship by 34 points going into the final races. 25 points are awarded for a win. He won race after being chased virtually all the way by his main rival Michael Weddell. On lap 6 Weddell took the lead, then there was a safety car lap as a car was off in the gravel trap at the hairpin. Racing resumed quickly but Weddell had a problem at the hairpin on lap 8 and lost 5 places in seconds, he kept going but his title hopes were virtually gone as he was now 49 points behind. Vic Covey jnr took a strong 2nd having worked his way up from 5th. He had been 4th until lap 8. Then running 3rd he passed Ian Munro with a lap to go for 2nd. Munro was 3rd just ahead of Mark Geraghty. Race 2 saw Robbie Dalgleish pass a fast starting Vic Covey jnr on lap 1 and he was never headed. By winning the race he won his first Mini title. Weddell rose from 6th to 2nd by lap 4 but Dalgleish was now 3 seconds up the road and stayed clear. Covey chased Weddell home for another podium cementing his 3rd place in the championship. Geraghty took a close 4th with Ian Munro right on his bumper in 5th. Weddell is the Championship runner up. Race 3 had the top 5 finishers reversed on the grid so Ian Munro was on pole. He led all the way pressed by Michael Weddell. Robbie Dalgleish spun as did another Mini, and with a 3rd car off on the main straight the race was stopped. It was rerun over 4 laps. Ian Munro led all the way to win. Michael Weddell pressed him and went off onto the wet grass and came back on the road at the 3rd corner, causing a traffic jam behind him. So Munro got clear as he led.  At the final corner Mark Geraghty went from 4th to 2nd as Weddell defended from Covey, who was running 3rd.  So it finished Munro well clear in 1st from Geraghty with Weddell 3rd then Covey 4th as less than a second covered 2nd to 4th. Dalgleish had missed the title twice before, so not finishing race 3 didn't matter has he'd won it after race 2.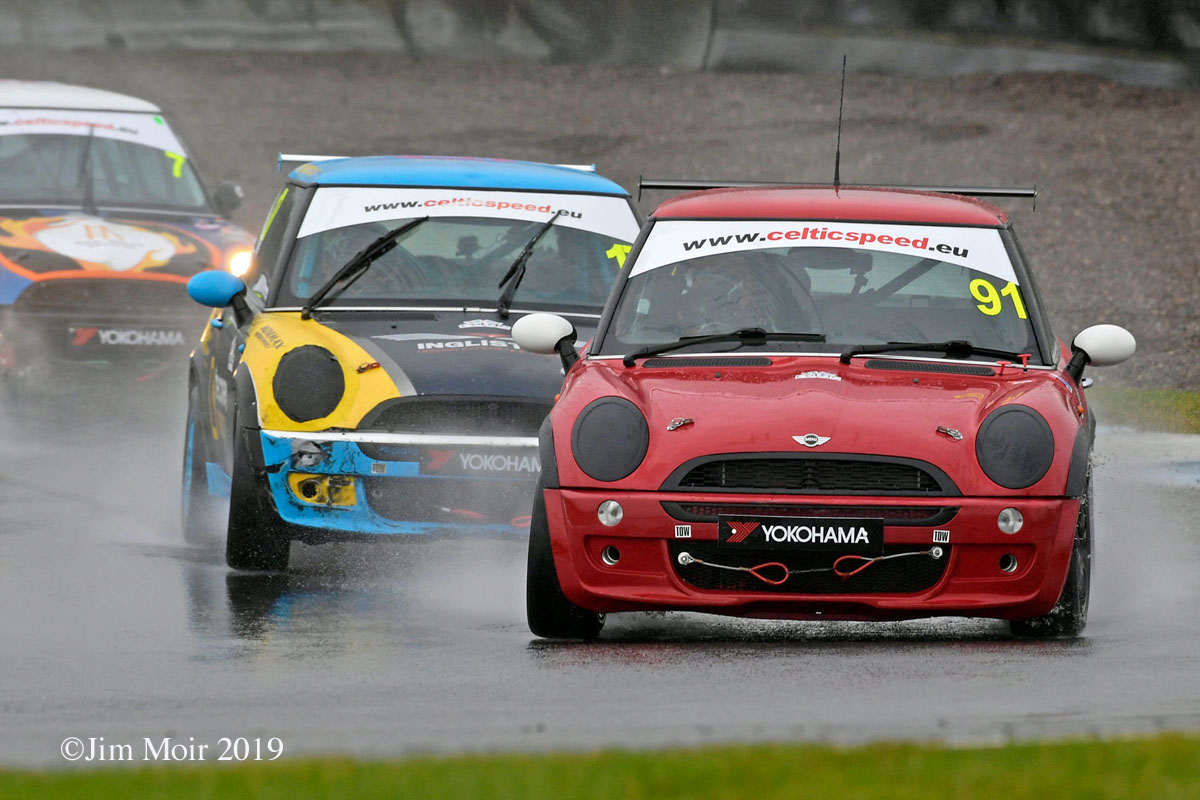 The Scottish Saloon and Sports Championship had two races. Ron Cummings from Aberdeen won both races in his Nemisis kit car. Race 1 he had lots of pressure from former champion Paul Brydon's BMW M3 in the second half of the race after Cummings had built up a 3 second lead then as the rain came down heavier Brydon closed the gap to a car length. Andrew Morrison took 3rd with is Seat Leon. He held onto Brydon for half the race then slipped back. Scott Tollan brought his Escort Cosworth into 4th having held off the Radical sports race car of Greig McArthur. The championship was being fought out between current champion William Robson who was 6th in his Focus and Keith Cowie's Seat Leon. Race 2 Cumming ran away and won by nearly 5 seconds. Paul Brydon stayed with him for 3 laps then slipped back. Scott Tollan had Andrew Morrison all over him and these two were tied together all race. Tollan slid the 4wd Escort out of corners as he fought to stay ahead and it worked as he took 3rd though Morrison was right on his bootlid at the end. A few seconds back Stewart Robb was 5th in his TVR Tuscan clear of Robson. But Keith Cowie became the new champion scoring more points in this class based championship.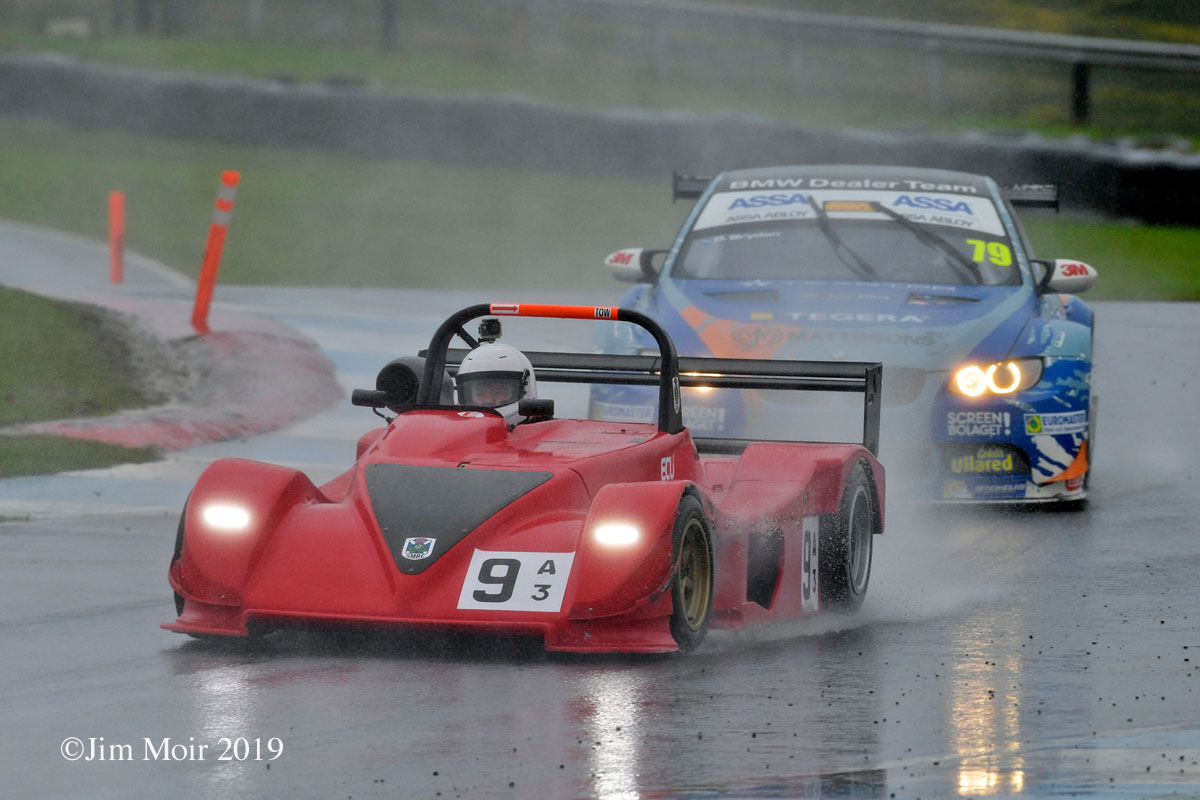 The new SMTA Citroen C1 Cup which was launched this year aimed at novice racers has been a real success. There were 17 cars on the grid and two drivers could win the Cup. Ryan Smith and Finlay Brunton were the title rivals. But it was a 1st race were 4 different drivers led. James McCracken led for half a lap from the start then Ryan Smith took over at the front as 7 cars ran virtually nose to tail. Finlay Brunton passed Smith for the lead on lap 4 as they raced up the hill. But a lap later Smith was back at the front, now with McCracken in 2nd and Brunton down to 3rd though they were still nose to tail. Kieren Preedy was a close 4th in the top group. Ryan Smith then led until the last lap and final corner when there was a sort out as McCracken half spun and Preedy went from 4th to 1st diving between Brunton who took 2nd and McCracken who recovered quickly as Smith was shuffled down to 4th. A second covered the top 4 at the line. Preedy won the race but Brunton extended his slim lead in the Cup. Race 2 Kieren Preedy led for a lap then James McCracken nipped past at the first corner on lap 2 and was never headed. Finlay Brunton sat on his tail through out he eased off on the last lap as 2nd was enough for Brunton to win the first C1 Cup. His main rival Ryan Smith was 3rd a second back, having demoted Preedy with just over a lap to go and beating him by 2 just car lengths. Thomas Denham took 5th having stayed close to the leading group for moist of the race. New champion Finlay Brunton said, ' I wasn't going to take any risks, 2nd was fine and the championship was mine'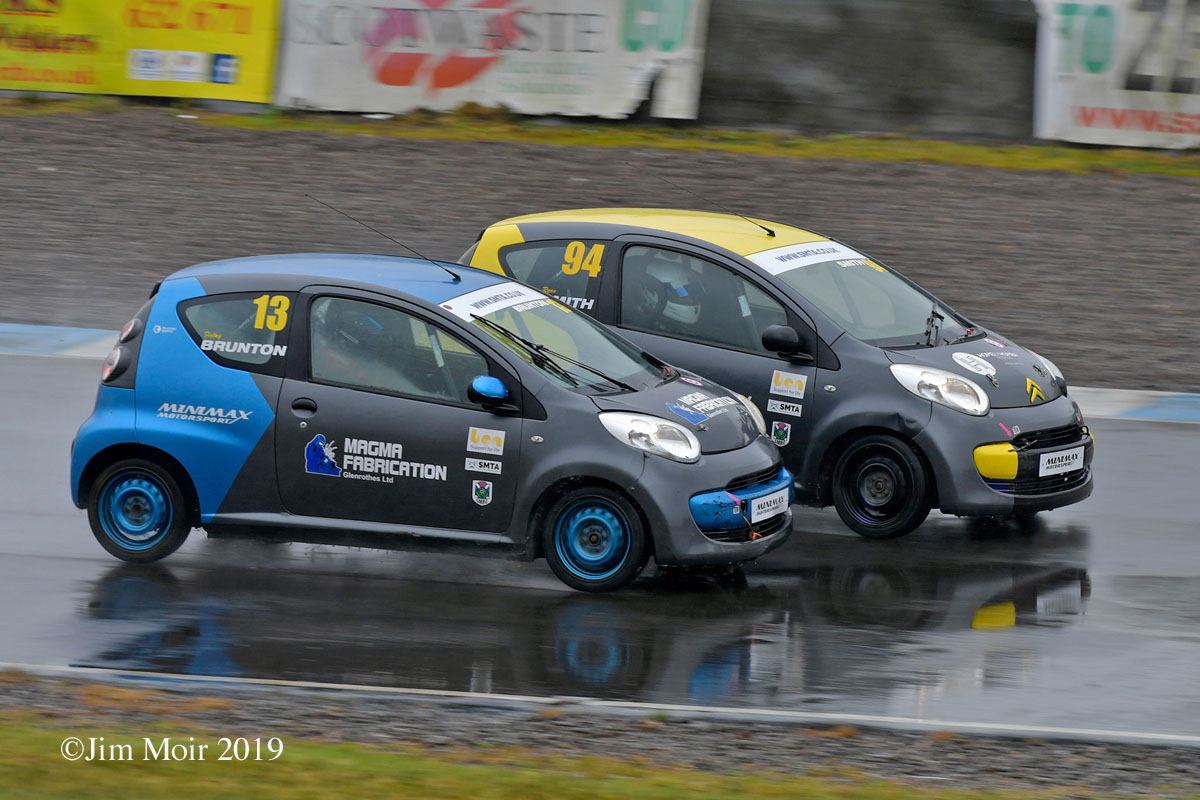 There were two Formula Ford 1600 single seater races. Both were won by new champion Jordan Gronkowski. He had some pressure from guest racer and former Champion Ciaran Haggerty. But in Race 1 Gronkowski ran away and on the wet track was 2 seconds clear by lap 4 and extended his lead to win by over 8 seconds. Neil Broome held 3rd all the way holding off Matthew Chisholm. In race 2 Gronkowski again led all the way, to be 8 seconds clear again at the end. Haggerty was untroubled in 2nd. Lady racer Logan Hannah grabbed 3rd at the start, having started quickly. But she spun half way round lap 1 and restarted 6th were she finished. Broome and Chisholm were 3rd and 4th again less than a second apart.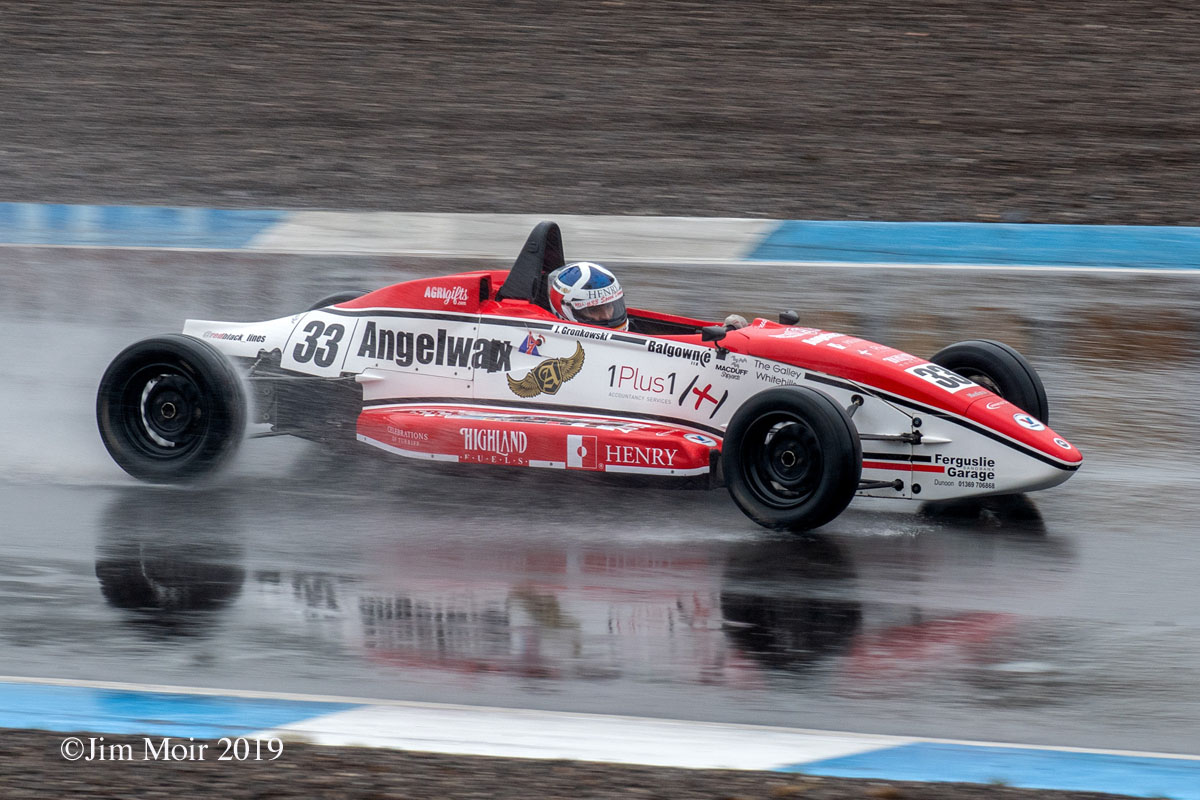 The combined Fiesta ST Cup, Mini Cooper S Cup and hot hatch – supported by Farmer Autocare – race saw a good grid of 11 Fiestas against 3 Minis and a solitary Ford Focus. The Mini Cooper S cars took 1st and 2nd after a fine battle between Champion Oly Mortimer and former Mini Cooper Champion David Sleigh. It was Sleigh who led for half the race as the Minis start behind the Fiestas, but power told and Sleigh led the race outright after passing top Fiesta ST of Jack Davidson on lap 4. Mortimer finally caught Sleigh and took the lead on lap 8. These two then stayed really close with Mortimer winning, though Sleigh tried to pass at the final corner and slid wide so Mortimer won by a couple of seconds. In the Fiesta ST Cup there were 5 drivers in with a chance of the Cup, the top 4 covered by 15 points, teenager jack Davidson had won 7 of 8 races but he'd missed 4 races so was 4th overall. But he raced away to win the Cup class again. Simon Smail took 2nd in Fiestas well ahead of Steven Gray while in 4th was veteran peter Cruickshank who still led the Championship. Race 2 Davidson led outright until lap 4 when Mortimer in his Mini went past. Sleigh chased through a few seconds later as he pursued Mortimer on the wet track. But he was a few seconds back dropping the time as they passed the Fiestas. He was still there in 2nd at the flag. Jack Davidson was again top Fiesta and won bit the St Cup class and the championship. He had been the quickest ST driver all year and won 9 races from 10 starts. 4th overall was the 3rd Mini Cooper S of Angus Tosh. Then a few seconds back came the STs. Steven Gray 2nd ST, then Russell Morgan held off Peter Cruickshank by less than half a second. But Davidson had become the youngest ST Cup Champion with Cruickshank runner up.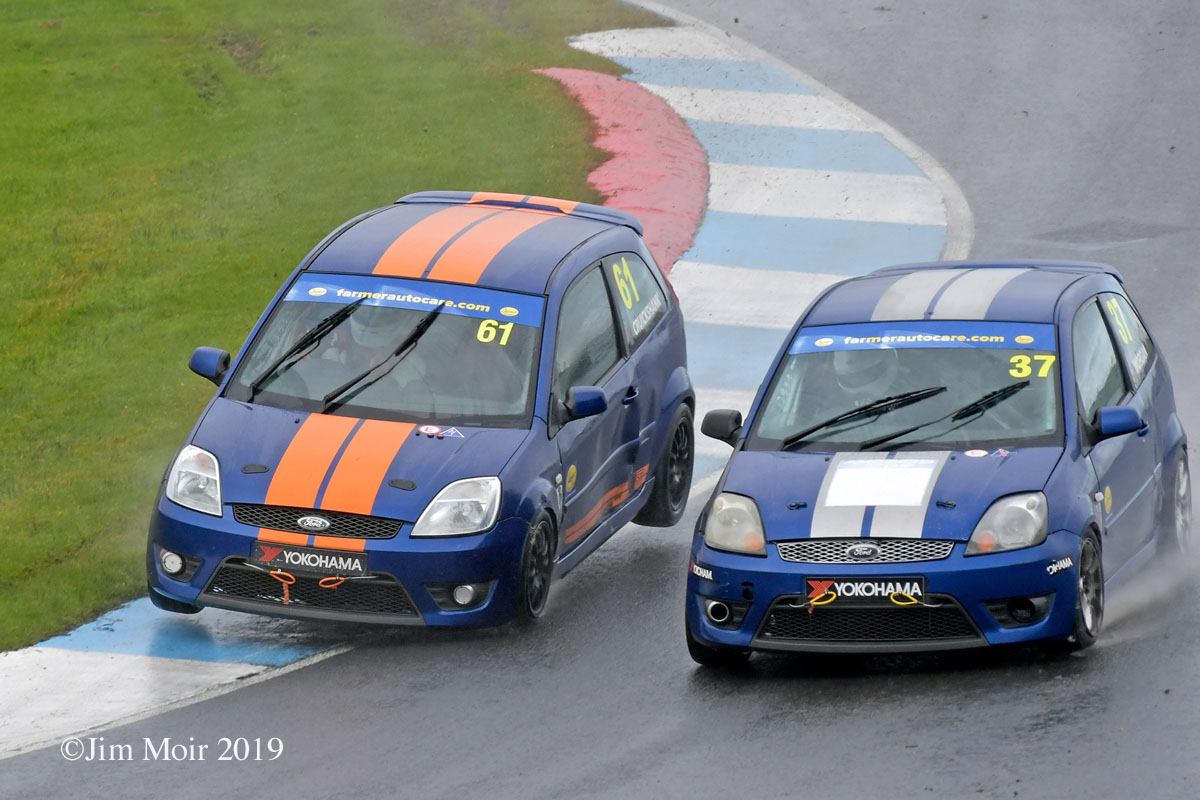 Scottish Classic Sports and Saloon Cars Championship had 3 drivers with a chance of the title. In race 1 John Kinmond led all the way in his big Rover SD1. He was well clear of Championship leader Bruce Mitchell's Lotus Europa. Behind him there was a good race long scrap between two Ford Escort Mk1 cars. Alasdair Coates held off Jimmy Crow. While defending Champion Alastair Baptie took 4th from Crow on the final lap in his MGB GT V8. Baptie had started last in the 16 car grid and the wet track made his progress through the field slower than he needed. In the XR2 class Peter Cruickshank returned for the day in his old car which he hasn't raced since 2012. It's now owned by Kristian Leith. Peter led all the way until the final corner when he slid wide, and Nick Forsyth nipped past to take the class win. In race 2 Kinmond led for 4 laps then Baptie took over and eased quickly away from the big Rover, which had power slides out of some corners. The two MK1 Escorts again fought all race, and both passed Bruce Mitchell who was taking no risks on his way to the title. Jimmy Crow led Alasdair Coates from lap 1 until lap 9 then Crow regained 3rd at the final corner on the last lap. Bruce Mitchell 's 5th and 3rd place in class was enough for him to win his first Championship in the Lotus. Further back Peter Cruickshank eased away from Nick Forsyth to win the XR2 class and the one off Martin Ramsay Trophy, awarded in memory of the current XR2 champion who passed away in August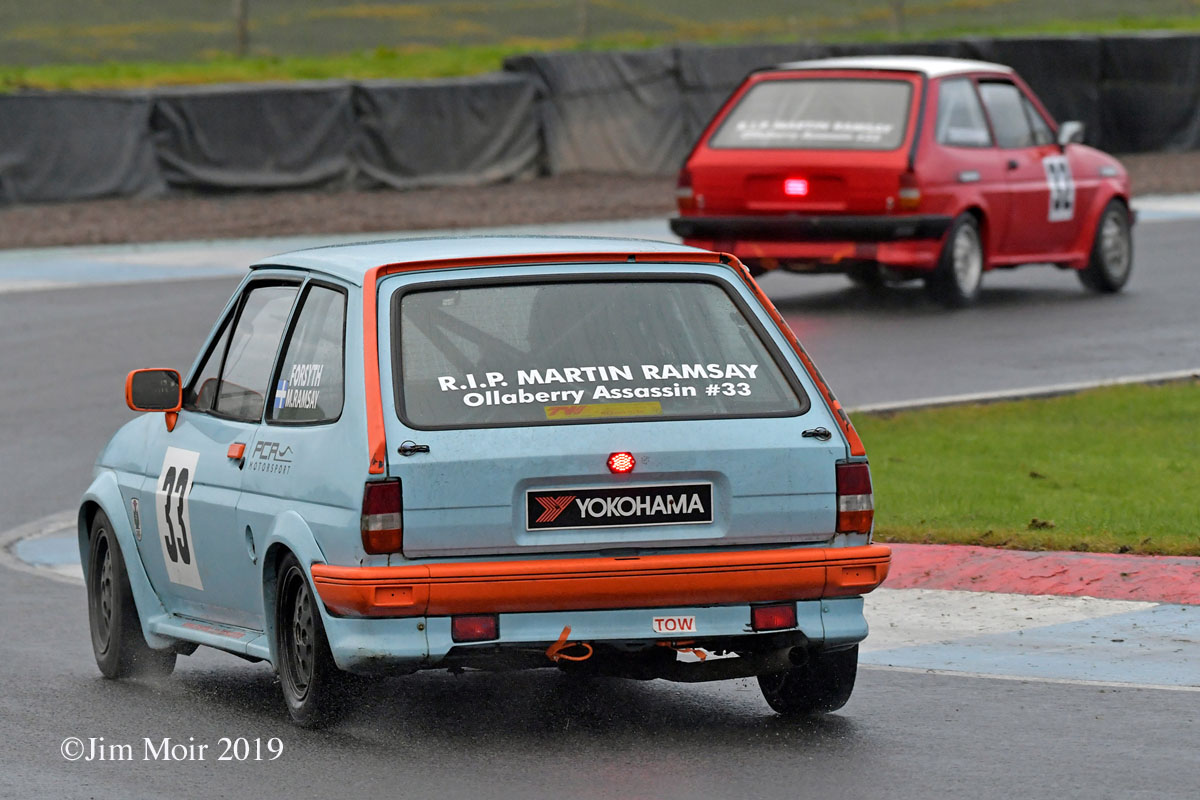 It was a busy race day which included a two car demonstration race at lunch time by two formula Libre single seaters; James Davidson won this race in his Formula Vauxhall Lotus from Graeme Craib in his Van Diemen F2000. The season finished with 16 races and over 100 cars competing. Almost all the Championship titles settled on the day went to first time Champions.
The points tables can be found in each of the championship pages, here.
Kevin Pick
SMRC