Knockhill, 23rd June
SMRC ran 16 races for a wide variety of cars at Knockhill on a dry cloudy day, 23rd June. There was also a demonstration of a 1992 Arrows Formula 1 car at lunchtime. Driven by its owner,  former Legends Car Champion John Paterson. He was having his first run in public in the fabulous F1 car, having only driven it the day before in testing. He looked like he was enjoying himself.
Celtic Speed Scottish Mini Cooper Cup had 3 races. Two victories for Robbie Dalgleish in races 1 & 3 and a 3rdth in race 2, sees him further ahead, in this hotly contested championship. Robbie has now won 9 of the 12 rounds run. But it was hard fought all the way.
In race 1 Dalgleish beat Michael Weddell the 2018 Newcomers Cup winner and currently 2nd placed in the Championship, by less than a second. Ian Munro took 3rd less than a second ahead of Vic Covey jnr. Behind the top four, 2 cars fought over 5th late on with former Champion David Sleigh taking the place on his first appearance on track this season. He was around a tenth of a second ahead of 6th placed Craig Blake at the flag. David Sleigh had qualified 2nd and led the race for a lap  on lap 3 after demoting early leader Robbie Dalgleish, then yellow flags bunched up the field and on lap 4 Sleigh went through the chicane sideways and dropped to 6th. In 7th was Ashleigh Morris, she started 13th so made good progress. Robbie led race 1 all the way, but was never more than a few car lengths ahead.
Race 2 was won by Michael Weddell from former Champion Vic Covey jnr, with Robbie Dalgleish 3rd. Weddell took the lead early on and stayed in front, pulling out over 2.5 seconds gap. Covey jnr grabbed 2nd on lap 4 and held off David Sleigh then Robbie Dalgleish.  Sleigh finished 4th with Vic Covey jrn in 5th less than a second down.  Vic jnr said , ' it was a wee bit of walking wounded , I was holding the gear stick with one hand. I fancied my chances but Michael (Weddell) got away. I thought I'd consolidate 2nd and it was plain sailing at the end as David Sleigh had Robbie attacking him'.
Robbie Dalgleish won a tough race 3, where he came from 3rd on the grid after the top 5 finishers from race 2 were reversed. He only grabbed the lead on the last lap, as others squabbled. He got clear to win by over 2 seconds, again from Weddell, who had to fight past former Champion David Sleigh on the same final lap. David Sleigh was 3rd with Vic Covey jnr 4th only half a second behind after a good scrap with Mark Geraghty, which saw them side by side under the bridge and at Duffus on lap 8. Then Geraghty went off at Leslie's but got home 6th.  Ian Bonthrone took his best finish of the day in 5th .
The Newcomers Cup class was won by Daniel Paterson in race 1, as Cup points leader Ian Bonthrone suffered some damage, but got home 2nd in class and 10th overall. In a patched up car Bonthrone then won the class in the next 2 races, and was a fine 5th overall in race 3. Ashleigh Morris took 3 wins in the Ladies Cup.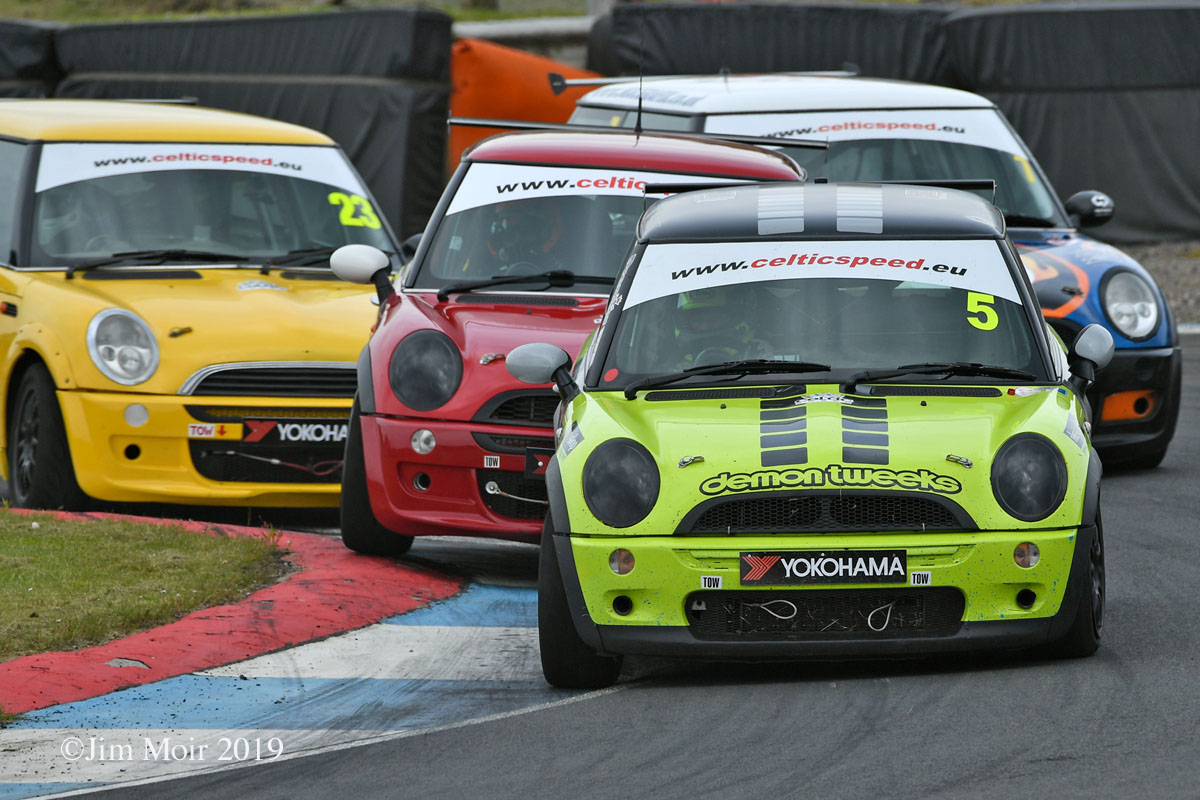 The Scottish Formula Ford single seater Championship, saw two dominant wins for a guest racer. Former Scottish Champion Neil MacLennan, he won the title in 2016 and now races in the UK national championship, came north for some fun and won both races. He didn't score points, so by finishing 2nd in each race, Championship leader Jordan Gronkowski again took maximum points. Jordan had to work hard for them in race 1, after chasing another guest Michael MacPherson, and finally getting past him late on. But he still had championship rival Neil Broome close and had been pressed by him all the way. Broome finished 3rd only 2 seconds back. MacLennan said, ' its good to be back, it's a long time since I've gone round the normal way, last year the nationals were on the reverse direction. We  thought we'd come up for a play, as there's a big gap to the next national round.' In race 2 it was easier for Gronkowski to score maximum points. He chased MacLennan all race, staying close until mid distance. These two drew away from MacPherson who was 3rd from lap 3 when he passed Broome. A pack of 5 cars scrapped over 4th with Kenneth Cowie taking 4th from Broome with 4 laps to go, and he then headed the train of cars over the last few laps. Post race Broome was demoted to 8th with a10 second penalty for track limits.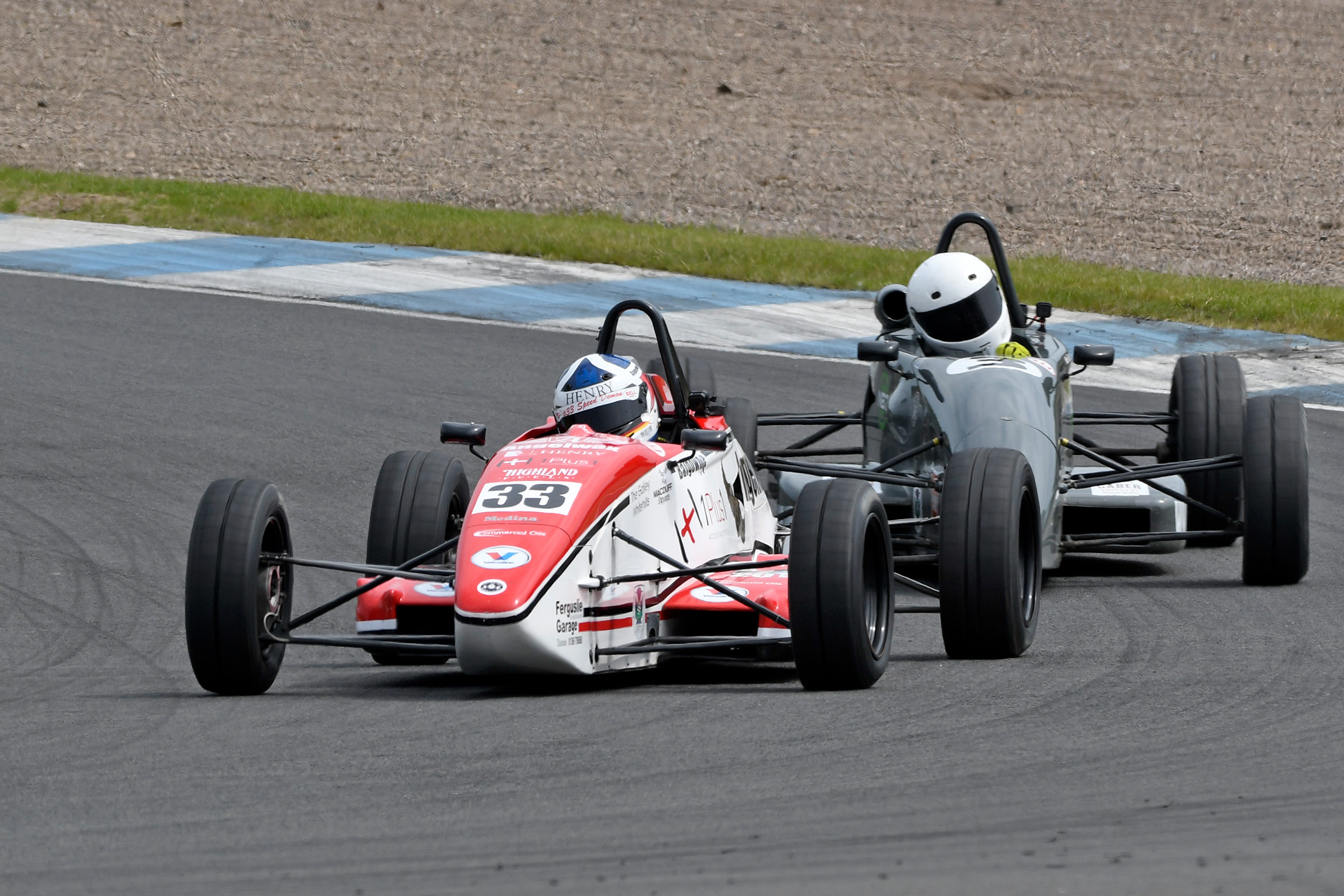 In the combined Scottish Fiesta ST Cup and Mini Cooper S Cup, Oly Mortimer again took two impressive wins. He maintained his unbeaten record at Knockhill in the class, which extends from April 2017.  These powerful Minis start 10 seconds behind Fiestas, but Mortimer was leading in both races by mid distance. In the Fiestas, with championship leader 17 year old Jack Davidson absent, we had a new class winner. Russell Morgan, who is 2nd in the ST Cup points, put in his best performances of the year to win the class twice. Race 1 he led the race outright until lap 6 when Mortimer went past. He was  eventually 4th overall behind 3 Minis, but held off a race long challenge from Fiesta ST of Lorn Murray in a lower spec challenge class car, to take the class by less than a second. Ryan Stirling was 3rd ST in 7th overall. In race 2 Morgan was 3rd overall, again leading until mid race, and this time Ryan Stirling was 2nd in STs just over half a second behind Morgan. Simon Smail took 3rd in Sts and 6th overall. In the Mini Cooper S class, well behind Edinburgh's Mortimer it was Stuart Buchan who was both 2nd in class, and 2nd overall in both races. A red flag stopped the race on lap 11 with so results were taken from lap 10 as John McGladrigan had put his Cooper S into the rectocell barrier at MacIntyres when running 5th.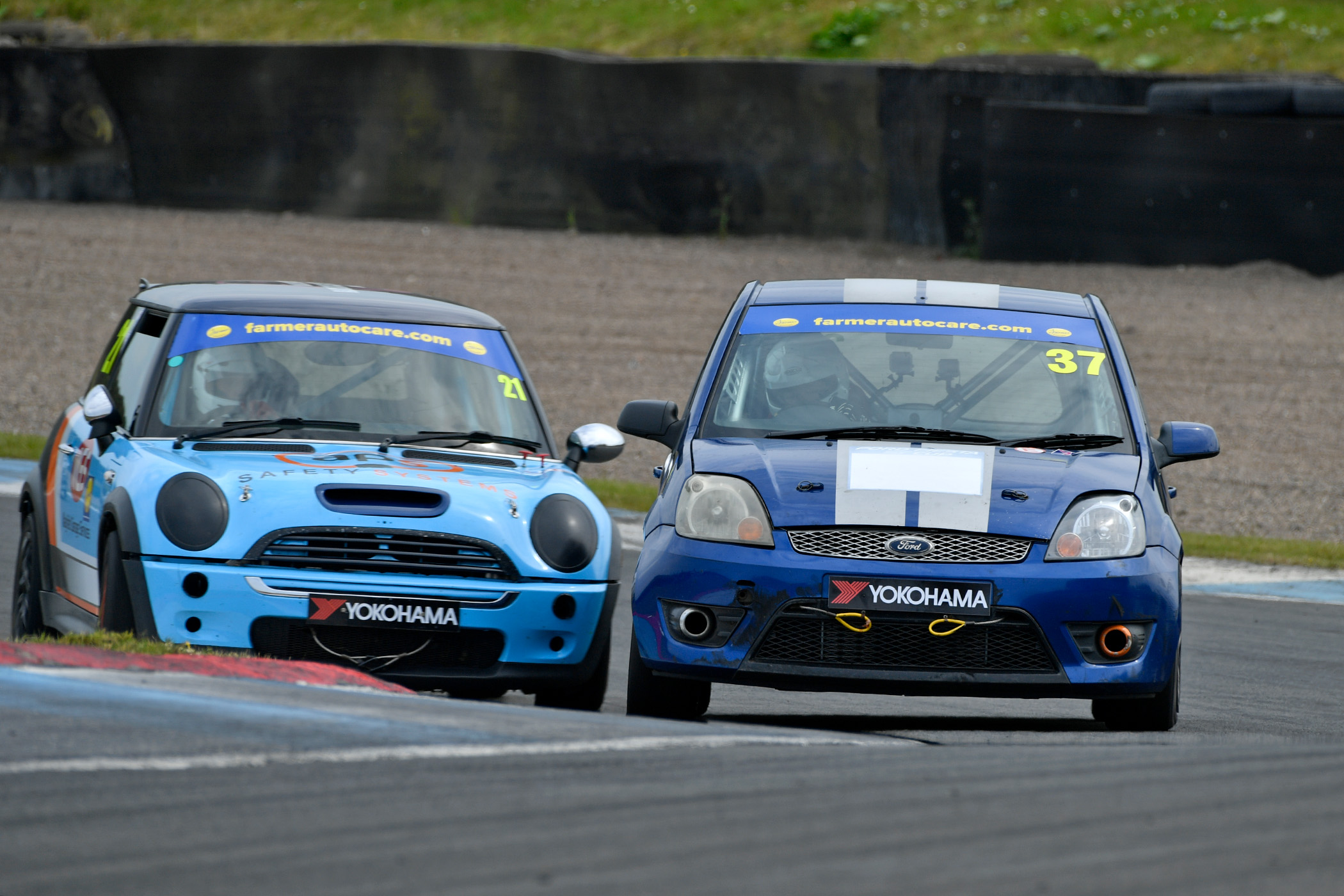 In the new SMTA Citroen C1 Cup, the number of cars is growing. In the 2nd meeting of the year 14 cars raced in May, and this had grown to 18 cars for this meeting, with the majority being novice racers.  Race 1 saw Paul Donkin an experienced visitor from down south win on the road, having led all the way. But he was then disqualified for a technical infringement. This gave the win to Kieren Preedy from Finlay Brunton, who won race 1 of this new Championship.  Edinburgh based Thomas Denham took a fine 3rd his best result so far, after a 10 lap race. Denham was 5th on the opening lap, then got to 3rd on lap 2, only to lose a place and run 4th from lap 3 on the road. But like all finishers went up a place due to the race winners exclusion.  In race 2 Finlay Brunton led until just after half distance, then guest Lewis Grant went past and led until the chequered flag. Grant won by just under a second. He had been 4th in race 1, but started well and ran 2nd then first.  Four cars scrapped over 3rd which went to Colin Main from Kieren Preedy, as several cars swapped places on the last lap in this group.  Main had started 7th and said, ' It was great, my 2nd outing in the car. It was mega busy out there and I wasn't expecting to get on the podium.  I'm delighted.' Thomas Denham had a hesitant start and was swamped on the grid. He got home in 8th.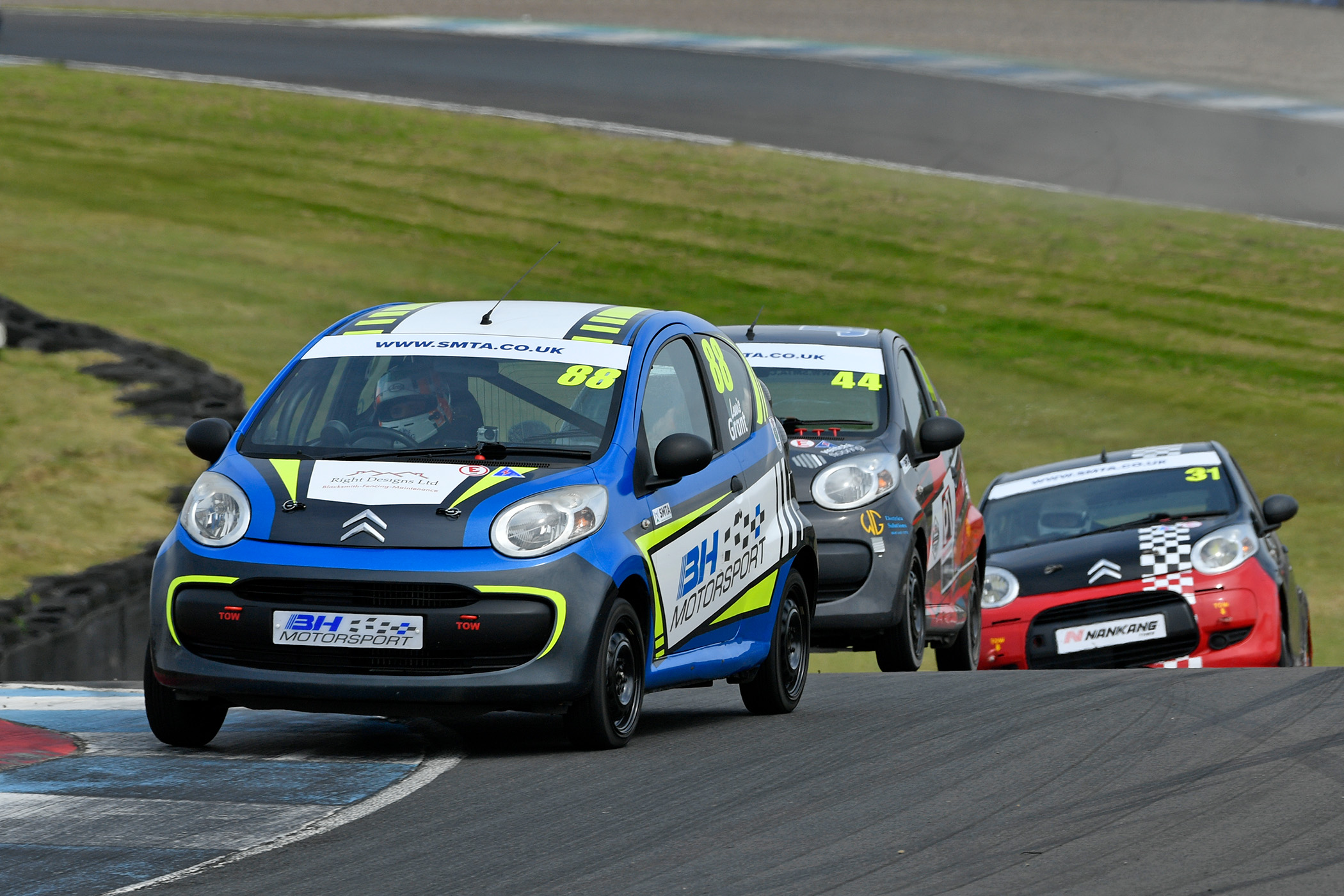 Scottish Legends Cars Championship had lots of action packed racing, and more overtaking than any other race. Though the grid was smaller than usual the racing was good. Legends Cars grids are drawn at random for heat 1, but reversed in heat  2. Then in the Final the day's top points scoring cars start at the back of the grid. The day belonged to former multiple Champion John Paterson, who did that rare feat of winning all 3 races. He said he was buzzing after the final, in a day that saw him win 3 races and drive his F1 car on demonstration laps at lunchtime.  Heat 1 he started 4th and led the race by the first corner. He was never troubled and won easily. Dave Newall ran second from lap 2 and held off defending Champion David Hunter's late challenge, as they finished just over 2 tenths of a second apart.  Duncan Vincent took 4th just ahead of Steven McGill.  Heat 2 Paterson started 6th, but it was Dave Newall who led the race from David Hunter. Paterson didn't take 2nd until lap 5, then grabbed the lead on the next lap, before holding off a determined Dave Newall for 2 more laps to win by less than 3 tenths of a second at the line from David Hunter who had Newall on his bootlid. Steven McGill came 4th less than a second behind. In the 10 lap final Paterson started 10th. He was only 6th by lap 2 as race commentator Duncan Vincent led the race from the start. It was not until lap 5 that Paterson overtook Vincent and led the race. He then built up a useful 2 second lead, which was enough for him to get a hat trick of victories. Duncan Vincent held onto 2nd as he headed a 5 car group all running nose to tail, with David Hunter coming 3rd right on his bumper at the chequered flag. Guest driver James Hall-Morton took 4th  2 tenths of a second back, and he just held off Steven McGill.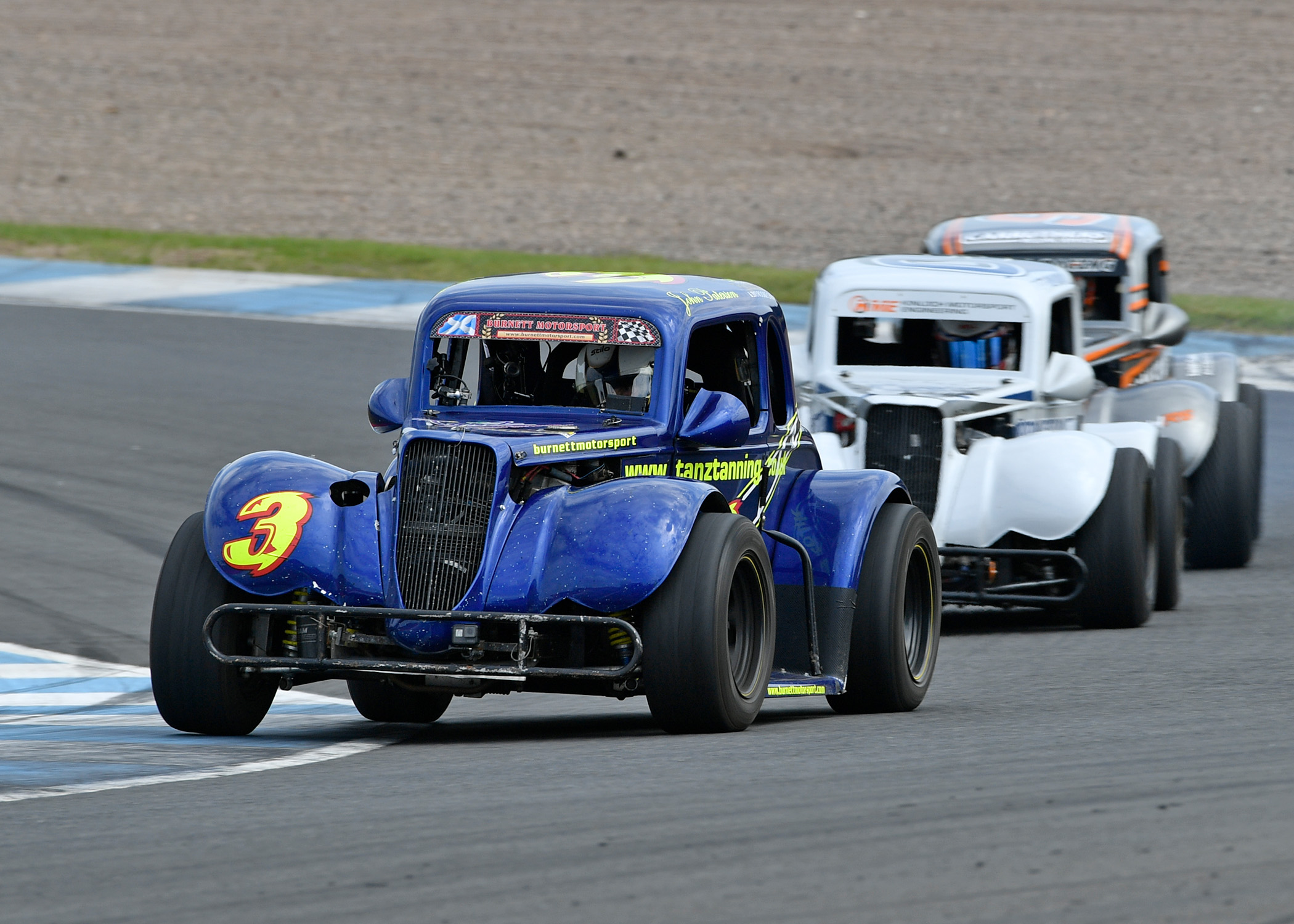 In the Scottish Saloon and Sports Car Championship it was two different winners. Race 1 Ron Cumming came out for his first race of the season at Knockhill with his Nemisis Kit Car. Despite losing the rear engine cover mid race at the chicane, he won as he pleased over the 12 laps from former Champion Paul Brydon, with his ex Scandanavian BMW M3 touring car.  David Headen took 3rd with his well driven Caterham R400 sportscar, though racing as a non points scoring guest. In 4th was former Champion Andrew Morrison, his Seat Cupra saloon which started slowly. But Morrison fought up from 7th on lap 1. He benefitted from Robert Drummond retiring late on as his Escort Cosworth which had been 3rd.  Scott Tollan limped his smokey Escort Cosworth home in mid field, though he retired in race 2 with more smoke coming from the car.  But in Race 2 Cumming didn't start, so Brydon led all the way and was never troubled. David Headen took a lonely second, as Morrison fought through into 3rd passing Championship leader William Robson's Focus RS on lap 3. Robson finished 4th and won his class, while Morrison in a different class set a new class lap record. Lowell Forsyth was a good 5th with his Lotus Exige. He started well and got into 3rd after starting 6th. Then dropped two places on lap 2 to Robson and Morrison, he stayed with them for a couple of laps but power told, and his race was lonely late on.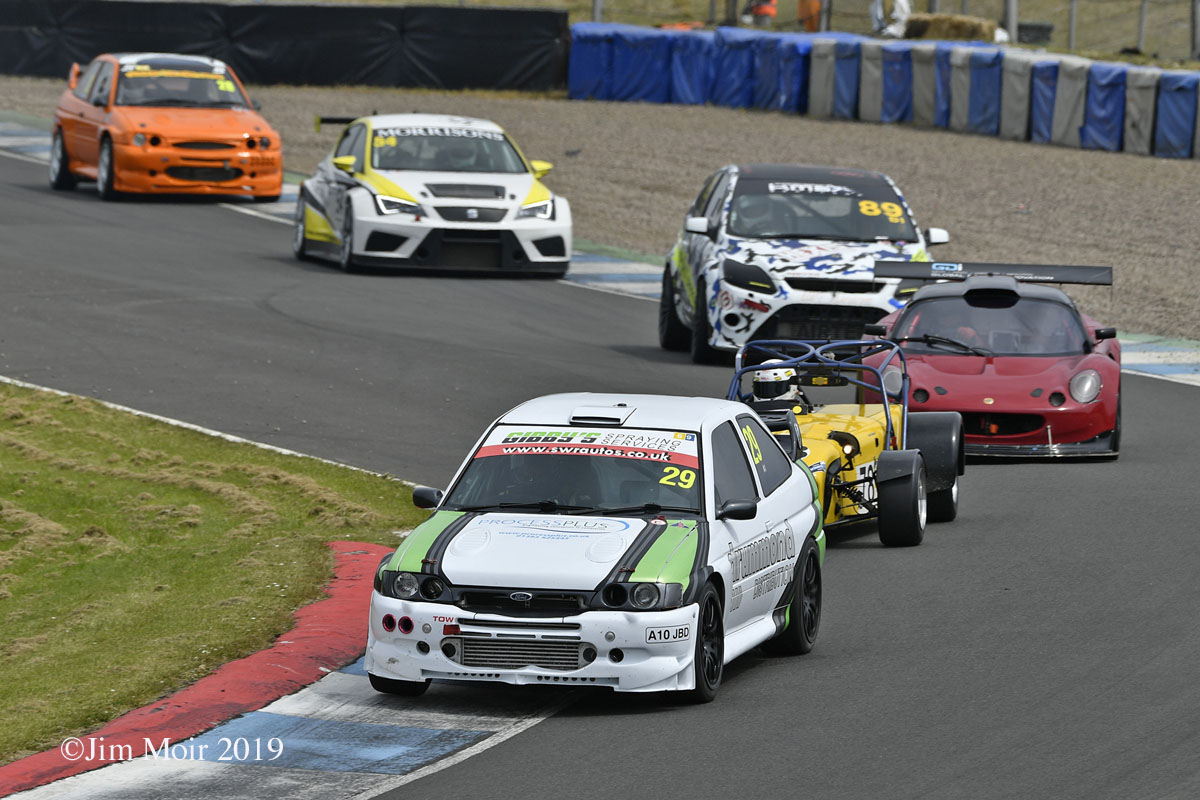 Scottish Classic Sports and Saloons Championship saw two wins for the 1973 MGB GT V8 of Alastair Baptie, which has a 3.9 litre engine. He started last on the grid in race 1 after qualifying problems. But blasted past over half the 13 car grid by the first corner. He was 3rd until lap 5 when he demoted Bruce Mitchell's Lotus Europa sportscar, then he chased race leader John Kinmond's big Rover saloon. Baptie was leading by lap 9, and eased away for a win by just under 2 seconds, as Kinmond took 2nd In 3rd came  Mitchell's Lotus. Mario Ferrari was 4th in his Alfa Romeo Coupe, and won class A for up to 1500cc cars. In race 2 defending Champion Alastair Baptie won in his MGB GT V8, after leading from the front and he was well clear, as John Kinmond held off early pressure from Mitchell's Lotus,  before pulling away to take 2nd in the Rover. Mitchell was a comfortable 3rd with Mario Ferrari again 4th. William Conway had trouble with his Mini 1275 GT, which didn't start race 1. Then he shot through the field in race 2 going from 12th to 6th by lap 3, but he slowed next lap and then retired. He had been 2nd in the championship after May's races.  We also saw two other Lotus cars race mixing it in mid field. Craig Houston's Excel chased Michael Longstaffe's MG Midget in race 2 as they were 5th and 6th. Andrew Kinmond retired his Espirit mid distance in both races, after some spirited driving in the 70s icon. In the Ford Fiesta XR2 class, which joined Classics this season, and is now in its 24th year in Scotland, it was Jimmy Crow who just won the class in race 1 from Gary Taylor. It was Crow's first XR2 race, he has spent years racing a MK1 Escort, so he kept with the Ford family. In race 2 he lost the class lead on the last lap to Duncan O'Neill, having swapped places a couple of times with O'Neill who leads the class on points, and took 4 class wins in the first 4 races of the year.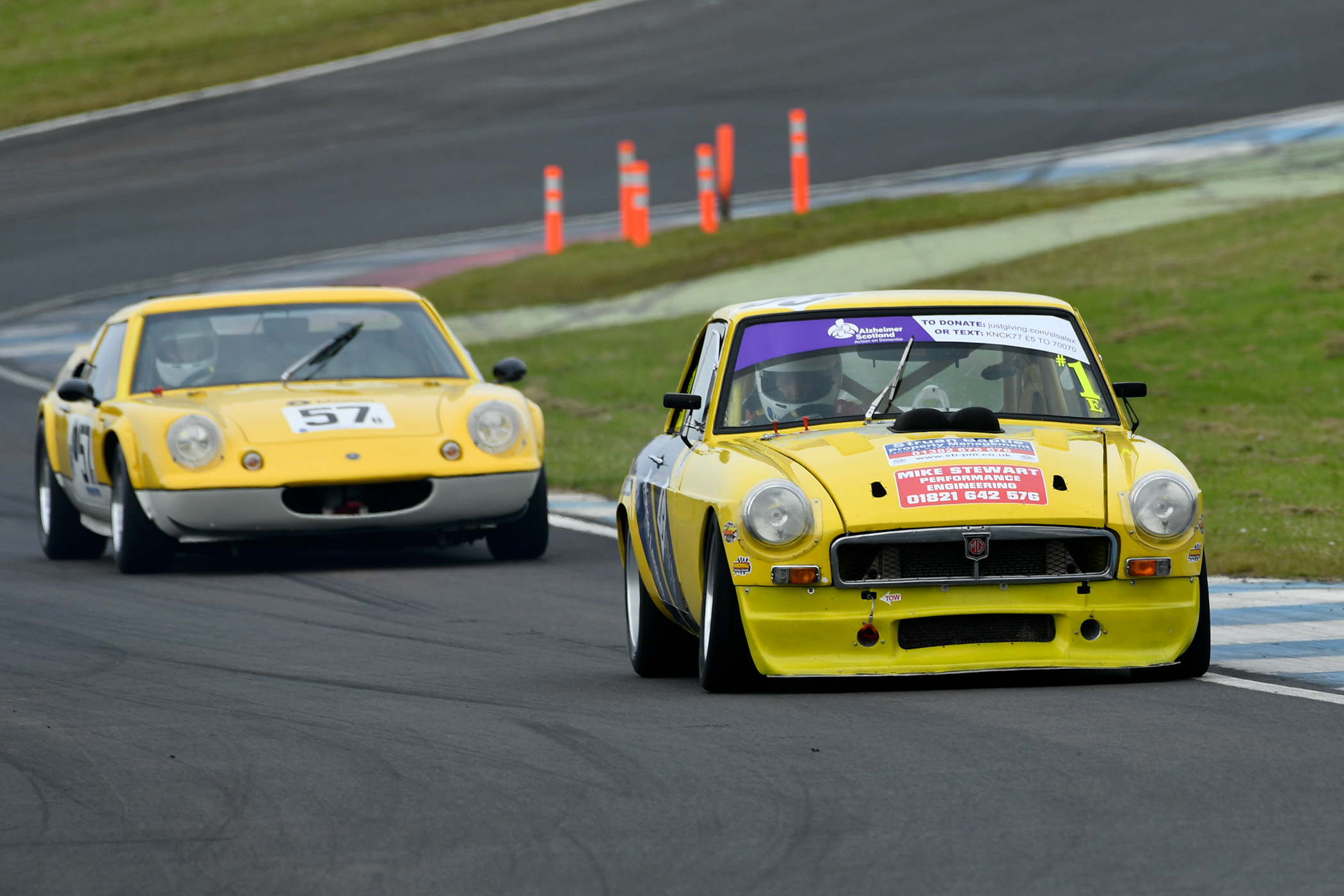 Kevin Pick