Knockhill  20/21 July 2019, Scottish Championship Car Races and UK national kart race reports
Scottish Motor Racing Club car race meeting, Scottish Championships on the Knockhill clockwise circuit, celebrating 50 years of Formula Ford in Scotland
SMRC ran a packed programme of 26 races for a wide variety of cars and karts at Knockhill over the weekend. There were races for UK national karts, and a packed grid for 3 races of the Saloons and Sportscars who were joined by eleven Irish Global Light Sportscars. While the 3rd Formula Ford single seater race celebrated the life of the late Scottish Touring Car star and International GT racing driver David Leslie, with the annual race for the David Leslie trophy. There was also a gathering of former Scottish Formula Ford champions, during the Grid walk for the David Leslie Trophy race, to celebrate 50 years of the Scottish Formula Ford Championship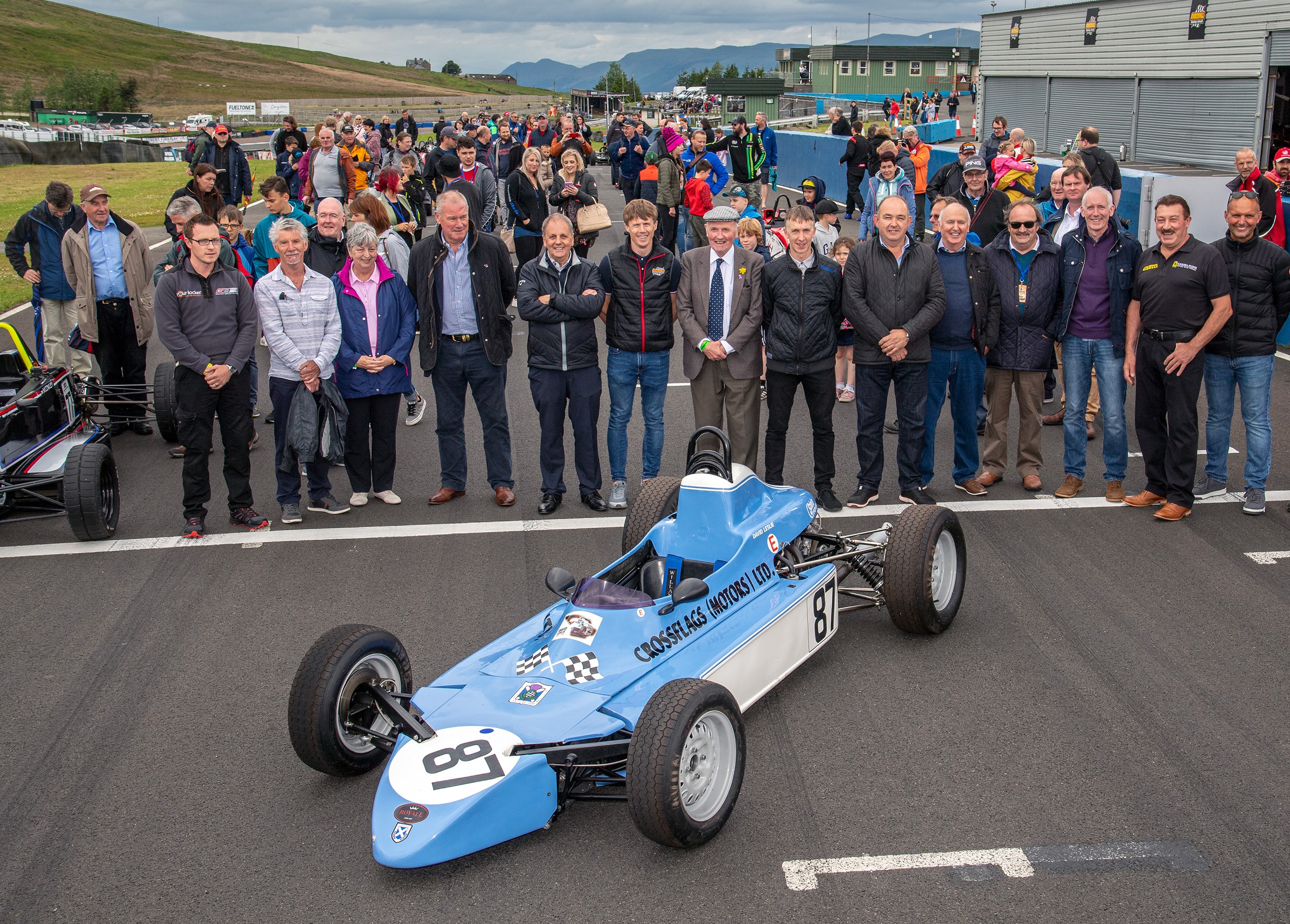 The club ran 6 races on Saturday with 20 on Sunday as the weather turned to light rain in the late afternoon. Sunday also played host to the clubs first ever Ladies Day, which gave over 50 women the opportunity to visit the event and get behind the scenes tours highlighting how they can get started in motor sport; be that as a driver, marshal or scrutineer. We also welcomed East of Scotland Kart Club to the event, who's cadet and junior members put on an impressive karting display around the tri-oval during the lunch break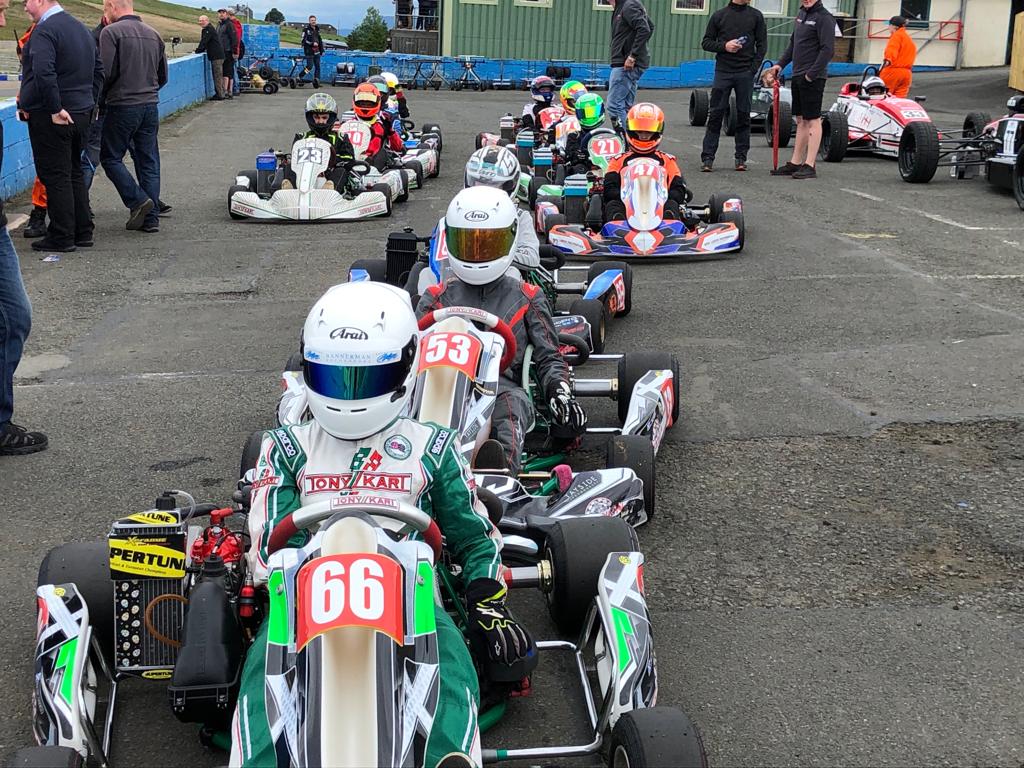 Celtic Speed Scottish Mini Cooper Cup had 3 races. Championship leader Robbie Dalgleish was not racing, so the other top drivers closed the points gap. We had three different race winners. Michael Weddell won race 1 leading all the way and never being more than half a second ahead of Ian Munro. A safety car period bunched the field up later in the race,  but Vic Covey jnr held onto 3rd as 4 cars battled behind him led by Mark Geraghty. Race 2 Ian Munro led all the way and won easily for his first win this season. He opened out over a 2 seconds lead late on, as 5 drivers scrapped over 2nd. Geraghty took 2nd as Vic Covey fell from 3rd to 5th at the last corner the hairpin, while Craig Blake grabbed 3rd having started 7th.  In race3 Vic Covey jnr also took a first win of the year, having been 3rd on lap 1 he fought to the front before mid distance, and held on to the lead despite lots of pressure. Michel Weddell took 2nd with 3 laps to go, and Craig Blake was 3rd with Ian Walsh a close 4th.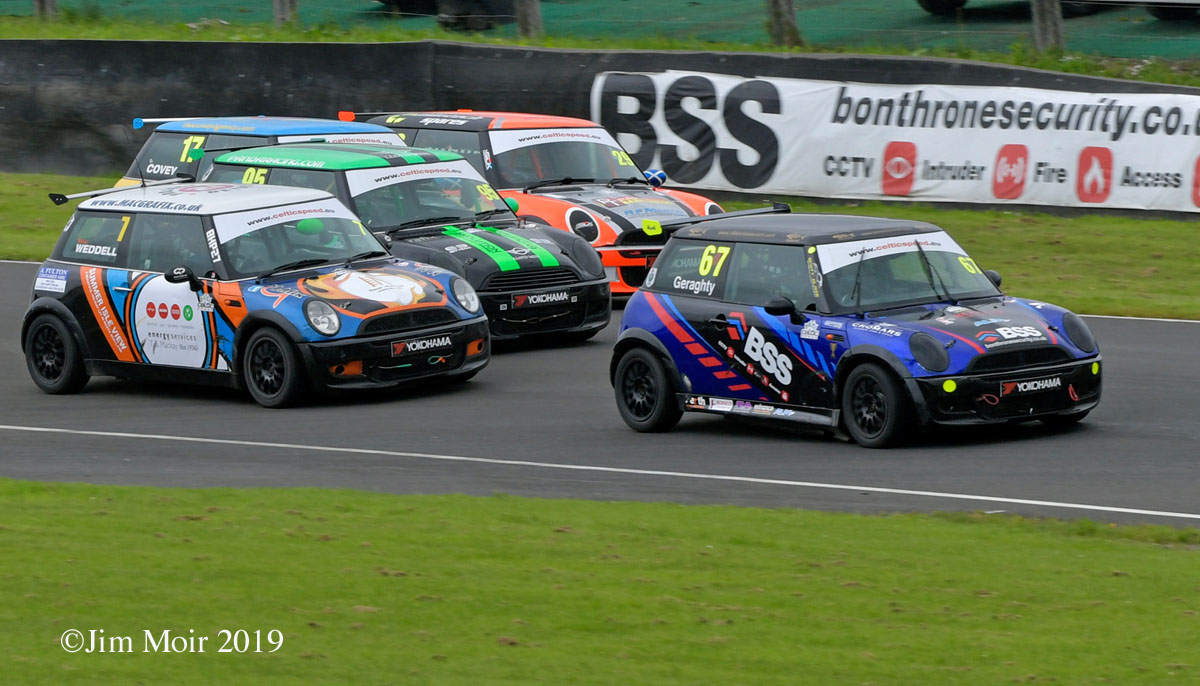 The Newcomers Cup class was won points leader Ian Bonthrone in races 1 & 3, with Neil Methven winning the class in race 2.  Ashleigh Morris took 3 wins in the Ladies Cup.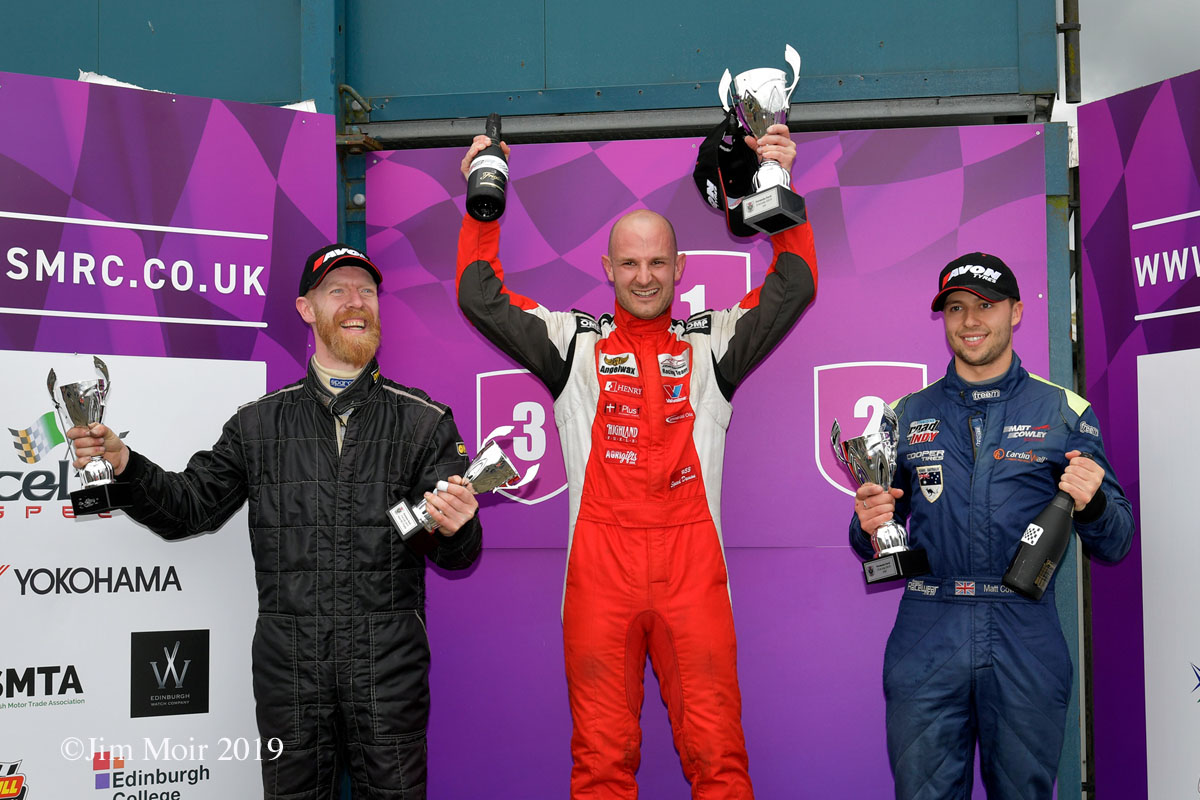 The Scottish Formula Ford single seater Championship, had 3 races. At lunchtime there was a grid walk for spectators amongst these cars, and many previous champions were invited to the meeting, which celebrated 50 years of these 1600cc Ford engine cars racing in Scotland.
The 3 races saw two wins for a guest racer Matthew Cowley, who now races an Aston Martin in the National GT Championship, but had raced these cars in Scotland some years ago.  As a guest, he didn't score points, so by finishing a close 2nd in each race, Championship leader Jordan Gronkowski took maximum points. Neil Broome took 3rd  in all 3 races. The final race for the prestigious David Leslie Trophy was won in dramatic style by Jordan Gronkowski who was almost jumping out of his car on the slowing down lap, as he waved and punched the air in delight. Cowley led by a few car lengths until the final lap when less than half a mile into the lap he ran wide, going off the road at the 3rd corner , which let Jordan Gronkowski dive past him and go on to win. Cowley got back on track to be 2nd.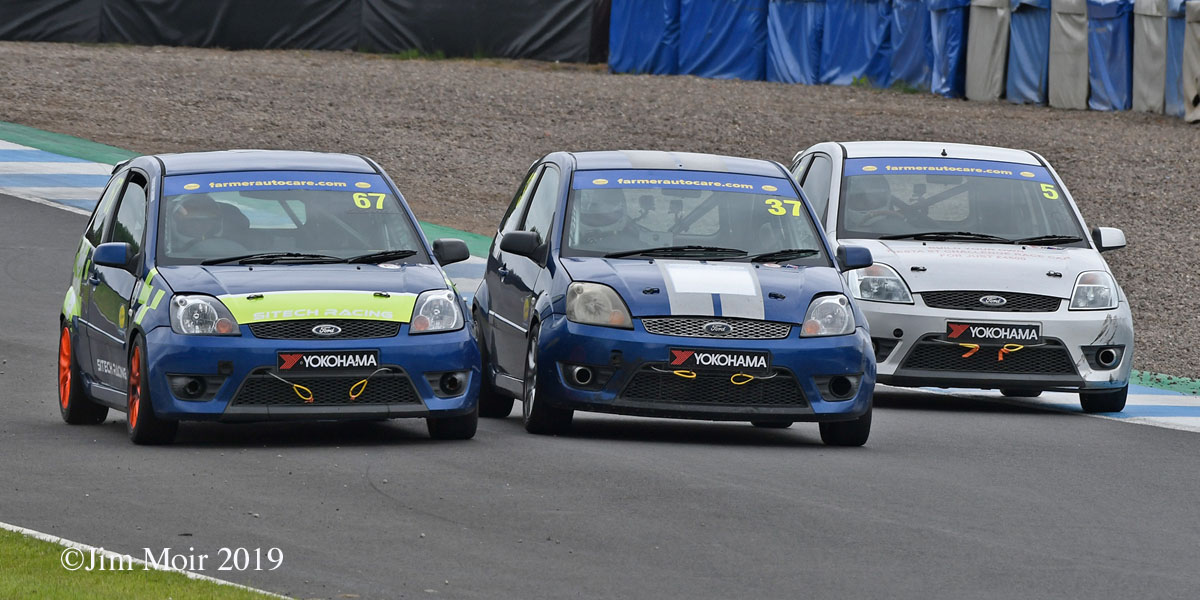 In the combined Scottish Fiesta ST Cup and Mini Cooper S Cup, Oly Mortimer again took three impressive wins. He maintained his unbeaten record at Knockhill in the class, which extends from April 2017.  These powerful Minis start 10 seconds behind Fiestas, but Mortimer was leading in both races before mid distance. In the Fiestas with championship leader Jack Davidson absent, we had a  fine hat trick of wins by Stewart Scott who hasn't won an ST class for several years. Today was his day. In race 1 early leader Ryan Stirling was tagged at the hairpin and went into the gravel trap and rolled his car. Newcomer Simon Smail who was right with him dropped back.  Stewart Scott took over the class lead and held it all the way to the chequered flag. While Smail held of veteran Peter Cruickshank, but they both went off and on the track together on the last lap, before Cruickshank grabbed 2nd in class with less than a mile to go. Race 2 Stewart Scott has Cruickshank chasing him all race and they were never more than a second apart. Smail took 3rd heading a 3 car group. In the last race, Stewart Scott led the race in the rain and then the ST class as Oliver Mortimer in his Mini Cooper S passed him before mid distance. Scott clear by mid race as Cruickshank and former XR2 champion Stuart Gray fought over 2nd and swapped places a couple of times, before Gray secured 2nd with just over a lap to go. The Mini Cooper S class and 3 outright race wins were all won by Oliver Mortimer, who was miles clear. He did the final wet race on slick racing tyres and showed exceptional car control sliding the Mini about, and winning as he pleased. Stuart Buchan took the runner up spot in the Mini class in each race.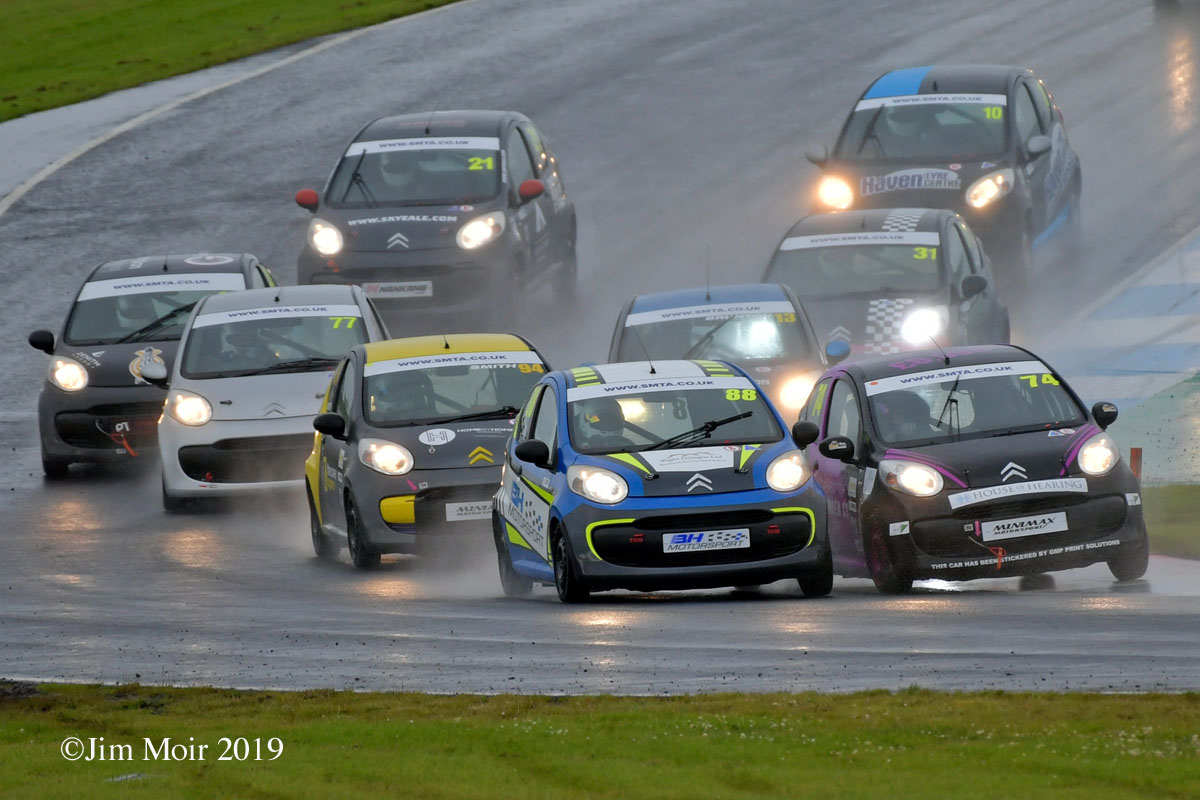 In the new SMTA Citroen C1 Cup had 15 cars, with most drivers being novice racers. Race 1 championship leader Ryan Smith led all the way and eased clear of Emily Glanvill who had two cars right with her. On the last lap at the final corner Emily Glanvill lost two places to finish a very close 4th but Ross Dunn and John Duncan beat her by inches, as the cars finished 3 abreast. In race 2 Ross Dunn led as Ryan Smith was slow away and fell to 4th by the first corner.  Five cars ran nose to tail at the front of this race. Then after a mid race safety car period to allow marshals to retrieve a car that had gone off the road, Finlay Brunton who was 5th dropped off the leading bunch.   John Duncan took over the lead on lap 6  but with a lap to go Ross Duncan regained the lead, and won this 10 lap race by a tiny margin of a quarter of a second from John Duncan. Emily Glanvill had her first podium finish with a good 3rd, just a second back.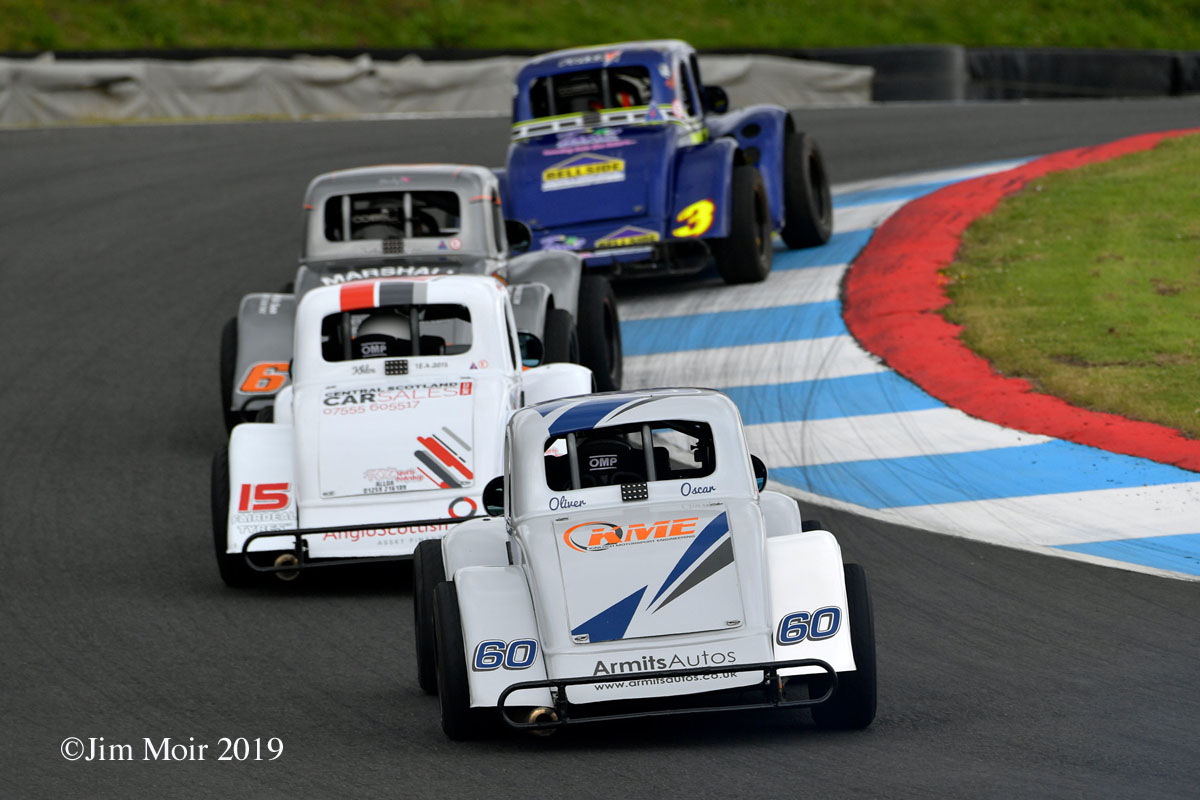 Scottish Legends Cars Championship for small race cars with 1250cc motorcycle engines has lots of action packed racing. Legends Cars grids are drawn at random for heat 1, but reversed in heat  2. Then in the Final the day's top points scoring cars start at the back of the grid. The day saw three different race winners. Heat 1 went to John Paterson who grabbed the lead from defending champion David Hunter with 2 laps to go and just beat Hunter to the finishing line. There had been 5 cars running nose to tail at the front. David Newall had been 4th but took 3rd at the final corner on the last lap as Steven McGill ran wide and fell to 5th behind Stewart Black .  Heat 2 David Newall led all the way and won by a huge distance for Legends or just over 4 seconds. David Hunter chased him home holding the gap steady from lap 2 when  a couple of cars went off including former champion John Paterson. So Michael Paxton took 3rd  after Stewart Black retired with a puncture. In the 10 lap final Steven McGill led until lap 3 when Paterson took over at the front. But David Hunter was going well and after starting 10th he moved through the field and was 2nd by lap 7. He closed a second gap to Paterson and took the lead on lap 9, then eased clear as Paterson was under pressure from McGill, who finished a close 3rd.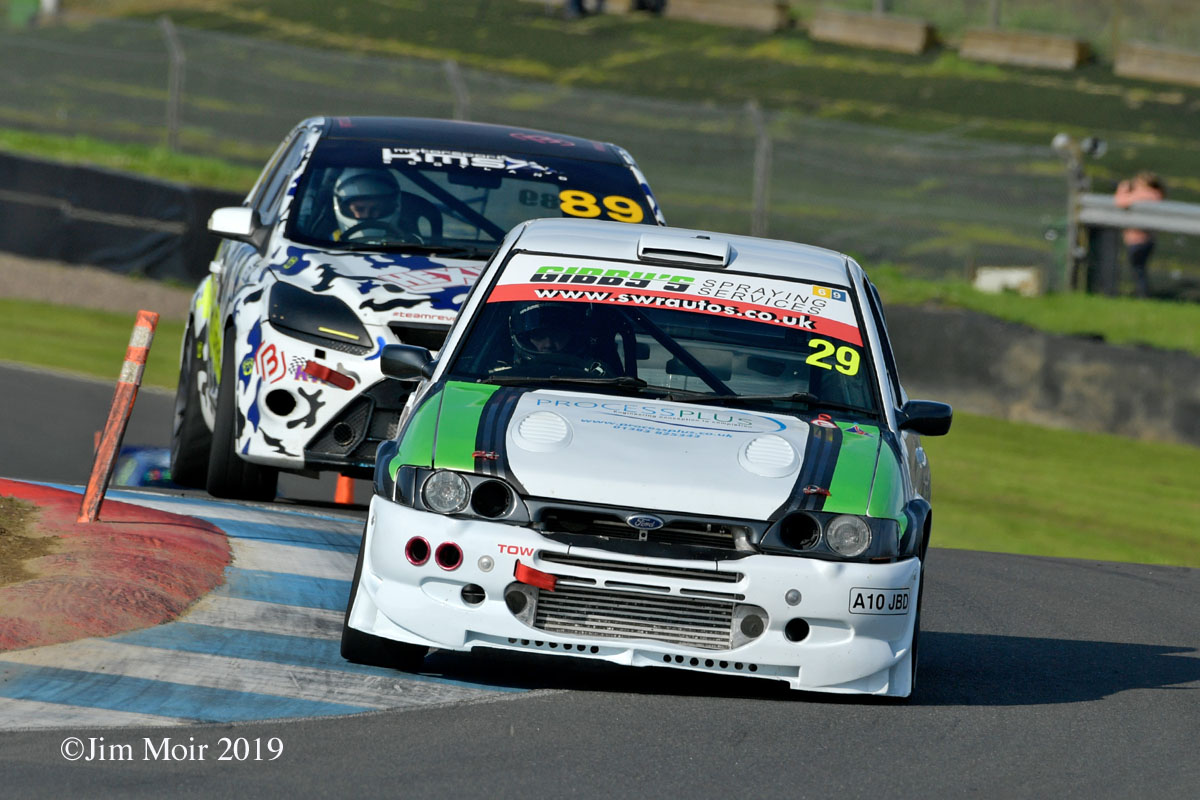 In Scottish Saloons and Sports Car Championship there was huge 29 car grid. Andy Forrest in his newly acquired radical sports racer chased early leader Ron Cumming's kit car. They were close then Forrest was hit by a slower car at the hairpin as he lapped it on la 6 and he spun, restarting 5th. Leader Ron Cumming stopped on lap 9 so Paul Brydon then led in his BMW M3 but only for a lap. He was soon passed by Greig MacArthur in a Radical , then a safety car period bunched up the field as 2 cars had gone off the road. When racing resumes after the safety car pulled in Andy Forrest closed on MacArthur and regained the lead with just 2 laps to go. He took a good win in his new car. Paul Brydon took 3rd and was first saloon home, ahead of David Headen's Caterham sportscar.  In the Golfmech Global GT Lights class, 11 of these small open sports racers battled having started after the main grid. Conor Farrell won from James Thompson after a keenly fought race, where 4 cars ran close at the front for much of the race.  Race 2 Forrest led all the way, as Ron Cumming who started 11th fought past the other cars and was 2nd by lap 5, demoting David Headen at the first corner. He eased away from Headen, but Forrest was well up the road and wasn't going to be caught. MacArthur came up into 3rd mid race in his Radical leaving Headen 4th. Top saloon was Championship leader Will Robson in his Focus RS in 5th. Race 3 Cumming led from the start and was never headed. He was  well clear when a safety car period closed up the field as they followed the safety car. MacArthur took 2nd  with  David Headen's Caterham 3rd as the race finished behind the safety car, as a car as still off the road and in the barriers at the 3rd corner.  The Global Lights battled hard in races 2 & 3  with 4 or 5 cars disputing the class lead. Connor Farrell won race 2 from Jake Bryne while in race 3 it was Jake Bryne who won the class from Peter Dreennan. They were close finished s each time.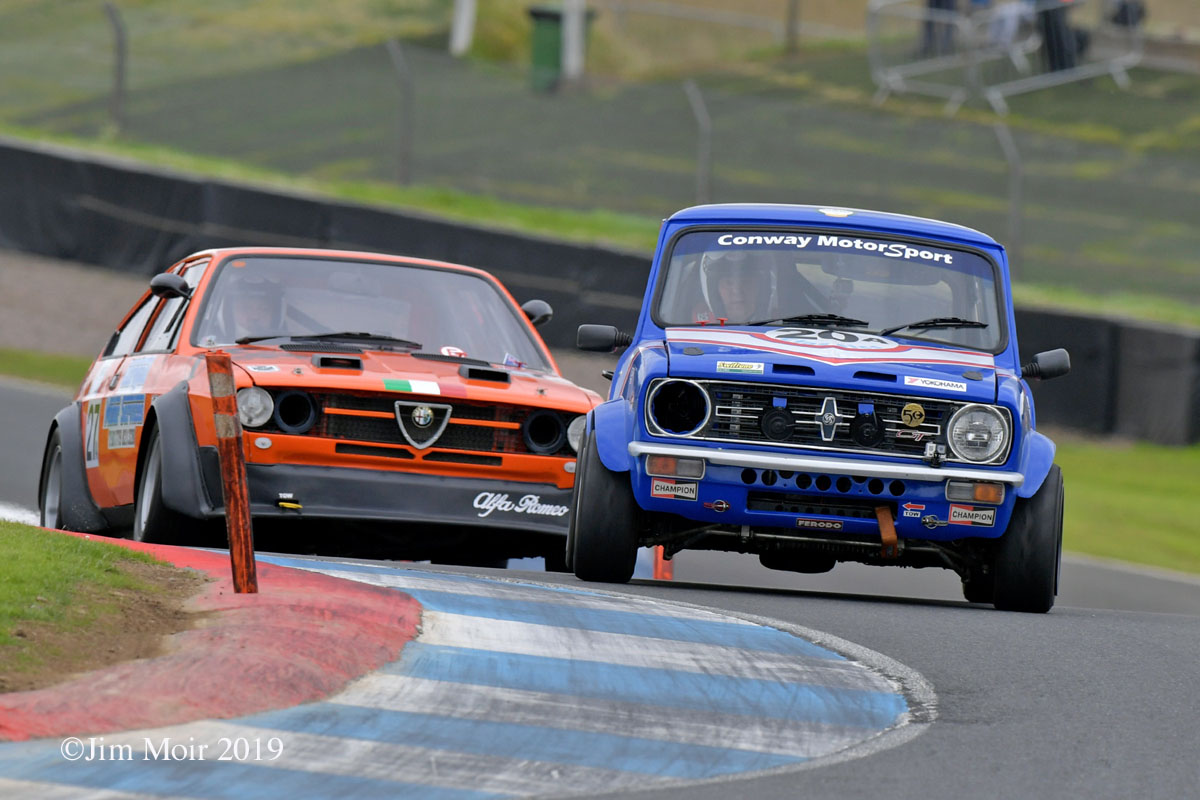 Scottish Classic Sports and Saloons Championship saw three wins for the 1973 MGB GT V8 of defending champion Alastair Baptie. Race 1 he chased the big Rover SD1 of John Kinmond. The Rover led for 5 laps before Baptie blasted past and ran away to win. Kinmond finished 2nd well ahead of the Lotus Europa of Bruce Mitchell. Craig Houston took a good 4th with his Lotus Excel. Race 2 Baptie led from the start and was miles clear by the flag. John Kinmond failed to start so Bruce Mitchell held 2nd all race . The fast Mini of William Conway started quickly and was 3rd early on before class rival Mario Ferrari went past in his Alfa Romeo Coupe. They finished in this order. Race 3 Baptie again led all the way. John Kinmond started 9th but was in 3rd on lap 1 with his Rover and demoted Bruce Mitchell a lap later. He then pulled away from the rest in a safe 2nd. Mitchell dropped to 4th behind Craig Houston's Lotus but regained 3rd at the hairpin on lap 5. Houston dropped back to 5th on lap 7.  Mario Ferrari had moved up after spinning with Conway's Mini on the opening lap he recovered well. Mario Ferrari put pressure on Bruce Mitchell late in the race as the rain helped his front wheel drive Alfa Romeo keep up with the light Lotus.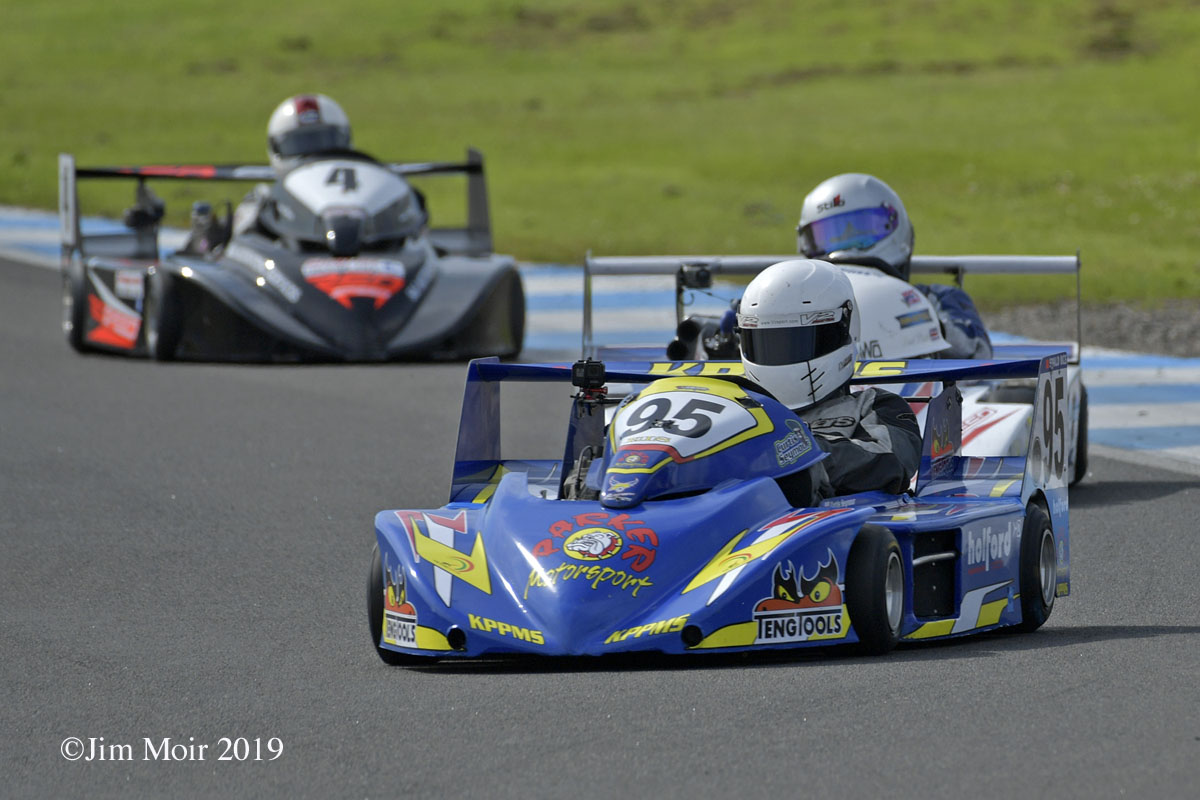 The British Super Karts had good sized grids and separate races for 125 and 250 karts. In the 125cc races, Sam Moss won race 1 from Alan Crossen, but Liam Morley won races 2 & 3 from Lee Harpham and then Matt Robinson. The faster 250cc Superkarts had busy races with plenty of dicing throughout their races. Race 1 went to Andy Bird from Carl Hume. Race 2 Bird won again with Hume less than half a second behind. Race 3 had a new winner as Tom Rushforth, who beat Hume by over 5 seconds in a race were 7 karts retired.
Our next Knockhill race meeting, takes place on 1st September. In the interim, we have a Legends double header at Knockhill on 3rd & 4th August and the Classics away round at Croft on 17th & 18th August.
Kevin Pick